The battle of the boot is a never-ending competition in today's busy marketplace. Personally, I'm a fan of the Timberland PRO series for overall ruggedness especially in the workplace.
Built to last, Timberland PRO series boots offer quality, durability, and are less cumbersome on the wallet in comparison to many brands.
However, depending on your taste and boot needs, both of these brands merit consideration. So, let's take a look at what both of the footgear manufacturers have to offer.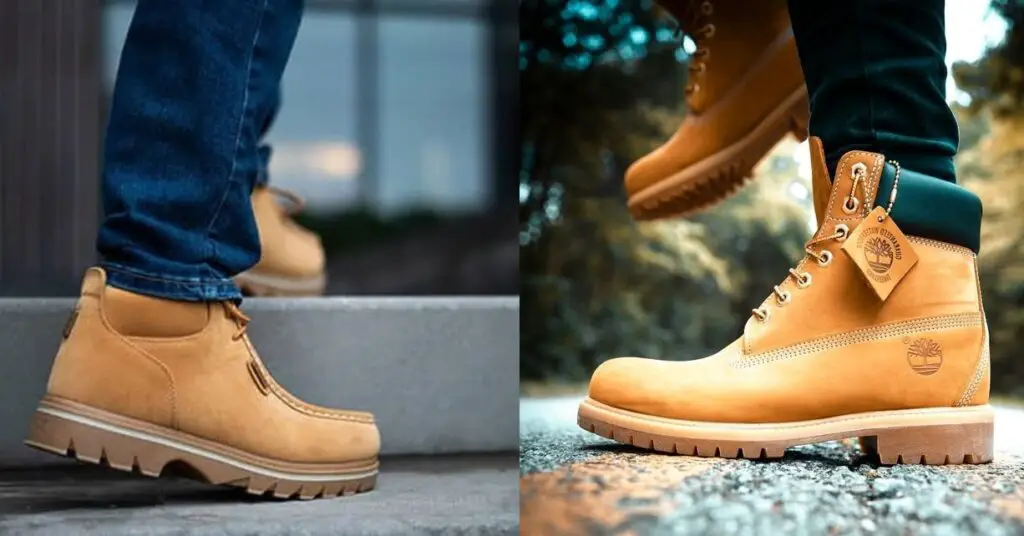 The Lugz Brand
When Lugz first hit the marketplace in 1993, they had just a few offerings in their product line. These included jeans, the quilted vest, and a couple of footwear offerings.
However, 25 years later, they've increased the number of their products and now clothe some of the most famous members of the hip hop and rap scene with the visibility that follows.
Lugz has had success with its chunky style of footwear that standout for the look. As to functionality, this will depend on what you need the boots for.
The Timberland Brand
Timberland is a completely different story in that their manufacturing dates back to 1928, meaning that this company brings 97 years if experience to footwear manufacturing.
In 1952, Nathan Schwartz purchased shares in a little known shoe manufacturing business called the Abington Shoe Company.
This company primarily produced workwear in New England and specialized in manufacturing waterproof genuine leathers.
Schwartz eventually gained control of the business. He was trained in shoemaking, and consequently spearheaded footgear innovation.
In 1965, injection molding technology was invented. The Abington Company began fusing rubber soles directly to upper leathers, so that the stitching was no longer necessary. Waterproofing improved.
Abington launched its Timberland waterproof boot in 1976 in several colors which proved to be the beginning of the Timberland Pro Work Boots. In 1978 Abington Shoe Company became the Timberland Company.
Timberland has expanded its footwear product lines and now manufactures a variety of footgear for women and men alike. Working comfort, workplace protection, and fashion are now the basics of all Timberland footwear.
Lugz vs. Timberland
Both brands have introduced a variety of footwear designs that merit consideration. Timberland is renowned for quality, aesthetics, and affordable prices. Lugz is a fashion star, with boot designs that can be worn every day of the week wherever you need to go.
The battle between the two manufacturers has its origins in their competing yellow boot model. Both of these companies produce a full-grain, yellow bot in Nubuck leather.
So, the competition was born rather spontaneously because consumers found themselves with options from both.  Both boot designs offer advantages and have merit.
Timberland's Nubuck Leather Yellow Waterproof Work Boot
Timberland Men's 6 inch Premium Waterproof Boot
Premium leather uppers and seam-sealed, waterproof construction

Direct-attach construction for durability

400 grams of PrimaLoft insulation

Padded leather collars for a comfortable fit around the ankle, anti-fatigue technology and second midsole layer for all-day comfort and supp
Prices pulled from the Amazon Product Advertising API on:
Product prices and availability are accurate as of the date/time indicated and are subject to change. Any price and availability information displayed on [relevant Amazon Site(s), as applicable] at the time of purchase will apply to the purchase of this product.
The original yellow boot is signed Timberland. This boot has been around for a long time, so long that it is considered an icon in the boot industry. Lugz, which was born as a company so much later, inevitably produced its own version of Timberland's creation.
Timberland offers its iconic yellow boot in a variety of designs, with the most popular and desired of the group, probably being the 6-inch waterproof boot.
This popular model is fashioned from full-grain high quality Nubuck leather, attached to a hardy rubber sole, and featuring padding for comfort on insoles and boot collars.
Its design includes a durable lacing system with an added touch of style in its hexagonal eyelets. This boot has fashion appeal but is also quite resistant and durable in workplace as well as outdoor environments.
Lugz's Convoy Lace-Up Work Boot
Prices pulled from the Amazon Product Advertising API on:
Product prices and availability are accurate as of the date/time indicated and are subject to change. Any price and availability information displayed on [relevant Amazon Site(s), as applicable] at the time of purchase will apply to the purchase of this product.
Lugz, proving itself up to the challenge, also offers a variety of yellow work boot designs, with their most sought-after boot most likely being the Convoy Lace-Up Work Boot.
It looks as if to be a direct descendant of the Timberland creation with the most noteworthy difference found in the shade of yellow used for the Nubuck leather.
Lugz attached its leather upper boot to a synthetic sole and added in fleece lining which not only functions as a lining but as a fashion element, in that it is visible from the boots tongue design.
It is worth noting that even if Lugz sells this boot as a work boot, it may not really measure up to workplace safety needs, depending on your profession.

Lugz designed these boots as a fashion element, so the tried-and-true test of withstanding workplace demands has yet to be verified.
Timberland and Lugz Boot Comparison
Both footwear manufacturers have pros and cons, so it will come down to what you are looking for in a boot, when and where you intend to wear it and your budget and payment options.
| | | |
| --- | --- | --- |
| Features | Lugz Convoy Boot | Timberland |
| Outer soles  | Rubber | Rubber |
| Inner soles | Cushioned | Moisture-wicking |
| Boot Uppers | 100% Thermabuck | 100% leather |
| Foot Support | Untested | Steel shank per arch support |
| Colors | More than twenty colors available | Five colors |
| Waterproof | Yes | Yes |
| Insulation | No | Yes, Seam-sealed waterproof construction, 400 gr. insulation |
| Price | Affordable | Pricey |
Manufacturer Comparison
| | | |
| --- | --- | --- |
| | Lugz | Timberland |
| Pros | Significant promotions, Interesting discounts, Amazon Pay available, International shipping | More brand recognition, Gift cards, Financing Allowed, Loyalty programs, Cancellation Policies, In-store purchase and pickup, Refurbished products available, Outlet stores |
| Cons | No financing support, No discount policies, No in-store pickup, No outlets, No refurbished products | No international shipping, No Amazon Pay |
In Conclusion
While designs are relatively basic, Timberland arrived much earlier on the scene. So, the Lugz boot appears to be a Timberland-inspired copy with nothing particularly new introduced.
Timberland has and remains among the gold standards for work boot production and is a fierce competitor with some of the best work boot manufacturers in the business.
Timberland's boots, especially the PRO series meet numerous safety testing standards and requirements for various workplace necessities. They have in their 97-year history stood the test of time.
Lugz in contrast offers an attractive budget-friendly fashion-oriented alternative. It all will come down to why and for what use you are buying boots.
If you need sturdy durable work boots, look to Timberland's many offerings. If you want boots as part of your fashion and personal style, Lugz is an appealing budget-friendly option.