It goes without saying that ideally you should have a pair of each in your shoe wardrobe. These are very different types of footwear and are used for different activities. So, why feel the need compare the other?
Because both fashion and casual wear have muddied the lines quite a bit. Let's consider these two kinds of footwear and when they can and should be worn.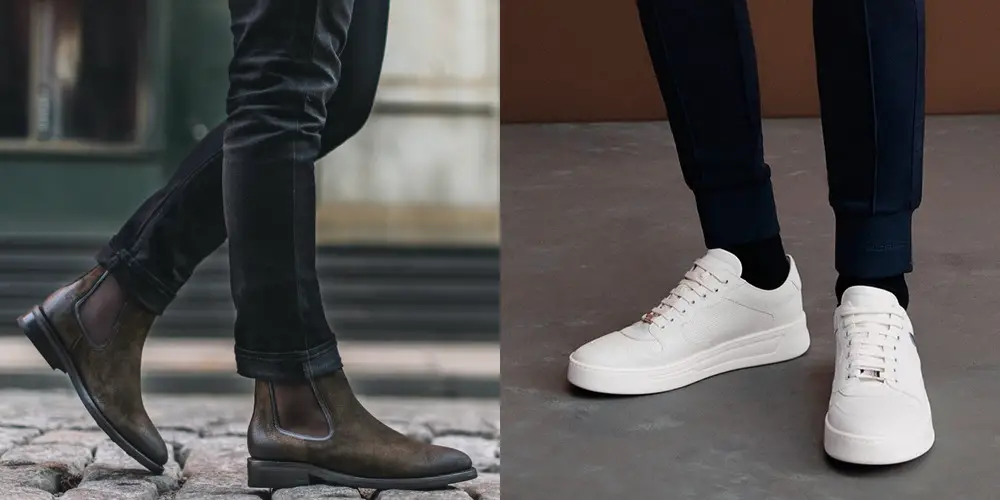 The History of the Chelsea Boot
The Chelsea boot emerged as a footwear design in Victorian England. The bootmaker to the Queen, Mr. J. Sparkes-Hall, is considered the cobbler that invented the Chelsea Boot.
This was most likely to furnish an alternative to the notoriously rigid Victorian boots. The Chelsea boot quickly proved to be a practical choice and particularly equestrians of the day selected them as their preferred footwear.
Despite becoming a mainstay of footwear options in the decades that followed, they made a huge comeback in the 1960s. Pop music icons, the Beatles, were seen wearing them and they quickly became a signature fashion element of "British Mod" fashion. 
Chelsea boots are what is known as ankle boots that feature rounded toes, low heels, and elastic gussets designed into the boots' sides. These elastic gussets permit boots to be pulled on or pulled off the feet quickly and easily.
But despite the fact that they are so easy to maneuver, the elastic helps to maintain a snug yet comfortable fit that practically feels customized just like a lace up boot would. The lack of lacing in the design affords the Chelsea boot a much cleaner and considerably slimmer silhouette.
What's more, various versions of the Chelsea boot render it dressier and a tad more elegant. The more refined Chelsea boot style features a boot vamp and quarters all created from a single leather piece with minimal stitching contributing to a smoother and dressier look.
The History of Sneakers
Sneakers, while they may seem a more modern fashion footwear icon actually go back to the later part of the 18th century. Before this, people wore a shoe known as a "plimsoll" that featured a rubber sole.
Unfortunately, this was a very cloddish type of shoe that had no left or right foot. In approximately 1892, the U.S. Rubber Company created a more comfortable kind of sneaker made with rubber soles and canvas she tops. These were named "Keds".
By the year 1917, Keds were being mass produced. That same year, the Marquis Converse fashioned the first athletic shoe made specifically for basketball. These were known as the "Converse All-Stars".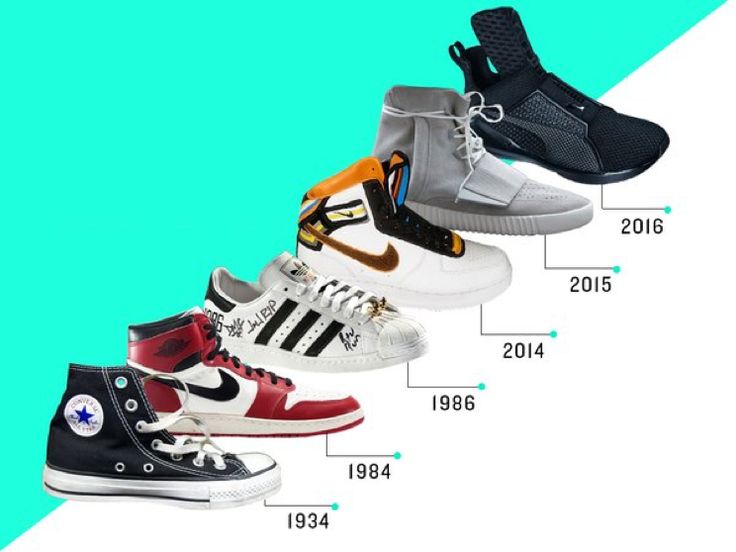 The Indiana Hoops star, Chuck Taylor endorsed the Converse sneaker in 1923, and as a result, the shoes were known afterward as the "Chuck Taylor All-Stars".
But the best was yet to come! In 1924, sneakers became a global phenomenon when German, Ad Dassler, invented his version of the sneaker and named it for himself…the Adidas!
These sneakers claimed fame especially after track and field star Jesse Owens wore a pair to his four gold medals during the 1936 Olympics. But the Dassler family didn't stop there. Brother Rudi founded the Puma Sports shoe company.
The beginning of the 20th century observed sneakers were worn predominantly as athletic shoes. In the 1950s, they appeared on the fashion stage. This became popular after silver screen star and bad boy James Dean wore a pair in the film, "Rebel Without a Cause".
Sneakers had a historic moment in 1984 with Michael Jordan wearing Nike Air Jordans. Afterward competing companies added innovative designs, standout colors, and even did away with laces.
Technological advances contributed to Nike including small gas pockets for improved cushioning and Reebok pumping air into sneakers for a snugger fit. Now some come with springs in sneaker soles to reduce stress and impact on feet.
The Chelsea Boot's Fashion Look
A traditional Chelsea boot design will be without decorative embellishment. They feature a plain ankle boot look. As slip-on boots, they appear to be a more casual type of footwear.
However, because they are manufactured in leather, they can be successfully worn with a business suit. They are inappropriate for very dressy wear such as black-tie attire.
The Fashion Look of Sneakers
Sneakers are no longer limited to wear in the gym or on the court. They are now a staple of any wardrobe. Sneakers are among the most fashionable statements on the global stage.
Now they are seen not only in the sports' arena but on red carpets internationally. Sneakers are a tool for expressing oneself.
There are several kinds of sneakers available on the market. These include:
1.) Basic sneakers found above all in canvas and in basic hues
2.) Classic sport sneakers like Asics Gel-Lyte, Nike Air Max, and the Reebok Pump
3.) Fashion sneakers are designed to be noticed and come with designer names attached.
4.) Hiking sneakers are designed for specific activities like walking trails with all that technology has to offer in terms of durability and comfort.
5.) Luxury sneakers are simpler and may actually resemble the sneaker ancestor "plimsoll" but are produced in leather or suede.
6.) Modern sport sneakers. These are similar to the classic sport sneakers but come with shapes and styling revisited for contemporary taste.
When Can I Wear Chelsea Boots?
The Chelsea boots is appreciated for its minimalist design. Lace-less with an unembellished toe, they can be paired with more formal attire like a business suit and will even contribute to a more "edgy" look in the office. 
Both brown and black Chelsea boots can be worn successfully with business attire. They complement just about any type of clothing except evening dress. Wearing socks will be a personal choice as they generally are not seen. 
Chelsea boots are also available in suede, but these offer a more casual fashion statement and are better paired with jeans or similar for a bit more polish.
When Can I Wear Sneakers?
Basic canvas sneakers are best for casual situations paired with chinos, jeans, and shorts in any color.
Luxury sneakers can be paired with tailored pants, chinos, denim, and in some cases with an unstructured suit or blazer. Sports sneakers are ideal with shorts and khaki slacks.
Choose sneakers that fit your actual wardrobe. Don't just acquire a new style if it doesn't reflect your personal style. Select sneakers that complement your look.
While sneakers are exceptionally versatile, they are not an appropriate substitute for an elegant pair of dress shoes. They are fundamentally casual footwear, and this includes luxury sneakers even those made in leather or suede. 
In Conclusion: Chelsea Boots vs. Sneakers
The Chelsea boot and sneakers are versatile kinds of footwear. Ideally, you should have both kinds of footwear in your wardrobe and the more colors you can afford, the better. A Chelsea boot will provide more warmth than a classic sneaker because it is an ankle boot, so keep this in mind. 
Shoes are fundamental not only as a practical necessity but to complete your personal style. The right footwear is an important part of any style statement and will influence as well as complete your entire outfit. 
Chelsea Boots and sneakers are dependable everyday footwears. Both are good investments that you will be able to use on numerous occasions to complement a generous array of fashion and clothing choices in and out of the office, workplace, and during your free time.