Ever wondering what to wear with your stylish and trending Chelsea boots apart from jeans and trousers? Trust me Chinos is the best.
Chelsea boots conquered the fashion industry with its characteristic close-fitting ankle boots and ease of use. As for chinos, they were praised for their lightweight.
Wearing your brand-new Chelsea boots with chinos will give you the best look you ever wanted to go with. In this guide, you'll get to know how to style your chinos with your favourite Chelsea boots.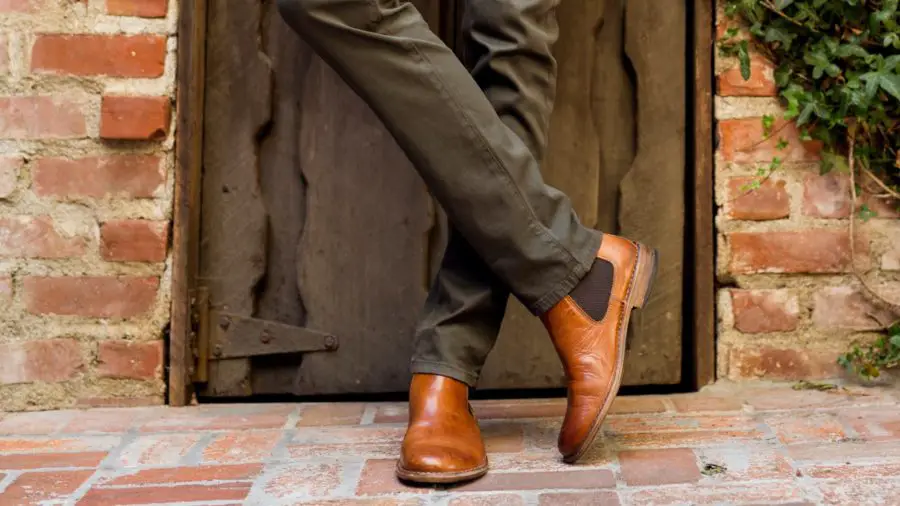 First let's have a basic understanding of Chelsea Boots and Chinos. 
What Are Chelsea Boots?
Chelsea boots are designed as ankle–high boots, which have an elastic side panel along with a tab on its back, which actually make them easy to put up and to slip on. 
Advantages of having a Chelsea boot in your wardrobe are numerous given their durability and ease of use. Since they were not created for any particular ages, you can wear these stylish boots regardless of your age. Also, you can style it with your favourite jeans, trousers, suits or chinos. 
Chelsea Boots are famous mainly due to its capability to style with different outfits and for different seasons.
You can wear your Chelsea boots on different occasions from business meetings to weddings, they're designed to suit both formal and informal events. 
What Are Chinos?
Chinos are a type of lightweight 100% cotton or cotton–synthetic blended pants which are widely available in different colors. 
This type of men's pants is woven in twill weave and is very versatile which combines modern stylistic flair capable of having multiple functionalities. 
They are often portrayed in a preppy style and are often used in school uniforms and are incorporated for casual functions. One thing that everyone appreciates about Chinos is its tailored fit.
They are not too tight but will definitely highlight your body lines. Since they are designed to have straight lines, they will make your body look long and sleek.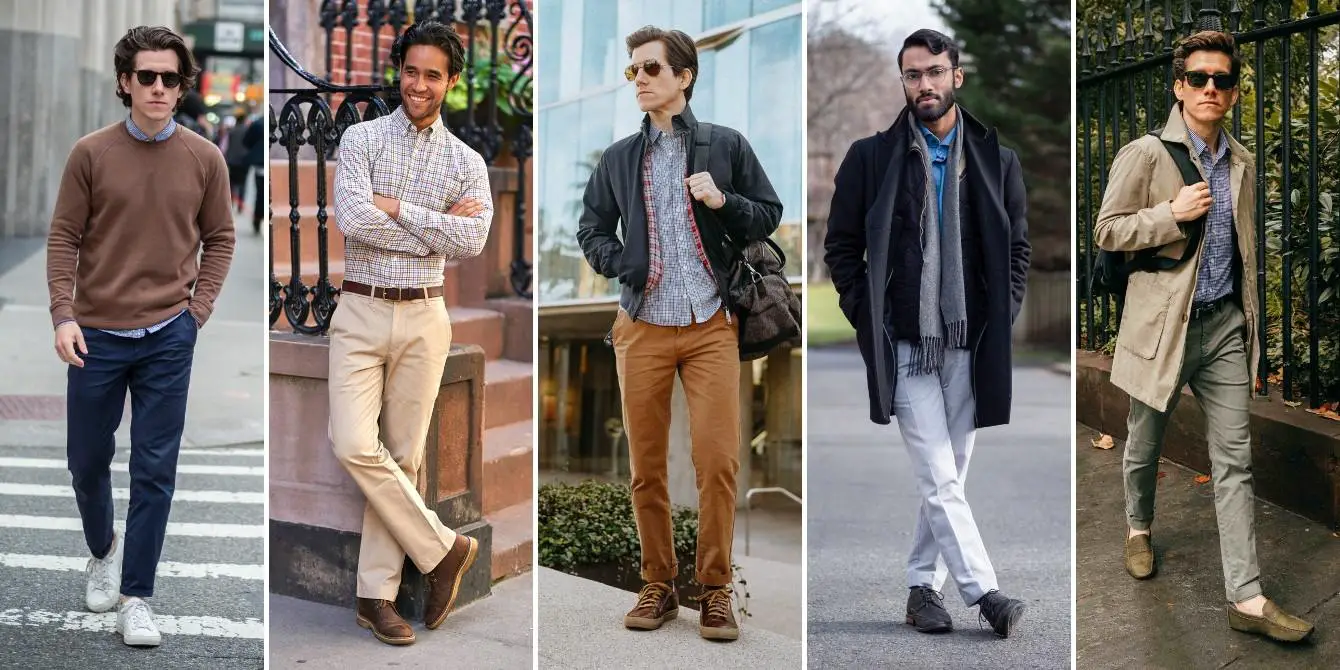 One of the greatest factors that attracts men towards choosing chino parts is that they can be paired and styled with anything from formal wear to casual wear.
You can dress up with your chinos or you can go for more of a casual look. If you're planning to wear it for industrial or labour works, it won't be of any good. But, you can wear your chinos to the workplace if they have a semi-formal dress code.
The two things you can choose when it comes to pairing it up with chinos is your top wear and shoes. The style will dramatically change according to the outfit colours and the type of shoes you chose to wear. 
Chinos are ideal for wearing to work, on a casual day trip, to parties or simply while moving around the home. They are extremely perfect pants which are suitable for any occasion mainly due to its fabric and tailored, slim-fit style. 
What Pants Go With Chelsea Boots?
Your Chelsea boots can be worn with any style that you want. Chelsea boots have the added benefit of being able to be worn with any long pants or even shorts.
Match your Chelsea boots with jeans or chinos for a more casual appearance that may be worn for dates, work, or even weddings.
You can, however, wear them with wool trousers, formal pants, or suits and still look excellent and with a more formal look.
To create a trendy combination, pair Chelsea boots with jeans, a loose t-shirt, and a jacket. It's appropriate for drinks or dinner.
A pair of these boots in a dark brown or black with a pair of indigo or black slim-cut jeans and a casual shirt or t-shirt is the most common way you can style your Chelsea boots with jeans.
You may also add an elegant touch to your Chelsea boots by wearing them with skinny jeans, a button-down shirt or sweater, and a leather jacket or wool coat.
If you're looking for a more official look, pair your Chelsea boots with formal pants or trousers and suits. When pairing Chelsea boots with a suit for a fashionable and trendy formal look, the best combination is to go for an all-black outfit.
Finally, the most fashionable way to wear your Chelsea boots is to pair them with chinos. You'll learn more about how to style both together in the upcoming session.
Styling Chelsea Boots With Chinos
If you wanted to combine your Chelsea boots with chinos for a trendy look either in formal or informal events, then you can blindly style them together for your outfit of the day. 
Styling both Chelsea boots and chinos will give you a more dressed-up look than the jeans. On the other hand, you can't expect to get a formal look like that of a suit with chinos. Chinos are basically semi-formal, business casual or just casual dress code. 
The one thing you always need to consider is the fit of both in order to style it with the right clothes. A slim-fit with perfect body lines should be the fit for your chinos otherwise they would appear to be baggy. This could affect the way you styled the outfit, giving it a wrong result. 
Even though slim-fit is always preferred make sure you're comfortable wearing it without causing much ill at ease. You can style your chino and Chelsea boots with beige, khaki, navy, and brown shades. It will give you the perfect and balanced foundations for your styling. 
Casual shirts or tees are the best option for your top wear. You can always go for bold colours in checks or stripes to match it with your chinos and boots. 
Can You Wear Suede Chelsea Boots With Chinos?
Yes, suede Chelsea boots can be worn with chinos for a more stylish and casual look. Shorts aren't a suitable match for suede Chelsea boots; instead, combine them with your favourite slim and fit chinos and suede Chelsea boots. It'll definitely offer you a look that's perfect for summer.
It is best not to wear suede Chelsea boots in the winter; nevertheless, you can always wear your leather Chelsea boots during cold times.
Leather or suede boots are both wonderful options for wearing with chinos because they will offer you the entire trendy look you want. Go with the dark colours when it comes to leather, but go lighter when it comes to suede while wearing it with chinos.
Wrapping it up,
If you want a semi-casual style for the day, put on your chinos and Chelsea boots. Matching both the boot and chinos will get you more dressed up than the jeans but will be a less formal look when combined with a suit. 
It is always up to you to decide what outfit you should wear on a given day, but I wanted to offer you an outline of the trendy style you'll get if you pair your chinos with the chelsea boots in this article.