Hmmm, Zero Drop!? You may be wondering what exactly a Zero Drop work boot is. I certainly did the first time I heard this expression used.
Apparently, for those suffering from knee pain, back pain, or even foot pain, Zero Drop boots may be a solution to reduce and alleviate that discomfort.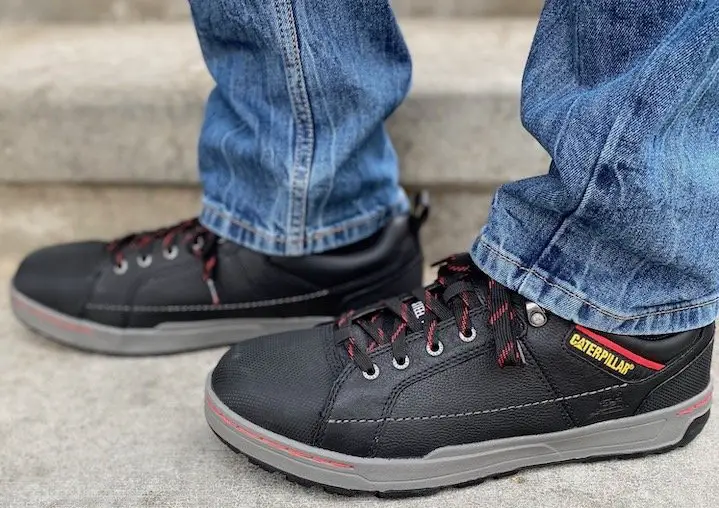 So, What Is Zero Drop Footwear?
This footwear, which may also be referred to as a minimalist, barefoot, or naturalist footwear, will position the ball of the foot and the heel at the same distance from the ground. This distance can measure as minimal as a single millimeter.
Traditional footwear will have a considerable drop between where the ball of your foot rests, and where your heel rests. Another contrasting feature is the toe box or space.
In Zero Drop footwear, toe boxes are generally wider meaning toes have plenty of room to wiggle around in. One of the principles is that your toes are more active and involved in walking so that your feet are strengthened.
Can Work Boots Be Zero Drop?
Yes, Zero Drop work boots do exist. These boots protect feet while keeping feet flat and level with the ground. Most work boots will feature raised heels and thick boot soles with lots of treads.
The Zero Drop work boot will maintain an equal distance from the ground for both the heel and the ball of your foot. This type of work boot can be found with a steel toe or protective toe cap, although more difficult.
Why Wear Zero Drop Work Boots?
Well, consider why Zero Drop work boots exist. The idea behind a zero drop design is to reproduce the sensation of going barefoot and reinforce the body's natural movement and step.
With raised heels, body posture changes and this will have an effect on your skeleton, bones, ligaments, tendons, muscles, and so on. 
Try sitting on your bed with only your feet hanging over the edge. Point your toes to the ceiling. Feel the pull in your calf muscles or in the heel of your foot? You're probably not used to zero drop footwear. 
The Transition Drop Work Boot
If you're not ready to go for Zero Drop work boots, there is footwear out there that has a reduced drop. You might want to follow this type of transition if you are not ready to make a more drastic choice.
In any case, a gradual transition is always recommended. Even if you switched boots tomorrow, pain relief will not be immediate or automatic. Before switching radically to a pair of Zero Drop work boots, prepare for the change. You can do this by
1.) Doing exercises to strengthen your feet
2.) Walking around your home barefoot
3.) Wearing Zero Drop boots for shorter periods of time initially and then gradually increasing these periods until you arrive at the duration of your work shift.
Zero Drop = Minimalist?
Not really. While minimalist footwear and work boots will be Zero Drop in design, the reverse is not necessarily true. Not all Zero Drop work boots will be minimalist.  
The Benefits of Zero Drop Work Boots
Zero Drop footwear claims to help with conditions like
1.) Back pain 
2.) Bunions (Can Bunions be Caused by Steel Toe Boots?)
3.) Deformed toes
4.) Heel spurs 
5.) Hip pain
6.) Knee pain (Best Work Boots for Knee Pain)
7.) Plantar fasciitis (Best Work Boots for Plantar Fasciitis)
8.) Shin splints
Zero drop footwear claims to 
→ Improve a gait that is low impact
→ Help your feet to lane on the forefoot or mid-foot instead of the heel
→ Dissipate impact throughout the feet and lower legs
→ Increase ankle and foot strength because there is no artificial support provided within the boot.
Theoretically, the zero drop designs assist your foot and leg calf in strengthening muscles, ligaments, and tendons which then helps with movement and pain reduction consequentially.
However, the medical community is often in disagreement with the utility and benefits touted by fans of Zero Drop footwear. If you are being treated by a podiatrist for a foot condition or a medical caregiver, you should consult them before making any changes.
What to Search for in a Zero Drop Work Boot
The overriding characteristic of Zero Drop footwear is that it mimics walking barefoot. So while there is not a standard definition etched in stone for the ages, Zero Drop footwear does have a number of characteristics that you should look for when searching.
1.) Zero Drop. The heel-to-toe drop measurement should ideally be zero mm.
2.) Weight. Zero drop footwear is generally lightweight and most definitely lighter than traditional work boots.
3.) Large Toe Box. Zero drop footwear features ample room for toes to spread and support more of your body weight during movement.
4.) Motion control. Zero drop boots will usually NOT feature this as it requires raising the heel.
5.) Low Stack Height. The center of the outsole will be similar to the toe and heel height
This type of work boot will feature less weight, and less technology than traditional work boots, but your primary concern will be that the sole height at both the heel and toe is the same.
The Reviews
Best Overall Zero Drop Work Boot
1.) Birkenstock QS700 Work Boots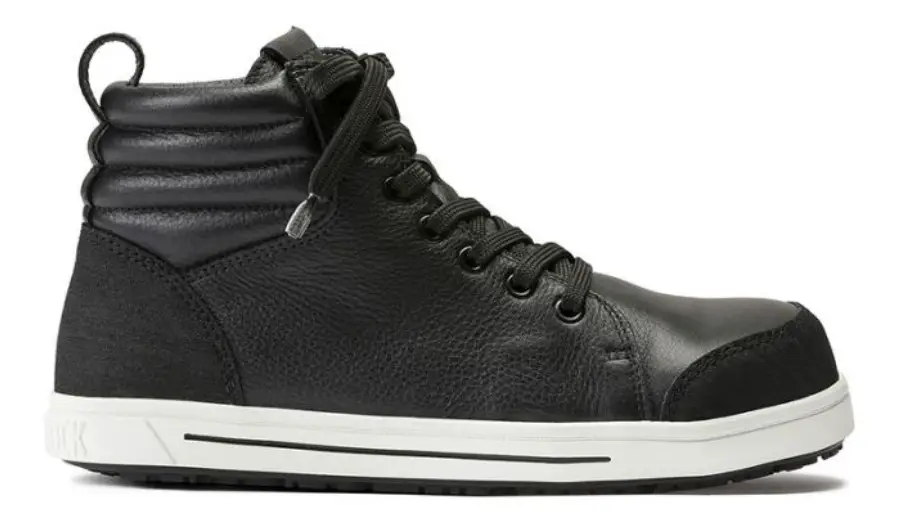 Although not available from Birkenstock USA or on Amazon, these Birkenstock work boots are noteworthy, and fortunately, Zami ships worldwide. 
These safety boots are slip-resistant and resistant to electrical hazards. They rise to over the ankle for good protective coverage. Flexible, they offer a spacious toe box.
These Birkenstocks come with a footbed that will need to be removed to ensure zero drop conditions. The steel toe features a toe cap that is scratch resistant, while the rubber sole resists punctures, and slippage is oil and water-resistant. The boot heel is antistatic and absorbs energy.
Pros
Protective Steel toe cap

Nitrile rubber sole is non-slip

Anti-static work boot

Sole is puncture resistant

Boot uppers are water-resistant

EN ISO 20345: 2011 safety certified

Sizes 35 thru 47
Cons
Difficult to purchase in the USA

More expensive than other work boots
---
Best Steel Toe Zero Drop Work Boot
2.) Caterpillar Brode Work Shoe with Steel Toe
Prices pulled from the Amazon Product Advertising API on:
Product prices and availability are accurate as of the date/time indicated and are subject to change. Any price and availability information displayed on [relevant Amazon Site(s), as applicable] at the time of purchase will apply to the purchase of this product.
Designed with a sporting sneaker appearance, this is a true full-fledged safety shoe. It features a steel toe as well as protection from electrical hazards up to 600V in dry conditions. A mesh lining improves breathability.
There is also a molded sock liner in EVA to improve cushioning and comfort as well as wick away moisture to keep feet dry. Outsoles are produced in rubber that is slip-resistant for both oil and water while improving stability and traction.
The safety features are noteworthy with a steel toe that protects from impact in accordance with ASTM F2413-18 as well as offering electrical hazard protection.
Lightweight and durable, this protective footwear boasts an EVA dual-density footbed for increased shock absorption. Uppers are in suede leather. Available in black, sizes range from 7 to 14 and are sold in both wide and regular widths.
Pros
ASTM rated steel toe

ASTM electrical hazard rated

Suede uppers for durability and flexibility

Slip-resistant for water and oil

EVA sock liner for moisture-wicking

Rubber outsoles for traction and stability

Mesh lining for breathability

Water-resistant
Cons
Only one color available

Not waterproof
Check Price and Reviews on Amazon
---
Best Soft Toe Zero Drop Work Boots
3.) Birkenstock QO700 Professional Work Boots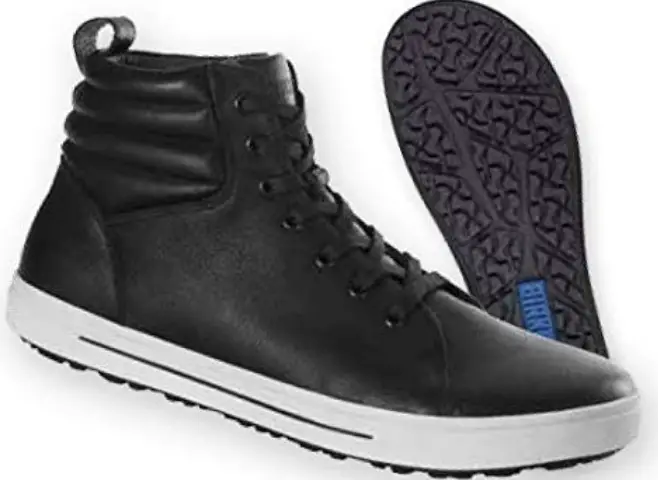 These boots by industry leader Birkenstock are slip-resistant, electrical hazard resistant, and unlike the CAT Brode shoes cover your ankles. They boast a very spacious toe box and are exceptionally flexible.
Made in a combination of textile fabric and quality leather, soles are produced in nitrile rubber for added traction. Anti-static, oil-resistant, and slip-resistant, the soles afford you some extra grip.
These soles are also penetration resistant. They are rated in accordance with the European Union safety requirements and are EN ISO 20345: 2011 certified.
The insoles are the traditional Birkenstock cork insoles, but they can be removed if you prefer something different.
These boots are also available with steel toes QS700 or with a lower boot top QS500, so the manufacturer gives you quite a few choices here to meet your specific professional needs. Sold in either black or white, sizes run from 5 to 15.5.
Pros
Leather and textile uppers

Nitrile rubber soles

EN ISO 20345: 2011 certified

Slip-resistant outsoles

Oil-resistant outsoles

Static-resistant

Available in both low top and steel toe versions

Leather is water-resistant
Cons
Somewhat more expensive than other boots
---
Best Waterproof Zero Drop Work Boot
4.) Lems Boulder Waterproof Work Boot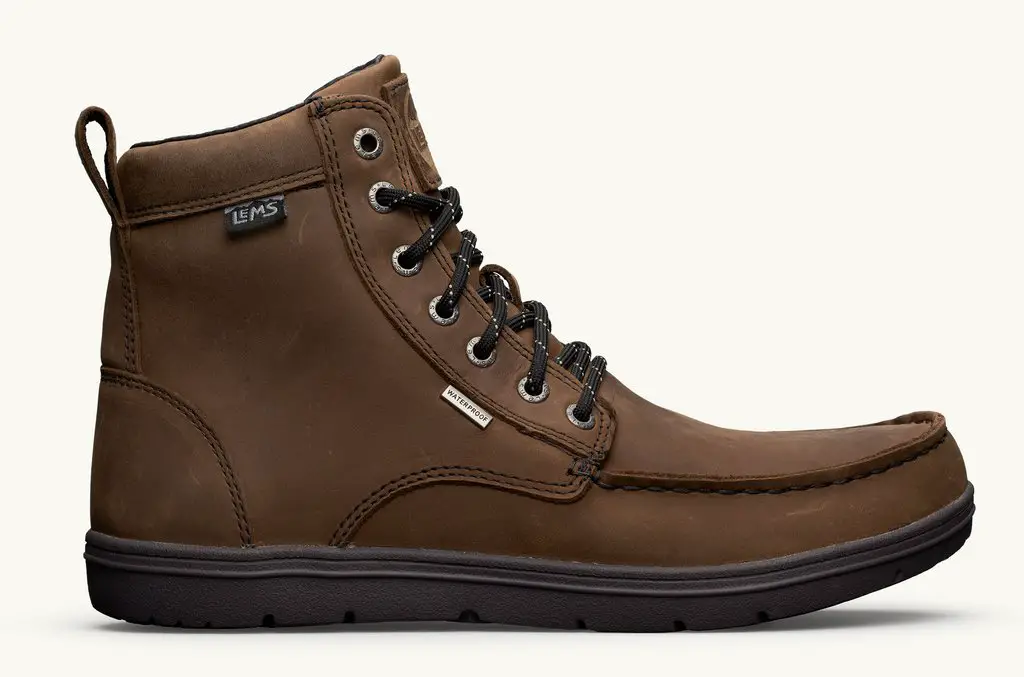 This impressive boot is zero-drop, exceptionally flexible, and affords you a lot of space in the toe box. The sole is thick, providing you with great puncture protection and there is some comfort padding around the ankles.
The toe box is not a safety toe or reinforced, and the upper boot may be somewhat thinner when compared to other brands.
While this is a good solid protective boot, it is not for heavy-duty work that requires lots of protection, especially from impact. The attractive appearance means it can be worn after work as well.
Your feet will remain dry thanks to Lems' waterproofing of 100% full-grain leather that is oiled and then treated to repel water. The manufacturer does recommend waterproof waxing 3 times per year.
The rubber sole is injection blown and a gusseted boot tongue helps to protect feet from harsh weather and the elements.
Pros
Waterproofing of leather uppers

Gusseted tongue

100% full-grain leather upper

Air-injection rubber sole

Removeable footbed

Lightweight at 12.9 ounces

Attractive appearance
Cons
No safety rating

More expensive

May run small
---
Conclusions
For those who prefer a Zero Drop work boot, choices are still limited when compared to the rest of the footwear industry.
Some safety-rated work boots do exist, but manufacturers will need to improve supply considering the increasing demand for Zero Drop footwear.
Both Caterpillar and Birkenstock are on track to provide you with some sturdy safety work boot options.