Dust at construction sites can seriously damage the health of the professionals that work at a site, and workers are exposed to all sorts of dust including, wood, silica, and even lead dust.
Silica airborne particles are known to cause diseases such as silicosis, which is a lung disease that scars lung tissue, chronic obstructive pulmonary disease, or even lung cancer.
Exposure to silica dust comes from a multitude of sources. Construction professionals who chip, saw, grind, or use a jackhammer are at risk as are masons who cut concrete bricks or mix mortar.
The cutting of ceramic tiling, drilling, breaking, or blasting can all expose workers to dust particulates. And even the professionals that prepare the site for construction are at risk.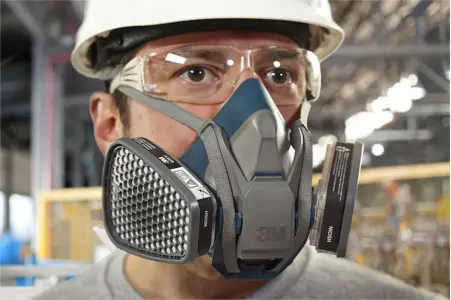 We asked a group of construction site professionals, both managers, and workers to help us research and test the best dust masks for construction workers to help you find good respiratory protection while on the job.
Our top overall choice for a top-notch construction site dust mask is the 3M Half-Face Quick Latch #6501QL Reusable Respirator due to its high level of protection, comfortable silicone seal, and head harness, and Cool Flow valve to prevent heat and moisture buildup.
Air Quality
Job safety is a number one priority at construction sites because injuries can be permanent, life-changing, and sometimes lethal.
Business owners and site management are responsible for every professional working at a construction site. A construction foreman needs to identify potential hazards and report them for resolutory action.
Air quality in the workplace is a priority because it will directly influence the health of site workers. This is especially true when cutting or mixing concrete or working with sand. Lungs need protection from those particles particularly with repeated exposure over long periods.
There are systems that can be implemented to reduce dust such as cutting wet or vacuums, nonetheless, workers still need and are required to use respiratory protection.
The Face Mask vs the Respirator Dust Mask
A common face mask, often a surgical mask is worn to protect the wearer from splashes, droplets, or sprays of dangerous fluids and will protect third parties from the wearer's breath.
An N95 respirator mask, on the other hand, not only protects from droplets but reduces exposure to airborne particles and non-oil-based aerosols.
Plain face masks will be loose fitting and require no fit testing or seal check, while a respirator mask will be tight-fitting and require fit testing and a seal check every time it is worn.
The simple face mask does not guarantee protection from inhaling airborne particles, whereas the respirator face mask will filter at least 95% of both large and small particles. Leakage is also a problem for common face masks as they do not seal to the face.
What Is the Right Construction Site Dust Mask?
Here, our priority is specifically the best possible protection from airborne dust particles. This does not include oil-based particles or chemicals as these require a different type of face protection. The N95 dust mask has been created for protection from particulates in the air you breathe.
The N95 Dust Mask 
These masks have been specially created to filter out a minimum of 95% of non-oil-based particulate matter that is airborne. This includes protection from smog, air pollution, wildfires, volcanic ash, and of course, dust.
N-95 masks will feature at least one, if not two, valves that will be used when exhaling to prevent the presence of fog on safety glasses or goggles worn together with the masks. They also function to prevent breaking the face seal during exhalation from the pressure created inside the mask.
Alternatives
There are several alternatives that offer similar protection to the N95 dust mask.
N99 dust masks. The filtration capability is 99% for particle dust. Depending on your job or risk for dust exposure, you may need either the N95 or N99.
P95 dust masks will not only filter out dust but are oil-proof as well.
R95 dust masks are oil resistant. If you are exposed to oil-based pollutants, you may require one of these masks.
NIOSH Safety Ratings
The U.S. National Institute for Occupational Safety and Health has established a classification system for respirators and dust masks that filter.
NIOSH's ratings indicate how much each mask is capable of protecting a wearer from dust, vapor, and liquid droplets that are airborne.
The approval of respiratory protective masks and subsequent certification is subject to 42 CFR 84 or the Code of Federal Regulations (Title 42/Part 84). These classifications also include
Chemical protective cartridges

Facepiece respirators or dust masks

Air-purifying respirators
Classifications are specific to particulate filtration and aerosols and presume that the mask is fitted on the face properly.
There are three classification letters used:
N – not resistant to oil

R – oil-resistant 

P – oil-proofed
| | |
| --- | --- |
| Class of Respirator | Efficiency Level Minimum |
| N95 – R95 – P95 | 95% |
| N99 – R99 – P99 | 99% |
| N100 – R00 – P100 – HE* | 99.97% |
*Refers to High-Efficiency filters for air-purifying respirators that are powered.
All Things Considered
When selecting your dust mask, keep in mind these factors:
1.) Reusable or Disposable. Reusable masks can be washed and often contain replaceable filters, while disposable masks are generally worn once and tossed.
2.) Material. Disposable masks are usually manufactured in plastic fibers or paper. Reusable masks will be most likely be produced in synthetics that are durable.
3.) Filtration. Whether 95%, 99%, or 99.97% filtration of airborne particles, it is imperative that your dust mask have high filtration efficacy. Masks that are not approved by the NIOSH will only be effective against house dust.
4.) Comfort. Consider your comfort in relation to mask weight, neck-straps, exhalation valves, anti-fog capabilities, and nose clips.
The Reviews
Best Overall Dust Mask for Construction Workers
1.) 3M Half-Face Quick Latch #6501QL Reusable Respirator
3M Rugged Comfort Quick Latch Half Facepiece Reusable Respirator 6501QL
EASY ON AND OFF: Quick Latch Design Offers an Easy, 1 Hand Touch Drop Down Mechanism for Putting the Face Piece on and Off While Moving in and Out of Contaminated Areas

COMFORTABLE: Adjustable Head Harness Assembly Promotes a Comfortable Fit With 3 Size Adjustable Head Cradle; Long Lasting Polyester/Spandex Straps

COOL COMFORT: Proprietary 3M Cool Flow Valve Is Designed for Easy Exhalation to Help Keep the Wearer More Comfortable
Prices pulled from the Amazon Product Advertising API on:
Product prices and availability are accurate as of the date/time indicated and are subject to change. Any price and availability information displayed on [relevant Amazon Site(s), as applicable] at the time of purchase will apply to the purchase of this product.
A leader in the protective gear industry, 3M has invested continuously in upgrading PPE. This mask is designed as a half-Face reusable respirator.
Particularly indicated for airborne contaminants, it boasts 99% efficacy in filtering particulates. The facepiece is both durable and stable.
It offers a snug yet comfortable fit thanks to the slightly textured silicone face seal.  This soft seal is less likely to irritate even the most sensitive skin.
A quick latch mechanism for putting on and removing this face mask rapidly makes wearing it a breeze together with easily adaptable straps.
The drop-down feature allows you to remove and reposition the respirator without having to remove a hardhat, face shield, or chosen safety eye protection.
This 3M dust respirator mask affords airborne contaminant protection 10 times the Permissible Exposure Limit (PEL) in the workplace. Exhaled breath and moisture flow downward thanks to the integrated 3M Cool Flow Valve design.
This prevents protective eyewear from fogging up and reduces both moisture and heat buildup inside the mask. An adjustable harness with polyester and spandex makes wear super comfortable for long work shifts. For use with 3M filters and cartridges.
Pros
Latch design facilitates wearing and removing rapidly

Lightweight

Soft Silicone Face seal great for sensitive skin

Cool Flow valve for release of moisture and heat 

Fog reduction

Particulate protection 10 times PEL 

Comfortable, adjustable head harness
Cons
Check Price and Reviews on Amazon
---
Best Disposable Dust Mask for Construction Workers 
2.) 3M Disposable Respirator #8511, Cool Flow Valve, N95
3M 8511 Respirator, N95
Niosh-Approved N95 for at least 95% filtration efficiency against certain Non-Oil-Based Particles and Aerosols

3M cool flow valve helps reduce heat build-up inside the respirator

Breathe 30% easier compared to 3M 8200, breathe an easier is defined as initial pressure drop. Flame Resistance : NO

ADJUSTABLE M-NOSECLIP: Helps ensure a custom, secure seal with fewer pressure points

May not be appropriate for use in certain locations, such as those that do not permit valved respirators
Prices pulled from the Amazon Product Advertising API on:
Product prices and availability are accurate as of the date/time indicated and are subject to change. Any price and availability information displayed on [relevant Amazon Site(s), as applicable] at the time of purchase will apply to the purchase of this product.
Industry powerhouse 3M produces this disposable NIOSH-certified N95 respirator mask guaranteeing 95% filtration efficacy against particulates that are non-oil-based.
Like 3M reusable masks, these feature a 3MCool Flow Valve to reduce heat buildup and prevent fog buildup when paired with safety glasses. 
The nose clip is adjustable and affords a secure custom seal with reduce pressure points to the face for maximum comfort. Sold in a convenient 10-pack. 
Pros
N95 respirator for 95% filtration or airborne particles

NIOSH certified

Sold in convenient multipack

3M Cool Valve for heat buildup and fogging prevention

Adjustable nose clip
Cons
Straps are non-adjustable
Check Price and Reviews on Amazon
---
Best Reusable Dust Mask for Construction Workers
3.) Trend Stealth Air Reusable Half Mask Respirator
Trend STEALTH/ML Stealth Air APF10 Reusable Respirator
LARGE FILTER SURFACE AREA: Half Face Mask allows maximum airflow for a comfortable work experience while maintaining full respiratory protection across multiple working particles around the home in the workshop or on the jobsite

COMFORTABLE AND CONVENIENT BREATHABLE RESPIRATOR MASK

MATERIALS: Trend AIR STEALTH dust mask is constructed from odour-free and non-allergenic materials including soft latex and silicone-free face seals
Prices pulled from the Amazon Product Advertising API on:
Product prices and availability are accurate as of the date/time indicated and are subject to change. Any price and availability information displayed on [relevant Amazon Site(s), as applicable] at the time of purchase will apply to the purchase of this product.
This is a fantastic dust mask for construction sites thanks to an N100 rating for airborne particulates. NIOSH approved, it is lightweight and flexible, for increased comfort.
The mask features two adjustable straps to ensure a secure fit along with replaceable cartridges that are affordable for cost-effectiveness. 
The filters are generously sized for improved filtration efficacy. As its N100 rating indicates the filter blocks 99.97% of dust particulates.
Thanks to the exhalation valve integrated at the bottom of the mask, works to prevent fogging of protective safety glasses that you wear in tandem with this mask.
Produced in polycarbonate, it is latex and silicone-free for workers with sensitive skin or allergies.
Pros
Latex and silicone-free polycarbonate

Large filter

Adjustable straps

Exhalation valve

Filters are easy to replace

Affordable

NIOSH N100 certified
Cons
Not for those wearing eyeglasses
Check Price and Reviews on Amazon
---
Best Unisex Dust Mask for Construction Workers
4.) RZ Unisex Reusable Dust Mask
Prices pulled from the Amazon Product Advertising API on:
Product prices and availability are accurate as of the date/time indicated and are subject to change. Any price and availability information displayed on [relevant Amazon Site(s), as applicable] at the time of purchase will apply to the purchase of this product.
RZ Mask is known for its high-quality products, and this dust mask is no exception. Produced in neoprene, it is flexible, yet durable, resistant, yet comfortable. With a soft inside, this mask can be worn all day long. 
Replaceable inner filters help to protect you while two integrated air valves offer exceptional breathability, so you breathe naturally as if no mask is present.
The black color and design make it a sleek choice for both men and women professionals, Velcro straps are adjustable for a customized fit and make removing it quick and easy.
Hand washable, it comes with a storage bag and even features a back pocket to slip an MP3 player into for listening to music while you work.
Pros
Adjustable Velcro straps

Unisex design

Hand washable 

Replaceable filters

Two exhalation valves

Durable

Comfortable

Budget-friendly
Cons
Not for those who wear glasses

Waiting for NIOSH certification
Check Price and Reviews on Amazon
---
Wearing a Dust Mask Correctly
Wearing your dust mask correctly is vital to ensuring proper protection.  Follow these simple steps.
1.) For a proper seal, faces should be free of facial hair including beards and stubble.
2.) For a two-strap mask, position the lower strap over your head to rest at the base of your skull. The upper strap should be positioned a bit above the back of the skull.
3.) Metal nose clips need to be pinched and pushed to fit the shape of your nose.
4.) Check that the seal is properly created by inhaling and exhaling. Exhalation air should come out of a valve if present.
See also: 4 Best Dust Masks for Woodworking
Reusable N95 Masks
Some disposable dust masks can be reused only by the same wearer if they are stored properly. They need to be protected from contact with other objects, direct sunlight exposure, extreme weather temperatures, moisture and humidity, and general damage.
The mask manufacturer may indicate a maximum number of mask reuses and the necessary conditions for reuse, the National Institute for Occupational Safety and Health does give users some indications.
Generally speaking, an N95 dust mask can be used for approximately eight hours at dusty construction sites.
Conclusion
Construction sites are busy places, and with all the cutting and blasting going on, good protection from airborne particulates becomes vital for your health and safety.
All four of our choices merit your consideration and we hope this article will help you in your search for the best dust mask for construction workers.