Whether you are a professional carpenter or a hobbyist involved in woodworking, you know that sawdust comes with the trade. It doesn't matter if you are sawing or sanding, you will inevitably find yourself in a cloud of dust.
Not only does this increase your cleanup at the end of the day, but it poses a risk to health through inhalation, with all that fine dust heading straight for your lungs.
The risks can increase if you do repair work or repurposing of old wood because it can be painted or previously treated with other chemicals. This means not only will you be getting a lungful of sawdust, but you may be getting contaminants as well.
The solution for protecting your health while you either work professionally or are just involved in a craft you love is a protective dust mask.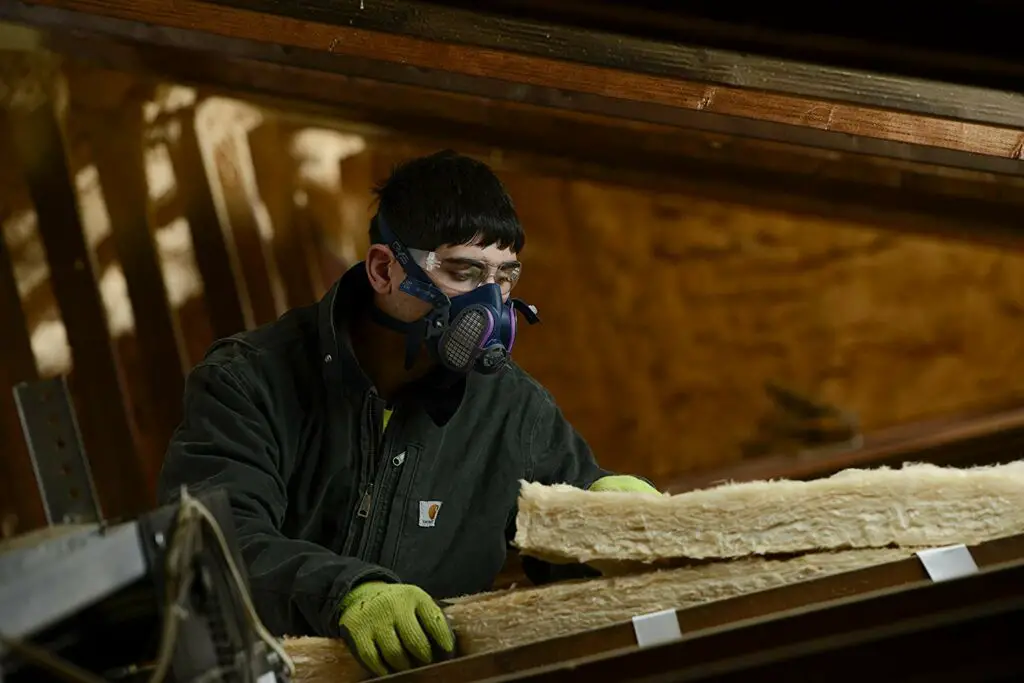 And thanks to advances in technology, these masks are more protective than ever and come in a myriad of designs to guarantee your safety, comfort, and personal style.
We asked our resident team of carpenters to test a variety of dust masks right in their shops and give us the lowdown on what works, what doesn't work, and why.
As a result of a month of testing, our overall favorite dust mask turned out to be the GVS Elipse P100 Dust Mask Respirator. Our pros couldn't have been more enthusiastic about this mask for its protective capabilities and its exceptionally lightweight comfortable thermoplastic elastomer construction.
Top Dust Mask for Woodworkers Review
Best Overall Dust Mask for Woodworking
1.) GVS Elipse P100 SPR457 Dust Mask Respirator
This GVS mask not only protects but really looks to comfort in both its design and manufacturing. Odor-free and hypoallergenic, it is perfect for workers with allergies or skin sensitivities to silicone or latex.
This mask can be worn for extended periods without causing discomfort thanks to its anatomical design. At 130g, it is exceptionally lightweight. Made to fit face contours it uses HEPA filters that can be easily substituted.
Approved by the NIOSH (TC-84A-6949), it is produced in a soft flexible thermoplastic elastomer with an adjustable headband.
It is appropriate for protection against nano particulates and can be worn when working with wood, silica or grain dust, asbestos, mists and vapors, fibers, concrete, or welding fumes.
Pros
HESPA replaceable filters

Compact and lightweight

Available in two sizes

Odorless

Hypoallergenic, latex and silicone-free
Cons
Carry case is sold separately
Check Price and Reviews on Amazon
---
Best Value Buy Dust Mask for Woodworking
2.) 3M Reusable Facepiece Quick Latch Respirator #6503Q
The first thing one notices about this reusable mask is the quick latch mechanism easily operated with one hand that keeps the mask snugly in place during wear regardless of the shape of your face.
This characteristic also helps to reduce any risk of fogging protective eyewear that you may be using together with the respirator.
An adjustable head harness made with polyester and spandex straps helps you achieve a comfortable fit. 3M has included in its design a cool flow valve to allow you to exhale without inside heat buildup and that sends exhalation downward to avoid fogging protective eyewear.
A silicone face seal keeps particles from entering laterally and this seal is heat resistant so it will keep its shape despite hot environmental temperatures.
Filters can be replaced with any 3M bayonet cartridges or filters. NIOSH rated, this respirator not only blocks sawdust, but pollutants including chlorine and sulfur compounds, particulates, and ammonia.
Weighing in at just over 3 ounces, it boasts a positive/negative pressure seal to control mask pressure and adjust.
Pros
Good downward fog reduction

Replaceable cartridges/filters

Blocks hazardous gas

Comfortable

Heat resistant

Budget-friendly
Cons
Some concerns about sealing efficacy with the front piece produced in hard plastic
Check Price and Reviews on Amazon
---
Best Fabric Reusable Dust Mask for Woodworking 
 3.) Guoer Reusable Fabric Dust Face Mask
If you don't require a full respirator because you are not doing heavy sanding or spending long hours in the workshop, this reusable cloth mask is a good option.
If you aren't really exposed to toxic fumes, chemicals, or mountains of sawdust, but still prefer a bit of protection, this is a good basic protective cover and unlike disposable masks can be reused countless times. It offers you lightweight optimal coverage.
This mask is not sufficient for heavy-duty carpentering or for chemical work of any kind. While it resembles a disposable face mask in design, it offers more grip thanks to a nose clip that holds it in place.
The fabric is a combination of 80%polyester and 20% spandex making it protective yet comfortable. The inside of the mask is 100% cotton, and straps are adjustable. Machine washable. 
Finally, the ample range of colors and patterns lets you add a little pizzazz to mask-wearing while woodworking.
Pros
80% polyester/20% spandex bacteria resistant cloth face mask

100% cotton interior

Machine washable

Comfortable

Nose clip for added fit

Lots of colors to choose from
Cons
Not appropriate for heavy-duty woodworking or chemicals
Check Price and Reviews on Amazon
---
Best Disposable Dust Mask for Woodworking
4.) 3M Paint Sanding #8511 Cool-Flow Valved Respirator
This is a disposable dust mask that is sold in packages of five masks or ten. The great thing about this mask is that it is NIOSH approved with an efficiency rating of ninety-five percent protection against particles that are non-oil based, meaning this is highly efficient when worn during woodworking tasks. 
Featuring an exhalation valve, this 3M disposable mask reduces if not eliminates any heat buildup inside the mask during wear for extended periods like a long work shift.
It boasts a two-strap design to make sure the mask remains in place during normal movement together with a bendable nose clip, so the fit is snug yet comfortable on the job. This is a vital consideration when seeking protection from dust particles.
Pros 
Comfortable

Disposable

Lightweight

Bendable nose clip for increased fit

Sold in multipacks for convenience
Cons
The straps are not adjustable
Check Price and Reviews on Amazon
---
All Things Considered
To begin, it's important to consider exactly what kind of woodworking you'll be doing and for how long.
If you just need to cut some wood with a standard electric saw in your home workshop, the amount of time you are exposed to dust will be reduced in comparison to a professional carpenter who may spend eight to ten hours in a woodworking shop and will undoubtedly be producing lots of wood dust.
Is a disposable lightweight mask sufficient for your safety needs or do you need a heavier, thicker mask made from reusable fabric or perhaps even a respirator? 
Plus, consider safety in terms of the materials you will use. Will you be repurposing old wood that has been treated or maybe painted? Will you be cutting it to size or sanding it to remove old chemical coatings such as varnish, stain, paint, or even coating strippers?
When looking for a protective dust mask, check out thoroughly the filtering capability of each mask before finalizing your selection, because the purpose of the mask is to filter out any and all types of harmful dust and contaminants.
For professionals with woodworking shops that are equipped with a dust collection system, you may want to consider a lightweight disposable dust mask, but this will depend on the efficacy of the collection system. If you have any doubts a respirator or thick reusable fabric mask should probably meet your filtering needs.
Types of Dust Masks and What Makes Them Efficient
For professional commercial carpenters, there are several kinds of masks available for consideration. These include:
disposable

reusable

respirator masks
These will offer you protection in a variety of woodworking situations from light sawdust to vast quantities of dust that include irritants. To select, you will need to analyze the type of work you do and perhaps keep several kinds of masks on hand in your workplace.
When searching for your best mask for woodworking keep in mind these factors.
1.) Material
What is the mask made of? A paper weave, latex, rubber, plastic, fabric, or other? When selecting a mask, it should not use components that contain lead or silicon.
If the mask contains rubber, it should be top-quality as inexpensive rubber components can irritate the skin especially when worn for prolonged periods as can latex.
2.) Design
The mask needs to have a design that guarantees its efficacy. If dust can enter, there is no point in wearing the mask. Also, look for holes in the manufacturing as a hole or tear will permit dust and harmful pollutants from entering.
The design should also adhere well to the face while guaranteeing comfort. If the mask does not adhere sufficiently, dust and pollutants will leak into the sides again defeating the purpose. with all this protection, you should still be able to breathe comfortably.
3.) Safety Certification
Because of the "Occupational Safety and Health Act" of 1970 in the United States, the NIOSH which stands for the "National Institute for Occupational Safety and Health" tests, approves, and certifies that workplace respirators meet safety standards.
As of 1994, they began to provide a Certified Equipment List online that can be searched online. This list was renewed in 2016. 
This list can be consulted by respirator users and safety professionals to determine if 
the respirators are certified, 

are appropriate for specific hazards

replacement parts can be obtained

specific manufacturers produce certified respiratory equipment
These lists are periodically updated as older technology becomes obsolete. Lists will include certification approval numbers, manufacturer or brand, types, and specific protection. You will want to look for an indication as to how pure air is after filtering.
4.) Safety Features
Some masks may feature the inclusion of a vault that is one-way so any polluted or contaminated air cannot enter through the filter. Asbestos or lead should not be used in the fabrication of masks and protective coatings on masks can improve durability.
Mask flexibility that permits the mask to create a type of seal to block air passage along with mesh protection to impede the entrance of dust and larger particles are all added pluses in mask efficacy.
5.) Functionality
The mask should be easy to manage, easy to wear, and easy to maintain. This means that the mask should be flexible enough to fit the face. A protective case for storage and the lack of need for special care products only enhance convenience. 
If the respirator has filters, they should be replaceable. otherwise, its filtering capabilities will diminish over time. A fabric mask needs to be machine washable to be reusable.
Does the mask offer a hanging feature so you can take it off or put it on easily and rapidly? Straps and bands for holding the mask in place should be adjustable and not cut into or irritate your skin during wear.
You must be able to breathe comfortably with the mask on and if it includes eye protection it should not be prone to fogging as this also can place your safety in jeopardy. 
Conclusion
A dust mask is an important part of good and effective protective personal equipment. If you are a pro, you most certainly already know the importance and necessity of the right dust mask for the type of woodworking you are engaged in professionally.
If you are a hobbyist, don't underestimate your health and the importance of a dust mask just because you are not involved in woodworking full-time. Take the time to find the best dust mask for your needs and enjoy the benefits of doing what you love in safety.