We all can agree that the summer heat can be unforgiving. And while we choose to remain indoors when the sun is out, people in the roofing profession have no choice but to be outdoors no matter the heat or rain.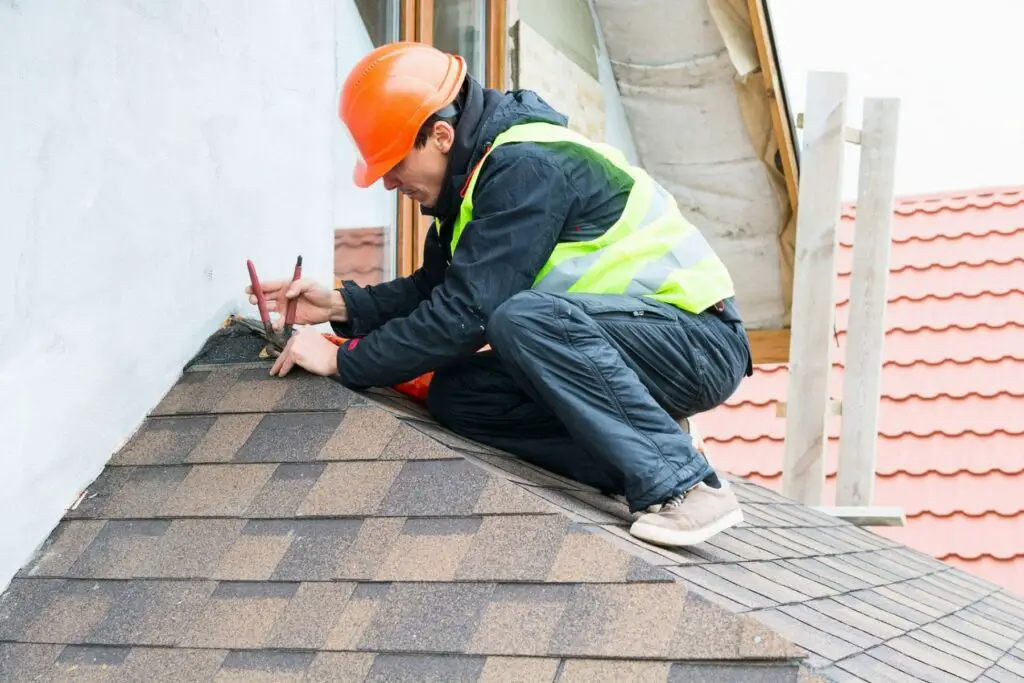 You probably must be wondering why you need to be precise about your outfit while roofing. Well, because as a roofer you have to work in harsh conditions and therefore, you require the right outfit for your safety.
The job requires constant exposure in the sun and your choice of outfit can go a long way in not only keeping you safe, but also providing relief from the scorching heat of the sun. 
Roofers wear hoodies and long sleeves in order to protect themselves from heat, and harmful UV rays of the sun which might cause some serious sun burns when you're spending long hours in direct sun. It also helps protect against scrapes and scratches from working around nails and other sharp materials.
It is preferable to wear hoodies or long sleeves while working in the sun as it produces sweat. And the sweat produced by extra clothing makes it easier to stay cool.
I know, it's a bit gross but likely true!
6 Reasons to wear Hoodies while Roofing 
1. To protect from direct rays of the sun
Summer has arrived and most parts of the United States are burning in heat. It gets difficult for roofing professionals as they have to get out there and do inspections, repairs, replacement and new construction, and this often requires hours on a roof without any shade and only in the protection of their outfit. So the choice of outfit is an important factor.
Therefore, roofing professionals mostly opt for hoodies and anything that has long sleeves in order to protect themselves from the heat and also the harmful UV rays of the sun. 
2. Keeps the body cool
It's above 90 degrees outside, and the roofers working on your roof are dressed in long pants and sleeved shirts. How could they not be if you're in shorts and already dying of heat? 
Roofers, it turns out, have some very valid reasons for wearing long sleeves and pants. 
Short sleeves usually come to our mind when we think of staying cool, but most roofers find that long sleeves improve airflow.
The only way to stay cool when wearing short sleeve shirts is for the wind to blow directly on your skin. When you wear long sleeves, the sleeves act as wind tunnels.
Also, contrary to traditional belief, studies have shown that wearing long sleeves can keep a person cooler since heat is absorbed by the clothing material rather than the skin. Some roofers believe that the sweat produced by the extra clothing makes it easier to stay cool. 
See also: Do Roofers Have to Wear Hard Hats?
3. Helps fight humidity
States like Louisiana, Mississippi, Iowa, Michigan face excessive humidity and living in such climates, the roofers there often prefer hoodies with long sleeves because they absorb moisture away.
Polyester fabric, as we all know, wicks sweat and moisture away from your skin. The concept may appear unsettling and uncomfortable at first, but polyester's synthetic plastic composition allows moisture to evaporate.
Below is a chart curated by OSHA (The Occupational Safety and Health Administration) so that we have an understanding of the importance of humidity in the roofing profession :
| | | |
| --- | --- | --- |
| Heat Index | Risk Level | Protective Measures |
| Less than 91°F | Lower (Caution) | Basic heat safety and planning |
| 91°F to 103°F | Moderate | Implement precaution and heighten awareness |
| 103°F to 115°F | High | Additional precautions to protect workers |
| Greater than 115°F | Very high to extreme | Triggers even more aggressive protective measures |
4. Prevents frequent cuts and scratches on skin
Roofers frequently come into contact with pieces of glass, wood, nails, and other sharp objects, all of which can create itching, painful injuries.
Wearing durable long-sleeved hoodies can protect their arms from injuries, which could lead to illnesses and hospital visits if not protected. 
Polyester, cotton, and other fabrics may appear to be tough enough to withstand a cut. Indirect contact that causes cuts, on the other hand, will bounce right off the materials. Even if it's a direct hit, the material will be harmed far more than the roofer's skin.
See also: Best Work Boots for Roofing?
5. Keeps the arm and body safe from bug and insect bites 
Those who work in the roofing industry are no strangers to bees, mosquitos, and other insects. It may not be so unpleasant to get a bite or sting now and then, but because they work outside every day, they are constantly bitten and stung. This process is not only inconvenient, but it can also be harmful to their health. 
When it comes to bug bites and stings, hoodies are composed of impenetrable cotton or polyester fabric. There aren't many bees or mosquitoes in the world that can cut through a strong, good quality hoodie. So roofers are protected simply from the clothing that they wear. 
6. Prevents excessive dryness of skin
If you already have underlying skin issues, the sun's drying effects will aggravate them. It can cause skin cracks, unpleasant burns, and more, as previously mentioned. However, it dries your skin rapidly, leading to irritation and chapping. 
It's a no-brainer once you understand about all of the advantages that hoodies and long sleeves can give.
Things to Consider while Choosing Hoodies for the Roofing 
Roofing contractors need to know what to wear when roofing. There has been a long debate going on regarding the choice of color when it comes to hoodies. The main question in light is "Are light colors really cooler than dark colors?"
As we all know, heat rises, so wearing black can help you avoid overheating if you keep your clothing loose. Although black absorbs heat, the space between the cloth and the body (assuming the garment is loose-fitting) generates a chimney effect, which causes the heat to move upwards and out through the top of the garment.
According to research in the International Journal of Science, experiments show that white feathers allow more short-wave radiation to penetrate the skin. White feathers allow more heat to enter than black feathers.
Regardless of opposing beliefs, when it comes to a roofing outfit, it's definitely best to play it safe and stick to light colors in the summer to avoid overheating, especially for roofers who have to get much closer to the Sun than the rest of us surface dwellers.
See also: Are Wedge Sole Boots Good for Roofing?
Information on Government guidelines
The Occupational Safety and Health Review Commission (OSHRC) reviewed roofing contractors' potential culpability for exposing workers to high temperatures under the employment act. 
OSHA is a big regulatory authority within the US Department of Labor that was established with federal powers to investigate and inspect workplaces.
However, in 2019, following a worker's death from heat stroke, OSHRC concluded that OSHA failed to prove the conditions at the job site demonstrated the existence of an excessive heat hazard. 
The following link gives detailed information on how to prevent illnesses occurring from sun exposure, and OSHA standards that have to be followed and labor violations that should be avoided- https://www.roofingcontractor.com/articles/94698-preventing-heat-related-illnesses-and-osha-fines 
Things to be considered if you're in the Roofing profession
We have to understand that there are serious implications that can occur if you're exposed to direct sunlight for long hours. Given below are some points to consider if you are in the roofing business: 
1.) Coolibar, an organization that sells sun-protective clothing and accessories, demonstrates that skin cancer is a big concern when it comes to UV rays. About 90 percent of nonmelanoma skin cancers are associated with exposure to UV radiation from the sun.
2.) Burns from the sun can be deeply painful. You've probably heard of sunburns, but they're also one of the reasons why roofers wear long sleeves. Long-term sun exposure can result in serious sunburns that require a trip to the doctor.
3.) Too much sun exposure can lead to fatigue and exhaustion. Heat exhaustion is no joke; it may rapidly make people sick. You'll be tired and fatigued during the day, but wearing long sleeves to protect your skin will help to alleviate this problem.
Best Hoodies for Roofing
1. Bigfoot Roofer Construction Contractor Sasquatch Roofing Pullover Hoodie
We recommend this comfortable hoodie as it is made of part cotton and polyester. It has a tapped neck in order to protect your nape from direct sunlight. 
---
2. Roofer Skull Crossbones Roofing Badge Hooded Sweatshirt Hoodie 
This hooded, long sleeve makes it on our list because of its quality and comfort. And what better than a hoodie that can be used at work, as well as in the comfort of your home. 
---
3. Champion Men's Long Sleeve T-Shirt Hoodie, Script Logo
These quality, comfortable hoodies come in various colors and also include front pouches. They're suitable for places with warmer temperatures. 
---
4. Hanes Men's Ultimate Cotton Heavyweight Pullover Hoodie Sweatshirt
Made of part cotton and polyester combo, these bulky hoodies are ideal for winter to keep you warm without layering yourself with excessive clothes. 
---
Conclusion
One thing that you must understand if you are in the roofing profession is that your choice of outfit and footwear, not only provides you comfort but is also essential in keeping you safe and healthy.
Majority of complications arise when there is a danger of falling from a certain height and of course, the deadly effects of UV rays. 
So considering these factors, hoodies seem to be an appropriate choice of clothing for someone in the roofing business as it has long sleeves to protect your arms, and a hood to protect your neck and head from direct sunlight and sun burns.