Who are roofers?
Simply one who works on the roofs in a construction site!
To be more precise, a roofer might be a roofing contractor or a roof mechanic who builds roofs in a construction site. Sometimes they repair and replace roofs of buildings and sometimes they install new roofs!
But after all, they are construction workers!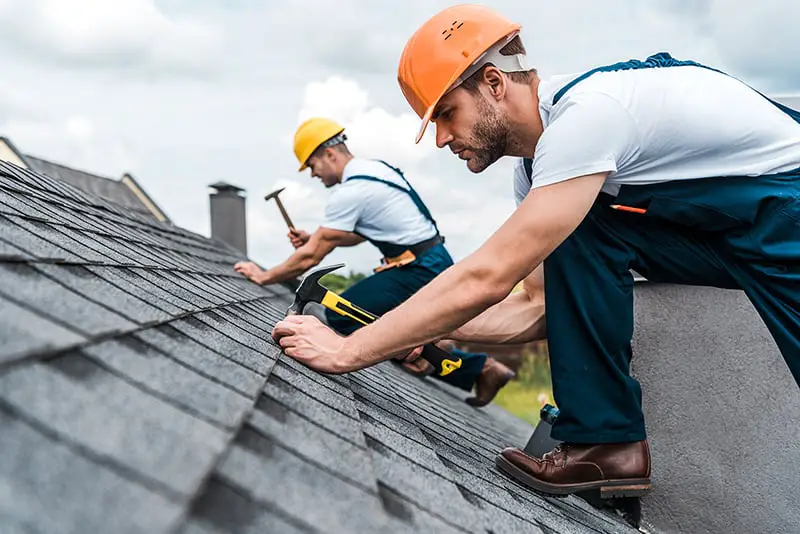 It is no where guaranteed that the roofers don't have to climb down under roofs to load and unload materials that are required in the building of the roofs and get exposed to overhead objects. Also, there remains the chance that there might be an electric line hanging overhead when the roofers are building on the roofs!
That said, 
It becomes extremely necessary for all roofers to wear hard hats for their head protection and to be able to work safely and without fear of any risk. But according to OSHA's General Industry and Construction Head Protection Standards §1910.135 and §1926.100, there is no requirement of wearing any hard hat if you are not exposed to any risk of head injuries from falling or flying objects, heavy impacts and electrical shocks and burns.
But, as a company policy, nearly 100% of the workers in US need to wear hard hats for their safety and protection. Also, OSHA requires the employers to perform hazard assessments of the work areas before shunning wearing of hard hats of the employees.
In this article I have input all the necessary details regarding wearing of hard hats by roofers and reasons why you should not skip wearing it. Also, I have detailed some measures to tackle the heat that results from wearing of hard hats on roofs!
But before that let's see…
What OSHA says regarding wearing of hard hats by roofers?
Some employees complain about the excessive heat that accounts to wearing of hard hats on the roofs and the related heat-related health implications. To combat this, OSHA has set heat-related campaigns to prevent heat-illness in the outdoor areas such as while working on the roofs.
In order to detect dangerous heat levels while working on the site, OSHA has developed a "smartphone heat safety application". This app also demonstrates the necessary protective measures for combating extreme heat.
OSHA relies on the safety measures set by the General Duty Clause in order to make employers, including roofing employers implement the following policies:
"Implementing a work/rest regimen in accordance with the American Conference of Governmental Industrial Hygienists (ACGIH) heat exposure Threshold Limit Values.

Acclimatizing new workers or returning workers by gradually increasing workloads and allowing more frequent breaks. Workers new to the heat can be the most vulnerable.

Rescheduling work during the cooler periods of the day (e.g., early morning and/or in the evening).

Encouraging employees to drink small amounts of cool water (approximately 4 to 6 ounces) every 15 to 20 minutes, but no more than 1 quart/hr. and 12 quarts/24 hrs.

Providing a training program for all employees regarding the health effects associated with heat stress, recognizing symptoms of heat-included illnesses and methods of preventing such illnesses."
So, after all these, the question remains….
Do roofers need to wear hard hats?
When there are measures to combat the heat, why take a chance with safety?
Roofers definitely need to wear hard hats for their head protection while working at the construction sites. They don't know where the danger would come from!
It might come from the overhead electrical lines that might accidentally touch their heads, it might come from the extended iron rods from the shutters and pillars, or it might come while loading and unloading supplies.
It is also possible that the roofers have to climb downstairs in search of certain supplies and that is when they get hit on the head by overhead objects!
Therefore, there always remains the need of wearing a hard hat when you are working on site!
How do roofers combat heat while wearing a hard hat?
Now you know that how important is wearing a hard hat for a roofer! But yes, we cannot deny the fact that wearing hard hat while on the roofs becomes tough because of the excessive heat that directly falls overhead!
Therefore, I have got some really cool solutions for fighting the heat while still safeguarding your head with hard hats:
Wear cooling pads underneath the hard hats

Wear a beanie that offers breathability and soaks in the sweat

While at break wear off the hard hat and allow fresh air on your head

Wet a piece of cotton cloth and set it under the hard hat. It will give you a cooling sensation

Keep on drinking water after every 15 to 20 minutes. This will keep you hydrated and will not let the heat effect your health

Try setting a shade overhead while working on the roofs. This will keep you away from the heat

In case of extreme heat, try rescheduling the work hours to early mornings or in the evenings
What color hard hat do roofers wear?
There is no specificity as to which color hard hat should roofers wear. But, roofers; being construction workers can wear the common yellow-colored hard hats that is for all the earth movers, laborers and non-specified workers of the construction site.
Also, as roofers have to deal with extreme heat and there are chances of injuries from overhead hanging electric lines, they can wear the brown hard hats specified for welders for protection against heat.
It's time to bid Goodbye!
So, in a nutshell we can conclude that whether it is made mandatory by OSHA or not, but wearing hard hats by roofers is a must for their personal safety measures!
It's your life and you choose what's the best for you and in this post, I have provided you with ample reasons why you should wear your hard hats as roofers and also how to fight the heat out from wearing it.
That's all for this article. I hope it was helpful to you!
Stay tuned for more exciting articles on workgearz…
Till then stay fit and healthy and…
Have a happy roofing day!