Denim stores abound and denim brands even more so. Jeans come in all price ranges and the Japanese jean brand Moussy comes with a heftier price tag than most.
The Moussy Brand
The Moussy brand was created in 2000 in Japan. Moussy proceeded to open stores throughout Asia and in the United States.
Moussy is a favorite among celebrities and customers worldwide offering multiple jeans styles from trendy to classic and even hand-repaired denim. The brand enjoys a huge following, but the jeans come at a price.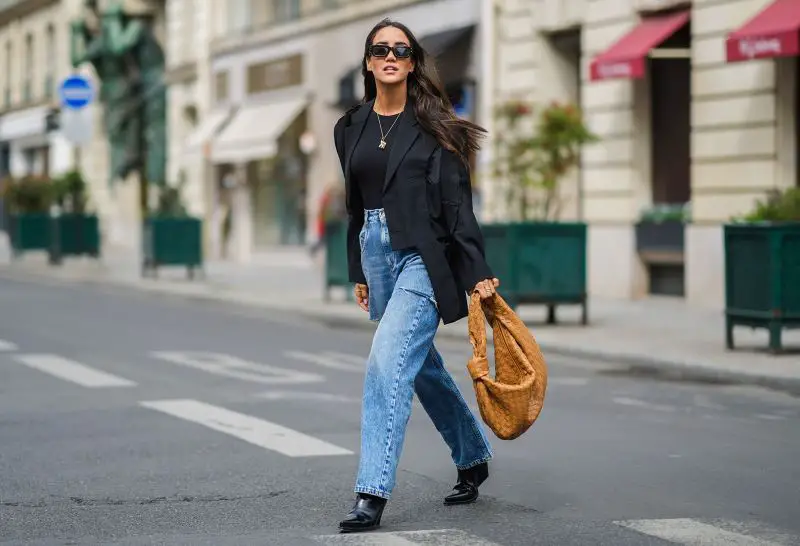 This denim brand not only offers a wide selection of styles, and washes, but does so in a socially conscious manner.
The production of denim fabric, clothing assembly, and washes are all produced in Japan in facilities that are friendly to the environment. And the company boasts noteworthy attention to detail in the production of its clothing items. 
The strong, thick, top-quality fabric forms your body shape in the best Japanese denim tradition.
Why Is Japanese Denim So Costly?
Denim produced in Japan generally refers to denim fabric that has been woven on shuttle looms that are vintage while the rest of the world uses modern looms.
Vintage weaving looms may be sixty to eighty years old and are much slower and will produce fabric lengths that are barely half of the width of the modern rolls of denim produced with modern machines.
This alone contributes to how much time is required to produce a pair of Japanese-made jeans. These original weaving looms also require specialized tradesmen when repairs are needed and skilled workers to operate them.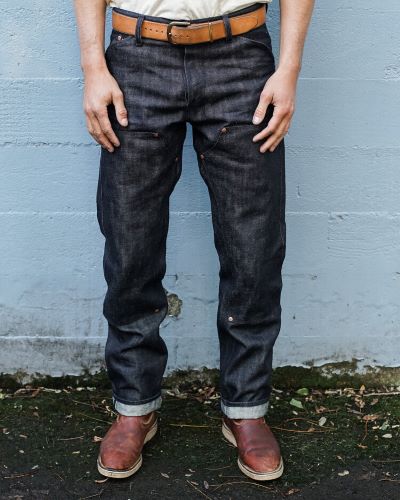 This kind of denim production, known as selvedge denim, produces swaths of denim that have unfrayed, finished edges secured with a colored thread.
These older looms can also produce irregular textures so that each type of denim has a unique feel to it with no limit to the variety of textures and weaves that can be achieved. 
Older loom weaving unique fabric textures set Japanese denim apart from other available denim options.
Dyeing Fabric Threads
Before the denim is woven, the threads used need to be dyed. Most Japanese denim producers will have proprietary methods for dyeing, some going back generations, and some being performed manually from start to finish. These methods are highly specialized and time-consuming.
Modern denim production will dye threads using chemical sulfur products that are colorfast. But Japanese manufacturers often prefer natural dyes that when used, make it more difficult to manage the dye quality. 
Denim Weight
Japanese-produced denim also tends to be heavier fabric with some brands weighing more than 25 ounces a yard.
Heavier denim adds to the longevity of the clothing item and the potential for the iconic fading associated with jeans. Producing thicker fabric requires more raw material which adds to the final production expense.
Raw or Sanforized?
In the 1930s, a process known as sanforization was introduced which aided jean sizing. Before sanforization, jeans were left in their raw state which meant they shrunk after washing and often made selecting the correct size a kind of guesswork.
Nowadays, most jeans have undergone this process so that sizing is basically established before being sold off the shelf, and they are softer to the touch and the wear than raw denim.
Some Japanese-manufactured denim will be raw while some will be sanforized.
Jean Detailing 
Japanese jeans also use quality hardware when constructing pants. Rivets and buttons are generally custom-made and bear the company name. They may feature a unique design.
Other detailing may include a coin pocket with a selvedge thread, custom back patches, multicolored stitching, and even pockets that are fabric lined.
Detailing takes time, and many manufacturers will use vintage sewing techniques on antique sewing machines. This kind of detailing will add to manufacturing costs.
Fashion Styling
Many Japanese brands, including Moussy, integrate vintage styles into their fashion lines. These vintage styles are not limited to merely reproducing American work or western styles but include styles from the late 1800s to the 1940s.
A few Japanese denim brands may even exactly create precise reproductions from threads to hardware which will influence the final price.
The Pros and Cons of Japanese Denim
Japanese denim offers some appealing features when compared to other kinds of manufacturing:
Denim fabric tends to be heavier adding to the longevity

Raw denim fades like no other

Quality and unique detailing and hardware

Ample selection of weights, colors, and textures of denim

Limited production adding to the uniqueness of jean items

Quality production methods
Drawbacks might include:
They are expensive 

Raw denim can be stiff and initially uncomfortable

Heavier denim fabric can be too warm in hotter climates

Sizing can be a challenge, especially for unsanforized denim

Patience may be needed for fading
Moussy Fashion
A high fashion casual brand, the Tokyo-based brand is known for adapting men's style for women's wear. Denim is their core product and is dedicated to each process during product manufacturing.
Moussy uses Japanese denim factories and washhouses to create jeans where each pair is unique. In 2016, Moussy created its line of vintage jeans.
In 2020, Moussy created a clothing line for sustainable production known as "M_". This line uses recycled fibers, organic cotton, and biodegradable materials.
Currently, Moussy offers a wide variety of jeans for purchase. Men's styles include skinny, slim-tapered, wide-tapered, stretch, straight, and rigid.
The Women's offerings of jean styles are even more generous and include boy skinny, rebirth skinny, skinny, flare, rigid, stretch, tapered, wide-tapered, slim straight, straight, wide-straight, high rise, and mid-rise.
The Bottom Line
If you are looking for an inexpensive pair of jeans for physical labor, you may not want to pay what a pair of Moussy jeans may cost you.
If, on the other hand, you are looking for very high-quality denim produced in limited numbers and don't mind a little time for breaking them in, Japanese denim is a top-notch choice.
Why are Moussy jeans so costly? The washes they offer are truly unique and literally impossible to achieve with new jeans.
Their clothing is well-made and the fit they offer is exceptional. The attention to detail is without rivals. All things considered; the expense is understandable.