Timberland is a powerhouse brand in the manufacturing of work boots along with other kinds of footwear.
With tens of dozens of styles available, this manufacturer provides an ample variety of footgear to select from. So, for professionals that work in the construction business, are Timberland boots a good choice for construction work?
How Do You Choose Good Work Boots for Construction?
The quest for a good pair of construction work boots can be quite challenging. Not because there aren't any, but because, on the contrary, the marketplace has numerous options.
What does one prioritize when looking for a pair of good work boots? Comfort, safety, and style are key factors in the choice of any professional footwear. And when it comes to safety and comfort, they are of equal importance.
To select the best pair of work boots, it's important to consider your work environment so that you get the features necessary for your specific profession.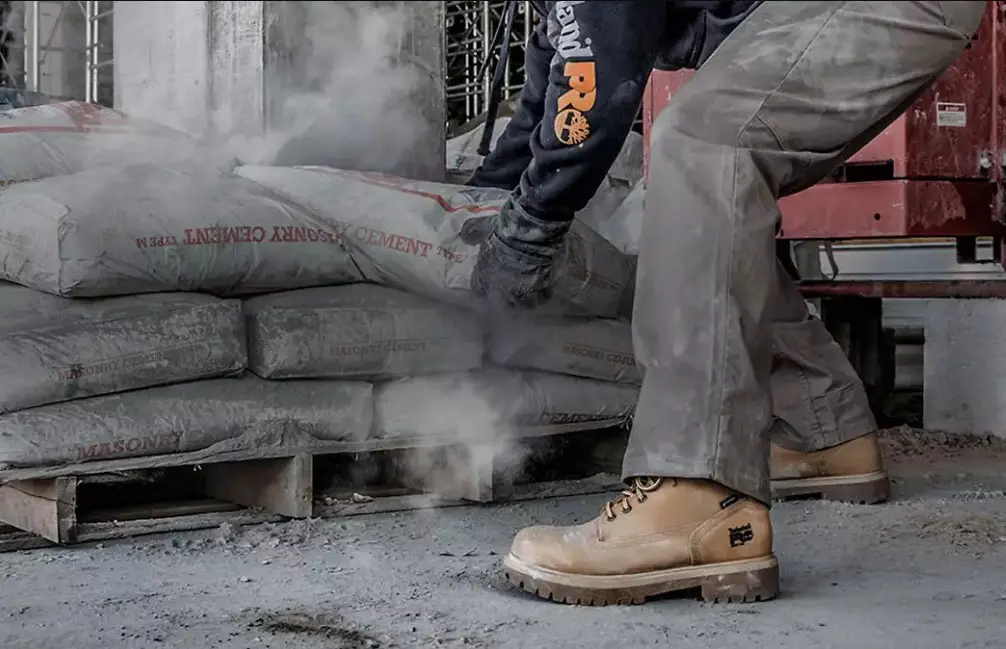 What Kind of Safety Features Do Construction Work Boots Need?
Construction work with related professions can be among the most dangerous activities around. When looking for safety features, keep these needs in mind:
1. A Risk of Foot Injury
Construction sites are hazardous. There's no way around this. Heavy materials and equipment, power tools, and more are all common to construction sites.
Falling debris or tools demand a need for toe protection. Many work boots come with steel toe caps or protection in aluminum or composites to prevent toes from becoming crushed under the weight of falling objects.
Another feature to consider is a puncture resistant outer sole. If you're at risk to walk over nails, glass or metal shards, and anything sharp. A puncture-resistant outer sole is ideal for foot protection.
2. The Risk of Slipping and Falling
Slippery surfaces are one of the foremost reasons for injuries at construction sites. Whenever water or oil is present, there's a risk of slipping and falling.
If your particular role exposes you to slippery pavements, then your work boots must be slip-resistant. This is where technology can take a leading role in the creation of both materials and designs that contribute to the creation of slip-resistant outer soles.
3. The Risk of Chemical Burn
Chemicals can be found at construction sites, so if your profession requires you to work with flammable chemicals, you'll need work boots that protect you from chemical burns to your feet.
Among the Timberland's safety features, you'll find chemical resistant options that will keep feet safe from potentially life-changing injury.
Are Timberland Boots Good for Construction Professionals?
The Timberland brand offers lots of safety features on multiple styles of boots, making them among the best work boots for construction pros.
Many of these features are designed to withstand the most hazardous work conditions. In fact, Timberland has created a line of footwear specifically for workplace needs named the Timberland PRO series. 
Each boot design will integrate various state-of-the-art technologies to afford the best protection available for the job at hand. What's more, Timberland tries to keep their boots as lightweight as possible to guarantee flexibility and agility during movement. 
What About Durability?
If you only need work boots for an occasional venture to the construction site, Timberland boots can last for years.
On the other hand, if you need work boots for daily physical labor, especially in extreme environmental conditions, plan on them lasting from 6 to 9 months before you notice any substantial wear and tear. Many work boot brands will last considerably less in exceptionally hazardous situations.
Timberland Pro Work Boots or Timberland Classic Boots?
Are there major differences between Timberland classic boots and the Timberland Pro Series? Absolutely! The Timberland Pro series of work boots are specifically designed and manufactured for extreme work environments.
The Pro boot models are a fine choice for either professionals or laborers who work on their feet and are subject to inclement weather condition. They are produced to comply with safety PPE footwear requirements. 
Classic Timberland boots are likewise rugged and durable, but they are engineered for daily wear. They may be waterproof, but they will not necessarily comply with safety regulations for the workplace. 
What Do Timberland Pro Work Boots Offer?
Timberland's Pro Series of Work boots offers important safety features for both men and women in numerous work environments. The Timberland PRO series include work safety characteristics that include:
1. Safety Toe Caps 
Not every work boot will feature safety toes. Make sure you consider this when you choose your preferred style. It's important that you are informed as to whether your profession or your employer requires steel or composite toe caps, or if you can wear soft toe work boots.
Timberland also produces work boots with a safety toe in alloy that uses aluminum that is lightweight and military-grade. The PRO work boot series with safety toe caps comply with ASTM F2412 safety requirements to resist impact injury.
2. Slip Resistance and Traction 
PRO series work boots come with outsoles designed to provide grip and traction on wet or surfaces that are slippery. This feature can aid in impeding falls. 
3. Anti-static Outsoles
Work boots with anti-static outsoles are designed to conduct any static electricity met in the workplace through the boot (linings, footbeds, and outer soles) into the ground. This is to avoid electrical charge build-up in the body.
4. Puncture-Resistant Soles
Work Boots that have puncture-resistant soles will generally feature a pate, often in steel, that protect feet from nails, needles, glass, metal shards and anything sharp enough to pierce and penetrate normal boot soles.
5. Metatarsal Guards
These guards are another PPE feature that are designed to protect the top of feet past the toes from heavy objects that may fall on feet.
6. Insulation 
Electrical and thermal insulation can be crucial to personal safety. Electricians that work with high electrical voltage need electrical insulation.
The PROS work boot series features outsoles produced in thick rubber to meet OSHA standards. The Thermal Force Pro Work Boot is an excellent example of a work boot that insulates in extreme cold.
7. Water Proofing 
Never underestimate a need for waterproofing. Timberland produces their boots with materials that remain dry in the most challenging weather but guarantee breathability as well. 
8. Anti-fatigue Design and Technology 
Timberland uses polyurethane midsoles designed to cushion feet and to protect them. This can be a true life saver for those that stay on their feet most, if not, all day.
Are Timberland Boots Good for Construction?
The answer is a resounding yes! Timberland produces excellent work boots. Comfortable, protective, and durable, and they also come in enough styles to satisfy a variety of style preferences.