Sherpa is a soft and fluffy fabric that is commonly used to line clothes, winter apparels, and even some household objects. The material lends a warm and cozier feel to any item of clothing, making it ideal for cold winter months.
The very soft and velvety feel of Sherpa is its distinguishing feature. Sherpa, which resembles wool or sheepskin, is an excellent eco-friendly fabric that has various benefits. 
But talking about warmth, sherpa is actually warmer than wool as it is best suited for extreme cold weather, and wool is an adjustable fabric, meaning it is a versatile fabric that comes in various thickness suited for all climatic temperatures.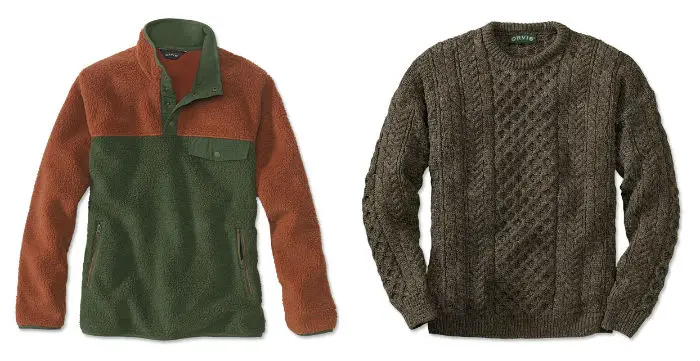 It's not just about warmth, but these two materials have different strengths and weaknesses that can be applied depending on your needs. But there are many other reasons for wearing sherpa over wool, which can make it more useful in some types of climates.
Let's look at some difference between sherpa and wool
1.) Sherpa is made of synthetic fabrics like polyester or acrylic, while wool is made of natural sources like sheep hair. 
2.) As you can see, wool has a much wider temperature range than sherpa. This means that while sherpa is the warmest fabric, it is not suitable for all weather or all temperatures.
3.) Wool does have a much wider temperature range because of the different level of thickness it offers. Sherpa, on the other hand, comes with the same level of thickness. 
4.) Because of its lack of breathability, sherpa is not ideal if you are working hard, sweating or in windy conditions as it will make you cold. 
5.) When the weather is cold and you are working hard, wool is best suited because it will not make you feel hot and sweaty. Wool provides warmth even when wet, and this is not true for most materials.
6.) Though wool is better suited for moisture control, when it comes to softness, no other fabric can beat sherpa. It is an extremely soft fabric that feels amazing on the skin of the wearer. 
7.) Sherpa does not hold water or moisture as well as wool. This means that it does not insulate as well when wet, meaning it can be uncomfortable if you are working hard in cold weather.
This problem is compounded by the fact that the more moisture sherpa absorbs, the less insulating value it has. However, this moisture retention capability may be useful in temperate climates where the weather is often damp or humid.
In this case, sherpa may be a better choice than wool. In addition, if you are working hard or hiking during the day and sleeping at night, moisture retention can be a valuable attribute.
See also: Is Wool Warmer Than Polyester?
Advantages of sherpa during cold weather
1.) It is a lightweight fabric
With all of the sherpa's insulating features, you may anticipate the fabric to be thick and heavy. However, this is completely false. Despite its thickness and smooth texture, sherpa is a lightweight and non-bulky fabric.  
It is delicate and beautiful, and because the sherpa fabric is so light, they are easier to layer or travel with. 
2.) Provides good insulation
One of the well-known properties of sherpa is its exceptional capacity to retain heat. Because this fabric has two sides, one smooth and one with a furry inside, it provides excellent insulation.
Therefore, giving you complete protection against cold winds and uncertain weather. Using a sherpa lined blanket during winters is perfect because of its incredible heat insulation.
3.) It is a moisture wicking fabric
Sherpa is a quick-drying material, making it ideal for your daily use during winters. Sherpa, like pure cotton, effectively wicks moisture away, keeping you comfortable and dry.
Coats or sweaters made of sherpa are comfortable because it prevents you from being drenched in your own sweat. 
4.) The fabric is quite durable
A sherpa fabric has two sides, a stitched wool side with a soft and irregular texture, and a smooth knit layer on the other. They combine to form a sherpa material that is both warm and an extremely durable fabric that lasts long.   
5.) It's easier to maintain
Sherpa is not as difficult to care for as it may appear. In reality, it is quite simple to clean. To keep a sherpa fabric in good condition, simply wipe away stains, wash it in cold water, and use a light detergent. It is also advisable to not wash your sherpa fabric frequently to maintain its quality. 
6.) A good substitute for animal based fabrics
Authentic wool provides high-quality, long-lasting items. What's even better is that sherpa achieves the same thing, only it employs cotton or synthetic materials to achieve the same benefits. 
Sherpa is the way to go if you want a baby blanket that provides warmth without causing excessive animal suffering. Sherpa, on the other hand, does not save on quality since it is robust, sturdy, and long-lasting.
Here's a brief rundown on sherpa:   
1.) An expensive vegan fabric that resembles sheepskin/faux wool. 
2.) Because of its synthetic fibres, it is moisture-wicking in nature. 
3.) Lining for blankets, jackets, animal beds, and outerwear. 
4.) Normally used as a liner material to keep you warm.  
5.) A little more expensive than most other winter fabrics.
FAQs- 
1.) How do you keep your sherpa fabric fluffy? 
First and foremost, you need to stop frequently washing your sherpa fabric. Even if you decide to wash it, run it through a brief gentle cycle in cold water and white vinegar, without using fabric softener.
Remember, do not tumble dry your sherpa jacket. Allow it to air dry. When you're finished, use a bristle brush and carefully comb it out in all directions to maintain the fluffy texture. 
2.) What makes sherpa so warm?
Sherpas are constructed of fleece, which is a polyester fabric. It is commonly used as a lining for coats or blankets. And even though they are light in weight, these polyester fabrics are warm. They are soft and simple to work with, as well as water resistant and moisture wicking. 
Before we wrap this up, let us talk about whatever we have discussed in the article. While both wool and sherpa serve the same purpose of keeping us warm in winter, they have significant differences which we have mentioned above.
Sherpa is a fabric that is ideal for extreme cold weather while wool is much more versatile than sherpa. 
However, if you still prefer sherpa over wool, it does come with its own great benefits.