Coveralls are essential for workers who work in risky situations during the winter season. It acts as a warm protective layer and is frequently worn over the top of your personal apparel thus providing double layers to keep you warm.
One main type of coveralls that is primarily designed to protect workers from cold weather is thermally insulated coveralls. Wearing this will help those who work in extremely cold temperatures to warm up and withstand frigid working circumstances.
So, this coverall helps to trap warm air inside your body and keeps you warm by regulating your body temperature. Some of these coveralls are also composed of waterproof material to keep you dry.
So yes, wearing thermally insulated coveralls will keep yourself warm throughout the cold conditions.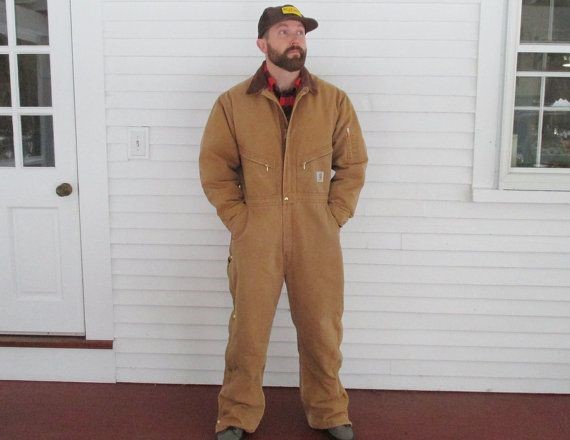 What Are Coveralls? 
Coveralls are a loose, one-piece outer garment that protects your complete body from dangerous work circumstances. They are available in both long and short sleeves, and are worn according to the wearer's preference and the demands of the task.
Workers who wear overalls in the cold prefer long sleeves and typically wear them over other clothes, creating a double layer of warmth. It is composed of cotton and polyester mixes that result in breathable and long-lasting protective apparel that acts as a barrier against harmful contaminants.
The front of the coveralls is connected using buttons, zips, Velcro, or snaps. The primary goal of coveralls is to protect individuals from potentially unsafe and risky working situations or mishaps, as well as to give comfort and convenience during work and to avoid potential distractions that may occur throughout the workflow.
Coveralls come in a range of colors, shapes, styles, and fabrics, and you can find them in online and other work clothing stores. You can find disposable, waterproof, hooded, and insulated coveralls, choose the required and best coveralls that suit your job and working conditions. 
Coveralls not only protect you from hazardous working conditions, protecting you from ankle to shoulders, it is a good working wear that gives you warmth. 
In this post, you will discover why wearing coveralls, particularly thermally insulated coveralls, will provide you with the warmth you seek while working in freezing weather.
Are Coveralls Good for Snow?
Yes, it is highly recommended by the subject matter experts to wear coveralls while you work during winter season. What is the first and foremost essential you need during the winter season?
It is the warmth, without a doubt. So, the sole reason for you to wear a coverall will be that it will provide you with warmth. 
As previously stated, coveralls are perfectly designed to be a protective equipment in many construction and industrial sites when working in hazardous working conditions due to their excellent usage, quality and durability.
However, this is not the only use for it; when worn over another outfit, coveralls provide the warmth required for working in cold conditions, but this won't be the same case when you wear it during hot days. 
Presently, there are different types of coveralls available in the work clothes market, however one particular type that can rescue you from cold weather hazardous is certainly the thermally insulated coveralls.
You cannot regulate or eliminate the weather according to your preferences; in that case having a proper coverall type that can protect you is necessary.
This is where the thermal insulation aspect of the coveralls helps. 
What Are Thermally Insulated Coveralls?
Working throughout the winter season means exposing yourself to cold conditions, which is a major issue for people who work in open spaces. Air temperature, air movement (wind speed), humidity (wetness), and precipitation all play a role in this.
So as a necessity, sufficient insulation in their protective equipment is required to maintain thermal balance and comfort.
According to a statement by the European Agency for Safety and Health at Work, cold and freezing work situations are on the rise, thus making it critical to offer cold-weather protective clothing.
So, coveralls, which are one-piece clothing with a vest or lining, are normally the protective gear that could be used in the frigid circumstances.
The key criterion used to classify this coverall is the protection it offers against the cold through 'thermal' insulation. Appropriate thermal insulation is chosen in accordance with the prevailing conditions, primarily the environmental temperature and the users' activity.
These insulated coveralls are normally made up of 10 to 12-ounce cotton duck fabric along with a quilted lining. This thermally insulated coverall is also fastened in the same way as the regular coveralls are, using buttons, zips, Velcro, or snaps. They'll also have a zippered leg to make pulling them on over boots easier.
These water-repellent and wind-tight thermally insulated coveralls use lining traps to keep ice, wind, and moisture out while also warming body heat inside for increased warmth.
Designed with durable layers of warmth-trapping material, this coverall allows the sweat to evaporate rather than becoming trapped and making you colder.
Another advantage of this coverall is that it provides excellent breathability, which is critical when working in cold and windy climates.
Additionally, the elasticity of these suits allows the wearer to move freely without restrictions. These suits also include a built-in waterproof feature that acts as a barrier against water or any other liquid spillage.
So, working with a regular coverall is good enough to keep you safe in unsafe working situations. However, what thermally insulated coveralls provide is the additional warmth by adding an extra layer which is a requisite to comfortably continue working in the frigid and blustery weather conditions.
Furthermore, these specific coveralls are available in a wide variety of fabrics, each with its own weight, size, and style, and are thermally insulated to keep the wearer particularly warm in colder conditions.
Benefits Of Thermally Insulated Coveralls
1.) Provides Warm and Comfort
By providing an extra layer of fabric and a quilted inside, this apparel maintains your body temperature and keeps you warm when working in frigid conditions.
Furthermore, this garment's breathability and elasticity allow you to move freely without restriction, allowing you to work comfortably.
2.) Provides Full Body Protection
From your ankles to your shoulders, coveralls protect you from hazardous working conditions; similarly, thermally insulated coveralls protect your entire body from the risks associated with colder environments.
The thermally insulated coverall has the same basic qualities as coveralls, but with an extra layer for added warmth.
3.) Provides Durability 
Typically, these coveralls are well-designed and durable enough to prevent your PPE from any damage when you're exposed to extreme cold. These coveralls are tear-resistant for a longer amount of time, no matter how strenuous your labour is.
4.) Provides Visibility
Working in winter settings necessitates a high level of visibility due to the possibility of snow fog and mist in the atmosphere.
As a result, bright-coloured or hi-vis coveralls are advised by professionals. Thermal insulated coveralls are also available in bright colours, which make it easier to spot you and prevent accidents.
5.) In-Built Waterproof 
As these coveralls will be worn during the winter, it is necessary to make them water-resistant. The waterproof system of thermally insulated coveralls allows you to work in a cold environment without getting your clothes wet.
6.) Prevents Hypothermia
Hypothermia is a severe condition that occurs when a person's body temperature falls below 95 degrees Fahrenheit. This can be avoided by wearing warm clothing and staying dry, with thermally insulated coveralls being the best option for reducing the risk of hypothermia.
7.) Prevents Frostbite
Frostbite can be caused when someone is exposed to extreme cold for an extended period of time, causing the deep layers of the skin and tissue to freeze.
You can avoid frostbite by wearing thermally insulated coveralls that give extra warmth and cover your complete body. Other exposed areas can be protected by wearing caps and neck warmers.
8.) Availability
Since this is a necessary attire, manufacturers offer coveralls as well as thermally insulated coveralls in a wide variety of colours, sizes, and styles to meet market demand.
So, depending on the weather, your comfort, and your working conditions, you can easily pick anything of your interest from the market.
Best Insulated Coveralls for Cold Weather
As previously said, insulated coveralls that provide adequate warmth when working outdoors in cold climates are in high demand.
Carhartt makes some of the best quality insulated coveralls, followed by RefrigiWear, Dickies, and Roundhouse.
The insulated coveralls listed below are the most popular high quality protective clothing which could be beneficial for your work.
1.) RefrigiWear Men's Iron-Tuff Insulated Coveralls with Hood
Prices pulled from the Amazon Product Advertising API on:
Product prices and availability are accurate as of the date/time indicated and are subject to change. Any price and availability information displayed on [relevant Amazon Site(s), as applicable] at the time of purchase will apply to the purchase of this product.
Extremely high quality

Very durable

Rated to -40 degrees

Water-repelling and wind-resistant

12 ounces of insulation

Fleece-lined hood

Outer shell made of 420-denier nylon 

Abrasion-resistant and tear-resistant
---
2.) Carhartt Men's Arctic Quilt-Lined Yukon Extremes Coverall
Carhartt Men's Arctic Quilt Lined Yukon Coveralls
Zip-front coverall featuring double knees that accommodate knee pads and ankle-to-waist two-way zippers with snap storm flaps

Zippered chest pockets and slanted hand pockets

Heavyweight. Water-repellent, 1,000-denier cordura nylon sh
Prices pulled from the Amazon Product Advertising API on:
Product prices and availability are accurate as of the date/time indicated and are subject to change. Any price and availability information displayed on [relevant Amazon Site(s), as applicable] at the time of purchase will apply to the purchase of this product.
Abrasion-resistant

and tear-resistant

Water-repellent

Extremely durable

Knee pad compatible

Made out of a denier nylon shell

Under arm vents

Good in

sub-zero temperatures

High quality
---
3.) Dickies Men's Premium Insulated Duck Coveralls    
Dickies mens Tv239 overalls and coveralls
Dickies scuffgard, reinforced double knees, knit storm cuffs and corduroy collar

Side entry chest pockets and one interior pocket

Heavy duty brass 2-way front zipper with large pulls

Triple needle felled seams

Rule pocket and hammer loop
Prices pulled from the Amazon Product Advertising API on:
Product prices and availability are accurate as of the date/time indicated and are subject to change. Any price and availability information displayed on [relevant Amazon Site(s), as applicable] at the time of purchase will apply to the purchase of this product.
100% cotton duck fabric

10-ounce of insulation

Highly durable

Water-repellent

100% quilted nylon taffeta lining

Corduroy collar

Zipper closure

Reinforced double knees
---
4.) Walls Men's Zero-Zone Twill Insulated Coverall
Walls Men's Twill Insulated Coverall
Walls muscle back technology uses a large band of elastic across the back to increase your range of movement, elastic inserts at back waist

Hidden storm cuffs using comfort rib-knit, concealed front zipper covered by a storm flap

Zippered chest pockets, front swing pockets with additional pass through, back patch pockets - left pocket has a concealed zipper for added security

Single needle diamond-quilted lining with four ounce polyester insulation
Prices pulled from the Amazon Product Advertising API on:
Product prices and availability are accurate as of the date/time indicated and are subject to change. Any price and availability information displayed on [relevant Amazon Site(s), as applicable] at the time of purchase will apply to the purchase of this product.
Made of cotton and polyester blend

Diamond-quilted lining

Lining is made of 100% polyester 

Good warmth without sweating

Easy to move around 

Very durable

Two-way zipper

Resistance to scuffing 
---
Other Ways to Stay Warm 
Working in the extreme cold is well known to be incredibly tough, resulting in serious and negative effects on a person's body.
As a result, workers must understand the fundamentals of how to best protect themselves against hazardous frigid working circumstances.
We've already discussed the significance of wearing thermally insulated coveralls. But it's about more than just having the right outerwear.
One of the best ways to remain warm and avoid cold stress diseases is to layer your clothing. As a reason, workers should always wear a moisture-wicking garment as the base layer to balance their body temperature. Always wear gloves, caps, and neck warmers in addition to the base layers and the coverall.
Eat properly because a person's body needs increased energy requirements when working in the cold. Make sure to eat a variety of foods that are high in carbs and proteins, such as pasta, potatoes, meat, fish, and rice.
On the other hand, caffeine should be consumed in moderation because it can cause dehydration, which then can lead to hypothermia. Instead, drink hot tea or cocoa to warm one's body swiftly.
Finally, know when to stop working in the extreme cold. While it is understandable that the work must be completed on time, jeopardising your life is not the best option. Take a break, go somewhere warmer, and, if necessary, change your clothes.
Wrapping it up
So, this post succeeded in providing you with the information you sought on the kinds of protective clothes you'll need to wear in cold working conditions.
Yes, coveralls can warm you up when you're exposed to frigid and blustery weather conditions. The one particular type of coverall that aids here is the thermally insulated coverall, which provides you with full body protection, breathability, and durability. 
The information provided here will also guide you in choosing the best insulated coveralls, as you now understand their key qualities. Also, before choosing a coverall, keep in mind the characteristics of your job and the qualities of the coverall.