A Desert Boot Is Born
British shoemaker Clarks has certainly influenced positively and successfully the desert boot that the company began to sell in 1950. Supposedly, the company's great-grandson, Nathan Clark served during World War II in Burma while in the British Army.
He witnessed the arrival of an army company from North Africa, and the soldiers were outfitted with a kind of boot featuring a crepe sole.
Clark apparently drew a design and sent it home to the company and the rest is history. Clarks recently, in 2020, celebrated 70 years of this particular boot design.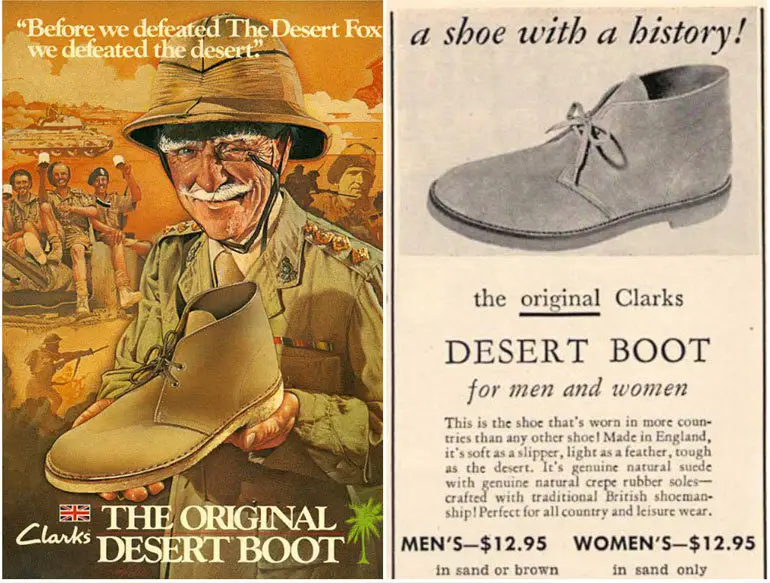 This manufacturer is steeped in British shoe wear history. The company was founded way back in 1825 by a pair of brothers, James and Cyrus Clark, in the town of Somerset, England, but not as a shoe manufacturer.
The company originally produced sheepskin rugs. In 1928, James Clark made his first pair of slippers form leftover pieces of sheepskin.
Then, in 1873, William Clark, the son of James mechanized their shoe-making procedure, so the company emerged as a leader in technological advancement. 
| | Desert Boot | Bushacre Boot |
| --- | --- | --- |
| Boot Uppers | Leather or Suede | Leather or Suede |
| Outer soles | Crepe | Synthetic rubber |
| Insoles | Leather breathable insole with cushioning | Foam cushioning foot bed |
| Waterproofing | No | No |
| Construction | Down-stitching | Down-stitching |
The Desert Boot
The Desert Boot design, at over 70 years of age is a style icon.
Available in either suede or leather, this boot features a crepe sole offering great comfort. The crepe soles also offer terrific traction, especially on slippery or wet surfaces.
They can be worn all day without a problem and the stitch down construction may be waterproof depending on the material used. Both the suede and leather versions can be waterproofed with water-repellent sprays.
The Desert Boot will feature a boot lining in leather for breathability, so overheating and excessive perspiration are less of a risk, and a foam footbed enables shock absorption, increasing overall comfort. Stabilized one-inch heels facilitate movement and comfort.
Pros
Lightweight

Flexible

Classic iconic design

Lots of colors

Soft crepe sole

Quality leather
Cons
Crepe sole wears out faster

Crepe sole dirties easily and quickly

Lack of shank increases the pressure on heels
The Bushacre Boot
Clark's Bushacre boot is a much newer style of footwear. It was launched and released in 2005, or 55 years after the original Desert Boot.
While the desert boot had both history and popularity on its side, the Bushacre quickly attained popularity because it took the best features the Desert Boot had to offer and revisited them in 21st-century style. It might very well be considered a descendent of the original.
Made in suede or supple leather, upper boots contribute to your comfort. The suede version may appear a bit more classic if you are planning on wearing these to the office.
Footbeds come with a synthetic lining as opposed to leather. Rubber outsoles are solid offering reliable traction and surface grip even on wet pavements.
Stitch-down construction is durable and made to last. They are not specifically waterproof. Insoles come with generous foam cushioning.
Pros
High-quality leather or suede uppers

Durable Outsole in synthetic rubber

Soft lining especially in the ankle area

Classic design

Less costly
Cons
The synthetic rubber outsole is hard

Lack of shank increases pressure on the heel
So, What Are the Differences?
Both of these boots are incredibly popular and successful in terms of sales, so the selection of one rather than the other will come down to a combination of details as viewed through the lenses of personal preferences. 
Desert Boot vs. Bushacre Boots: Similarities
Often boots, especially when they are the products of natural evolution, may actually share more in common than what divides them. Let's consider what they have in common first.
1.) Style and Design
Both of these boots distinguish themselves for style, boasting an elegant silhouette with attractive and fashionably suede or leather boot uppers.
Thanks to the classic style, both the Desert boot and the Bushacre boot are suitable to wear to the office or for official engagements as well as when dressing casually. They can be worn with suit pants or with jeans with the same amount of ease.
2.) Comfort
These two boot brands have been designed with comfort in mind including convincing shock absorption for those pros that find themselves on their feet most of the day.
Crepe soles in the Desert Boot and foam cushioning on footbeds in the Bushacre all work toward improving comfort.
3.) Durability
Durability is a priority for the Bushacre as well as the Desert Boots. Both feature down stitching construction.
4.) Waterproofing
Luckily, both of these boot designs can be waterproofed. Whether made from suede or leather, they can be treated for waterproofing with water-repellent sprays successfully making them the perfect footwear even in rainy seasons.
5.) Sizing
Sizing for both boot brands is varied offering an ample range for men of all ages and body types. The sizes do tend to run large on both styles, so either try them on before purchase or consider a half-size down from your regular size.
As the materials give, it stands to reason that large-sized boots will become even larger through natural stretching.
6.) Pricing
The pricing of both brands does not appear to be that different when consulting sites like Amazon. The difference may end up being only a couple of dollars.
Desert Boot vs. Bushacre Boots: Differences
Being two different types of boots, they have distinguishing characteristics which might facilitate you when making your choice.
1.) Materials
Both boot models are made with suede or leather and all materials are high quality, offering considerable durability.
Both the leather and suede can be waterproofed. The principal differences lie in the outsole materials: crepe vs. synthetic rubber, and in the linings.
2.) Outer soles 
Desert Boots will feature a crepe outer sole that will be softer but also more quickly consumed offering less durability.
Crepe soles also get dirty much quicker, so you'll be cleaning to keep them sharp-looking, but they do offer nice traction and a great grip on wet and dry surfaces alike.
The Bushacre Boots come with what is known as a vulcanized synthetic rubber outer sole. This type of sole is much more durable but does not offer the same level of comfort as a crepe sole might as it is harder.
It is, however, slip-resistant making it an ideal choice in inclement weather or on slippery surfaces
3.) Footbeds
The Bushacre comes with nice foam cushioning in the insole meaning they'll be nice and comfy on your feet all day long.
The Desert Boot instead features a leather insole with cushioning offering superior breathability and is designed to contrast foot fatigue.
So, with the Desert Boot, you'll get more breathability so you can wear it without a problem for extended periods. 
4.) Colors
Both Boot brands come in a variety of colors, but the Desert boot will come in colors other than traditional shades of brown.
How Do I Decide?
This is a really tough question to answer. Both of the boots come with excellent designs, features, and construction.
When deciding you'll probably have to choose between your taste or if you have a specific need such as breathability for excessive foot perspiration.
The Desert Boot is an iconic style statement that offers comfort and a 70-year-old classic design whose popularity has never declined. It's great for a stylish casual look and the crepe soles are comfortable.
Bushacre boots are a great option for daily wear and look good at the office or when meeting clients. Soles are incredibly durable and long-lasting for da
ily wear and the outsoles stay cleaner longer.
If you're looking for daily footwear, these boots are also a bit less expensive together with their impressive durability.
FAQs
Which boot is more comfortable?
The crepe outer sole of the Desert boot is exceptionally soft offering increased comfort during wear.
Which boot is more durable?
Thanks to a synthetic rubber outsole, the Bushacre is a more durable boot.
Which boot is rainproof?
Neither is rainproof. They both can be treated with water-repellent sprays for waterproofing.
Which boot is cheaper?
When buying from online sites like Amazon, both boots are sold in the same price range.