Danner boots and Irish Setter boots come with a lot of great features that enable them to be the best hunting boots. They have their unique style and variations when compared.
But both work as water and heat resistant with durability and flexibility Any hunting journey can be safe and comfortable with these boots. Let's see them closely.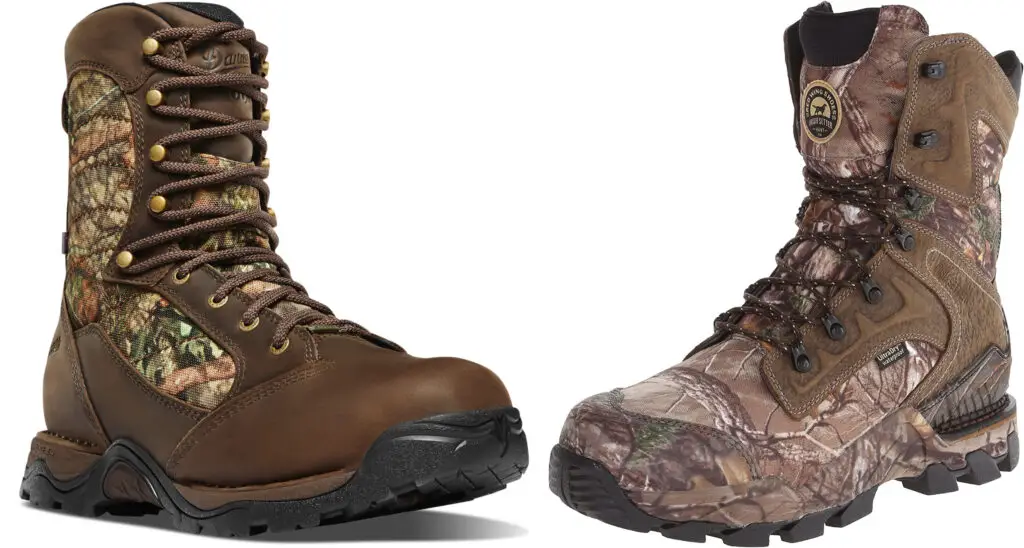 Irish Setter Boots
Irish Setter boots are considered perfect for hard labor and hunting. It has several features that enable proper resistance on rough surfaces.
Along with its rough nature, it is the best source of safety measures when it comes to danger or heavy workplaces. Protect and proper guarding is one of the highlights of Irish Setter boots. 
Let's dig a little deeper.
Irish Setter boots are held by Red Wing Shoe Company, which has been producing premium footwear since 1905. Red Wing Shoe Company was established out of Red Wing, Minnesota.
The Irish Setter brand was begun in the 1950s and has designated itself as a premium boot trademark for both outdoor boots and labor boots
Top Features of Irish Setter Boots
Here are some of the top features of Irish Setter boots that the brand claims. Most of the features are tested and proved to be authentic. Hence, purchasing the boots as per the features you are looking for can be a smart choice.
1.) Lightweight & Durable 
As compared to other hunting boots, the Irish Setter boots are lightweight. The brand puts forward it as one of its top features too.
It doesn't mean that they are easy to bend and ruin. Along with the lightweight feature, they are durable and have extra strength without any extra weight. 
2.) Waterproof
Irish Setter boots are designed specially to resist water content. Hence, it is the right choice for hunting and other adventures where dust and mud are the core.
It provides an UltraDry waterproofing method to manage the moisture content in it with a proper inner lining to avoid damage.
3.) Temperature Control
The brand has formulated a technology that reacts with the natural body temperature and keeps the entire moisture in control.
Keeping the boots dry and comfortable is the priority they have focused on in bringing up this technology. When you feel hot, this inventive Swiss technology chills you down by evaporating wetness and releasing body heat.
4.) Cold Protection
Just like heat protection features, the boots provide the thermal boost feature too. The insulation provided in the boots is perfect to keep you warm in extremely cold climates too. 
5.) Flexible And Firm
The heel level of Irish Setter boots is comparatively steady and firm whereas they have managed to keep the top areas flexible and comfortable.
A welts heel for extra stability is another highlight. The protection, comfort, stability, durability, etc keep these boots unique.
6.) Snake Bite Resistance 
Have you ever wondered how safe it is to move through the wild lands without real foot protection? The hunters, climbers, and those who love the wilderness are to be cautious regarding the snake bite and other poisonous insect bites.
Thus, the Irish Setter brand has kept note of such caution and created boots with snake protection features. It encompasses materials that are hard to penetrate and break. Thus, hunters can keep themselves safe from such dangers.
---
Danner Boots
Just like Irish setter boots, the Danner boots offer a wide range of security help to your foot. It is suitable for both indoor and outdoor activities. It is a heavy-duty labor boot presented in several additional renditions including plain-toe, alloy-toe, and insulated.
Pointing to its history, Danner boots were founded out of Portland, Oregon. Danner was initiated when founder Charles Danner tackled the Pacific Northwest to produce premium employment boots for loggers in 1932. Danner's most famous boot is their Quarry boot.
Top Features of Danner Boots
Now Let's see the top features of Danner boots. They are often the most chosen ones when it comes to heavy labor and hunting.
But in comparison with Irish Setter boots, they have different stitching patterns and excellent style figures. Let's find out other features of Danner boots.
1.) Durable
Danner boots will last long even though they are exposed to harsh and untidy regions. They are the right choice for working in heavily heated as well as risky places.
When hard labor is demanded, these boots can ease your pressure. As they are fit for these purposes, the brand has focused more on the durable side and has been successful in their endeavor
2.) Waterproof
Just like any other hunting or labor boots, the Danner boots are waterproof in their own way. The quick-dry technology is adapted in these boots too.
They won't wear out or get ruined by any water spills. But if any chemical fall happens, that's a real issue to be considered.
3.) Triple-Stitched With Extra-Durable Nubuck Leather
Their stitching is another notable feature. The style and protection the stitch provides are commendable. The Danner brand name is stamped on the side of the boots with much care.
Along with that, the areas where common wear-out issues occur are carefully triple-stitched to ensure durability. Even though the boots are exposed to harsh nature or labor, the tendency to be broken, ruined, or worn out is comparatively low due to this triple-stitch feature.
4.) Comfortable
The Crafter employs a premium non-metal protection toe, finished with an ample toe box. If your feet are inside those boots, they are safe and happy.
With enough toe space and comfortable inner lining, the Danner boots are good to go to any work out there! Long-term use of Danner boots will not make your toes tired or sore.
5.) Tough Exterior & Soft Interior
Mostly the boots come with any of these features even though the brand claims to be the same.
But in Danner boots, the exterior is specially crafted to protect you from exterior harms and threats, whereas the inner lining is carefully mended with soft materials and a comfortable stitching pattern. Thus, they are comfortable to wear and safe to have on your adventures.
Irish Setter vs Danner Hunting Boots
Irish Setter and Danner boots are both a high choice. People love both the boots because of their unique style and uncompromising features.
When it comes to comparison, it is quite hard to say one is good and the other isn't. Because both the brands serve their purpose. But let's make a brief comparison of both in terms of their features here.
Irish Setter Boots
Danner Boots

Waterproof

Waterproof 

Durable

Durable

Regular Stitch

Triple Stitch with

extra-durable nubuck leather

Insulated Inside

Comfortable Interior

Resist Snake Bite

Resist Water & Heat
If Irish Setter boots are great for hunting and climbing, the Danner boots are the best for other rouge labors. With style and classy touch, both the boots are good in their designs too.
The brands have carefully made variations in the designs without losing their traditional value. As these brands have been serving for a long time now, they are following certain sets of boots values like protection, durability, flexibility, resistance et. which provides a high demand in the market.
Talking about the expensive rate, they are affordable for the purpose and worth it. 
See also: Rubber vs Leather Hunting Boots: Which is Better?
FAQs
Are Irish Setter Boots Snake Resistant?
Yes, the Irish Setter brand claims to be snake resistant. The materials outside are thick and heavy enough to withstand any snake bite and stand as a strong shield in any forest adventure.
If you are planning to go through forest adventures, then Irish setters are the best choice. Go with them with confidence and exhale the fear of poison bite.
Is There Temperature Control in Irish Setter Boots?
Of course, Irish Setter boots come with a temperature control feature. If you are someone who is worrying about over sweating and foot sweating while adventure or hunting, this is the right product for you.
The technology built in the boot enables you to keep the temperature in control and keep your foot dry and comfortable.
What Are The Best Hunting Boots?
Some of the best hunting boots are Guide Gear Men's Monolithic Hunting Boots Insulated Waterproof 2400 grams, Irish Setter Men's 2870 Vaprtrek Waterproof 8″ Hunting Boot, Under Armour Men's UA Speed Freek Bozeman Hunting Boots., Northside Men's Renegade 800 Waterproof Insulated Hunting Boot.
Which Are The Top Danner Boots?
As per the 2022 review, the top 5 Danner boots are Danner Mountain 600, Danner Skyridge, Danner Arctic 600 Side-Zip, Danner Mountain Light II, Danner Mountain 600 Weatherized
Are Danner Boots Waterproof?
Yes. Danner boots are waterproof. They can be used for rough traveling and heavy work. Water-resistant features are built into the materials. Thus, safe to go!
Irish Setter Boots or Danner Boots, Which is Best For Hunting?
Irish Setter boots are perfect for hunting. Because they are water-resistant, heat resistant, snake bite resistant, and provide temperature control, durability, and flexibility, Hunting will be great with these features on your foot. It is also risk-free and safe while traveling through wild nature grounds.