If you are having difficulty deciding between Chippewa and Redwing Logger boots, you are not alone.
While both boot brands can boast features that are attractive and have something to offer, having to choose between the two will depend heavily on who is buying them.
Choosing the best boot will depend primarily on your specific preferences, taste, and occupational needs.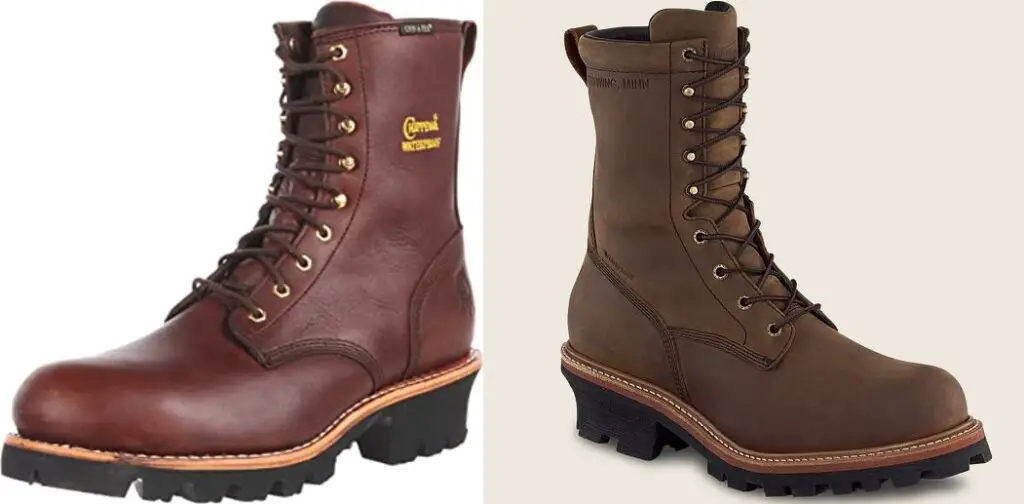 All About the Chippewa Brand
The Chippewa brand finds its beginnings in a small factory founded in Chippewa Falls, Wisconsin in 1901. This footwear is specially designed with loggers and engineers in mind to provide professionals with a dependable boot regardless of environmental or climate conditions.
Originally known by the name of the Chippewa Shoe Manufacturing Company, in 1984, it was sold to Justin Brands, and again in 2000 to Berkshire Hathaway.
After more than a century, Chippewa has expanded to include other footwear niches and continues to invest in high-quality craftsmanship for their footgear.
The company has also continued to maintain affordably priced footwear so that those on a more limited budget can nonetheless purchase a quality product and get value for the money spent.
All About the Red Wing Brand
In 1905, Charles Beckman, a shoe merchant, along with 14 other investors, established the Red Wing Shoe Company in Minnesota.
It is a family-owned business with the philosophy of using only the highest quality materials available in the production of footwear. This company created a source of leather that it still relies upon.
The company has expanded throughout the years by creating a wide variety of footwear options that are both durable and high quality.
| | Chippewa Loggers | Red Wing Loggers |
| --- | --- | --- |
| Comfort | Thick soles for shock absorption, Raised heels for increased support | Removable nylon-covered footbed of polyurethane with foam cushioning |
| Durability and Construction | 8-inch, Leather uppers, Goodyear Welt, Vibram soles | 9-inch, Leather uppers, Goodyear Welt, Vibram All-Terrain Fire and Ice soles |
| Safety | Composite or safety toe, EH, ASTM compliant | Steel toe, EH, ASTM compliant |
| Waterproofing and Insulation | Dri-Lex lining, Chip-a-Tex waterproof membrane 400 g. Thinsulate available | 3-layer waterproofing, Cosmocomfort 400 g. insulation |
| Price | $199 to $425 | $200 to $400 |
The Boots
It's all about the boots, and while they do feature options for women, both companies feature extensive offerings for men, as most tradesmen and blue-collar workers are male.
Both brands offer a variety of designs to meet increasing marketplace demands which include casual footwear to traditional leather boot styles or heavy-duty outdoor footgear choices.
Logger Boots
For those who are professional loggers or who work outdoors in rugged environments, there is a necessity for a work boot that will adequately protect feet and ankles. The required characteristics for a good logger boot include:
1.) Protection
Ideally, logger boots should feature a safety toe for maximum protection from impact injury. Imagine a trunk or heavy materials falling on your feet.
Another indispensable feature for the great outdoors will be a slip-resistant outsole with excellent traction on any surface.
2.) Durability
When specifically considering the durability of logger boots, it's necessary to consider certain features. The boots should be made with high-quality materials that will manage when exposed to extremes whether terrain or climate.
Stitching should be executed with the highest craftsmanship to prevent it from tearing under stress, and waterproofing is invaluable when working outdoors. You also want boots that can be resoled when necessary.
3.) Comfort
While materials used in the manufacturing of logger boots will ensure their durability, these kinds of materials tend to be bulky and occasionally a bit stiff.
They also may add quite a bit to the actual weight of the boots. Nonetheless, if you are doing eight to twelve-hour work shifts, comfort must enter into the equation if you want a boot to be successful.
Good logger boots will feature cushioned insoles and well-designed midsoles for proper arch support. They will also include shock absorption capabilities.
Chippewa Logger Boots
Chippewa logger boots are famous and often considered the go-to brand for professionals in search of a good logger boot.
The company partially manufactures its boots in the United States when most companies outsource. Their Super Logger Boot is one of the most popular within the American market.
1.) Comfort
Chippewa logger boots have incredibly thick outsoles which offer tons of shock absorption, and the design with the raised heel offers support of the foot arch for improved comfort throughout the day.
2.) Durability and Construction
The premium Super logger boots use Goodyear Welt construction and Chippewa does build boots to last. Almost all of their boots can be resoled, and this in itself, speaks volumes about durability.
Loggers are generally manufactured with 100% leather uppers and offer various levels of midsole support and cushioning depending on the price with Super Loggers being their premium logging boot.
3.) Safety
An interesting characteristic of Chippewa logger boots is the raised heels which can be useful to loggers or linemen that need to climb on utility poles or ladders.
The raised heel also helps to keep feet elevated away from surface muck and mud when outdoors and aids in avoiding slipping increasing traction on uneven terrain noticeably.
Outdoor boots will also feature a steel shank and have EH protection as well as being ASTM compliant. Chippewa offers versions with steel or composite safety toes, as well as soft-toe versions. 
4.) Waterproofing and Insulation
Most of Chippewa's boots made for the outdoors feature waterproofing, and some will feature the brand's Dri-Lex lining which is integrated to quick-dry moisture on feet resulting from perspiration.
They come complete with a proprietary Chip-a-Tex waterproof membrane that prevents water from entering the boot while at the same time letting air pass through.
The Chippewa boot construction features a seam-sealed construction that is waterproof as well, so Chippewa provides some major water protection while you are on the job.
You can get loggers with 400g. of Thinsulate insulation, that when combined with the heavy leather uppers offer lots of warmth in the winter months.
5.) Price
Chippewa offers three levels of pricing to offer a quality product for every budget. The Budget-friendly tier comes with heavy-duty leather but with non-leather collars and gussets to reduce expense. Midsoles are in rubber.
A standard or basic Chippewa boot will use 100% leather in logger boot construction and strong Vibram outer soles. These boots will also include leather Robus midsoles for increased foot cushioning and support.
The Premium tier of Chippewa Boots offers everything one might look for in a great logger boot. These are known as "Super-Loggers" and use a 100% leather boot construction, increased support in the midsole, the Italian Vibram outer sole, and the Dri-Lex moisture-wicking lining for increased breathability.
The top-level of Chippewa's logger boots are constructed using Goodyear Leather Storm Welt build and are handcrafted in the United States.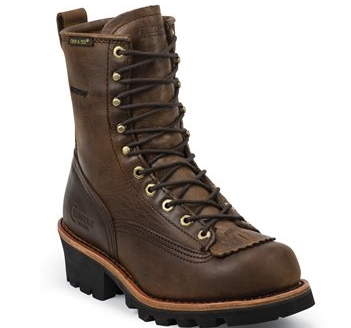 Chippewa Logger Boots Pros and Cons
Pros
Good safety toe box protection

Completely waterproof

EH protection

Quality craftsmanship

Slip-resistant outsole

Goodyear Welt Construction
Cons
Require some breaking in

Boot laces could be better quality
---
Red Wing Logger Boots
Red Wing is a worthy competitor when it comes to loggers. Excellent materials and quality craftsmanship place these logging boots among the most popular available. 
1.) Comfort
A removable nylon-covered footbed of polyurethane with foam cushioning provides comfort and a comfortable fit. The 9-inch high boot offers extensive foot and leg protection with added ankle support.
2.) Durability and Construction
Let's start by noting that Redwing distinguishes itself by directly tanning the leather used in its boot manufacturing. Their thick, full-grain durable leather is hardy and supple enough to not require constant conditioning. 
In general, Red Wing Boots, thanks to a matte finish, are pretty resistant to scratching and abrasion. Goodyear Leather Welt construction defines Red Wing logger's quality, and Vibram All-Terrain Fire and Ice soles can be resoled. 
3.) Safety
Vibram outer soles with aggressive lug tread offer stability and superb traction. They are also resistant to oil, chemicals, slippage, and heat, performing well on surfaces to 475° F.
Red Wing logger boots offer EH certification that is compliant with ASTM safety requirements and a steel safety toe.
4.) Waterproofing and Insulation
Advanced waterproofing keeps feet comfortable in the wettest weather. Redwing integrates a three-layer waterproofing method to ensure feet remain dry and linings are moisture-wicking.
An integrated bootie is waterproof and functions as a barrier to keep moisture from entering. This bootie is further protected with a tricot that is applied externally to it.
Red Wing offers a version of this boot with 400 grams of insulation that is lightweight and not bulky in the least.
The Cosmocomfort technology used incorporates aluminum that will start as a gas revert to as gas and then back to a solid for breathability, windproofing, waterproofing, and exceptional insulation.
5.) Price
Redwings are not budget boots, so expect to spend between $200 and $400 for a pair depending on the features you prefer.
Red Wings Loggermax 9-inch Loggers
Red Wing Logger Boots Pros and Cons
Pros
Full-grain oiled and waxed leather

3-layer waterproofing system

Insulation available

Steel safety toe

EH

ASTM compliant

Goodyear Welt

Vibram outer soles are resistant to oil, chemicals, heat, and slippage
Cons
---
FAQs
Why are logger boots good to wear?
These boots are designed to be worn by workers in the logging industry as well as ranchers and other professions that require working in uneven, rugged terrain with lots of undergrowth, brush, and muck.
Do I need a Steel Safety Toe?
Some professionals in the logging industry do require steel toes. Wherever heavy materials, debris, tools, or cargo is involved, a steel toe is recommended if not mandatory.
Will my new logger boots hurt?
It's normal for new logger boots to need some breaking in. You may need as much as 3 to 4 weeks to break in new boots. Expect a little discomfort the first few days to get used to them.
Conclusion
Both Chippewa and Red Wing Logger Boots are quality footwear. It is problematic to say that one brand decidedly supersedes the other. Much will depend on your personal wants and needs while on the job.
If you are on a limited budget, you may find a few Chippewa Boot styles that are slightly less expensive, but in general, these two boot brands feature similar costs when purchasing. We recommend you try on several pairs of both brands before making your final decision.