Wearing a hard hat can be hot, or cold, and construction workers often ask can you wear a hat under a hard hat.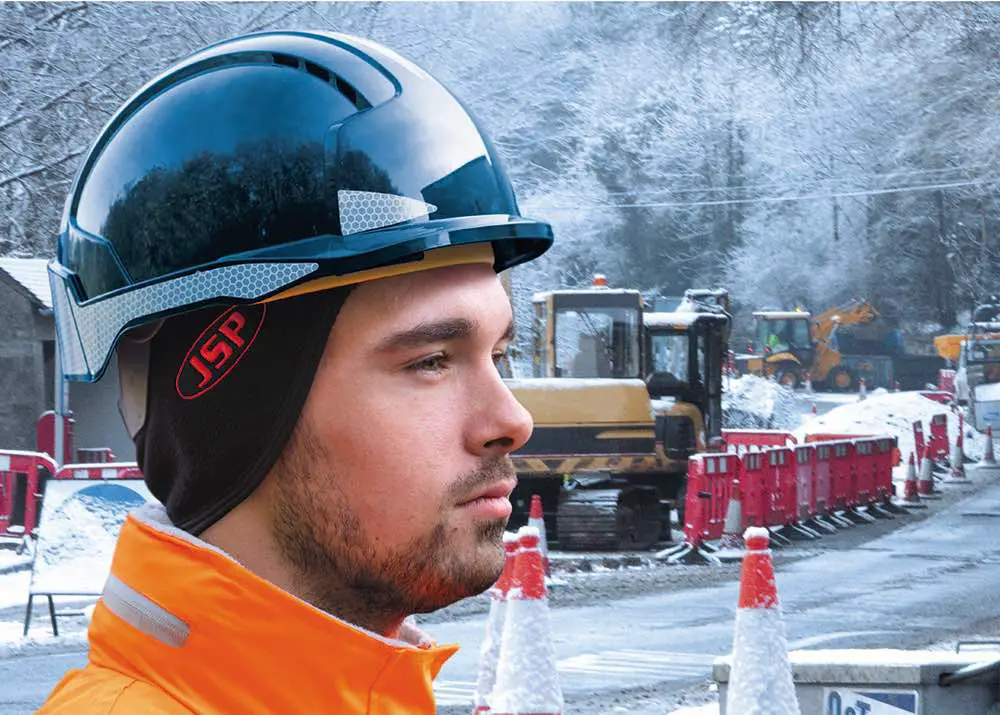 The answer is YES, you can wear a hat under a hard hat, as long as the hard hat is designed for this. It's important to select hat worn under the hard hat carefully, and that safety regulations must be followed, at all times.
Is it permitted by OSHA to wear a Hat under hard hat
OSHA, the Occupational Safety and Health Administration in the USA, have very strict guidelines when it comes to the regulations of hard hats. The regulations must be specified by the manufacturer (style, class, make, design) and must be checked by the construction company or construction worker.
A hard hat must be worn correctly, i.e. with the hat facing the right way, the suspension incorrect position, and the chin strap vastly tightened. OSHA to do permit for beanies, hoodies or caps to be worn under a hard hat, but ONLY if the manufacturer specifies that it is okay to do this, if the fit is not compromised and if safety is not compromised in any way. 
Pros and Cons of wearing a hat under hard hat
Most construction workers get used to wearing a hard hat really quickly, and because hard hats come with built in sweat bands, and with brims for safety reasons and to protect the wearer from the sun, an additional hat in summer is not always necessary. But in winter, extra warmth is often welcomed.
The pros of wearing a hat under a hard hat:-
It can be super hot working in construction in the summer months. Most hard hats come with a brim, which has a double purpose. The brim is good for safety, but it is also good for sun protection.
When a hard hat with a brim is worn, the construction worker does not need a peak cap or well fitted sun hat underneath. However, if the brim is not enough protection, a peak cap or skull cap underneath can be helpful for extra sun and sweat protection.
Hard hats do come with sweat bands. The sweat band really helps in hot summer months. The hard hat protects against the sun, the sweat band soaks up sweat. A peak cap underneath, or a cotton skull cap underneath, can be helpful for those extra sweaty days.
A hat underneath a hard hat can add extra comfort, but just like for the above points, the manufacture must stipulate that a hat underneath a hard hat is okay. Most hard hats are built with safety in mind, and comfort, and the suspension and inners are usually enough comfort for the worker.
The cons of wearing a hat under a hard hat:-
When worn incorrectly, a hat worn under a hard hat can compromise safety. It can also get in the way of work. Some workers such as ironworkers, prefer hard hats without brims, as they are wearing goggles and can get all steamed up. There are visors that get attached to hard hats, and these are often a better option for the brimless hats.
If you happen to wear a peak cap that has metal studs under your hard hat, YOU ARE IN TROUBLE if electricity hits you. You need to be extremely careful in your choice of peak caps.
What all can you wear under hard hat?
If you are going to wear a hat under a hard hat, you need to be pretty careful and choose the appropriate head gear. You also need to make sure you are wearing a hard hat that allows you to wear a hat underneath.
It is a yes to:-
Cotton skull caps.
Cotton flaps.
Cotton brims.
Winter hard hat liners.
Flat top beanie
Pure cotton peak caps.
Ready made visors.
It is a no to:-
Anything bulky.
Anything with metal.
Anything that does not allow the hard hat to sit well.
Anything that compromises the safety.
One can buy accessories that are perfect for under hard hats, or even, over hard hats.
Thee accessories include sweat bands, plastic visors, cotton beanies, and more. Make sure you always do research though, when asking if a hat can be worn under a hard hat. You do not want to compromise your safety.
Can I buy specific accessories for a hard hat?
You can buy specific accessories to go with a hard hat and often, this is the most sensible thing to do. Rather than improvising, which can be dangerous, buy accessories for your hard hat. These can include:-
A flashlight
A visor
A specially designed beanie
A brim
Winter liners.
Sweatbands
Hard hat sunshields
Common sense is also required when it comes to choosing a hat for under the hard hat. Sometimes, workers are seen wearing their hoodie under a hard hat. This might be warm, and it might be cool as in funky, but it is not sensible.
If there is an accident, the pull of the hoodie might be more dangerous than the accident itself. If a worker needs to keep his neck warm under his hard hat, or his head warm, there are specific accessories that can be worn, such as winter liners or specially designed balaclavas.
In conclusion:-
You need to follow OSHA regulations when it comes to wearing hats under hard hats. Safety is the number one priority and rather than coming up with your own ways to keep warm, or protect yourself from heat, get the right accessory for the right hard hat. Always follow the rules!