Safety glasses will prevent any wood dust or particles from coming in contact with your eyes and doing damage. We contacted a great group of professional carpenters and woodworkers to get the lowdown on what makes a great pair of safety glasses for this profession.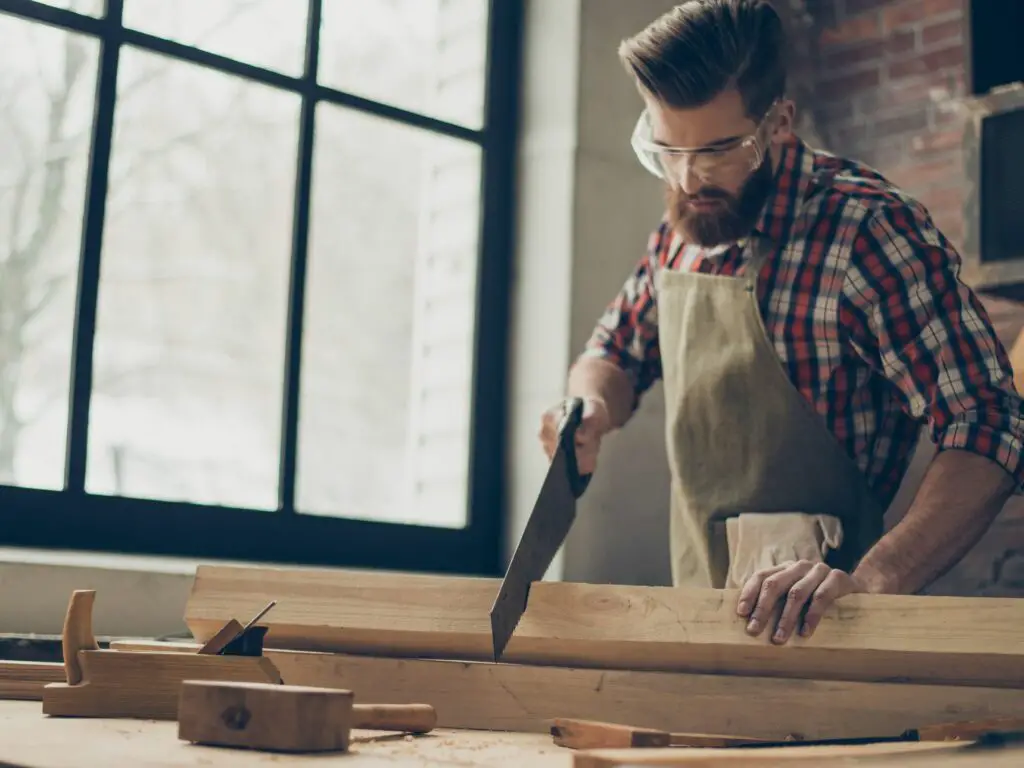 We researched about two dozen pairs of glasses based on manufacturers' information, selling popularity, and customer feedback.
We halved the list and then asked this fantastic group of pros to test these glasses while on the job for a week. After testing we met to get a reality check and our list of best safety glasses for woodworking was born.
In the end, we found the Dewalt DPg82-11CTR safety goggles to be the best overall safety glasses for woodworking because they wrap around your head with a band that guarantees they will not slip, slide or fall off during woodworking. Dewalt offers lens options and anti-fog and scratch resistant features. Best of all these goggles seal out dust and particles but allow for breathability thanks to side vent holes.
Comparison of Woodworker Glasses
| Product | Lenses | Material | Protection | Features |
| --- | --- | --- | --- | --- |
| Dewalt DPG82-11 CTR Safety Goggle | Polycarbonate | Rubber | 99.9% UVA, UVB, ANSI Z87.1 | Air vents, Anti-fog, Scratch-resistant |
| 3M Safety Glasses Virtua CCS | Polycarbonate | Plastic | 99.9% UV rays, ANSI Z87.1-2020 | Anti-fog, Corded earplug control, Foam gasket |
| Edge Eyewear TSK226 Kazbek Polarized Safety Glasses | Polycarbonate | Nylon | 99.9% UVA, UVB, UVC, ANSI/ISEA Z87.1, Z87+ | Polarized, Wraparound design |
| Jackson V30 Nemesis Polarized Safety Glasses | Polycarbonate | Gun metal | 99.9% UVA, UVB, UVC, ANSI/ISEA Z87.1 | Polarized coating, Wraparound design, Soft touch |
| Elvex Safety Glasses | Polycarbonate | Plastic | 99% UVA, UVB, UVC, ANSI Z87.1 | Foam seal, Anti-fog |
Detailed Review of Safety Glasses for Woodworking
1. Dewalt DPG82-11 CTR Safety Goggle 
Even though these are technically goggles, the Dewalt anti-fog goggles are a great choice for woodworkers because they literally seal out everything offering maximum protection for your eyes.
The lenses are polycarbonate guaranteeing impact resistance for pros that deal with flying debris or dust of any kind. They offer protection from dirt, mists, chemicals, and particles in general.
Made with dual mold rubber, they adjust well to your face. Ventilation channels for breathability improve comfort. The lenses are replaceable. ANSI Z87.1+ safety standard rating.
Pros
Replaceable scratch-resistant lenses 

Anti-fog

Ventilation channels

Affordable
Cons
Require more space when storing

May get slippery with excessive perspiration
Check Price and Reviews on Amazon
---
Other Competitive Choices
2. 3M Safety Glasses Virtua CCS
These safety glasses are a premium choice in safety glasses. An original unique design that is wrap-around will provide you will all-around protection from hazardous elements.
3M products are compliant with OHSA standards for safety. A removable foam gasket functions as a seal to protect your eyes from dust, particles and moisture.
The gasket has airflow vents adding to comfort. A long-lasting anti-fog coating and scratch-resistance make these lenses very attractive.
Corded system for earplugs that doubles as a lanyard. These 3M glasses meet the high Impact requirements of CSA Z94.3-2007 and ANSI Z87.1-2020.
Pros
Rated for high impact

Removable foam gasket 

Anti-fog coating

Lightweight
Cons
Expensive

Sizes are limited

Compatible earplugs sold separately

Not polarized for glare reduction
Check Price and Reviews on Amazon
---
3. Edge Eyewear TSK226 Kazbek Polarized Safety Glasses
Edge Eyewear is a renowned brand for protective eyewear. These glasses offer 99% UV protection with a surface that is scratch-resistant.
They are both flexible and durable thanks to a nylon frame and polycarbonate lenses. The fact that they are polarized reduces undesired glare significantly.
We really appreciate their durability, and they are compliant with Z87+standards as impact resistant. Their width is also particularly comfortable for larger heads. The wraparound design adds to the level of protection afforded.
Pros
Durable

UV protection

Flexible frame

Polarized reducing glare

Wraparound design
Cons
Rubber parts will not retain grip if working in extremely high temperatures
Check Price and Reviews on Amazon
---
4. Jackson V30 Nemesis Polarized Safety Glasses
A great thing about these polarized safety glasses is that they don't seem to be safety glasses. Instead, they look like stylish sport sunglasses.
These glasses are incredibly comfortable for all-day wear as they have earplugs at the end of the arms to help keep your glasses in one place.
They reduce glare greatly and improve vision clarity. The frames are made from nylon and are quite lightweight.
These Jackson glasses also reduce 99.9% of UVA and UVB rays giving you incredible protection. They are scratch-resistant and impact-resistant. 
Pros
Ergonomic and comfortable

Great style

Reduce glare

Protect peripheral vision

Lightweight

UV protection
Cons
Check Price and Reviews on Amazon
---
5. Elvex Safety Glasses
These safety specs are designed to protect the eyes from dusty as well as dirty environments where particles from sawing may cause damage to your vision.
They are a great choice for anyone dealing with any type of dust from chemicals, construction materials such as cement or even sand.
The Elvex safety glasses also boast a number of features that should not be underrated while on the job.
They are manufactured with molded lenses that are impact-resistant and boast an anti-fog coating to maintain clarity of vision in higher temperatures. Discover the best anti fog glasses.
The glasses also have a foam seal in polyurethane to prevent dust or particles from coming into contact with your eyes.
The frames feature adjustable temples, and 99% UV protection is included in the package for UVA, UVB, and UVC. They are ANSI rated Z87.1 and have a high impact resistance of Z87+. 
Pros
Scratch-resistant lens

Anti-fog coating

Comfortable nose bridge

Comfortable foam liner

Affordable
Cons
Some considerations about fit

Manufacturer may be discontinuing these
Check Price and Reviews on Amazon
Why Wear Safety Glasses for Wood Work
When considering safety glasses for woodworking, sawdust or particles that can enter your eyes and come into contact with the eyeball is a daily worry. You may get lucky and only experience itching, some tearing, or slight discomfort.
On the other hand, you could also partially or totally lose your vision. Working with a power brad nailer or any power tool that may mistakenly cause something to fly up toward your eyes can cause real damage. In this optic, wearing safety glasses when working with wood becomes a necessity.
Safety glasses are made with the intent of protecting you from specific dangers you may encounter while on the job. You will need to select safety glasses that protect you from the most common dangers you face on a daily basis.
For example, those who think that prescription eyewear is sufficient to protect the eyes, should not assume that regular eyeglasses will protect them from the common hazards of woodworking. 
Do You Need Special Glasses for Woodworking?
Undoubtedly, any pair of glasses would be better than no glasses, but common everyday prescription eyewear is not made with ANSI safety features. 
Common safety glasses will protect you from dust and particles, may be heat resistant, impact resistant and protect the eyes from chemical splash. A regular pair of reading glasses or eyeglasses will most likely not offer the same protection.
Safety Standards and Quality of Lens
The OHSA has issued a guide in which eye and face protection is a priority for woodworkers. In professional situations at carpentry shops, construction sites, or industrial woodworking sites, safety glasses will be required, and it is recommended that they have the ANSI Z87 rating. 
This safety rating will let you know that the frames, lenses, and general construction of the glasses are much stronger than regular prescription eyewear.
Many of the safety glasses available will be made specifically with polycarbonate lenses. Lenses made with polycarbonate are tested to make sure they do not break, crack, and above all they do not shatter if they are hit or impacted by flying objects or debris.
The Research
Our team of woodworking pros expressed these considerations when giving us a thumbs up for the safety glasses they tested on the job:
Comfort. This was a concern for all of our woodworkers. If the safety glasses weren't comfortable, they said they probably would not wear them, or at least not for the entire work shift.
Pinching. They found safety glasses that pinched their foreheads, nose, ears, or any part of their face or head to be terribly distracting and irritating.
Nose fit. All of the pros expressed the desire to wear a pair of safety glasses that fit comfortably over the bridge of their noses.
Anti-fog features. Our team felt that this was an important feature to have when the temperature rises on the job. No steaming or fogging should impair vision while trying to get the job done.
Blocking features. This was a huge consideration. Our pros looked for eyecups, foam gaskets, or a design that prevented dust and particles from entering.
They prefer total blockage from both above and underneath to protect from any sawdust arriving from any direction.
Durability and resistance. Safety glasses in a woodworking environment can easily fall, be dropped or subject to general wear and tear since they're used on a daily basis. Two important features requested were scratch-resistance and impact-resistance.
We know that with so many options available on the market for purchase, choosing the best pair for your personal needs is no easy task.
We have attempted here to help you save some time when choosing by reviewing various safety glasses for woodworking for your consideration. First, we offer you a Buyer's Guide to help you analyze which features you might prefer before selecting.
Features to Look for in Safety Glasses for Woodworking
1.) Ultraviolet Protection. Often woodworking projects may be done outdoors, so this is a good precaution to keep in mind. Look for lenses that offer protection against UV rays.
Ultraviolet protection is a wise investment in any pair of safety glasses used outdoors. This protection can help lower the risk of damage to your eyes and to your vision.
UV protection can help you avoid cataracts and macular degeneration. This protection should never fall under 90% and ideally, 99.9% would be your best choice.
Also, keep in mind that some safety glasses will offer more protection by protecting against UVB and UVC as well.
2.) Comfort. This is a top priority for anyone wearing glasses especially for extended periods of time. You don't want your ears, temples or nose stressed when you are trying to work.
Consider the weight of the safety glasses together with how they fit the shape and size of your head.
Glasses that are too small will not give adequate protection and added weight will eventually put pressure on your face. If the glasses are not comfortable, you're not going to want to wear them.
3.) Flexibility/Adjustability.  This can seem less important however, the fit is of primary importance both for adequate protection and again for your personal comfort.
Look for features such as a comfortable brow, flexible temples, and adjustable nosepiece. One-size-fits-all is not going to work for everyone.
4.) Peripheral Vision. You should have safety coverage for the side of your eyes because you never know where the sawdust may fly.
You may also need some side vision if you are working as part of a team or in tandem with other pros.
5.) Resistance to Impact. We cannot state how important this feature can be. You need a lens that will not shatter, sending shards and slivers into the eyeball should you involuntarily be hit with flying debris, objects, or even speeding wood chips.
FAQs
Can I wear safety glasses all day long?
Certainly. They will not harm your vision in any way. The only consideration may be how comfortable they are if you wear them all day long. Check out tips to clean safety glasses.
Can I wear safety glasses over my prescription eyewear?
Yes, absolutely. You need to select a pair of "over-glasses" or safety goggles that allow for another pair of regular glasses to be worn underneath.
Is there a difference between my regular glasses and safety glasses?
Yes. Regular eyewear is worn primarily for reading or watching TV and seeing at a distance depending on your eyesight.
Regular glasses are not made to resist impact or protect you from dust or particles entering your eyes.
They also may not offer UV or fogging protection and they may be prone to shattering or breakage. They do not offer adequate protection in a woodworking environment.
A Final Thought
You only have one set of eyes and they should be protected at all costs. For professionals and hobbyists who either do woodworking as a career choice or as their preferred hobby, working with power tools can place your eyes at risk.
We hope that our reviews will have helped you to determine which safety glasses best answer your professional or personal needs.
We recommend the Dewalt DPG82-11CTR safety goggles if you are looking for sealed protection but with breathability. Another outstanding choice is the TSKAP218 Kazbek Polarized safety glasses by Edge especially if you work outdoors most of the time.
However, all of the choices listed are worthy of your consideration. Thank you for reading and work safely!