The importance of selecting the correct manufacturer for your safety glasses cannot be overstated. While the wearer's comfort is crucial, many industrial workplaces put a priority on impact protection, thus selecting the right lens material is important. 
While there are other materials used for lenses too, polycarbonate is the most used lens material for safety glasses. 
The best lens material for safety glasses is polycarbonate. Although prescription safety glasses with plastic or glass lenses are ANSI Z87-approved, they are not as impact-resistant as safety glasses with polycarbonate lenses.
Polycarbonate lenses also block 100% of ultraviolet rays. Uncoated plastic sunglasses, on the other hand, block roughly 88% of UV rays.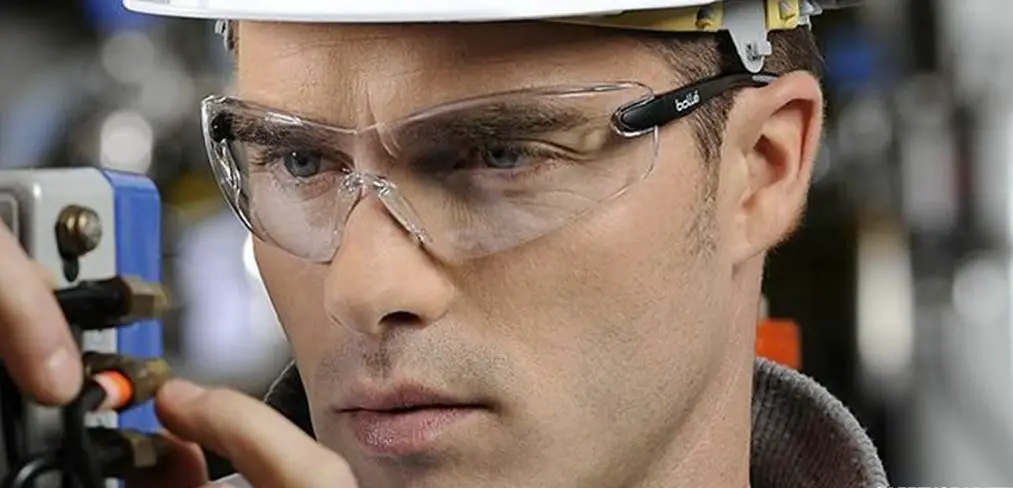 Importance of lens material
While there are a few key regulations for safety goggles, the lenses are the most important when it comes to ANSI and OSHA standards. That is because your lenses are supposed to protect you from the following hazards-
Particles in the air 

Chemicals in liquid form 

Acids 

Toxic vapors or gases 

Radiation/UV rays
Therefore, there are four distinct materials available for safety lenses to protect your eyes from the above mentioned hazards.
For at least some uses, each fulfils or surpasses criteria for eye protection, but each has unique qualities to consider in specific situations:
Polycarbonate
The most common type of lens is polycarbonate, which is scratch-resistant, lightweight, and long-lasting. Although not as scratch resistant as glass, it is lighter, resistant to fog, and stronger than glass or plastic, making it more impact resistant. 
Glass
Because glass refracts light more efficiently than plastic, it will always deliver the optimum optical experience. It is scratch-resistant and also blocks UV rays.
However, they are heavy, unpleasant, and prone to fogging, which can be harmful. Glass lenses are prone to breaking, can quickly shatter, and are not at all safe to wear if even a minor impact is possible.
Trivex
Many of the advantages of polycarbonate, but with improved optical clarity and scratch resistant. Impact resistance is up to ten times greater than conventional plastic lenses.
Trivex does not require the application of a UV coating because it naturally blocks the majority of UV rays.
Plastic (CR 39)
CR-39 is the most common material used in prescription spectacle lenses today. The optical quality is nearly as good as glass, despite being half the weight and significantly less likely to fracture.
Because plastic is significantly lighter than glass, it is more pleasant to wear for long periods of time. It's also a lot cheaper to use than glass.
However, it's crucial to remember that plastic can still shatter and doesn't offer much in the way of impact protection.
1.) They are durable since we have read on all the available options of lens material, let us tell you why polycarbonates lenses are worth it:
It's an important consideration for any pair of safety glasses. When it comes to durability, polycarbonate lenses are unsurpassed. It can withstand a lot of pressure. This toughness comes in handy in a variety of safety situations.
You must ensure that it can withstand occasionally severe situations while also remaining sturdy over time. This is especially true if you don't want to spend money on a new pair of safety glasses every few months.
2.) They're flexible and can bend easily
The flexibility of polycarbonate lenses is another benefit that helps to its durability and impact resistance.
Simply put, unlike other materials, they can be easily bent and stretched without breaking. This is useful, especially in situations when safety glasses are required. 
This flexibility is attributable to both the material and the manufacturing method used to make the lenses. As a result, they're an excellent choice for a variety of safety applications.
You can ensure that the glasses you wear can withstand stress, including sudden pressure that could harm your eyes.
3.) They can resistant a lot of impact
In recent times, bulletproof glass is made of polycarbonate. That should be enough to give you an indication of how well it can withstand impact. This benefit is more than just convenient depending on how you plan to use or use your safety glasses. 
Consider a scenario wherein little rock particles are launched towards your eyes. Naturally, you want to preserve this delicate area of your face.
Polycarbonate ensures that your glasses will not shatter even if they are hit hard, keeping your eyes safe at all times.
4.) They're thin but strong
Despite their durability, polycarbonate lenses outperform other materials in many comparisons due to their thin texture, which means the glasses you receive are both strong and thin. 
This is especially true in safety-related situations. You won't have to worry about thick lenses getting in the way of good vision or your work, especially if your prescription is stronger.
In any case where this scenario might apply, the thin nature of polycarbonate safety lenses is a significant benefit.
5.) They protect your eyes from harmful UV rays
Lets into polycarbonate lenses' capacity to block potentially damaging UV light rays. These rays are usually undetectable, but over time, they can cause considerable damage to your eyesight. You may be more exposed to them than you would be with ordinary glasses in some scenarios. 
UV rays are completely blocked by polycarbonate lenses. You can keep your eyes safe and protected from strong light sources whether you're doing yard work on a hot day or working near bright light sources.
As a result, polycarbonate lenses are ideal for a variety of applications in the safety business.
Now let us have a look at some disadvantages of polycarbonate lenses:
1.) Not resistant to scratch
Polycarbonate scratches quickly, despite its strength, flexibility, and impact resistance. In fact, part of the reason for their durability is also the source of this flaw.
In comparison to certain alternatives, the material is very soft, making it more susceptible to scratches than plastic or trivex lenses. 
The glasses are not going to break. Even yet, these scrapes can obstruct your eyesight in some conditions. To mitigate this disadvantage, look for polycarbonate lenses that can be enhanced with an anti-scratch coating. 
2.) Vision clarity is compromised
Polycarbonate is equally as crisp as normal plastic, and in some cases considerably crisper. However, when compared to trivex lenses, the same is not always true. Because of the different manufacturing techniques, your vision clarity will not be as clear as it should be. 
Of course, these differences are insignificant. Whether they're important or not depends on the situation in which you'll be wearing your safety glasses.
Polycarbonate may not be the best choice if your job requires a high level of attention to detail or a clear view of your complete surroundings for maximum safety. However, in the vast majority of cases, it will be enough.
3.) It's expensive
The expense of polycarbonate safety lenses should not be underestimated. Considering all of the above benefits and drawbacks, this material may be the greatest option for safety glasses available. 
But it can cost up to twice as much as ordinary glasses and are frequently somewhat more expensive than trivex lenses. Of course, as the benefits listed above demonstrate, you get what you pay for.
However, if you additionally need to apply anti-scratch coating, the additional cost may be too much and not affordable to everyone. 
Recommended safety glasses with polycarbonate lens
1.) Elvex Safety Glasses-
---
2.) Crews Anti-Fog Lens Safety Glasses- 
---
3.) Professional Safety Glasses- 
---
4.) SafetyPlus Safety Glasses- 
---
To summarise, you cannot take chances with your safety glasses. Regardless of the situation or the place in which you operate, you must ensure that your eyes are protected at all times.
The same fundamental truth applies whether you plan to use these glasses for work or personal reasons. 
If you are in a dilemma as to which lenses to go for, the answer depends on the circumstances.
Polycarbonate has grown in popularity, and it has a number of useful properties for the safety of your eyes.
Consider the benefits and drawbacks of polycarbonate prescription safety lenses to help you make a smarter choice.