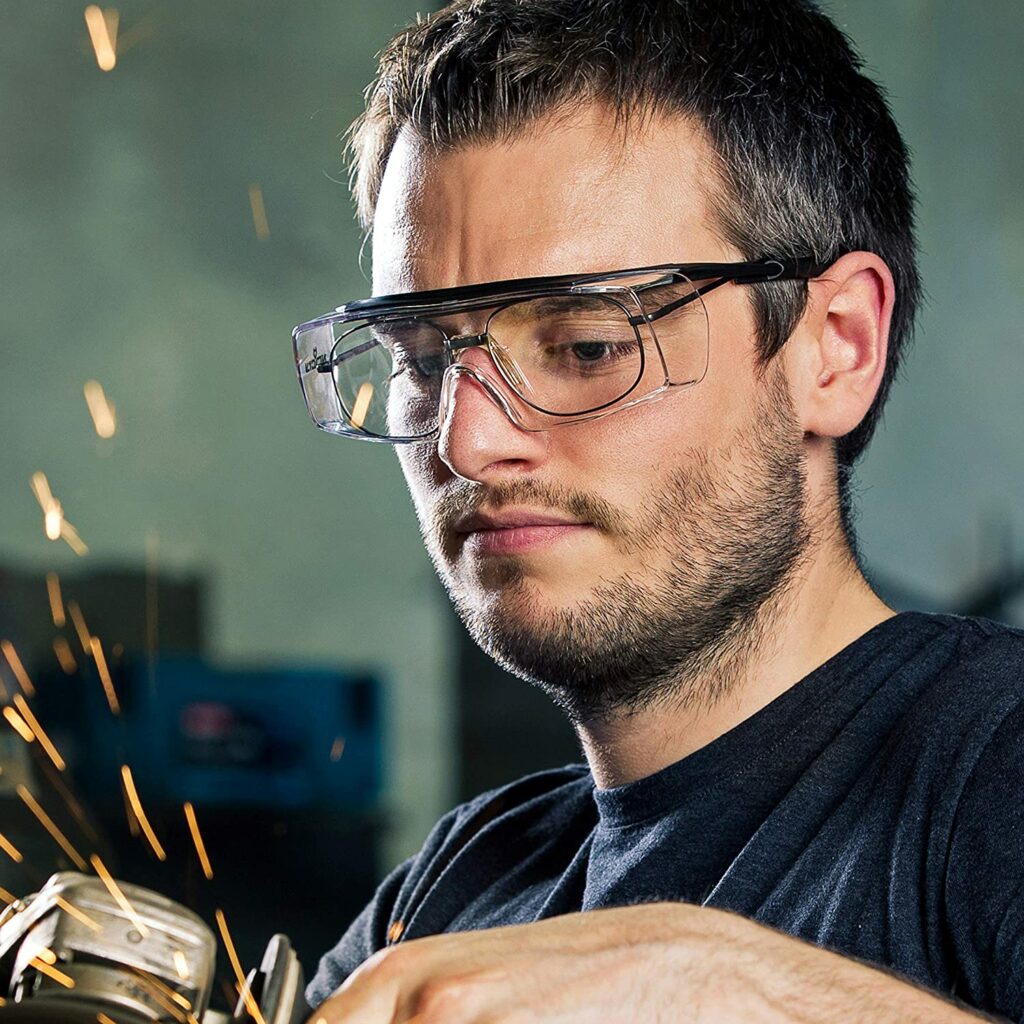 Many professionals already use prescription eyewear and prefer to continue using their own glasses as opposed to searching for prescription safety glasses.
These workers, however, still need protective glasses on the job. The solution is simple and available. Over-prescription safety glasses allow you to wear your regular prescription glasses and be safe at the same time.
We have concluded that the NoCry Over-Specs with a wraparound design and outstanding safety ratings is our top choice in over-prescription safety glasses.
If you need to wear safety glasses over your prescription eyewear, we have created a list of options for you to consider.
Comparison Table of Top Over-Prescription Safety Glasses
| Safety Glasses | Lens | Frames | Safety | Extras |
| --- | --- | --- | --- | --- |
| NoCry Over-Glasses | Polycarbonate | Rubber | ANSI Z87, CSA Z94.3, UV protection | Wraparound design |
| Tavool Anti-fog Over Glasses | Glass | Plastic | UV protection | Anti-fog, Large nose pad design |
| Pro-tective Equip Safety Goggles for Over Glasses | Glass | Rubber | UV protection, ANSI Z87.1 D3  | Goggles, Anti-fog, Scratch resistant Vented technology |
| Solidwork Safety Over-Glasses | polycarbonate | Polycarbonate – TPR mix | ANSI Z87, DIN EN 166, EN 170, UV protection | Scratch resistant, Anti-fog, Anti-glare |
| BHTOP Safety Over-Spec Glasses L010 | Polycarbonate | PVC | ANSI Z87, UV protection | Side shields, Scratch resistant, Anti-fog |
| Galeton Ranger Safety Goggles 9200580 | Glass | PVC with polycarbonate temples | ANSI Z87, 99% UV ray protection | Goggles |
Our team of tradesmen and professionals tried and tested approximately twenty different pairs while directly at work doing their job.
We also consulted several eye doctors for advice about wearing two pairs of glasses, one prescription, and one pair of safety glasses simultaneously.
In the end, we came up with what we consider to be a list of quality alternatives for your consideration.
Our Top Choice
1. NoCry Over-Glasses Workplace Safety Glasses 
Over glasses must accommodate your prescription eyewear and provide you with protection. These NoCry glasses will protect both your eyes and your prescription eyewear keeping you out of harm's way from dust, chemical splashes, and flying debris.
They boast ANSI Z87 and OHSA rating certification meaning they are approved for numerous professions and workplace environments. 
They feature scratch resistant lenses, UV protection, and a wraparound protective design. These over-specs safety glasses are both comfortable and affordably priced.
Pros
Fit over numerous prescription glasses styles

Various types of protection offered

No distortion of vision

Affordable
Cons
The fit for very large prescription glasses may not be compatible
Check Price and Reviews on Amazon
---
Other Great Options
2. Tavool Anti-fog Over Glasses Safety Glasses (3 pack)
These glasses are designed for use by both men and women who wear prescription glasses. The lenses are produced for military safety requirements and offer high impact resistance.
Features include an anti-fog coating, light weight at 38 grams for comfort, and UV protection. They also are very budget friendly because sold in a convenient 3-pack. The design features a large nose pad for added comfort.
Pros
Affordable

UV protection

Anti-fog coating

Lots of space for prescription glasses
Cons 
Some discomfort reported behind ears
Check Price and Reviews on Amazon
---
3. Pro-tective Equip Safety Goggles for Over Glasses
These protective safety goggles are made to fit over prescription eyewear. They come in three sizes: small, medium and large: The frame material is rubber while the lens material is glass.
The goggles feature an adjustable strap for an easy comfortable fit as well as a special coating that makes them scratch resistant.
They are anti-fog and come equipped with vented technology to guarantee no fogging when wearing.
Lightweight and durable they offer a seal to afford great protection from dust, particles, debris and liquid splashes.
Pros
Lightweight

Anti-fog

Scratch Resistant

UV protection
Cons
Check Price and Reviews on Amazon
---
4. Solidwork Safety Over-Glasses
These over glasses are made in high quality materials with the frames manufactured in a mix of polycarbonate and TPR, while the lenses are entirely polycarbonate.
The glasses are designed with lateral side protection so that workers receive adequate protection from every angle.
Temples are adjustable for comfort and these over-specs are resistant to scratching and offer anti-fogging capabilities.
They have been coated for anti-fog, anti-scratching, and anti-glare. The polycarbonate lenses ensure UV protection.
They are certified ANSI Z87+ and DIN EN 166, EN 170. The manufacturer offers a one-year money back guarantee if you are not 100% satisfied.
Pros
Anti-fog

Scratch resistant

Anti-glare

ANSI certified

Lateral side protection
Cons
Not lightweight

Some concerns about fit
Check Price and Reviews on Amazon
---
5. BHTOP Safety Over-Spec Glasses L010
These very lightweight over-specs safety glasses are made with polycarbonate lenses that comes complete with an anti-fog coating.
The frame is made in PVC and temple tips are flexible to avoid pinching and add to your comfort. They meet the ANSI safety certification standards for Z87.1 guaranteeing you adequate protection on the job.
UV protection is 400nm with these durable, impact-resistant safety glasses. They offer lateral side protection in the design.
Pros
Comfortable

Anti-fog

Scratch resistant

Lightweight

UV protection

ANSI certified
Cons
Loose fit for some

Concern about falling off when you look down
Check Price and Reviews on Amazon
---
6. Galeton Ranger Safety Goggles 9200580
These are close fitting and comfortable safety goggles that will fit over most types of prescription glasses.
They feature a head strap for customized adjustment that also swivels to get you the best fit possible. The goggle lenses are made out of glass and are ANSI Z87.1 certified for the workplace.
Offering 99% UV ray protection, these goggles feature venting in the design of a soft and flexible frame that provides a nice seal to protect the eye area.
Pros
Comfortable fit

UV protection

Scratch resistant

ANSI certified
Cons
Some concern over chemicals used in manufacturing and smell

Tendency to fog up
Check Price and Reviews on Amazon
---
How Do You Buy Over-Prescription Safety Glasses?
It can be quite stressful to have to think about how you are going to look for over-prescription safety glasses. You may doubt how effective they can really be, will they scratch your prescription glasses, or will two pairs of glasses prove to be too uncomfortable for long work shifts.
We know exactly what you're mulling over because we came up with the very same questions when we began our research.
Here are some of the primary questions we asked ourselves and our team of pros that were tasked with wearing the over-prescription safety glasses at work for a week. And here are some of the answers we found while studying this type of safety glasses.
What are the benefits of over-specs safety glasses?
This is a great option for your wallet. Many of the over-specs safety glasses selling today are designed to fit well over today's prescription eyewear.
They are a less expensive alternative to ordering prescription safety glasses, and they offer the same safety certification ratings and durability while protecting your daily prescription glasses from scratches, chemicals, flying debris and even dropping or sliding off.
Are these safety glasses really necessary?
Absolutely! Safety glasses are your primary line of defense to ward off eye injuries. Their job is to protect your eyes from all types of work hazards whether your work indoors or outdoors.
Protecting your eyes will protect your vision health long-term and save you tons of time, money and the worry that accompanies eye injuries.
Also, many workplace environments and employers require PPE while at work including a pair of certified safety glasses.
Is it worth the money to buy over-prescription safety glasses?
This is a very economical solution if you don't want to purchase custom prescription safety glasses. Should your prescription eyewear need a change in the prescription, your over-specs safety glasses will continue to do their job over new prescription eyewear.
With a custom prescription pair of safety glasses, you will have to set them aside and order a new pair to update your prescription. Another attractive factor in choosing over-specs is that if they scratch, you can replace them without great expense, whereas if prescription safety glasses are scratched, you may be required to replace the lenses. 
Where can I get information about safety glasses?
Here there are several potential sources to assist you. You can visit blogs like ours that review products, as well as online forums, sellers, rating websites, customer feedback from vendors and even by speaking with someone who uses safety glasses for work on a daily basis. 
What should I consider when selecting my over-specs safety glasses? 
There are several things to consider:
1.) Manufacturer and brand. A good number of manufacturers have years, if not decades of experience in both research and in producing protective eyewear.
Brands, especially those that are well known and that have earned a reputation over a period of time, will stand by their products, offer good customer service and offer quality, consistency, and above all trust to their customers.
2.) Construction and materials used. Most safety glasses lenses are made with polycarbonate because it is shatter resistant. Some glasses may be made in glass or plastic, but these materials are at risk of shattering under the impact:
This could create more damage to the eyes due to particles that might reach the eyeball as well as scratching your prescription glasses underneath. 
Polycarbonate offers resistance to chemicals and chemical corrosion as well and is the go-to material because of its light weight, and UV protection.
Frame material is also important because some materials used may offer greater flexibility for comfort or a better fit on the face.
3.) Features. Safety features are attractive. Impact protection, if you work at a construction site or with heavy machinery or chemicals, will serve you well.
The glasses must protect you if debris or dirt flies in your face as well as liquid splashes. Anti-fog coatings are also desirable if you work in high temperature or high humidity workplaces.
Protection from dangerous UVA and UVB rays is a great feature if you are working outdoors in direct sunlight. You may also consider either tinted glasses or polarized safety glasses for outdoor worksites.
UV protection can help avoid cataracts and macular degeneration and should never fall under 90%.  99.9% protection would be the best feature.
4.) Comfort and Fit. The fit should be always be comfortable for your face including eyes, nose, and ears specifically. They should be lightweight for extended work shifts.
A design that is ergonomic will increase comfort. Nose pieces and the glasses' arms might be coated in rubber or in a flexible, soft material because many people will experience discomfort around the bridge of the nose or over the ears.
5.) Safety certification. Safety Certification is a top consideration. Look for ANSI Z87.1 certification. The ANSI (American National Standards Institute) is an independent organization that tests and certifies safety ratings.
Ratings are then approved by OSHA (Occupational Safety and Health Administration). The Z87.1 rating means that the safety glasses meet the ANSI requirements and can be worn in any workplace where safety glasses are a requirement.
6.) Cost. Your budget is a major consideration in any purchase. However, don't buy safety glasses primarily because they are cheap.
Choose the best quality you can afford and then look for discounts, coupons, sales, or wholesale prices. You'll want to purchase the best pair of over-specs both to protect your prescription glasses and to get money's worth.  Always consider cost in relation to quality.
For those who already wear prescription eyewear but need safety glasses for the workplace or for DYI projects, and don't want to scratch their everyday glasses, here is our best Over-Prescription Safety Glasses list.
The Bottom Line
Whether you prefer safety over glasses or the goggle design, safety for your eyes at work and during home improvement projects or hobbies, is a necessity for your vision health.
This solution for those who wear prescription eyeglasses on a daily basis, may save you considerable money and allow you to see thanks to the comfort of your own personal prescription eyewear.
Thank you for reading and we hope this article has been helpful to your selection of protective eyewear.