We went to some top boxers and their trainers to find out exactly what makes a good glove for pad work, and we asked them to test a dozen or so gloves in the gym and on the pad to help us help you find the best pair for pad work.
We chose the Cleto Reyes Training Gloves as our top choice for their impressive quality construction with premium materials and for their exceptional protective design and padding. For those on a limited budget, we like the RDX F7 Ego.
This particular pair of boxing gloves convinced us because these are affordable training gloves that are lightweight enough for training efficiently with pad mitts.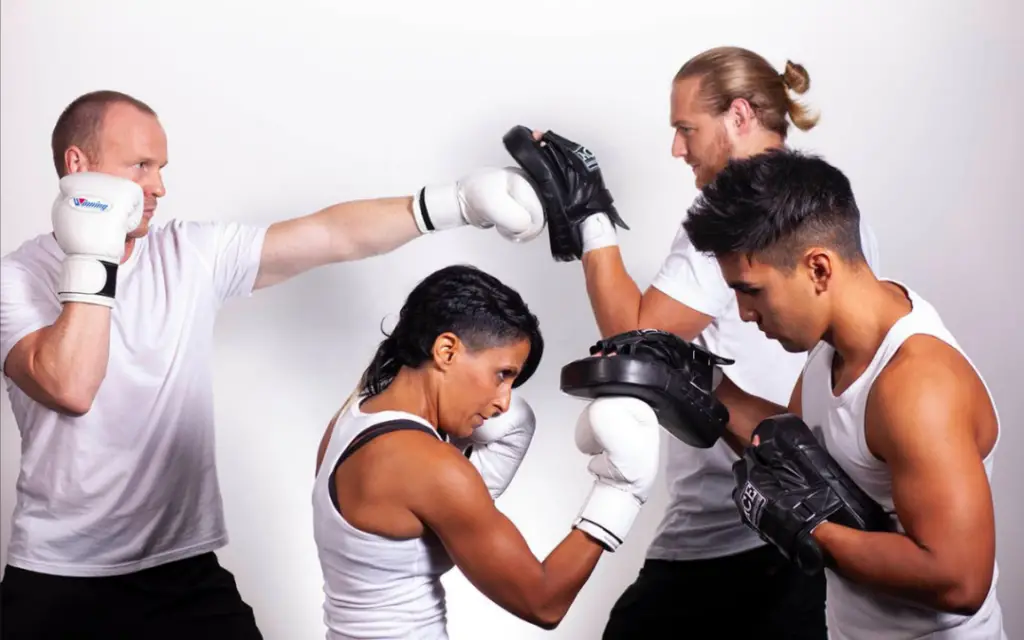 Why Train with Pad Gloves?
Using pad gloves during your workout can do a lot for your technique, your power, your speed, your timing, your endurance, and above all, your accuracy. Gloves will help you drill real boxing movements allowing you to work on both offense and defense simultaneously. You get to mimic and train specific styles 
Plus, the challenge of hitting pad gloves can add enjoyment and motivation to your training. An experienced pad man will be able to challenge you with the movements of a variety of potential opponents.
While you can get repetitive or even a bit lazy with a punching bag, this won't be the case when you have a pad man challenging you in the ring.
While developing your power will have a certain importance, developing your reflexes can be the difference between winning and losing a match and defensive reflexes are a priority. Hitting a punching bag will not develop defensive technique.
Besides, you don't want a choreographed defense, but rather natural defensive reflexes, and this can only be done through pad work.
This is equally true for developing your timing, and personal rhythm. These qualities cannot be developed by punching a bag.
So, once you've decided to move on to paid work, you'll need the best gloves available for your size and weight class to protect your hands and body, and they should not in any way interfere with pad technique.
Types of Gloves
Breaking down the choices available is fundamental when selecting. Gloves will usually have a design, shape, and weight that better serve a specific boxing category.
Some gloves will have heavy, dense padding protection, others will be specifically lightweight, meaning that probably more than one pair of gloves is ideal when learning and training for this sport.
1.) Bag Mitts-
These are designed specifically for bag and pad training with the best possible hand protection. Many will feature multi-layer padding and are manufactured in leather. Bag mitts are specifically designed to be denser and tougher for increased hand protection.
They are not designed to protect eventual sparring partners. Bag mitts can be found in both light and heavy versions.
2.) Boxing Gloves-
Most gloves made for boxing are designed for sparring and technique, however, they are used for both bag training and pad work to some extent.
3.) Hybrid Gloves-
A few manufacturers make a hybrid boxing glove that can be used for bag and pad work, but also have sufficient padding for use in lighter sparring workouts.
4.) Sparring Gloves or Coach Spar Gloves-
Designed for practice sparring to train offense and defense at the same time. This type of glove is meant for use with a partner and is designed to protect your sparring opponent with cushioning that is thicker and softer. When used for bag or pad work, the cushioning will wear quickly.
5.) Training Gloves-
These are all-purpose boxing gloves if you prefer not to invest in more than one pair. They are not to be used in sparring.
6.) MMA Gloves-
These gloves are not conceived for pad work with very few exceptions and as a rule, should not be specifically purchased for pad work. These gloves, like kickboxing gloves, are padded differently than Western boxing gloves.
They tend to have more padding on the back of the hand for blocking kicks but have less palm padding and less wrist support.
7.) Amateur Competition Gloves 
Generally, lighter in weight than training gloves they will have larger softer cushioning. If you compete, competitions usually provide gloves to all athletes.
8.) Professional Competition Gloves
These are smaller gloves because they give up padding for power and are used exclusively in pro boxing. They also are good for only one fight.
If you don't intend to spar and just train, choose a glove specifically for pad and bag work. Or you may want to use your sparring gloves for sparring, and in this case, a good pair of pad mitts are perfect for pad training.
Pad Glove Features
Boxing is a serious as well as a dangerous sporting activity that can cause permanent injury to your hands, so choose carefully.
1.) Size and Fit
Fit is the principal factor when selecting a glove. Different hand sizes require different-sized gloves. This makes it important to try gloves on before acquiring and preferably with the guidance of a boxing expert. You need to determine the best fit coupled with the most comfort. 
2.) Thumb Design
Some gloves are designed with straight thumbs while others will keep your thumb out of the way and out of sight.
3.) Breathability
Good breathability will keep hands from becoming sweaty and reduce odor. Note if gloves feature holes in the hand area.
4.) Control
How well can you move your hand inside the glove and if it is difficult or not to open and close it? This can influence how tight of a fist you can make for power punches. Or if you do kickboxing, you will need to open your hands to block. 
5.) Weight
Weight will be a vital part of protection. Heavier padding may be preferred for heavy sparring and lighter gloves for faster sparring. Or lighter gloves are better for speed training while heavier gloves give more protection and develop arm potential.
6.) Closure: Laces or Velcro?
When choosing a method for fastening your gloves, the choice is usually between traditional laces or a Velcro strip. Undoubtedly, a Velcro fastening makes putting on and removing your gloves by yourself much easier.
Laces however are thought to provide more wrist support, but you will need someone to help you get those gloves on and fastened before heading to the pad.
7.) Material
The boxing traditionalists among us will go with leather due to its durability, however, newer polyurethane compounds have been created that many boxers and industry insiders believe offer superior performance.
Also look for an inner lining that makes wearing easy, comfortable, and protects padding from perspiration.
8.) Protection
Padding is essential in protecting your hand from injury and specifically knuckles or palms. Padding consists of horsehair, gel, foam, or perhaps a blend. Today most gloves are made with foam.
9.) Quality
Quality materials and quality construction can make or break a glove. If gloves don't breathe, they will be uncomfortable, hot, and smelly. Less support and bad stitching or extra seams equal less durability.
Stitching is probably the construction aspect that is the weakest. Nylon thread will be stronger than cotton or polyester, and welted seams will be stronger than those that aren't.
The Reviews
Overall Best Gloves for Pad Work: 
1.) Cleto Reyes Training Gloves
Hook and Loop Closure Training Gloves
The best boxing glove brand you can ever choose.

Designed with the finest craftsmanship and highest quality material handmade from Mexico.

The long-lasting latex foam padding.

The Training Gloves with Hook & and Loop closure.
Prices pulled from the Amazon Product Advertising API on:
Product prices and availability are accurate as of the date/time indicated and are subject to change. Any price and availability information displayed on [relevant Amazon Site(s), as applicable] at the time of purchase will apply to the purchase of this product.
Renowned for high-quality materials, these Cleto Reyes gloves are extremely popular. Made with premium leather, they feature padding in latex foam for great knuckle and hand protection.
Glove linings are water repellent so that padding does not deteriorate due to perspiration contamination and glove weight remains unaltered.
A hook and loop closure makes for ease of use and the attached thumb design protects both eyes and thumbs from injury.
Available in 12, 14, 16, or 18 ounces depending on your weight. A bit expensive but quality control is excellent. Made in Mexico.
Pros
Great protection from injury

Latex protection is two inches deep

Velcro closure guarantees ease in wearing and removing

Great breathability
Cons
Expensive

Not for heavy bag use
Check Price and Reviews on Amazon
---
Best Budget Gloves for Pad Work 
2.) RDX EGO Boxing Training Gloves 
RDX EGO Boxing Gloves Muay Thai
MAYA HIDE LEATHER CONSTRUCTION

COMBINATION OF FOAM PADDING

EXTRA-LONG QUICK EZ HOOK-AND-LOOP

S.P.P VENTILATED HOLES

QUADRO-DOME Padding
Prices pulled from the Amazon Product Advertising API on:
Product prices and availability are accurate as of the date/time indicated and are subject to change. Any price and availability information displayed on [relevant Amazon Site(s), as applicable] at the time of purchase will apply to the purchase of this product.
These are great training gloves especially for pad work and at an affordable price. Designed for multi-purpose training, these are great for pad work.
Lightweight and resistant to splits, tears, and cracking, they feature great foam padding for increased hand protection. 
The breathability of these gloves is outstanding thanks to ventilating holes for airflow keeping hands dry and comfortable during use.
Foam padding is calibrated for impact and a stable thumb position, and an extra-long hook-and-loop gives improved wrist support and ease of use.
Available in 8 to 16 ounces.
Pros
Great ventilation and breathability

Affordable

Durable

Improved wrist support

Quadro dome protection padding
Cons
Not for hard punches

Not for intense sparring 
Check Price and Reviews on Amazon
---
Best Large Hands Glove for Pad Work 
3.) Fairtex Unisex BGV1 Training Glove
Fairtex BGV1 Muay Thai Boxing Training Sparring Gloves
Ergonomically engineered with a unique contoured.

Constructed of premium leather with the Fairtex foam system.

Genuine leather gloves with vectro straps.

All-purpose boxing gloves and Tight fit design.

Handmade in Thailand. Size: 8 - 16 oz.
Prices pulled from the Amazon Product Advertising API on:
Product prices and availability are accurate as of the date/time indicated and are subject to change. Any price and availability information displayed on [relevant Amazon Site(s), as applicable] at the time of purchase will apply to the purchase of this product.
This is a long-lasting boxing glove that is ideal for larger hands. Made in leather, it may appear stiff at first use, but with a bit of breaking in, these gloves do not disappoint. Great for pad, bag, and sparring, it is a popular choice in boxing circles.
An ergonomic design provides a snug, contoured fit with a hand compartment that is comfortable for larger hands.
Premium leather and a specially engineered Fairtex foam give great hand and knuckle protection. Velcro straps make wear and removing easy.
Made in Thailand. 16 ounces.
Pros
Great leather quality

Decent wrist support

Fantastic for large hands

Without a grip bar
Cons
Check Price and Reviews on Amazon
---
Whether you are a seasoned boxer or are new to the sport, you most certainly will know the importance of pad training. Training with pad gloves is one of the best methods to improve technique, reflexes, and strategy. This type of training is physically challenging, mentally stimulating, and fun as well.
Pad gloves are a versatile instrument that is not merely limited to punching hard and fast, but help to perfect timing, rhythm, personal style, and accuracy. These gloves will be used in several athletic disciplines that involve punching including:
Boxing

Kickboxing

MMA

Muay Thai
Though the sports may seem to concentrate on speed and power, there is a lot more to it, and that means you want the best possible gloves for developing your athletic prowess and for personal protection while training on the pad. Your most useful instruments are your hands, and they need protection.
Conclusion
To learn or train as a boxer, whether as an amateur or for competitions, you will need to do pad work, and you'll need a solid pair of gloves for this activity.
Whatever you feel is a priority, be it quality materials, weight, or overall durability, there is a glove on this list for you.
Do try on gloves before purchasing and try on several so you can get the correct size, and the feel of the glove as well as of the weight and comfort. After all, if you're serious about boxing and pad work, protect those hands!