We went to the source when compiling our list of best gloves for mechanics for you. With so many gloves to choose from, you'd need to spend days if not weeks researching to find the best PPE. Our team of expert mechanics has done quite a bit of the work for you.
Researching and testing safety gloves for mechanics directly in automotive shops and industrial settings to get you the best information for selecting your best gloves for mechanics.
Our top choice is the Mechanix Wear Mechanic Work Gloves due to the impressive super tactile sensitivity. We also liked the Grease Monkey Work Gloves with Nitrile Coating as a compromise option between disposable and reusable work gloves.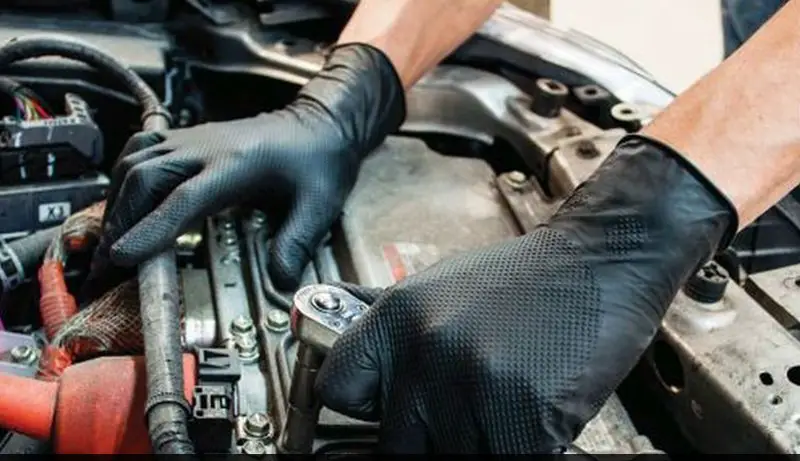 The Reviews
Best Overall Work Gloves for Mechanics
1.) Mechanix Wear Mechanic Work Gloves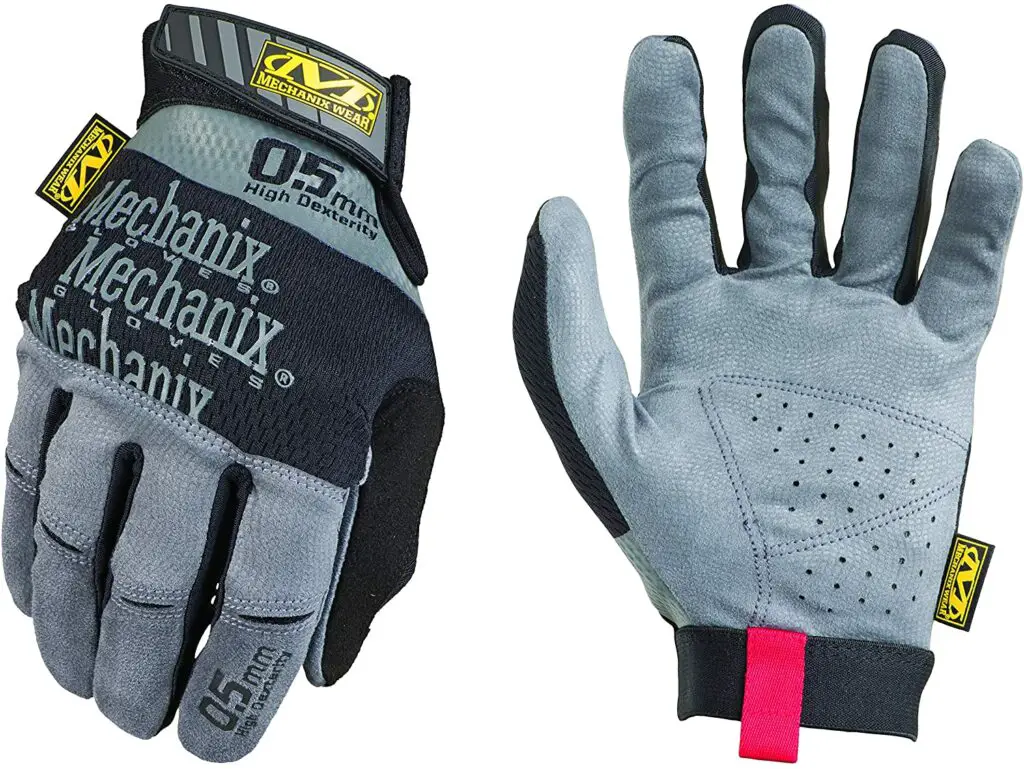 There must be a reason the race teams around the world including Nascar trust and use Mechanix gloves, This manufacturer offers a wide array of work gloves, however, we particularly like the 0.5mm version for increased dexterity.
It features a rubber wrist closure mechanism to prevent dirt from entering the glove and is produced in an innovative TrekDry material which makes the glove comfortably form-fitting and breathable.
The palm is in synthetic suede and the gloves' fingers are designed to resemble an hourglass shape to minimize bulk. This glove is thin but resistant and offers a fantastic level of touch sensitivity. They are machine washable.
Pros
Secure fit with closure in thermoplastic rubber

TrekDry construction material keeps hands cool and dry

Excellent tactile sensitivity

Machine washable
Cons
A bit more expensive

Quality control issues
---
Best Insulated Work Gloves for Mechanics
2.) CLC Custom Handyman Leathercraft Work Gloves
Prices pulled from the Amazon Product Advertising API on:
Product prices and availability are accurate as of the date/time indicated and are subject to change. Any price and availability information displayed on [relevant Amazon Site(s), as applicable] at the time of purchase will apply to the purchase of this product.
These Leathercraft gloves are quite impressive for the quality they offer. They are also reasonably priced.
Available in an ample range of sizes from small through XXL, they feature great insulation with fingertips that are reinforced for those mechanics that must work outside in colder climates. 
Three of the gloves' fingertips can be used on smartphones and tablets, or similar touchscreen devices. These gloves also are designed with an elastic woven cuff that includes a strap with a loop and hooks for closure.
Produced in spandex, they feature lycra panels on the sides to ensure continued dexterity during wear. Even the stitching is concealed inside so nothing can latch on or snag while you work.
Pros
Good selection of sizes

Closing strap

Insulation for colder climates

Touchscreen friendly reinforced fingertips

Made in Lycra and Spandex

Affordable 
Cons
Fingertips wear quickly with rough work
Check Price and Reviews on Amazon
---
Best Disposable Work Gloves for Mechanics
3.) Venom Steel Nitrile Mechanic Work Gloves
Medline VEN6045R Venom Steel Premium Industrial Black Nitrile
Provide 2 layers of protection for incredible rip, tear, puncture, and chemical resistance

Heavy duty disposable gloves are latex free

6 mil thickness is 70 percent thicker than common disposable exam gloves, making these great mechanic gloves or cleaning gloves

Protect your hands from grease, grime, dirt, oil, fuels, nicks, scrapes and more
Prices pulled from the Amazon Product Advertising API on:
Product prices and availability are accurate as of the date/time indicated and are subject to change. Any price and availability information displayed on [relevant Amazon Site(s), as applicable] at the time of purchase will apply to the purchase of this product.
Slick black disposable work gloves that boast a six-mil thickness offering two protective layers. The noteworthy characteristics of these particular work gloves are that they are resistant to tears, rips, punctures, and even chemicals.
For those allergic to latex, the Venom Steel gloves are powder and latex-free. Loves are textured for increased grip.
Venom Steel offers sizing from medium through XXL as well as a one-size-fits-all version. These gloves are sold in boxes of fifty, ninety, one hundred and five hundred for businesses or auto shops.
Pros
Sizing from medium to XXL, also one-size-fits-all

Two protective layers

Latex-free

Powder-free

6-mil thickness

Resistant to chemicals, tears, rips, and punctures
Cons
Quality of gloves inconsistent 
Check Price and Reviews on Amazon
---
Best Budget Work Gloves for Mechanics
4.) Grease Monkey Work Gloves with Nitrile Coating
Grease Monkey General Purpose Nitrile Coated
Protects hands and provides tactile gripping when working around oil and grease - perfect for changing oil, changing tires, replacing fluids, and spark plugs

Foam Nitrile coating

Snug fit wrist keeps out dirt and debris
Prices pulled from the Amazon Product Advertising API on:
Product prices and availability are accurate as of the date/time indicated and are subject to change. Any price and availability information displayed on [relevant Amazon Site(s), as applicable] at the time of purchase will apply to the purchase of this product.
This is a great budget option for work gloves that is a compromise between disposable and reusable work gloves for mechanics.
Sold in either a twelve-pack or a fifteen-pack, these gloves have all the advantages of nitrile coating that are hypoallergenic and latex-free, while still guaranteeing a great grip. 
Thanks to the glove backing being knit, there is increased breathability for your hands with these gloves. The knit texture also impedes grime from entering while you work.
There are washable, although after a certain number of washings the nitrile coating will begin to peel. As they are stretchable, they come in one-size-fits-all which may be a problem for very large hands or very small hands.
Pros
Sold in two formats of 12 or 15-pack

Nitrile coating for improved grip

Latex-free

Knit breathable back
Cons
One-size-fits-all may not work for exceptionally large or small hands
Check Price and Reviews on Amazon
---
Mechanics and What They Do
In 2019, the United States Bureau of Labor Statistics reported 756,600 jobs nationwide for mechanics. The same year there were 284.5 million registered vehicles which in the meantime has grown to a projected 290.8 million in 2022. 
It looks like professional mechanics are mighty busy with cars, trucks, vans, motorcycles, and buses alone.
If you consider that mechanics do not only repair and do maintenance for registered vehicles but also work on machinery, equipment, power tools, and more, that's quite a bit of work and responsibility.
And their work isn't limited to maintenance and repair. They also test machinery, equipment parts and components, and mechanical systems for correct operation and performance.
Risks Mechanics Face On the Job
If you consider the number of parts that every car or every piece of machinery has, each mechanic has tons of work, and most, if not all of it is done using his hands to some degree.
Working with machinery or mechanical systems and components of any type puts mechanics at risk for numerous occupational injuries. These injuries include 
cuts 

abrasions 

puncture wounds 

lacerations

caustic chemical burns 

sprains 

muscle strain from moving or lifting heavy parts or working in unusual positions 

impact injuries from falling tools, objects, or debris (Best Work Boots for Mechanics)

electrocution

heat-induced burns

eye injuries from liquids or debris (Best Safety Glasses for Mechanics)
When considering all of this, being a professional mechanic is one dangerous job, and PPE becomes a priority, particularly for those gifted hands.
What kind of Gloves Does a Mechanic Wear?
While safety gloves are a necessity for many professions, gloves for mechanics will not be the same as gloves worn in construction, welding, gardening, and a variety of other jobs.
Working on machinery will not be the same or even similar to building a garden shed. So, specialty gloves will be a better choice because they meet the specific needs of mechanics.
Remember, mechanics don't only work with parts, but are exposed to contaminants constantly due to grease, grime, oils, and automotive fluids.
The construction material will be vitally important in order to resist cuts and contaminants but at the same time guarantee flexibility and dexterity of the hands.
Today's market offers traditional-style gloves that can be reused numerous times as well as disposable gloves that can be tossed at the end of your workday.
Finding Your Best Pair of Mechanics Safety Gloves 
When selecting the most useful features in a pair of mechanic's gloves, much will depend on the specific type of work and applications you are involved in.
Do you work on general automotive maintenance like rotating tires or changing oil, or do you work on motors or industrial machinery?
For general maintenance, a pair of disposable gloves may be a good option. If you are working on mechanical systems, you may prefer a more resistant costly pair of gloves.
Glove Types
Disposable Gloves
Most mechanics and automotive shops will keep a box of disposable gloves accessible to protect specifically from oils, lubricants, coolants, and fluids for brakes or power steering.
Made to resist common chemicals, these gloves can be easily tossed once the job is finished, contributing to cleanliness both personal and in the workplace.
Disposable gloves are usually found in nitrile or latex. Depending on the fluids you work with, always check the level of chemical resistance when selecting.
Reusable Gloves 
Reusable gloves will be more costly because they are made from materials meant to last and guarantee durability like leather, both genuine and synthetic.
Some reusable gloves can even be thrown in the washing machine. The amount of wear and type of work you do will determine how often they will need to be replaced.
Preferred Features
Features that should factor into your choice include:
Comfort
Mechanics generally work long hours because there is always something to repair. If you choose to invest in reusable gloves, eight-to-ten-hour work shifts will take their toll on your hands, so gloves need to be as comfortable as possible.
Consider material softness and breathability when selecting. Uncomfortable gloves may cause you to remove gloves or discomfort can be distracting. 
Breathability
If you work in a particularly hot climate or heated work environment, wearing gloves can be more than uncomfortable. Good safety gloves will allow your hands to breathe and keep them dry during long work hours.
Grip 
This is a vital characteristic of mechanics. Because mechanical work requires not only working with large components, but also with tiny nuts, bolts, and washers, your ability to rip throughout the workday will make all the difference. A good grip is also fundamental in avoiding injury to do falling objects or spills.
Insulation
If you work in colder climates or are called to repair machinery outdoors, a glove with good insulation can save you from discomfort and frostbite.
Resistance to cuts and tears. 
The concept behind wearing gloves is protection. Gloves that tear or are cut easily compromise the reason they are worn. Even disposable gloves should feature resistance to easy tearing.
Durability. 
The quality of the material used in glove construction will influence both durability and functionality. Disposable gloves should not tear quickly just because they are disposable. They should also be able to withstand chemical exposure for a prolonged period of wear.
Reusable gloves will also rely on quality material, stitching, and design for durability. If they are washable, this should not shorten their lifespan.
Sensitivity
Gloves need to guarantee sensitivity to the touch to enable both grip and dexterity as well as allowing you to work with technological devices such as tablets or smartphones that use a touch screen.
Washable or not
If you are investing in a pair of reusable gloves, the possibility to wash them can make all the difference. You may need to remove chemicals and liquids, as well as dirt and grease for general hygiene.
Cost
How much you want to spend will factor in. Gloves can be found in all price ranges from as little as pennies when you purchase a box of disposable gloves to those that price over $35 when selecting a reusable glove. The type of protection you need will figure into the final cost.
See also: Best Work Pants for Mechanics
The Advantages of Wearing Mechanics' Gloves
Here are a few of the primary reasons for investing in a good pair of mechanic's gloves.
1. Overall protection. Hands need to be protected from cuts, impact injury, contaminants, chemical spills, and an array of other mishaps that take place daily when working on vehicles or machinery.
2. Protection from Chemicals and dangerous liquids. If you work in the automotive industry, you'll be using chemicals, some of which are caustic. A good pair of gloves will protect the skin and hands from chemical burns that can seep through an inexpensive general work glove.
3. Hand fatigue reduction. Many of today's gloves are designed with hand fatigue reduction in mind. Pre-formed shapes, padding, and support can significantly reduce the amount of fatigue your hand feels at the end of your shift.
4. Improved Grip. A good mechanic's glove will have increased gripping power thanks to coated palms and fingertips, specific padding, or construction material.
5. No More Callouses. Anyone who uses their hands daily for extended periods working with either heavy or rough objects will be prone to callouses forming. A good pair of gloves can most certainly reduce, if not eliminate this problem.
6. Versatility. If you have a good pair of mechanic's gloves, they won't only be great for your specific work as a mechanic but can be worn in several other situations that require hand protection
The Bottom Line
Keeping your hands safe on the job is the priority when selecting the best gloves for mechanics. Our top choice for reusable gloves from Mechanix Wear is based on reliability, protection, and heightened touch sensitivity.
These gloves offer quality and comfort for professional mechanics. For disposable gloves, consider the venom Steel Nitrile mechanic Gloves for good protection at a budget price.