If you are a professional that works in the Heating, Ventilation, and Air Conditioning sector, you know the risks that you face daily that are potentially dangerous to your health. Many of these risks specifically relate to the use of your hands while on the job. 
Cuts, electrical shocks, and chemical burns all enter into play when you install or repair equipment. As part of your necessary PPE, an excellent pair of work gloves should be a priority.
Gloves that fit well, but that also guarantee comfort, dexterity, and resistance to slippage are a priority to facilitate your performance on the job.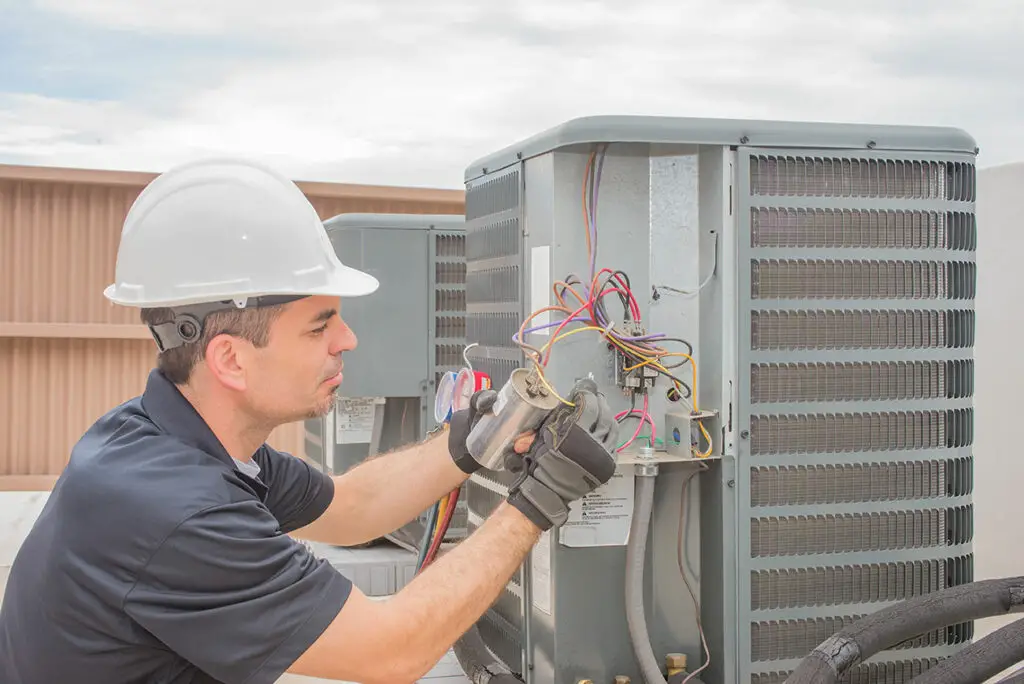 We assembled a team of HVAC professionals to help us research and above all test work gloves directly in the HVAC environment. After weeks of testing, we formulated our best work gloves for HVAC professionals to furnish you with as much information as possible and to help you save both time and money.
Our top overall choice is the Ansell 97—002 ActivArmr HVAC Cut-resistant gloves. Produced in stainless steel and Kevlar fibers, these gloves afford great grip, cut resistance, and a comfortable fit all in one package.
However, all the gloves on our list merit consideration. There are some great HVAC gloves available in today's market.
The Reviews
Best Overall Work Gloves for HVAC Pros
1.) Ansell 97-002-ActivArmr HVAC Cut-resistant Gloves
Prices pulled from the Amazon Product Advertising API on:
Product prices and availability are accurate as of the date/time indicated and are subject to change. Any price and availability information displayed on [relevant Amazon Site(s), as applicable] at the time of purchase will apply to the purchase of this product.
A great safety glove for HVAC workers, this glove offers superb cut resistance together with a grip that has been developed and enhanced thanks to a foam nitrile coating for both wet and dry conditions.
Patented by manufacturer Ansell, this glove also affords excellent dexterity enhanced by an ergonomic design. The design allows for full hand motion, and you can use your smartphone during wear.  
Frostbite is avoided when wearing these gloves while working with refrigerant which is an added plus.
These gloves have also proved to be comfortable because of the seamless knit construction in stainless steel and Kevlar that offers breathability and exceptional protection facilitating all-day wear.
A cuff featuring a Velcro closing mechanism helps to keep your fit snug. They are half the thickness of other work gloves yet offer as much as six times more in cut resistance.
Pros
Stainless steel and Kevlar fibers

Thin with increased protection

Foam nitrile palm coating for exceptional grip in any conditions

Ergonomic design for comfort
Cons
Check Price and Reviews on Amazon
---
Best Cut-Resistant Gloves for HVAC Pros
2.) Majestic 37-1550 Dyneema Work Gloves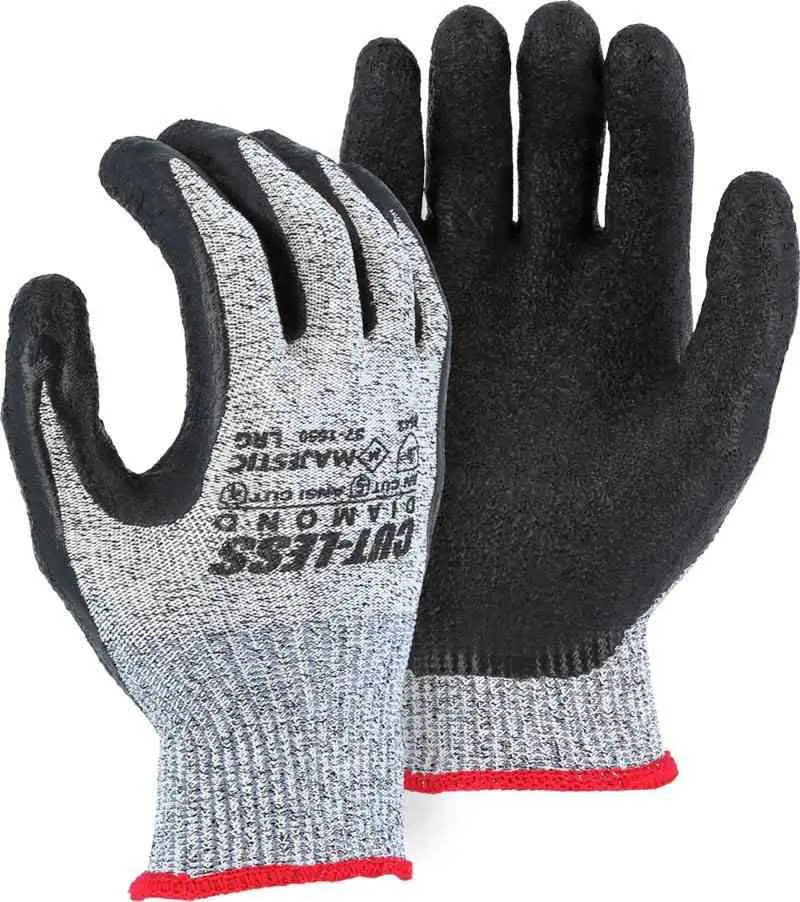 A great choice for HVAC pros that work with metals, ducts, and anything exposing them to the hazards of cuts on the job. The Majestic Dyneema Work Gloves are made with Dyneema fiber and feature a latex coating on the palms.
This fiber is one really strong material and one of the most durable that the market has to offer.  It affords strength that is fifteen times more than steel on a pound-to-pound basis. For handling and moving metals, this is impressive protection.
The fiber knit is snug enough to guarantee dexterity yet comfortable. The ergonomic design of pre-curved glove fingers maximizes grip while minimizing hand fatigue.
The cut-resistance level is a solid 5. If you are looking for comfort, a good fit, exceptional grip, and cut resistance all in one work glove, this is a great option for HVAC pros in need of protection from cuts.
Pros
Snug, comfortable fit

Dyneema fiber 

Palm covering in latex

Knit cuff is long

Pre-curved fingers for comfort

Cut resistance is a solid 5
Cons
No heat resistance

Multi-packs only for sale
---
Best Insulated Gloves for HVAC Pros:
3.) Magid A.R.C. Black Electrical Rubber Insulating Work Gloves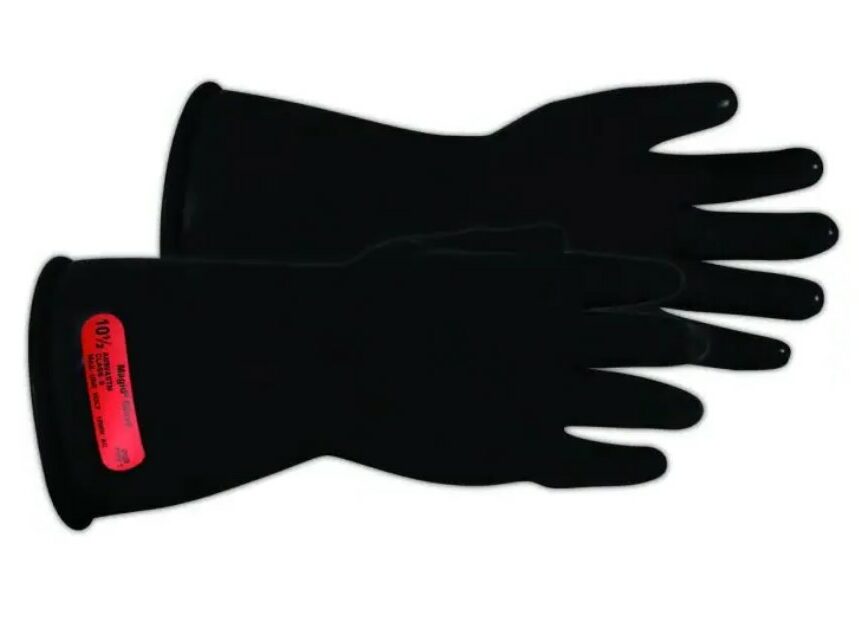 Produced using natural rubber, these gloves offer low voltage insulation while guaranteeing comfort, flexibility, and durability.
A contoured design reduces the risk of chafing or hand fatigue while on the job. As a class 0 glove, they provide protection up to 1,000 volts. These gloves meet ASTM D120-09 and OSHA 29C FR 1910.269 standards. 
Manufacturer Magid also has its own electrical testing program to guarantee your safety at all times.
Pros
Made of natural rubber latex

Class 0 electrical protection

Comfortable and durable

A flexible design renders working with small parts easy

Meets safety standards
Cons
---
Best Safety Work Gloves for HVAC Pros:
4.) Maxiflex Ultimate 34-874 Work Gloves with Nitrile Grip
Maxiflex 34-874 Ultimate Nitrile Grip Work Gloves
Nitrile coating compatible with light oils and provide excellent grip and abrasion resistance

The knit wrist helps prevent debris from entering the glove

Complete breath-ability with micro foam coating making the most breathable on the market

Form fit and feel reduces hand fatigue while providing enhanced comfort

Excellent gripping in a variety of applications
Prices pulled from the Amazon Product Advertising API on:
Product prices and availability are accurate as of the date/time indicated and are subject to change. Any price and availability information displayed on [relevant Amazon Site(s), as applicable] at the time of purchase will apply to the purchase of this product.
This safety work glove distinguishes itself right off the bat for breathability. The grip is guaranteed thanks to a foam nitrile coating on fingers and palms that also adds to manual dexterity in the field and can resist slightly oily surfaces.
The design of the glove resembles a resting hand to impede hand fatigue during the work shift.
The micro-foam coating increases breathability, which in turn increases comfort. A knit wrist cuff prevents dirt and material from entering keeping hands clean and safe.
Pros
Affordable

Breathability

Great grip

Comfortable
Cons
Great for basic safety and general work tasks, not necessarily for specific applications
Check Price and Reviews on Amazon
---
Selecting The Best HVAC Work Gloves
Our team of professionals noted that in HVAC work which involves numerous various applications, work gloves will require specific characteristics for specific types of applications.
When doing repairs that require the use of metal or sharp tools, you will need gloves that feature resistance to cuts.
If you are working on electrical connections, you may need gloves that are insulated with rubber to avoid electrical hazards. Regular standard installation may merely require a pair of great fitting gloves to enhance dexterity.
Consider the characteristics of these three types of safety gloves:
Cut-Resistant Work Gloves
When working with metals and particularly in the case of ductwork, potential risks of coming into contact with exceptionally sharp metal edges.
This means HVAC professionals will be at risk of cuts and perhaps puncture wounds. If you work with metals as an HVAC professional, you'll need high-performance gloves that offer both high resistance to cuts and great resistance to punctures.
Whether you are self-employed or work for an HVAC business, consider the cut-resistance standards used in the HVAC industry for PPE gloves currently.
Work gloves that offer protection from cutting need to be tested for cutting, puncturing, abrasion, and eventually tearing. The gloves you eventually select should be rated in terms of the amount of force necessary to puncture or cut the gloves. 
The durability of the glove material should also be a factor when investing in a good pair of cut-resistant work gloves. Will the material used in the glove construction last and approximately for how long? 
Is the cost fair in relation to the level of quality provided? The gloves' lifespan as well as how cost-effective your investment is will be influenced by this.
The American National Standards Institute or ANSI has elaborated a classification of nine levels for cut resistance in work gloves. In these classification levels, the greater weight indicates increased resistance to cuts.
| | | |
| --- | --- | --- |
| ANSI Cut Resistance Rating | Hazards | Grams necessary for cutting the glove material |
| A1 | Light minimal | >200 |
| A2 | Light to medium | >500 |
| A3 | Light to medium | >1000 |
| A4 | Light to medium | >1,500 |
| A5 | Medium | >2,200 |
| A6 | Medium to high | >3000 |
| A7 | High | >4000 |
| A8 | High | >5000 |
| A9 | High | >6000 |
Rubber-Insulated Work Gloves
Because HVAC professionals work regularly with electrical applications, a good pair of rubber-insulated work gloves should always be carried in the tool kit. 
HVAC electrical hazards are one of the principal risks that HVAC professionals face daily. Rubber is a material that does not conduct electricity, nonetheless, different gloves will offer varying levels of EH protection.
The American Society for Testing and Materials International (ASTM) provides both testing and information regarding safety and technical standards for numerous products and services. Included in the many products rated, are rubber-insulated work gloves.
The OSHA (Occupational Safety and Health Administration) has established a protective electrical standard, 29 CFR 1910.137 that indicates requirements for the design and use of gloves that insulate from EH.
When considering electrical insulating gloves, they are classified according to voltage protection and whether they resist ozone.
| | | |
| --- | --- | --- |
| Class of Protection | Maximum voltage use | Proof tested to |
| 00 | 500 AC | 2500 volts AC |
| 0 | 1000 AC | 5000 volts AC |
| 1 | 7500 AC | 10,000 volts AC |
| 2 | 17,000 AC | 20,000 volts AC |
| 3 | 26,500 AC | 30,000 volts AC |
| 4 | 36,000 AC | 40,000 volts AC |
Gloves are also classified for ozone resistance. Type I will not resist ozone while Type II will resist to ozone. Gloves also need to be inspected for damage at the end of the workday and they need to be tested periodically with electrical testing.
Electrical testing has a maximum value of twelve months. If twelve months after testing they have not been used, they need to be electrically tested anew. The OSHA will recognize gloves that fulfill ASTM 120-87 standards.
Basic Safety Work Gloves
For HVAC professionals a basic safety work glove will be used when general maintenance and repair tasks. They also may need to be able to work on technological instruments such as smartphones or tablets.
HVAC pros will not want to be constantly removing and putting back on gloves during a maintenance visit.
To be functional, a basic HVAC safety glove should
Be slip-resistant

Protect your hands

Be durable

Guarantee comfort and dexterity while worn
Refrigerant and Chemical Burn
This is a risk that HVAC workers need to be aware of. When bare skin comes into contact with refrigerant, it will burn.
Good handling of refrigerant will depend mostly on training, however, a slip or moment of indecision can cause injury.
While safety gloves can offer protection for a second or two, you'll need to remove the glove immediately when refrigerant touches the glove.
All things considered; HVAC professionals will need several pairs of safety gloves to use depending on the specific task at hand. 
Features and Characteristics
When selecting your one or more pairs of HVAC work gloves, here are some factors to reflect upon as you choose:
Material. The quality of materials used in glove construction will not only determine durability and functionality, but comfort as well.
Comfort. This is vital with any PPE in the workplace. Uncomfortable gloves will lead to you removing them or may serve as a distraction while working.
Dexterity. Good, agile hand movement is a must to perform certain tasks. It will also influence hand fatigue. Heavy or rigid gloves can cause your hands to tire.
Grip. The grip is important when working with tools, small parts, and certain metals to avoid accidents and injury.
Touch Sensitivity.  Your work gloves must guarantee a certain amount of sensitivity to the touch to enable both grip and dexterity.
Fit and Size. The correct fit of a work glove is an absolute priority. Tight gloves will lead to discomfort, while gloves that are too large can lead to imprecise movements while working.
Budget. How much you can spend will influence your choice. While it is not necessary to purchase the most expensive gloves available, it is necessary to invest sufficiently to guarantee both your performance and your safety.
The Bottom Line
Working in the heating and cooling sector is riskier than one might think at first glance. Potentially dangerous conditions are just around every corner, so protecting your health in general and your hands in particular needs to be a priority.
Considering the wide variety of tasks that HVAC pros are called to confront daily, we suggest specific work gloves for specific applications. We hope this article has been informative and will get you started on your search for the best work gloves for HVAC professionals.