Anyone who works with metal or in the metal industry knows how risky a profession this is.
When handling metals, regardless of the final product, you may have to deal with heavy materials, lots and lots of high-temperature heat, and as in the specific case of sheet metal, exceptionally sharp edges.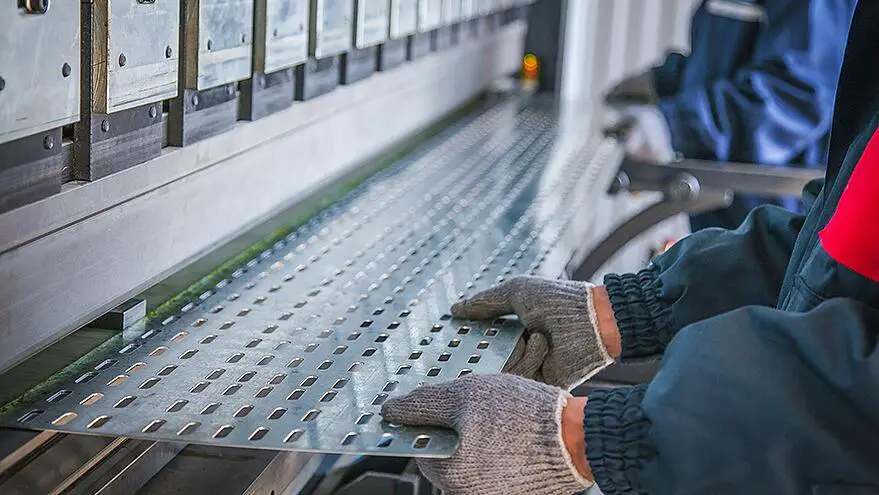 Workplace injuries can cost you time, health, productivity, and in some instances be completely life-changing.
Good PPE becomes obligatory, whether using an appropriate apron to protect clothes and body, or to protect your hands that are most at risk for injury when working with sheet metal.
We rounded up a team of sheet metal workers to get the lowdown on hand protection. After researching and testing extensively, we compiled the Best Gloves for Sheet Metal Work to save you time and energy when searching for that perfect pair of protective gloves.
Our top choice is the Majestic 37-1550 Dyneema Work Gloves because you just can't beat the use of Dyneema fiber in the construction and cut risks should never be underestimated.
Another unusual option that merits consideration is the NoCry Cut Resistant Work Glove thanks to a knit of spandex, polyurethane, and fiberglass, that guarantees cur resistance and flexibility at the same time. Although indicated for food work, we find the characteristics to be impressive enough to consider for some sheet metal handling or applications.
What Should Factor in When Selecting Your Gloves for Sheet Metal Work
Sheet metal work is a wide area of manufacturing as it concerns the production of components or products that are made from metal.
It will also include numerous applications such as cutting, welding, bending, rolling, forming, and even joining the metal. These applications add up to multiple risks requiring lots of good reliable protection for your hands.
1. Cuts and Punctures
One of the primary risks is contact with extremely sharp metal edges translating into risks of cuts and even puncture wounds.
This means that your first consideration should be for high-performance gloves that offer high cut resistance and high puncture resistance.
An important factor to consider for both you and your employer is the current cut-resistance standards used in the industry for PPE.
Work gloves need to be tested for abrasion, cutting, puncturing and tearing and the amount of force necessary to cut or puncture glove material.
Another factor to consider will be the durability of the glove material. Will the material used continue to protect for a period that justifies the expense? This will influence both the gloves' lifespan and whether it proves to be cost-effective.
2. Construction Material
Consider both the quality and the comfort of the materials used in glove construction. Gloves can be found manufactured in materials such as:
Polyester 

Nylon

Kevlar

Metal mesh

Dyneema
Some may integrate these materials with cotton, wool, rubber, latex, or leather.
3. Comfort
In any work situation, PPE comfort is not to be underestimated. If you work with sheet metal, you need gloves that are comfortable because you will need protection during your entire work shift.
Removing gloves when working with metal is not an option. So strong protection must be accompanied by a high level of comfort.
Breathability is also a key factor in comfort. Dry, cool hands on the job will influence productivity. 
4. Dexterity
Hand fatigue can be a noteworthy challenge to metal workers, especially during long work shifts.
If your PPE gloves tend to be rigid, your hands will tire, and tired hands more often than not and lead to mistakes and injury.
5. Sensitivity and Grip
Equally important to dexterity, is hand sensitivity. To avoid slippage and enable dexterity, glove materials need to guarantee a significant amount of sensitivity to the worker.
Cut protection alone is not sufficient. For a professional sheet metal worker to avoid injury, he, or she, needs to be able to feel and grip adequately, the metal that they are working with.
6. Heat Resistance
Depending on your specific profession in the sheet metal industry, heat resistance in PPE gloves can be equally important to cut resistance.
For those involved in metal fabrication, high temperatures are the standard in the work environment, so gloves need to provide some degree of resistance to heat.
Kevlar technology incorporated into the manufacturing of the glove can be a deciding factor when selecting.
7. Oil and/or Chemical Resistance
If you work with any type of liquid, oil-resistant gloves may be necessary. Many metal applications come into contact with industrial liquids like coolants, lubricants, or oils.
There also may be chemical solvent exposure. Hands must be protected from any damage these liquids can do to either the skin or the hand.
8. Welding
Some sheet metal workers may be involved in welding, meaning they will require specific hand protection designed for exceptionally high heat and to protect from flammability.
Splashes or drips of molten metal can cause serious damage during welding applications.
9. Fit
You won't want gloves that are too tight and limit hand movement, nor do you want your hands sliding around inside your gloves. Never settle or compromise on size. Try on gloves until you find the correct size.
10. Cost
Expensive gloves are not necessarily synonymous with your needs. Before purchasing, consider the cost in terms of quality and features.
Cut Resistance Safety Levels
Depending on whether you use the American ratings or European ratings, this is what you should keep in mind when searching for your PPE gloves.
A1 through A9 scale for the ANSI/ISEA 105-2016

0 to 5 or A through F for the EN388-2016
The American National Standards Institute or ANSI together with ISEA, the International Safety Equipment Association entered into play in March of 2016.
This new rating system based itself on the ASTM F2992-15 methods for testing and will measure how resistant a glove is to cutting on a scale of A1 to A9. This was an update from the prior ANSI/ISEA105-2011 ratings which only used a scale of 5 different levels.
The newer 9 level scale gives a more accurate analysis of the level of PPE protection. Generally speaking, ratings of A3 or lower offer good cut protection where risks are lower. From A4 upward, gloves will offer protection for higher-risk professions.
The EN 388 Mechanical Protection rating also saw changes in 2016. The original testing done with blade cutting will be measured at six different levels of 0 through 5 referring to the EN Coup testing.
The newer EN ISO Resistance to Cutting score will measure from A through F and is based on ISO 13997 methods for testing. This method uses Newtons to measure how much weight will be necessary to be able to cut the material through. The more Newtons required, the better the rating.
While these two rating sets cannot be compared directly because they use different measurement units. However, they do use the same machines and methods for testing.
| | |
| --- | --- |
| ANSI Cut Resistance Rating | Hazards |
| A1 | Light minimal |
| A2 | Light to medium |
| A3 | Light to medium |
| A4 | Light to medium |
| A5 | Medium |
| A6 | Medium to high |
| A7 | High |
| A8 | High |
| A9 | High |
Top Metal Sheet Work Glove Reviews
Best Overall Gloves for Sheet Metal Work
1. Majestic 37-1550 Dyneema Work Gloves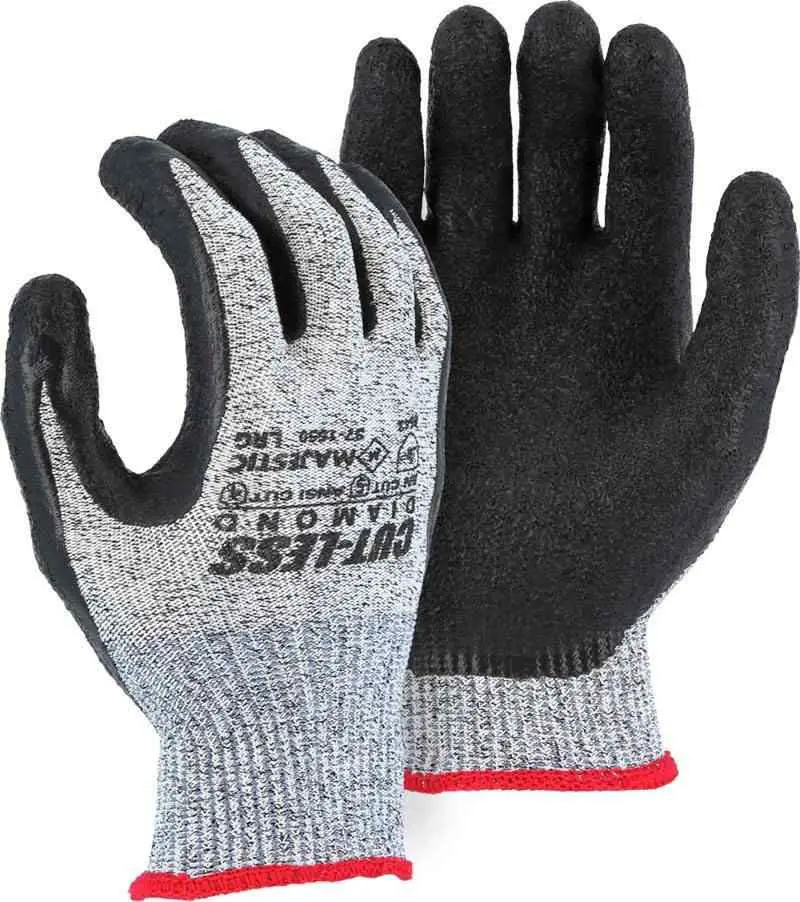 Our overall choice fell to the Majestic Dyneema Work Gloves which are produced with Dyneema fiber and a coating of latex on the palms.
This fiber is one of the most, if not the most, durable available today as it boasts a strength that is fifteen times greater than steel on a pound-to-pound basis. That's impressive strength for protection.
The knit of the fiber is snug yet comfortable and features an ergonomic design of glove fingers that are pre-curved to minimize the risk of hand fatigue.
With a Cut resistance level of 5, this is a good basic protective work glove that affords, comfort, fit, grip, and cut resistance making it ideal for those who work with sheet metal.
Pros
Comfortable snug fit

Dyneema fiber construction

Latex palm covering

Long knit cuff

Pre-curved finger design

Cut resistance of 5
Cons
Does not include heat resistance

Sold in multi-packs only
---
Best Resistant to Cut Gloves for working with Sheet Metal 
2. MAGID TRX743 Impact Windstorm Gloves
MAGID TRX743 Windstorm Series Impact Gloves
Design with 130 integrated flex points, pinch-point finger protection, and ventilation for breathability

High-visibility Cool Mesh Venting System enhances airflow by up to 60%

Goatskin leather palm provides dexterity and abrasion resistance

Using cut resistant gloves and cut resistant sleeves is a great way to stay safe while completing projects around the house.
Prices pulled from the Amazon Product Advertising API on:
Product prices and availability are accurate as of the date/time indicated and are subject to change. Any price and availability information displayed on [relevant Amazon Site(s), as applicable] at the time of purchase will apply to the purchase of this product.
MAGID is known as a reputable manufacturer of PPE for the workplace. They are consistently at the forefront in technological and safety standard improvement.
These Magid TRX743 gloves have been conceptualized with lacerations, abrasions, and even impact-related injuries in mind.
What distinguishes these gloves from other options are the 130 flex points integrated into the glove to guarantee both flexibility and breathability.
Magid has also incorporated a venting system called cool mesh to improve ventilation and a cooler temperature and dryer hands while working. 
The glove palm is produced in goatskin leather together with a material that carries an ANSI 6 rating for resistance to cuts giving good solid double protection.
Pros
Cool Mesh ventilation

Goatskin palm and cut resistant material for double protection

Ultra-flex comfort design

Impact protection

Good movement control
Cons
More expensive than other options

Impact material glued and not stitched
Check Price and Reviews on Amazon
---
Best Light to Medium Risk Cut and Puncture Resistant Gloves for Sheet Metal Work 
3. Youngstown 05-3080-70-L Utility Kevlar Lined Glove
Youngstown Glove 05-3080-70-L General Utility Lined
A cut resistant performance work glove that is completely lined throughout with Kevlar fiber by DuPont

Every inch of this glove (top, palm, side of fingers) is lined with DuPont Kevlar fiber for increased cut and puncture resistance

ANSI Cut Level 3 and ANSI Puncture Level 4
Prices pulled from the Amazon Product Advertising API on:
Product prices and availability are accurate as of the date/time indicated and are subject to change. Any price and availability information displayed on [relevant Amazon Site(s), as applicable] at the time of purchase will apply to the purchase of this product.
While indicated as a utility glove, these gloves are produced with incredibly durable materials, yet they are lightweight for comfort. These gloves are lined with hardy DuPont Kevlar offering resistance to cuts and punctures at lower risks.
The ANSI puncture rated is 4 meaning fine for medium risks while the cut resistance is rated 3, so if you are involved in handling metal with a lighter to medium risk, these gloves are a great option.
The grip the gloves provide is quite impressive thanks to the glove palm and fingers that feature reinforcement that is anti-slippage. Handling, gripping, and moving metal should not be a problem.
The design includes terry cloth for wiping away sweat while working and a comfortable cuff with a Velcro closure. Your wrists will remain protected but comfortably so. If you are at risk for puncture wounds, these may not be the ideal gloves for you.
Pros
Good construction

Flexible

Lightweight

Anti-slip reinforcement on palms and fingers

Comfortable

Cut-resistant

Terrycloth thumb integrated

Wrist closures in Velcro
Cons
Not the best for puncture resistance

Sizing may run small
Check Price and Reviews on Amazon
---
Best Flexible Cut Resistant Gloves for Sheet Metal Work
4. NoCry Cut Resistant Work Gloves 
NoCry Cut Resistant Gloves
Our cut resistant, highly durable gloves give you EN388 level 5 cut resistance.

Your gloves won't slip, fall off or irritate your skin.

Machine washable

These gloves are great for any job that needs precision like woodworking, whittling and carving.
Prices pulled from the Amazon Product Advertising API on:
Product prices and availability are accurate as of the date/time indicated and are subject to change. Any price and availability information displayed on [relevant Amazon Site(s), as applicable] at the time of purchase will apply to the purchase of this product.
If you are looking for a pair of gloves specifically for cut resistance but that provide flexibility and dexterity, these gloves merit attention.
Produced with a material that is four times stronger than leather, made from a combination of spandex, polyurethane, and fiberglass, the NoCry gloves offer some serious protection.
The grip together with the dexterity is really impressive. They are lightweight and offer cut resistance protection of 5.
Strength, durability, grip, and a comfortably snug fit, make these gloves a credible alternative to standard work gloves.
Pros
Strong

Comfortable snug fit

Flexible with good grip

Lightweight

Solid resistance to cuts
Cons
Material tends to be absorbent of liquids
Check Price and Reviews on Amazon
---
The Bottom Line
We've analyzed and summarized what factors you may want to consider when selecting the best gloves for sheet metal work. Resistance to cuts and punctures should be your top priority when choosing.
To factor in other characteristics, consider the application that you are involved in at work to obtain the best possible protection for your hands while on the job. The best glove protection will be selected for defined work tasks.