Do you prefer extra cushioning in your work boot for all-day comfort? And where do you get the extra cushioning from? Gel or foam footbed inserts, or do you prefer cushioned socks?
We tested work socks to find the best cushioning for inside that work boot to improve daily comfort during long work shifts.
Our top pick turned is the Orthofeet Padded Work Sock in bamboo fiber because of the excellent anti-odor, anti-bacterial, and moisture-wicking capabilities. We also liked the padded socks from manufacturer Thorlo.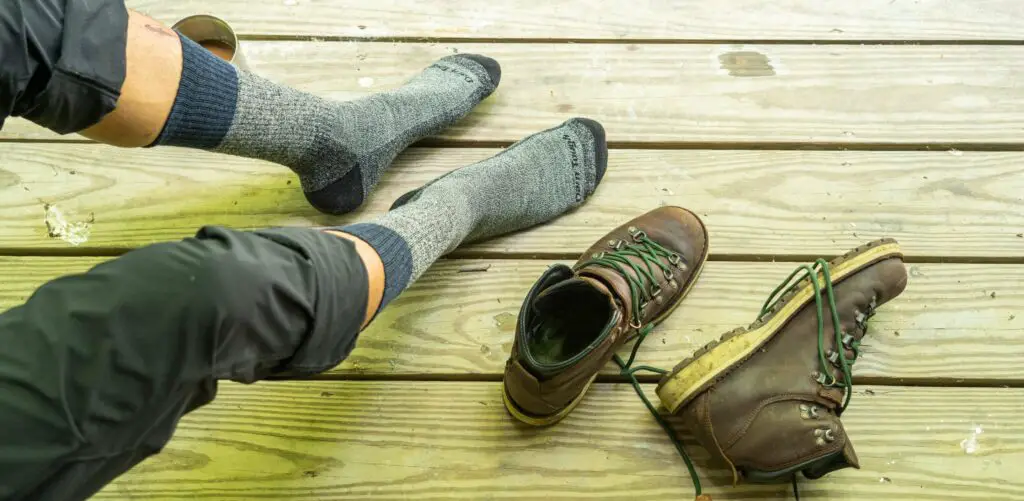 Now let's compare top cushion work socks
| Sock | Material | Style | Padding | Extras |
| --- | --- | --- | --- | --- |
| Orthofeet Padded Work Sock | Bamboo | Crew | Bottom padding | Dryplex™ moisture-wicking, Seam-free, Anti-odor, Anti-bacterial |
| Thorlos Ulho Over-the-calf Light Cushion Sock | 39% Coolmax® polyester, 28% acrylic, 3% Lycra Spandex, 30% nylon | Over-the-calf | Lightweight padding | Moisture-wicking, Arch cushioning |
| Darn Tough Coolmax®Work Boot Sock | 39% Coolmax® polyester, 28% acrylic, 3% Lycra Spandex, 30% nylon | Mid-calf | Medium cushioning | Seamless, Moisture-wicking |
| Thorlo 12-Hour Shift Over-the-calf Maximum Work Sock | 69% Thor+Lon® acrylic, 7% elastic, 21% nylon, and 3% polyester | Over-the-calf | Heavy cushioning | Anti-fatigue compression, Arch and ankle support |
Our Favorite Cushioned Work Socks for Work Boots
Best Overall Cushioned Socks for Work Boots
1.) Orthofeet Padded Work Sock
These are great work socks that are padded, anti-bacterial, anti-odor, and have terrific moisture-wicking qualities. If you want fresh feet all day long, these socks by Orthofeet are one of the market's best options.
The fabric is loose-knit that features a stretchy feel for good circulation. A seam-free design prevents chafing and blistering. The interior fabric is brushed to alleviate friction.
The bottom has great padding for excellent shock absorption and increased arch support. Manufactured in bamboo fiber. Sold in convenient three-packs.
Pros
Bamboo fiber

Loose knit 

Dryplex

™

moisture-wicking

Machine washable

Seam-free

Anti-odor

Anti-bacterial

Affordable
Cons
Some shrinkage was reported after washing

Sizing considerations
Check Price and Reviews on Amazon
---
Best Light Cushioned Socks for Work Boots
2.) Thorlos Ulho Over-the-calf Light Cushion Sock
This over-the-calf boot sock is ideal for those workers who prefer just a light amount of cushioning. These socks are produced with the manufacturer's Thor+Wick® Cool polyester fibers. The fiber content is 78% polyester, 4% elastic, and 18% nylon.
This material offers excellent moisture wicking so that feet remain dry during your entire work shift. The lightweight cushioning pads both the heel and the ball of the foot where impact is greater.
The arch is also cushioned for added support and greater comfort. Produced in the U.S.
Pros
Light cushioning at impact points

Great moisture wicking

Arch cushioning for support
Cons
Some sizing considerations
---
Best Medium Cushioned Socks for Work Boots
3.) Darn Tough Coolmax®Work Boot Sock
This work boot sock is produced with mid-weight fibers for medium-weight cushioning. It particularly impressed us for its moisture-wicking capabilities.
The cushioning is seamless for better comfort and to impede bunching within the work boot. These socks will not have your feet sliding around while working. 
Breathability is impressive and these socks protect feet from bacteria while controlling odor. This sock can be worn all four seasons and control foot temperature in both hot summers and cold winters.
Machine washable and easy care, they only come in two colors: grey/black or olive green. Sock length is mid-calf for a comfortable boot sock.
The fabric blend is 39% Coolmax® polyester, 28% acrylic, 3% Lycra Spandex, 30% nylon. Manufactured in the USA.
Pros
Seamless fusion construction for improved comfort

Moisture-wicking capabilities

Mid-weight yarn cushioning

Mid-calf sock boot height
Cons
Only come in two colors

More expensive 

Problems reported remaining up on the leg
Check Price and Reviews on Amazon
---
Best Heavy Cushioned Socks for Work Boots
4.) Thorlo 12-Hour Shift Over-the-calf Maximum Work Sock
If you have to be on your feet most of the day, these Thorlo socks provide you with maximum cushioning for maximum comfort. Protection and foot comfort are the qualities that Thorlo guarantees with these cushioned work socks.
The sock also features compression at its top to reduce leg fatigue. There is also some compression in the ankles and the arches.
Ball of the foot padding and at the heel reduces friction to avoid blisters. The design is ventilated for temperature control and great breathability.
The fiber content is 69% Thor+Lon® acrylic, 7% elastic, 21% nylon, and 3% polyester. Manufactured in the USA.
Pros
Heavy cushioning

Anti-fatigue compression 

Arch and ankle support

Very comfortable
Cons
Sizing runs a bit small

Heel padding could be even thicker
Check Price and Reviews on Amazon
---
To Cushion or Not to Cushion? 
Work boot socks, when cushioned, usually provide that cushioning under the high-impact zones of your feet. As a result, you'll get better shock absorption, together with some extra warmth, and added comfort.
Cushioned socks are available with standard cushioning or full cushioning.
1.) A sock with standard cushioning will feature cushioning in the high-wear points such as toes or heels, and along the bottom of the foot sole.
2.) A full-cushion sock will feature cushioning in the entire sock and especially in the ankle, on the top of the foot, and even up the leg. 
Do Cushioned Socks Work Inside a Boot?
Yes, they do work. Not only will the cushioning increase comfort, but if your work boots tend to be roomy, that extra fabric can keep your work boot fitting comfortably.
They can prevent your feet from sliding around within your work boot, which is a leading cause of the formation of painful blisters.
The Benefits of Choosing to Wear Cushioned Work Socks
Whether you prefer cushioned or full-cushioned work socks, these socks are the preferred choice for those looking for added comfort, more softness, and a thicker sock fabric. Lots of pros look for a thicker sock to help wick away moisture or to prevent the formation of blisters.
Cushioned work socks are created with the idea of absorbing or impeding friction within your work boot. Many are also specifically designed with the intent of wicking away moisture, so if your feet perspire heavily during physical activity, this is an added advantage to wearing them inside a work boot.
Arch support is often integrated into sock cushioning. Being involved all day in heavy labor can place quite a bit of wear and tear on your feet. Added arch support can help limit pain and discomfort while on the job.
A bit more toe room also tends to be characteristic of cushioned socks. While the fit should be comfortably snug, more toe room should increase comfort somewhat especially if your work boots feature a safety toe cap. 
The entire idea behind cushioning is not only to increase comfort but to increase protection as well. 
Cushioning can contribute to impact protection and the amount of pain that derives from an impact injury. 
Cushioning Quantities in Socks
While the amount of cushioning can vary from manufacturer to manufacturer, they do all share common traits. Most will have increased comfort in the toes and heel areas.
1.) Light Cushioning
Light cushioning will mean that your work sock will be thinner. If you prefer very lightweight flexible work boots, this option may allow your foot to move with the boot with more ease. Some professionals may also prefer less cushioning if they work in a hot climate for most of the year.
2.) Medium Cushioning
A medium cushioned work sock will afford basic comfortable cushioning with supportive qualities. Some support qualities include better arch support or compression for those that need a compression sock for circulation or medical conditions.
3.) Heavy Cushioning
These are the work socks that offer the greatest amount of all-around cushioning. If you work on very hard surfaces and spend most of the day on your feet for work, these socks are ideal for those who literally pound the pavement. They are likewise great for uneven or rough working terrain.
Other Qualities to Look for in Cushioned Work Socks 
1.) Fabrics
Various types of fabric blends are available with particular traits and with specific benefits. Acrylic, polyester, nylon, spandex, and of course cotton or any combination of these materials can contribute to breathability, perspiration control, and flexibility.
Acrylic offers perspiration management, while a wool work sock can ensure thermal regulation and a certain amount of breathability.
2.) Compression
One great medical advantage in some work socks is compression technology. For workers that require support for circulation, such as diabetes patients, compression work socks can help and contribute to the prevention of foot ulcers, a typical problem for diabetics. 
Compression socks also support joints and muscles, and leg vein problems. Wearing them while at work can lower blood clot risks, reduce swelling, and increase overall leg stamina. All of this adds to improved comfort.
3.) Sock Length
Work socks come in lots of lengths meaning that they can be paired with various brands of work boot designs. Your taste will define the length of sock that you choose for your work boot.
The work sock and its fit should protect feet and legs. One common example of chafing is due to a boot collar. If you have higher work boots or boots with a collar, a longer sock length will be more protective.
Typical Sock lengths:
→ No-show socks rise to under the ankle
→ Ankle socks arrive up to the ankle
→ Crew socks will cover the ankle but stop before the leg calf so they will have no protection. 
→ Mid-Calf Socks known as boot socks are designed for boot wear.
→ Over-the-calf socks cover a good part of the legs and calf muscles completely. 
→ Knee socks arrive right up to the knee cap.
Moisture Wicking
Moisture-wicking should be a top priority for workers involved in heavy manual labor. If your feet perspire, your socks will become wet and work boot insides will eventually follow suit.
Excessive dampness increases friction as your foot moves within the boot. Friction is the principal cause of blisters that can then become infected. Socks with moisture-wicking technology help move perspiration moisture outward and away from your skin. 
Material blends with great moisture-wicking capabilities include cotton, polyester, acrylic, and nylon. These fabrics or blends of them will offer breathability. Breathability, in turn, facilitates air circulation. 
With improved airflow, perspiration dissipates because it passes through the sock fabric outward. In cold climates, wool offers impressive moisture-wicking capabilities and improves odor control.
For waterproof work boots, moisture-wicking socks will improve temperature control, perspiration control, and hence comfort.
Odor Resistance
Odor control is important for those workers that suffer from excessive perspiration or work in hot weather. Some sock manufacturers apply antibacterial or antimicrobial treatments to prevent the formation of odors as well as improve foot hygiene.
See also: Best Work Boot Deodorizer
Conclusion
If you like the idea of added cushion in your work boot socks, there are quality cushioned work socks for you to choose among with varying levels of cushioning.
It's not worth it to spend lots of money on a pair of quality work boots and not wear quality work socks. Good foot protection begins with quality work socks.
Regardless of what you prefer, light, medium, or heavy cushioning, compression support, arch support, and even sock length, there are cushioned socks available for all tastes. Protect your feet and keep them happy with one of our best-cushioned work socks choices.