Everyone and we mean everyone, needs a pair of all-purpose work gloves. You don't have to be a professional tradesman or laborer to get good use out of a pair of work gloves.
Quite on the contrary, you should have a pair on hand for any odd job around your home or property to protect your hands and your skin from cuts, bruising, abrasions, chemicals, punctures, or anything else that can cause damage to your skin.
Well, we called in all our professional collaborators, and friends to help us find a really good pair of all-purpose work gloves for all kinds of chores and applications, from taking out the garbage bins to mowing the lawn to chopping firewood to cleaning out the garage and a lot more in between.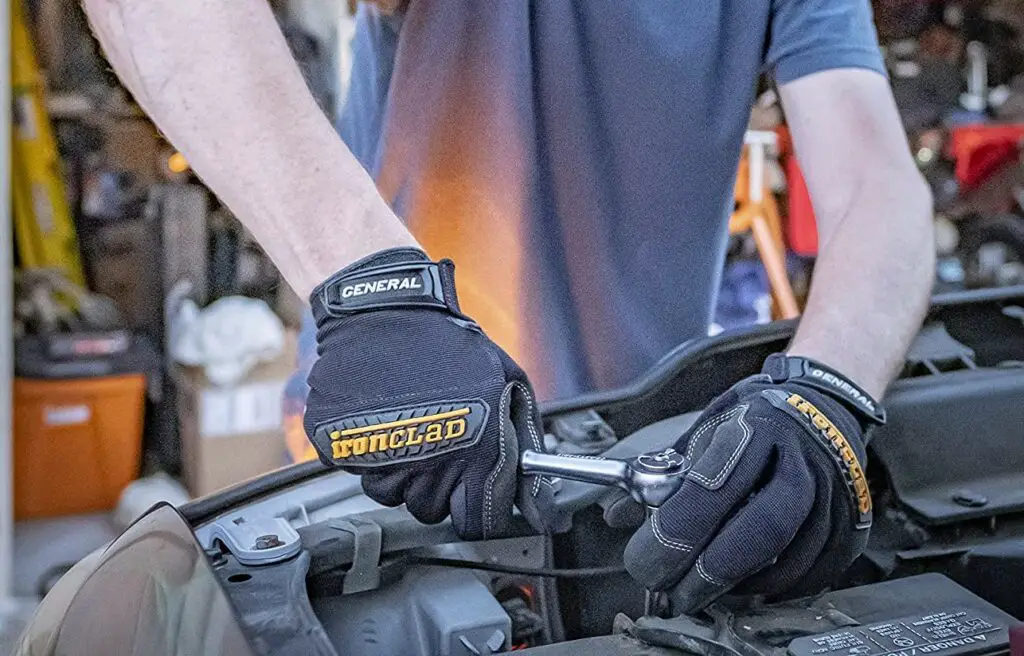 We also asked our tradesmen from construction, metalworking, agriculture, along with plumbers, and electricians to try out dozens of gloves and give us their opinion.
With so many great products available we had a hard time deciding, but in the end, we compiled a list of terrific all-purpose work gloves for your consideration. This is how we determined which work gloves made the cut.
Finding the Best All-Purpose Work Gloves
We began by considering why you should wear work gloves. So, the more appropriate question might be what are you going to be doing and what do you specifically need them for?
Are they required for your professional needs, do you need protection for chores or DIY projects? What are the principal applications that you will be wearing them for?
By asking yourself these questions, you'll know what characteristics to look for and consequentially be able to find the best work gloves for your needs.
Glove Material
Work gloves come in all types of materials, so depending on your needs there is a pair out there for you. You'll be able to consider and try on gloves made from or blended with:
Canvas

Knit

Leather 

Latex

Neoprene

PVC

Rubber

Synthetics

Vinyl
and there are probably even more with technology advances. These are among the most common and utilized materials you will find in work glove manufacturing.
Whatever material you select, it should offer protection, grip, and a certain amount of tactile sensitivity.  And the material should offer protection from cuts, burns, and even punctures.
Keep in mind the climate you work in, as you may want a material that offers breathability if it's hot or you may want some insulation if it's cold. Thanks to technological advances, the future offers possibilities are limitless.
Leather Work gloves are usually thicker than other types. They offer great protection from burns, cuts, cold, and heat. They are usually used for welding applications.
These gloves generally provide a good grip. The leather thickness will determine which application gloves can be used for. Leather gloves may dry out and eventually crack after extended periods of use.
Types of protective gloves include 
Cut resistant protective gloves

Chemical and liquid resistant protective gloves

Insulating gloves

Padded protective gloves
Protection
Hands can be placed at risk in any number of ways. Good hand protection is necessary from:
Abrasions

Absorption of chemicals or dangerous substances in the skin

Chemical burns

Cuts and lacerations

Heat or harmful temperatures

Punctures 

Thermal burns
Two important types of protection for work gloves are cut protection and impact protection.
Cut protection will be especially important if you handle glass, sheet metals, HVAC or roofing materials, and anything similar.
How much cut protection you need will depend on precisely what you are going to do.
New construction methods often include fabrics such as Kevlar or similar, and fabric weaves, or coatings such as nitrile so that cut protection increases. 
ANSI regularly updates safety protection ratings as technology advances. There are nine levels of protection:
| | | | |
| --- | --- | --- | --- |
| Rating | Protection Weight | Hazard | Use Characteristics |
| A1 | 200-499 grams | Low cut risk | Good for wood or plastic, sharp edges |
| A2 | 500-999 grams | Light cut risk | Paper cuts, sharp edges |
| A3 | 1000-1499 grams | Light to Medium risk | Sharp edges, blades |
| A4 | 1500-2199 grams | Medium Cut risk | Glass, knives in food preparation, razor knife use |
| A5 | 2200-2999 grams | Medium to High cut risk | Sharp metals and blades |
| A6 | 3000-3999 grams | High cut risk | Dangerous sharp materials; slitting blade machines, glass |
| A7 | 4000-4999 grams | Higher cut risk | Puncturing and slicing protection |
| A8 | 5000-5999 grams | Highest cut risk | Impact and abrasion resistance |
| A9 | 6000+ grams | Extreme risk | Added padding, bulkier |
Impact protection isn't necessarily a priority in all-purpose work gloves however you can look for work gloves that feature padding, palm and thumb reinforcements, and knuckle protection made in materials like thermoplastic.
Gloves with these characteristics will give you more protection than the average work glove and help protect your hands, and particularly your fingers from impact injury.
Extra Features
Here are some of our preferred features to help you get the most out of your work gloves.
1.) Adjustable wrists offer a better fit, thus more security. Hook and loop, wrist belts, or velcro strap closures all offer a more customized fit. 
2.) Gripping performance can be enhanced through the addition of rubber or non-slip material.
3.) Knuckle padding is a great protective feature in the event of tools or debris falling on your hand.
4.) Terrycloth thumb sweat wipe. This feature, on the back of the glove thumb, will permit you to wipe your brow and forehead that can seep into your eyes and disturb your vision while on the job.
5.) Washable gloves make life so much easier. Apart from eliminating unwelcome odors, they contribute to hygiene.
The Reviews
Best Overall All-Purpose Work Gloves
1.) Ironclad Heavy General Utility Work Gloves 
Ironclad General Utility Work Gloves GUG
HIGH PERFORMANCE TASK SPECIFIC WORK GLOVE - The number one selling Ironclad work glove

HAND SAFETY - Thermoplastic rubber knuckle protection provides impact and abrasion protection across the knuckles

SECURE FIT - Adjustable Hook and Loop Closure provides a secure custom fit for ideal performance
Prices pulled from the Amazon Product Advertising API on:
Product prices and availability are accurate as of the date/time indicated and are subject to change. Any price and availability information displayed on [relevant Amazon Site(s), as applicable] at the time of purchase will apply to the purchase of this product.
Ironclad in name, product, and manufacturing reputation. Respected for the top-notch quality of their work gear, Ironclad has created these utility gloves to provide exceptional protection while working on any project. 
This popular work glove offers great functionality. Constructed with a combination of durable and resistant materials, they also feature extra palm and knuckle protection.
Pros
Manufactured in synthetic leather, PVC, stretch nylon, with terry

Thermoplastic rubber knuckle protection against impact and abrasion

Seven sizes

Terrycloth sweat feature on the thumb back

Machine washable 

Adjustable closure

Weatherproof  
Cons
Check Price and Reviews on Amazon
---
Best Heavy-duty All-Purpose Work Gloves
2.) Give'r 4-Season Work Glove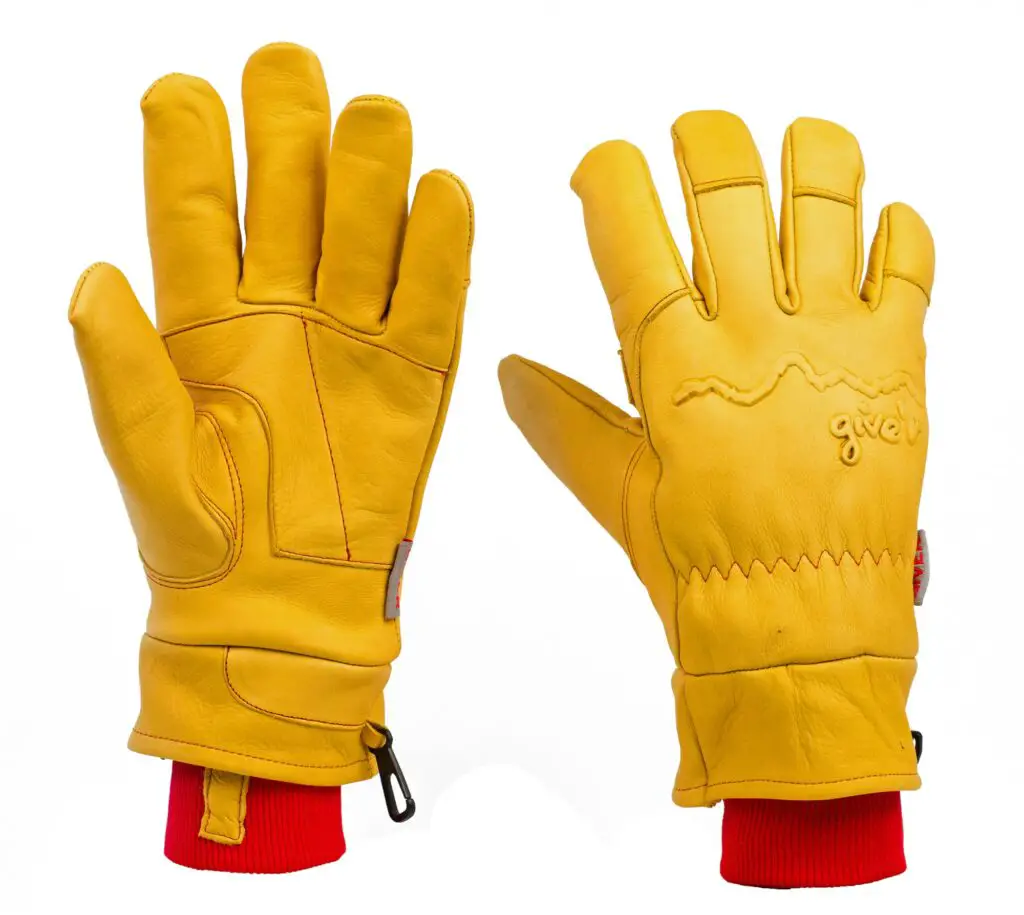 This is an incredibly impressive heavy-duty work glove. Manufacturer Give'r combines premium cowhide leather and synthetic technology for exceptional functionality combined with comfort.
The design is multi-layered so that these gloves are both windproof and waterproof, yet breathable at the same time. They boast superior performance in both extreme cold and in extreme heat.
The outer shell in cowhide is tanned for resistance to inclement weather and for durability. The gloves also feature a Hipora® breathable lining that is waterproof.
The design also includes elastic cuffs for a snug fit and skirts for longer protection. Leather pull loops allow you to remove the gloves easily and rapidly.
Pros
Premium tanned cowhide leather outer glove

Synthetic insulation

Windproof and waterproof with Hipora

®

breathable lining

Enhanced breathability

Pull loops

Tested in the weather extremes of Wyoming

Fantastic performance in both extreme cold or extreme heat
Cons
Very expensive

No phone or tablet swipe feature

Not washable
---
Best Light-duty All-Purpose Work Gloves
3.) Kaygo  Polyurethane Safety All-Purpose Work Gloves
Work Gloves PU Coated-12 Pairs
COMFORTABLE Fits Your Hands:15 Guage Premium black nylon DTY seamless knitted shell provides Bare Hand Sensitivity and Great Breathability! Light Weight with Good Grip! Thin enough to feel everything!

SUPERIOR PROTECTION For Yous Hands:Gray Polyurethane coating offers excellent abrasion resistance and superior GRIP performance!

MORE:Knitted Wrist prevent dirt and debris from entering the gloves. CE CERTIFICATED EN388:2003 4131
Prices pulled from the Amazon Product Advertising API on:
Product prices and availability are accurate as of the date/time indicated and are subject to change. Any price and availability information displayed on [relevant Amazon Site(s), as applicable] at the time of purchase will apply to the purchase of this product.
These protective all-purpose work gloves are in nylon and polyurethane. Great for light-duty jobs because you almost don't realize you're wearing them.
Made with 15-gauge premium nylon in a seamless knitted shell. Flexible and light, they offer enhanced dexterity and tactile sensitivity if you require good motor skills for the job at hand.
The polyurethane coating will give you a great grip all the while resisting abrasion. A knitted cuff design keeps dirt out thanks to a snug fit. They are machine washable.
Pros
Comfortable

Budget-friendly

Sold in a convenient 12-pack

Nylon and polyurethane 

Enhanced dexterity

Lightweight
Cons
Limited to light-duty projects
Check Price and Reviews on Amazon
---
Best Smart Device Friendly All-Purpose Work Gloves
4.) GRX 733 Palmwick Nitrile Coated Work Gloves
These are a super pair of all-purpose work gloves that will allow you to answer your smartphone or use a tablet without removing them during work.
Great for protecting from dust, grime, dirt, or other particulates, these gloves also offer A3 ANSI safety cut protection. 
Constructed with a liner that is ultra-thin 18-gauge stretch material for a comfortably snug fit. GRX work gloves are resistant to oil and grease.
Pros
A3 cut resistance

Stretch ultra-thin 18-gauge seamless liner

Resistant to oil and grease

Lightweight

Resistant to abrasion and chemicals

Thumb saddle is reinforced

Made with HPPE and steel fibers

Good dexterity and tactile sensitivity

Washable
Cons
Only good for light-duty work
---
Best Winter All-Purpose Work Gloves
5.) Milwaukee Winter Utility Performance Work Gloves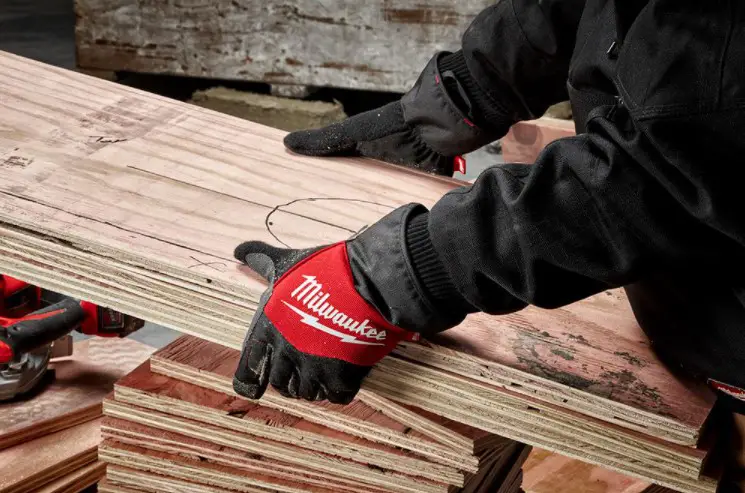 These winter all-purpose work gloves by Milwaukee offer both protection and warmth in colder climates.
Featuring a reinforced thumb saddle and index finger, they also come with a nylon loop for quick and easy removal.
60 grams of insulation mean they will protect better than most work gloves when working outdoors. 
They also feature the convenient terry cloth sweat wipe on the back of the thumb and a swipe tool on the knuckle to use smartphones and tablets.
Pros
Polyester glove material

Elasticized cuff

Waterproof

Windproof

60 g. insulation polyester

Knuckle smart swipe for phones and tablets

Reinforced thumb saddle

Pull loop in nylon for easy glove removal
Cons
---
Best Value All-Purpose Work Gloves
6.) Klein Tools Leather All-Purpose Work Gloves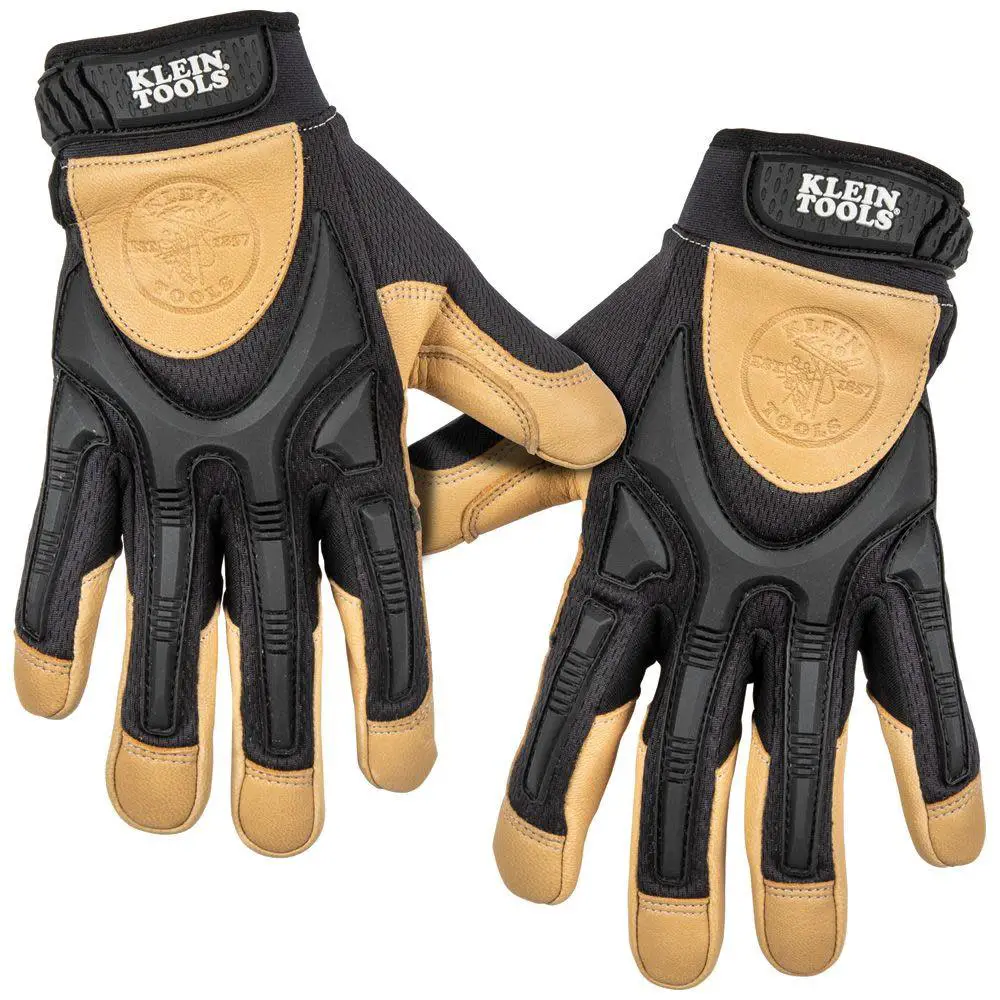 These are a very good basic pair of work gloves manufactured in genuine quality goatskin with both knuckle and finger PVC protection guards added.
This fine leather offers good grip and padded palms and backing in mesh increase comfort. The cuff has a hook and loop detail for a more customized fit.
An ergonomic design contributes to dexterity. Although the manufacturer does not specify this, we found that it is possible to use your smartphone with the gloves on.
Pros
Goatskin leather glove

PVC knuckle guards

Ergonomic design

Padded palms

Hook and loop detail

Affordable 
Cons
No insulation

Not waterproof

Not washable
---
Conclusion
The all-purpose work glove that you eventually select should keep your hands more protected than what the actual job you're doing requires.
Gloves should also guarantee dexterity and tactile sensitivity for good work performance as well as comfort.
The important thing is that your hands be protected whatever your profession or for any project that you are involved in.