The warehouse and personal protective equipment like gloves are almost synonymous with each other. But not all gloves are made equal. Different warehouse jobs call for different gloves that fall in different classes of their own and have to be chosen carefully.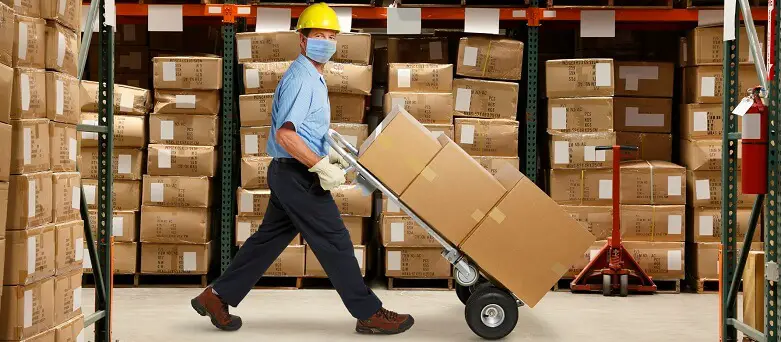 We looked at a range of gloves suited for warehouse work and found 9 that won us over due to their winning features.
For overall place,  we thought that Ironclad General Utility Work Gloves are a great choice if you are looking for a general warehouse glove. It excels at features such as dexterity, comfort, and strength. The other warehouse gloves also put in a great performance of their own but overall were not a match to our pick. 
1. Our Top pick: Ironclad General Utility Work Gloves
For general warehousing, we found Ironclad General Utility Work Gloves to be unrivaled. This glove is handy for the low-risk picking of materials such as packages and parcels. 
It has a seamless knitted shell that is injury-proof against coarse or rough edges. We liked its thin dexterous design that allows you ample handling skills and ability. 
With its knuckles made of thermoplastic rubber and palm fitted with synthetic leather reinforcements, this glove is a good regular work glove that is long-lasting. 
We also appreciated the terry cloth patches that the gloves come with on their thumbs and forefingers. These are designed for sweat removal.
Dripping sweat can be a constant menace in the warehouse of conveniently wiping off perspiration without the long pauses you need to reach for your handkerchief or tissue. 
Check Price and Reviews on Amazon
---
2. Runners up: Ironclad Box Handler Work Gloves BHG
This glove came in a close second to our top pick due to its quality as a great gripper. It is a  machine-washable glove that does a good job with its grip which is aided with a silicone fused palm. They are quite thin with a grippy palm coating that makes dropping objects hard.
Like our top pick, it also has a great sweat management feature based on a terry cloth sweat wipe that lies at the back of the thumbs. It also keeps your hand safe through its neoprene knuckles that provide abrasion protection.
You can always find something to fit you comfortably since the gloves come in a  range of sizes to choose from such as from small to extra large.
Check Price and Reviews on Amazon
---
3. Wells Lamon Men's HydraHyde Leather Work Gloves – Best for freezers and cold stores
For warehouse work that involves cold stores and freezers, we found Wells Lamon Men's HydraHyde Leather Work Gloves the best fit. These gloves give a good grip for holding slippery icy objects. It also protects you from temperatures that may dip to as low as -20°C.
The great thing is that it does this despite its thinness which means you will be able to handle the boxes with dexterity. The thermal brushed polyester liner of the glove is an effective insulator against extreme cold.
It is also tear-resistant so it will withstand abrasion and protect your hands. We liked the crinkle latex coated exterior which helps with great grip. It has a well-textured finish which adds to the effect of its grippy latex to make you grip with power. 
Check Price and Reviews on Amazon
---
4. Carhartt Men's Cold Snap Insulated Work Glove- Best for durability
For gloves that excel in lasting life, don't look further than Carhartt Men's Cold Snap Insulated Work Glove. This glove offers abrasive resistance that not only protects your hand but can make the glove undergo months and months without wear.
It uses the latest knitting technology for a comfortable design that reduces the fatigue on your hands. We liked that this glove has durability while also being greatly affordable.
Its Spandex and nylon liner combined with its nitrile coating gives this glove its wear-proof reputation. It's also thin which means you won't sacrifice any dexterity or sensitivity especially when handling smaller items. 
The makers of these gloves made a good job finding the right balance between grip, sensitivity, protection, and breathability. Using the gloves felt great especially when you want good control and precision.
Check Price and Reviews on Amazon
---
5. Superior Dexterity Nylon String Knit Glove – Best gloves for comfort
Warehouse work can be notoriously uncomfortable. It doesn't get much worse when you have to spend the whole day at it. That's why we found Superior Dexterity Nylon String Knit Glove a good option to help with your comfort. This glove brings considerable relief from its excellent ergonomic build and it's a snug fit for your hand.
This comes from its construction that is based on a nylon-spandex liner and palms made from a hybrid of polyurethane and nitrile foam. The result is a very flexible glove with good protection. 
The glove also has a solid resistance to oil and water while rendering sharp corners and splinters harmless to your hands. The fingertips are palm coated to give a good grip even in oily conditions.
Check Price and Reviews on Amazon
---
6. Carhartt Men's Insulated System 5 Driver – Best for driving forklifts
For the larger warehouses, forklift trucks are typically used. For this, you need gloves with good grip and dexterity. You will need this for driving the forklift truck which needs to maneuver in tight risky spaces while reaching pallets that can lie many stories above. 
We couldn't find anything as fine as Carhartt Men's Insulated System 5 Driver Work Gloves to rise adequately to this challenge. This glove offers you great mechanical support to deftly grip packages, pallets, or boxes.
Rough edges will pose no hazard thanks to mechanical resistance. Its foam nitrile coating makes it an efficient gripper.
Made from full cow grain leather, this glove offers exceptional toughness for endurance. Its mechanical strength is ideal in the warehouse for great grip power.
Check Price and Reviews on Amazon
---
7. DS Safety Nitrile Coated Work Gloves  – Great for picking food
If your warehouse jobs extend from handling and packaging to handling chilled or frozen food, you are sure to like DS Safety Nitrile Coated Work Gloves.
These gloves are superbly fitted for use in freezers or for temperature conditions that go up to 100°C.
The gloves fall squarely in the food niche as they are certified to be used for food. Their silicone-free design gives them food-grade quality. This glove is great for most food industry applications including handling dry food and cold storage. 
Also whether handling hot or cold food items, its special hollow-core fiber will provide you with good thermal insulation to keep the hands warm.
All the other desirable elements in a glove come together nicely in this glove such as the thinness, dexterousness, grippiness, and toughness against tear.
Check Price and Reviews on Amazon
---
8. Glove plus industrial Black Nitrile Gloves –  For picking sharp packages
Warehouse work often brings you in contact with sharp physical areas such as those present in sharp corners, sharp edges, or sharp boxes.
Your hands can easily get hurt by touching or running on such edges. The Glove plus industrial Black Nitrile Gloves offer you Level C protection against cuts. 
This gives the glove one of the highest cut resistance levels to enable you to withstand ridgy, raspy, or sharp edges.
The glove has a combination of glass, PU blend yarn, and HPPE elements to give you daylong hand protection. You can still enjoy superb grip with them and they are thin and dexterous enough to give you handling power. 
Check Price and Reviews on Amazon
---
9. CLC Customer Leathercraft 125L Flex Grip Work Gloves – For the budget watcher
For those keen to save, the glove to look for is CLC Customer Leathercraft 125L Flex Grip Work Gloves. For a limited budget, you can reap many benefits from this glove-like dexterity and durability all at an affordable price.
We found this to be a good glove for everyday work including odd tasks. It gives you excellent control through its 15 gauge liner and sensitive design. It rounds this up with a protective strength to resist tears.
Despite their lower cut resistance compared with the other gloves, this glove has an impressive abrasive power that protects against scrapes and knocks.
We also found them comfortably dense which allows for heat retention to keep off cold. They are not particularly suited for handling sharp objects but their appeal lies in their abrasion and tear-resistant power. Its water-resistant lining also makes it a comfortable glove to wear in wet conditions.
Check Price and Reviews on Amazon
---
The research: Who this is for
Any warehouse requires gloves as a staple for its large team of people. They support key functions in the warehouse such as the delivery of parcels, managing, driving, monitoring, arranging, loading, and unloading of goods. The need for the gloves goes down the hierarchy from the top warehouse manager to the floor workers and loaders. 
Warehousing jobs can come with considerable damage to your hands. These range from burns, cuts, scratches, impact with sharp objects, the corrosive effect of chemicals, or an abrasion from rough surfaces.
So there is nothing like a second skin to keep that damage at bay. This is where a smartly chosen set of gloves come in. 
Also getting the ideal warehouse gloves is motivated not just by your safety but the need to handle items properly.
What makes a good warehouse work glove?
The best warehouse glove comes with certain qualities. They shouldn't be too tight, too slippery, or too bulky. Otherwise, most warehouse workers will opt out, preferring to use bare hands which could send injuries soaring. Check out the best boots for warehouse worker>>
It makes a huge difference to your mood when you have the right gloves. It adds more convenience and fun to your warehouse time, making you more relaxed, happy, and productive. 
Here are some factors to think of when you want to choose your glove. 
Material: you should always consider the material of your gloves and whether it fits your job. Here some options.
All leather: heavy-duty work such as major electrical installations, dealing with extreme cold or hot objects, or with heavy iron needs high levels of protection.
The ideal glove for this should be all leather. These will give protection against punctures, cuts, and abrasions. insulation against high-temperature extremes, absorb small electric shocks, and shield your skin against chemicals, oil, or paint.
The leather can be of sheepskin, pigskin, or cowhide. Out of these leather options, there are: Grain leather gives you more dexterity and flexibility because it is softer and smoother. Split leather is a heavier variety which gives more waterproof and also resists other liquids.
Leather palm: for these gloves, the palms and fingers have synthetic or natural leather across them. The back of the hand also features heavy fabric.
Unlike all-leather gloves, these gloves give you freer hand movement. You are also protected from extreme temperature, and abrasions especially in lighter work such as yard work, or simple construction jobs. 
Canvas: this material is made either from a hybrid of polyester and heavy cotton or pure heavy cotton. it gives you protection against temperature extremes, minor abrasions, and blisters.
It gives you room for bending and flexing your palms and fingers. They are ideal for simple carpentry work, yard work, and raking leaves. They often feature small rubbery dots on the palms to aid with grip.
Knit: these are typically constructed for a blend of cotton and poly or pure cotton. They are lightweight and are stretchable while offering comfortable wearing.
They don't give the same high level of protection as leather or canvas gloves but they can offer some protection against minor scrapes or blisters. They are suitable for less intensive work such as painting and light yard work.
Latex and nitrile: Nitrile is the synthetic version of latex and is preferred for those with latex allergies. Both latex and nitrile are lightweight offering freer finger and palm movements.
They both give better grip with wet or frictionless surfaces. They are not particularly good at protecting against scrapes or blisters but they are ideal for easy tasks like potting plants, painting, weeding, or handling corrosive chemicals.
Coating: fabric gloves that are coated with polyurethane and nitrile on the fingers on the palm are ideal for light landscaping, painting, and gardening.
Padding: jobs that involve intense activity like a shock to the hands, hammering, vibrations, penetrating through rocky areas call for leather gloves that feature extra padding on their palms. This is necessary to prevent injury, absorb shocks or reduce carpal tunnel syndrome. 
Size: gloves shouldn't be too tight or they reduce flexibility to movement. If they are too loose, they can introduce danger.
Our review and pick
Based on our review and comparison with other gloves, the Ironclad Work Gloves with Size Range performed exceptionally well to merit the top spot.
We found it to be more effective to perform warehouse tasks like auto repairs, glass, ceramic and metal handling, and hand and power tool operations.
With 6 different sizes that are available for this glove, anyone can get a snug fit. We liked the velcro strap for the wrist which makes sure you never have to worry about the glove falling off even in the busiest warehouse. 
Flaws but not dealbreakers
We had to look hard to find any disadvantages with the Ironclad WorkGloves with Size Range. 
It is an immensely impressive glove but we noted that it had a few flaws such as being slightly behind some rivals on some factors like durability. 
Overall, this did not affect the top position of this glove as it retained its great showing in most of the other factors.