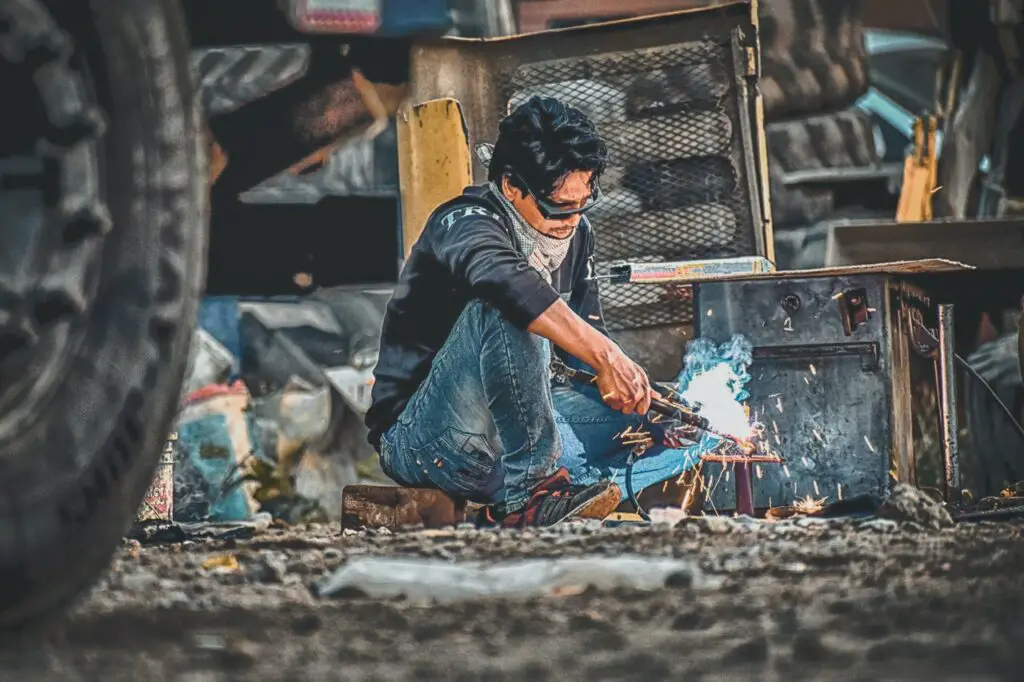 Welding and cutting are the type of jobs which can go really hard on your footwears. You never know when and from where red-hot sparks and slags might make their way to harm your skin. While flimsy boots don't guard your feet while welding, there are high quality protective shoes in the market which keep your feet safe while welding.
We all are familiar with the indulgence of steel toe in work boots used during welding. But what about composite toes? Are they any good for welding purposes?
Well, the answer is YES! Composite toe can be used to protect your feet while welding. The boots are made using strong non metal materials like Kevlar, carbon fiber or fiberglass. These safety toes are generally comfortable and are less affected by the ambient temperature. Moreover, they are upto the safety standards and cover up your feet completely making it almost impossible for an electric spark to harm your foot's sensitive skin.
This article is about the justification that you can use composite toe boots in welding and what makes them appropriate for it. Let's get started!
Top 10 Lightweight Composite Toe Boots
Do composite toe meet OSHA welding footwear requirement ?
The Occupational Safety and Health Administration (OSHA) has recommended that areas with risk of foot injuries must be accessed after wearing protective footwear in order to prevent them.
These sites have risk of personal injuries like potentially sharp objects or certain electric hazards. The protective footwear must meet some consensus standards and composite toe boots do meet these standards.
Composite toe boots fulfill the requirements which include Standard Test Method for Foot Protection that is ASTM F-2412-2005, Standard Specification for Performance Requirement for Protective footwear (ASTM F-2413-2005) and other ANSI standards.
Next time if you are heading out to buy welding work boots you can consider composite toe boots as they follow OSHA regulations.
Is Steel Toe better than Composite Toe for Welding?
Composite toe boots are definitely lighter than steel toe boots and are continuously improving their new carbon fibre safety toe. Although, when it comes to welding, steel toe boots are always considered better than the composite toe ones.
The bulbous built of composite toe make them test to the same ASTM standard that its steel toe variant does but the composite material of former boots is not as strong as the steel used in the latter.
Moreover, we have seen that composite toe turn out to be very good in initial ASTM tests but the subsequent impacts or compression events make them weak and unfit for further tests. That is why it generally recommended that composite toe safety boots should be replaced after an impactful injury or accident.
While composite toes hide physical damage, it becomes almost impossible to identify their lost effectiveness to impacts and compression.
On the other hand, steel toe boots are thinner and have a lower profile (less bulbous) and they still pass the ASTM Safety Toe tests. This variant of safety toe has got more strength than composite toes and is more durable. They, unlike their composite variant, meet ASTM standards even after facing tough impacts and accidents and do not lose easily.
Do welders need composite-toe boots?
Well, it is mandatory for commercial welders to wear steel or composite toe work boots. Infact, the employer mandates them! However, welding includes everything rather it's simple welding or dealing with tough objects. So the answer is not an easy one but the default answer is yes! The boots provide adequate protection with some added comfort.
If it's not mandated then it totally depends on the individual welder but if you are in doubt then I would suggest you to go for composite toe boots and be on the safe side.
See also: Are Composite Toe Shoes Supposed To Hurt
Why do you need proper welding shoes?
Welding is not an easy task in fact you have to be very careful while doing it. The job requires all sort of protective gears including the footwear. The need for proper footwear occurs because of some important reasons.
First is to protect yourself from physical harm. While welding, there is a list of incidents which you might face like UV radiation, cuts, lacerations, electric shock, contamination, burns and what not. Wearing suitable welding boots can significantly reduce the chances of all these injuries.
Next comes the comfort. Welding safety boots lets you work for quite a long time without experiencing discomfort and pain. Moreover, even if you are in an emergency situation, the boots offer extra protection while you take precautions to ensure safety.
Other than that these welding boots are waterproof in order to prevent your feet from getting wet and from getting an electric shock. Additionally, these boots complement your attire and makes you feel comfortable so that you can work with ease.
What kinds of boots are best for welding?
Apart from meeting certain safety standards, a good pair of welding boots should have certain features. The first and foremost is, they should slip on rather than being lace ups. The latter, while better for ankle support might get burnt easily calling for an accident. Besides this, laces are a bit troublesome since you have to tie them every now and then. That is why, slip on boots are considered safe and highly potential for welding jobs.
Next comes the material. When we talk about the material of boots nothing comes close to leather. Most of the sparks and slags slide off the leather surface without finding an area to get trapped. In other materials, the red steel balls keep on hitting the surface of the boot which burns the material over a period of time making it futile.
Moreover, it's not spark or slag that the boots encounter at welding sites. Punctures from falling steel or sharp objects on the floor also damage the boots and these hazards are best deflected by high quality leather boots.
Top Composite Toe Boots for Welding
Here's our list of top three composite toe boots which you might want to consider for welding.
1.) Rocky Men's Xo-Toe Composite Pull-on Work Boot 
Prices pulled from Amazon Product Advertising API on:
Product prices and availability are accurate as of the date/time indicated and are subject to change. Any price and availability information displayed on [relevant Amazon Site(s), as applicable] at the time of purchase will apply to the purchase of this product.
Made of 100% genuine leather, these rugged boots keep you on the move. The boots are ASTM certified and come with attached protective toe with a lightweight, flexible cement construction. These innovative composite toe boots offer great space to your feet too without compromising the safety. Impressively, these XO-toe boots have got a solid rocky rebound cushioning midsole in case you forget to wear a safety toe.
Moreover, the boots come with an externally attached composite toe which gives you a protection of upto 75 pounds of impact and compression. Not just this, these construction boots are electric hazard resistant and provide a secondary source for minimizing the chances of electrocution. ASTM F2413 protective toe classification and ASTM F2413 electrical hazard standard are exceeded by these boots.
Talking about the waterproof technology of the boots, these 11" boots keep the liquid out without trapping the precipitation so that your feet remain dry and fresh all day long. Furthermore, the boots feature fiberglass shanks for added stability and comfort.
The very famous Terra Suspension Footbed offers proper cushioning and support. The innovative extra moulded "Heel lock" makes you confident and saves your heels from slipping off on slippery surfaces. The boots meet I75/C75 standards which makes them suitable for any kind of compression.
Check Price and Reviews on Amazon
---
2.) Georgia Boot Rumbler Composite Toe Waterproof Pull-on Work Boot 
Prices pulled from Amazon Product Advertising API on:
Product prices and availability are accurate as of the date/time indicated and are subject to change. Any price and availability information displayed on [relevant Amazon Site(s), as applicable] at the time of purchase will apply to the purchase of this product.
If you are looking for safety and style then these Rumbler could be a perfect choice for you. These waterproof pull-on work boots are constructed using full grain leather and have an upper that extends upto 10". Featuring leather pull loops and external TPU toe cap, the boots have got an added abrasion resistance and impressive durability.
The inside of the composite toe boot has the company's guaranteed Georgia Waterproof system and is lined with high performance mesh. The presence of these features not only keeps your feet healthy but also makes them comfortable by the AMP LT memory foam inside.
Moreover, the boots are designed to match the contour of your foot, thanks to the Ergo-fit of the composite toe cap which allows more wiggle room for your toes. Talking about safety, the boots meet ASTM F2413 protective toe classification and classification for electric hazard footwear.
The boots feature triple density outsole which has an internal EVA midsole encapsulated in an external TPU heel stabilizer and rubber outsole. Apart from being slip and oil resistant, the boots have great heat and chemical resistant properties as well. You'll be surprised to know that these also include a double ribbed steel shank for added stability and durability.
Check Price and Reviews on Amazon
---
3.) Ariat Men's Overdrive XTR Pull-on H2O Composite Toe Work Boot 
Ariat Men's Overdrive XTR Pull-on H2O Composite Toe
Ats Max (Advanced Torque Stability) Lightweight, Supportive Composite Shank; Forked Design Assures Balance And Proper Body Alignment

Molded TPU wear guards on toe and heel

Oil and slip resistant Duratread outsole
Prices pulled from Amazon Product Advertising API on:
Product prices and availability are accurate as of the date/time indicated and are subject to change. Any price and availability information displayed on [relevant Amazon Site(s), as applicable] at the time of purchase will apply to the purchase of this product.
With their Goodyear welt construction,these boots are engineered to survive the harshest conditions and environments. The Overdrive offers all round support and safety while being durable. The most interesting feature of these boots is the Cordura feature which gives extra strength while they are exposed to salt or laced water.
Moreover, the ATS Max technology gives you enhanced side to side stability while relieving foot fatigue. Other interesting features include Oil-and-slip resisting Duratread™ outsole, Shock absorbing EVA midsole, Waterproof Pro™ Construction, non-Metallic composite safety toe, round toe, protective ExGuards™ on toe, heel and side.
The patented U-Turn feature allows easy entry and exit for all foot shapes so that the boots don't take much breaking time. If we talk about safety, the boots are certified with ASTM F2413-11 and are M/I/75 C/75 EH rated.
Check Price and Reviews on Amazon
Conclusion
When you go for welding there are two important things which should be kept in mind which are safety and sufficient comfort. While there are special welding boots present in the market, the composite toe boots can still finish off the welding task too properly. I hope you now have the proper reasons to invest in composite toe for welding. Keep safe!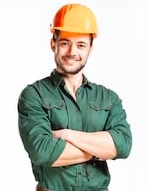 I have 12+ years of experience in construction, inspections, handy work, and currently working as a Construction Site Manager. In today's day we spent a significant part of our time at workplace and a right work gear can have significant impact not only on your safety but also work quality.