We all know how harsh winters can be in some states in the US. It is not always about having fun in the snow and Christmas. Harsh winters actually take a toll on some people who suffer in the severe weather.
And during those extreme cold months, you need something to protect yourself from the cold. Of course, jackets and overcoats are always there, but what you actually need is an inner layer that keeps you warm and protected. 
Yes, we're talking about thermals. You never want the freezing winters to limit your options or keep you indoors.
Therefore, in order to keep yourself warm while hiking, camping, going on adventures or spending any considerable amount of time outside in cold weather, an inner layer of comfortable and insulating thermals are required.
But if you're wondering how your thermals should fit you, then you're in the right place.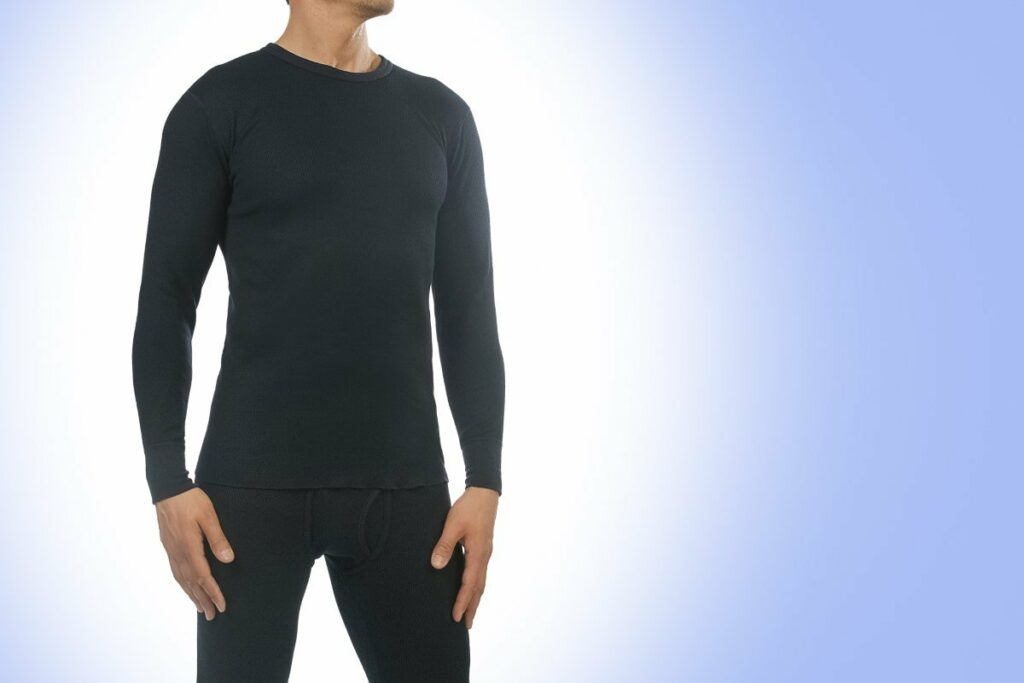 Your thermals should be fitting, which means it should be snug enough to prevent gaps between the fabric and your skin from allowing cold air in, but not skin tight. So, it's tighter than your regular clothes but not as tight as compression gear.
It is too tight if you feel confined in your thermals. You're seeking for a thin, lightweight layer with a comfortable 4-way stretch.
Benefits of wearing thermals that are the right fit
1.) They come with a 4 Way Stretch- Since most men's thermals are composed of a polyester/spandex combination, the flexible fabric will allow you full movement.
Full mobility adds comfort because the thermals won't clump up on you or pile up in places where it would be uncomfortable.
This is why it's critical to obtain a thermal that fits snugly. If you're an athlete or a regular person who enjoys being active, this is an important benefit of wearing thermals.
2.) They have moisture wicking properties- You will sweat as a result of your body heat and other regular activities.
One of the primary advantages of wearing thermals with a snug fit is that they drive sweat away from your skin and allow it to escape through the fabric.
This keeps you dry while simultaneously promoting warmth and heat retention. Any breaches in the insulation will enable cold air to enter.
This might create health issues and raise your chances of being uncomfortable quickly if you're someone who sweats profusely. 
3.) They're super comfortable- A comfortable fit is when the thermals fit you snuggly. You can be comfortable now that nothing is clumping together.
If they keep you warm, you'll feel better in the cold. If you sweat and the breathable and tight fabric takes the moisture away, you won't get frostbite or have to wear damp garments inside.
4.) They come with good insulating features- Your body generates heat, and a snug fit thermal is good in retaining heat. This snug fit keeps your body heat against your skin for even heat distribution. It also serves as a barrier against cold air penetrating beneath the cloth.
See also: Best Winter Safety Jacket for Workers
So when should you wear your snug fit thermals? 
If it's chilly outside, your thermals should be snug, not baggy, for maximum comfort and usefulness.
Think of your thermal as a second layer of skin, which means there should be no gaps between your thermals and your skin. A fitting thermal is apt for extreme cold weather. 
Also, you should be able to breathe easily and not feel as if your thermal is restricting your mobility or stopping you from squatting or doing other activities. 
Thermals that fit snugly assist the body maintain heat by evenly spreading heat around the body. This characteristic enables your body to keep warm even in the coldest of environments.
A fitting, high-quality thermal wicks moisture and perspiration away from the body, keeping you dry and comfortable. 
Thermals come in three different weight categories, let us have a look-
1.) Heavyweight thermals are ideal for temperatures below freezing and should be worn when you expect to be exposed to extreme cold. 
2.) Midweight thermals are the most adaptable of the thermals and should be worn in mildly chilly to frigid conditions. 
3.) Lightweight thermals are ideal for slightly chilly to moderate conditions. Wear it if you're going to be doing a lot of aerobic activity, like cross-country skiing, or winter hiking.
4.) Ultra-lightweight thermals, also known as microweight or featherweight thermals are well suited for those who want to wear an extra layer at mild temperatures.
These thermals may be used as an additional layer beneath regular apparel or as the base layer when participating in outdoor activities.
Are loose fitting thermals any better? 
As it turns out, loose-fitting thermals are sometimes the best solution in some situations. I know that sounds contradictory, but hear me out. 
If you're in an environment where it gets warm during the day, like around 55-60 degrees Fahrenheit, but cold at night like 40-45 degrees Fahrenheit, looser thermals may be the best option.
Tight-fitting thermals keep your skin warm in both cold and hot conditions. Okay, it may seem apparent, but consider it for a moment.
Most people recommend that your thermals should fit snugly against your body, and that even in warm weather, a tight-fitting base-layer will assist your body sweat and wick sweat away. But this is not always the case. 
Loose clothes keep you cooler in warmer temperatures. 
So, how do you choose the right fit of thermals? 
Thermals are made to fit your body perfectly. Begin with your regular size before deciding on a lesser or larger size based on how they seem.
These will be your preferred fit if they fit snugly without making you uncomfortable. But it is always advisable to consider the brand's sizing chart to help you determine which is best for you.
However, every human body is unique with its different features, a good advice is to read the reviews and choose the right fit for yourself. 
What happens if you wear ill-fitted thermals during extreme cold? 
Air will pass through any openings between the thermal and your skin. There are several reasons why this isn't ideal. Air is an excellent insulator since it does not carry heat efficiently, but moving air exposes your body to cold. 
However, the air holes are not where the air should be trapped, but rather in the fabric's fibres. 
In brief, if cold air is allowed in, your thermal will be unable to trap your body's heat, and as a result, you'll be very cold even in your thermals. 
You will definitely be sweating if you're working out or doing any kind of physical activity. A fitting thermal will move sweat away from your body while also keeping you comfortable and dry.
However, if your thermal is too baggy, perspiration will accumulate on your skin. If cold air enters the spaces between your skin and thermal, you will get uncomfortable and risk health problems.
How should you layer over thermals? 
The number of layers you should wear on top of your thermals is determined by a number of factors. This includes how cold it is outdoors, how long you will be outside, if you have access to heat, what you will be doing, and how cold weather affects you. 
Most tasks require three layers, however two are sufficient in some cases. It's usually better to be safe than sorry, so wear or bring three layers and remove the second or third if necessary. A thermal base layer should look like this:
→ A thermal base layer that traps heat and wicks sweat away to keep you comfortable and dry. 
→ A layer of insulation that helps to keep heat in. Consider a sweatshirt or a wool sweater. 
→ A waterproof outer layer, like a jacket that prevents wind and rain from seeping in.
Recommended thermal brands for you
1.) LAPASA Thermal Underwear Set
This thermal set comes in three different weights, heavy, mid weight and light. It has moisture wicking properties that not only keep you warm, but also makes sure there is moisture clinging on your body. 
Check it out here-
LAPASA Men's Heavyweight Thermal
【OPTIONS】Lapasa offers a wide variety of thermals to suit your needs.

【MATERIAL WARMTH】LAPASA thermals are made with a polyester spandex micro-fleece fabric to provide the ultimate warmth to weight ratio when the temperature begins to drop.

【LAYER OF COMFORT】These thermals are designed to be thin but effective at insulating body heat. The light material is not just able to retain body heat but simultaneously wick away moisture to maintain a comfortable temperature.
Prices pulled from the Amazon Product Advertising API on:
Product prices and availability are accurate as of the date/time indicated and are subject to change. Any price and availability information displayed on [relevant Amazon Site(s), as applicable] at the time of purchase will apply to the purchase of this product.
---
2.) ColdPruf Thermal Set
This unisex thermal set by Coldpruf gives you comfort and also protects you from freezing cold. Ideal for wearing while working out or any other physical activity.
Check it out here-
Prices pulled from the Amazon Product Advertising API on:
Product prices and availability are accurate as of the date/time indicated and are subject to change. Any price and availability information displayed on [relevant Amazon Site(s), as applicable] at the time of purchase will apply to the purchase of this product.
---
3.) ViCherub Thermal Set
This thermal set is perfect as an inner layer as it does not look bulky beneath your clothing. Comes with excellent thermal insulation that is ideal for cold weather. 
Check it out here-
ViCherub Boys Thermal Underwear Set Fleece Lined Long Johns Kids Top & Bottom Knit Base Layer Winter Warm 2 Sets for Boy
PREMIUM GRADE FABRICS:92% ultra-soft polyester and 8% spandex, This boys thermal underwear base layer gives protection against the cold winter days whilst remaining discreet and comfortable..Still comfortable,warm and color-fast after many washes.

GOOD MOISTURE ABSORPTION AND SWEAT ELIMINATION:When your little ones sweat,it can wick moisture away from his skin, and dry quickly and insulating from the cold.

SUITABLE FOR INDOOR OR OUTDOOR WEAR:Perfect for your son during those cold winters, school, ski or snow holidays, camping, pyjamas, hiking, outdoor trips.
Prices pulled from the Amazon Product Advertising API on:
Product prices and availability are accurate as of the date/time indicated and are subject to change. Any price and availability information displayed on [relevant Amazon Site(s), as applicable] at the time of purchase will apply to the purchase of this product.
---
Conclusion
Choosing the appropriate thermal apparel for winter might be difficult. It's difficult to attempt to get the proper fit while also ensuring that the cut and style are precisely what you're looking for.
It is much simpler to survive the cold weather and enjoy winter activities if you have the proper base layer that is both comfortable and cozy. 
In this article, we have tried to include all the necessary information about thermals so that you are prepared before your next purchase.