Searching for a hard-core new pair of work boots? You probably heard about Moc toes. Even if not for work, Moc toes can be very beneficial in different fashions. When we talk about Moc toes, Red Wing and Thorogood are the top known brands.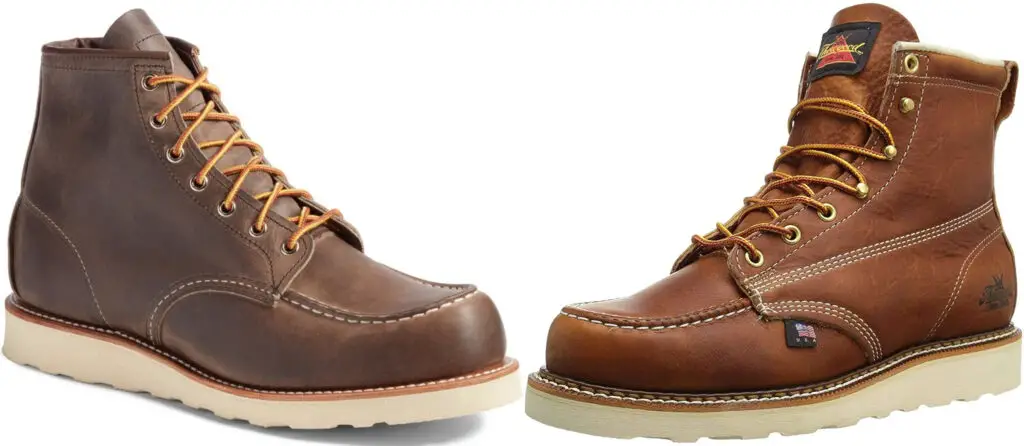 In this article, we will compare Red Wing Moc Toe vs Thorogood. Whereas Red Wing exceeds Thorogood in terms of material and durability, Thorogood is cheaper. Further, Thorogood has better shock absorption features. Besides, they are easier to put on and off.
But first, let's understand the meaning of Moc Toes and where did they get the name from. Moc stands for Moccasin which means a shoe without separate heels. Those shoes have an upper front part covering the toes creating this Moc. Mostly, the material is leather or any other seamless material.
The style was first introduced in America at the Native American times. The reason for creating this kind of shoe was to protect the toes part. Also, they were meant for offering more flexibility and space at the front part of the feet.
Comparison Table of Red Wing and Thorogood Boots
Red Wing
Thorogood
Appearance
Triple stitching, Contrast stitching
Triple stitching, Three white stitching
Material
Oil-tanned leather, Thicker leather
Oil-tanned leather
Soles
Outsoles: Nitrile cork and crepe rubber, Newer models are Vibram, Midsoles: Cork, Inner soles: Leather
Outsoles: Polyurethane, Older models are Vibram, Midsoles: rubber, Inner soles: Poron
Functionality
 

Don't have speed hooks or pull tabs

Easier to put on and off, Have speed hooks and pull tabs
Price
Higher price
Lower price
Additional features
Molds better around the feet, Welt to attach the soles
Lighter weight, Shock absorption, Fiberglass shank for arch support
Introducing Two Competitors
Red Wing
The shoes are originally inspired by those styles iron miners used to wear back in time. The first time Red Wing Moc Toes appeared was in the 50s. Initially, farmers used to wear Red Wing shoes as the outsole's design offered better traction. Therefore, it was better for them on the farms as it didn't grab much dirt and debris.
Top 10 Best Red Wing Work Boots
Later, factory workers and other people working in different construction fields started using these Red Wing Moc Toes. Also, sportspeople preferred these styles for the comfort and flexibility they offer.
Thorogood
Thorogood has been in the market for around 125 years. Similar to Red Wing shoes, they are working boots. Many people used to wear them for tough working conditions. They feature a lighter weight than their rivals at much cheaper prices.
Thus, getting such durable and high-quality boots at these unbeatable prices was a bargain many people could never resist. Moreover, Thorogood Moc Toes are good for casual settings. So, they serve as a double-interest pair of shoes.
---
Similarities between Red wing and Thorgood
Comparing both shoes, they have several differences more than similarities. Yet, there are still some common things worth mentioning here.
For example, the two shoes come in leather material. This leather is oil-tanned, however, the method of tanning may differ.
Moreover, both shoes have triple stitching but the color of stitching differs. Also, the soles and midsoles are similar in style and material with other minor differences.
Differences Between Red wing and Thorogood Moc Toe
Coming to the differences, Red Wing and Thorogood are different in terms of aesthetics, material, soles, and price. In the best scenario, we would recommend getting both shoes at the same time. Each of the two brands stands out in several points making them the best Moc Toes ever.
Yet, if you are to choose just one brand, here are the most notable differences between both. Typically, it depends on the purpose you will be buying these new shoes for.
Aesthetics
First of all, let's discuss the outer look of both shoes. This is the first thing you will notice at the first glance. Staring with Red Wing, it has a fluffier look than its counterpart Thorogood.
Both boots have triple stitching on the two sides. However, Red Wing has only one of the stitches in white and the other two in a dark color. Thus, the overall look is a bit muted than Thorogood.
Still with the stitching but this time with Thorogood which uses three white stitches on the sides of the boots. Also, the logo appears twice on each shoe on the heel and tongue. Besides, there is a small American flag besides Thorogood's logo on one side. Hence, giving the boots a more vibrant overall look.
Stitching is not the only thing that gives a style to the boots. Things like toecap also add to the overall look. Red Wing's toecap is very rigid. So, if you are a person who likes to look structured and neat, Red Wing will be your new favorite Moc Toes.
On the other side, Thorogood is less rigid. It seems like it is more of casual boots than Red Wing. Thus, people following the latest trends but still need durable shoes will find this more appealing.
Material
The material of both Moc toes is leather. Also, they both have this oil tanning which doesn't clearly define the way they are tanned. To make it clearer, oil tanning means coating the leather with a vegetable tanning coat then an oil coat. Another option is to cover the main material with chrome tanning then oil.
The difference between both methods is in the results. Chrome tanning gives a softer touch to the leather. Also, it is easier than vegetable tanning. Whilst vegetable tanning lasts longer and it is more eco-friendly.
As for Red Wing, they have their own tannery company named S.B. Foot Tanning Co. S.B. Foot Tanning specializes in chrome tanning which makes up most of Red Wing's shoes.
Also, they have another partner named Herman Oak Leather which specializes in vegetable tanning. Yet, Red Wing Moc Toes mostly rely on their owned company for oil tanning.
Similarly, Thorogood Moc Toes are mostly chrome tanned. Yet, they don't have their own tanning company. So, they don't have the same quality control Red Wing enjoys.
Generally, tanning has to do with the grains and thickness of the leather. Also, the quality of tanning gives more water-resistance features and scratch-resistance.
Both Moc Toes are good at being moist and resisting water as well. Hence, no need to worry about getting any of these shoes if you want them to last forever.
Yet, Red wing has a thicker tanning coat than its counterpart. Also, you will find them softer and less grainy. Apart from this, Red wing Moc Toes will age slower and better than Thorogood. They won't need regular conditioning either. In short, Red Wing is superior to Thorogood in terms of leather tanning.
Sole
Soles are what your feet will rely on all the time. Thus, they are essential parts of any shoe. Since Moc Toes are originally made for work purposes, they should have the most comfortable soles ever. Soles are divided into outer, mid, and inner soles. Each has a different material for each of the two Moc Toes.
Red Wing Sole
Starting with the outer sole which is a composite rubber and cork. While you think of rubber as a cheap and very soft material, Red Wing's rubber is not that.
The type of rubber they use for the outsoles is a sturdy and thick one called crepe rubber. Mixed with Nitrile cork, they both provide a durable grounding for the feet.
However, if you are going to buy a new Red Wing model, you will probably get Vibram outsole shoes. Vibram outsoles are mostly for Iron Rangers models. So, according to what you will buy, you will have a different material for the soles.
Moving to the midsoles which are purely cork. Cork is so flexible that it molds around whatever shape is put over it. Thus, the longer you wear these shoes, the better they will take the shape of your feet.
Moving to the insoles, they are leather ones. Leather is also a bit flexible and comfortable for long time wearing. Finally, the upper part of Red Wing shoes and the soles attach with a welt.
This is a leather part where shoe soles attach instead of gluing them to the shoes as in the case of sneakers. Thus, providing more water resistance and sturdiness to the soles.
Thorogood sole
Now, moving to Thorogood. The outer soles are polyurethane. Just as Red Wing does their oil tanning, Thorogood makes their outer soles. Before they started using polyurethane, the soles used to be Vibram.
Typically, Vibram is an alternative to rubber and cork. It is a method of making a special kind of rubber. Thorogood believes polyurethane is better than any rubber as it is more durable and lasts longer.
Moving to the midsoles which are made of rubber. Further, the insoles are poron which is another lightweight material. It is also porous and permits air to pass easily through its pores. That's why you will usually find this material in most sneakers.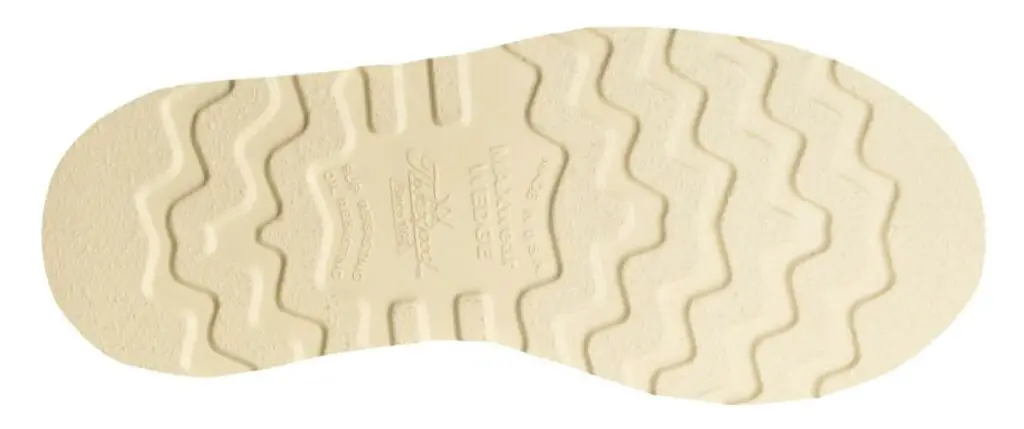 The insoles of Thorogood are removable and provides a bit of cushioning. Thus, they have a shock-absorbent feature. Thorogood refers to their insoles' feature as dual-density ultimate shock absorption.
Both the mid and insoles stand for the lightweight of the Moc Toes from Thorogood. Hence, they are much lighter than Red Wing. However, they are less soft than cork and won't mold around the feet the same way cork does.
Finally, Thorogood has a steel shank which is not present in Red Wing Moc Toes. Shanks are arched hard material pieces placed under the feet for more arch support. Further, they offer more stability and durability to the shoes, especially for long-time uses.
In brief, comparing both Moc Toes, Red Wing's crepe rubber or Vibram compress very well. So, they are more comfortable than Thorogood. Also, the outsoles of Redwing's shoes are more porous which adds to the comfort of the shoes. On the other side, Thorogood Moc Toes are lighter and more shock-absorbent. They also provide better arch support.
Functionality
Functionality includes putting the shoes on and off. A bottom line regarding this point is that Thhorogood is easier and more functional than Red Wing. More details are coming up.
Thorogood Moc Toes have speed hooks. Also, they include a pull tab made of leather. Thus, they are certainly easier in wearing and taking off. On the other hand, Red Wing is sturdier and stiffer. Hence, featuring a harder put on and off process.
Sizing
Generally, Moc Toes are smaller in size than sneakers. So, for example, if you wear 9 in the US sizing, you should get 8.5 Moc Toes.
In terms of variety, Thorogood provides more sizing options than Red Wing. They have B, D, and EE Moc Toes. Whereas Red Wing only provides D and EE Moc Toes. Thus, people with smaller or narrower feet have to go for Thorogood.
Price
Finally, comparing the price of both Moc Toes. To be honest, we can't mention a certain price for any of the shoes as prices usually change. Also, different models may have different prices.
However, in a single word, Thorogood beats Red Wing in the price. Roughly speaking, Red Wing is around $100 higher in price than Thorogood.
Final Remarks
Red Wing is rigorous Moc Toes for work conditions. Yet, you can still wear a pair of those for non-work-related situations. They look nice and a little dull than Thorogood but this may be what you are looking for.
Thorogood is lighter in weight and has a great shock absorption feature. You may feel like you are wearing sneakers not a pair of Moc Toes. However, some people may go for Moc Toes for the heavyweight they offer. So, in this case, Thorogood is not the best option for them.
A bottom line is if you are looking for something to wear in a construction field or so, get Thorogood boots. With their unmatched price and shock absorption feature, they will serve their purpose very well. On the other side, if you need cool and stylish Moc Toes which will last for a year, then, Red Wing wins.