Just as the name suggests, ostrich boots are made from the leg skin of ostriches. So, they are not the same as our normal leather boots that are made from sheepskin and hence their treatment is also different from other leather boots.
We all know that oiling leather boots conditions and moisturizes them, making them revived and long lasting. Oils such as mink oil, Neatsfoot oil, jojoba oil, olive oil, etc. are safe to be used on leather products.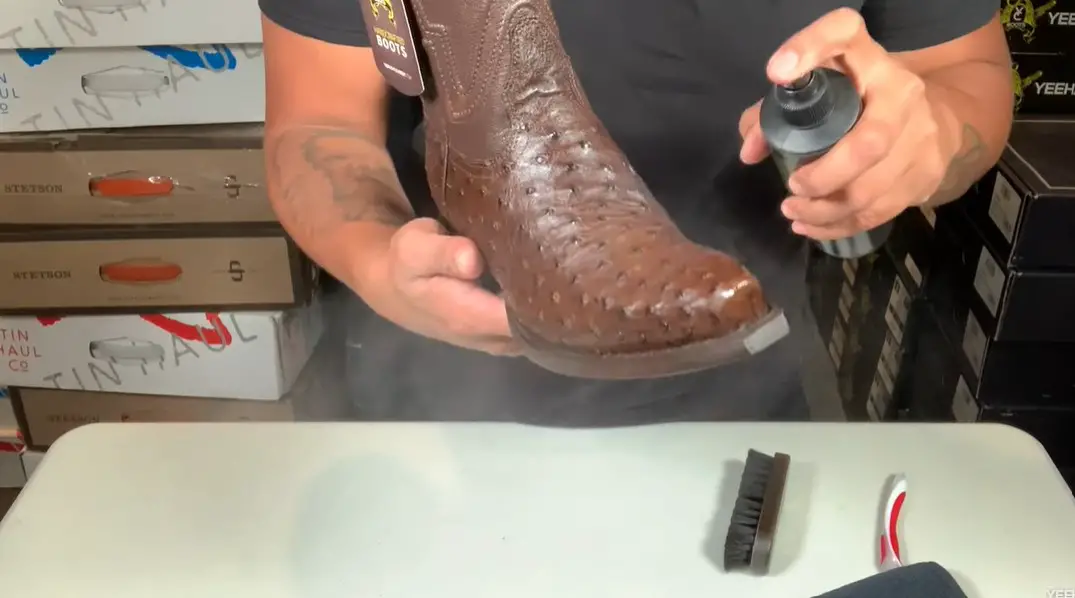 But are these oils even safe for your ostrich leather boots?
Let's find out from this comprehensive guide I have made…
To begin with, use of oil based products are strictly prohibited for ostrich boots. So, if you want to condition your ostrich boots, you can simply use water based leather conditioners that will soak and dry easily without making the ostrich leather greasy!
Before we go to the oiling part, let's first of learn how to clean your ostrich boots because uncleaned boots will damage prematurely even if you condition them well.
How to clean ostrich boots?
Cleaning of ostrich boots is no different than your normal cowhide leather boots. You will just need to rub it with a soft microfiber cloth or horsehair brush after you come home wearing them each time.
If you find your boots are way dirty with mud, just damp the cloth in water and take off the dirt with it. A little soap-water solution is okay, but remember to take off the soapy residue with a clean wet cloth later.
Lastly, do not forget to dry down the boots perfectly before storing them at the storage.
How to wash ostrich boots?
Just as I said, ostrich boots are way more delicate than regular leather boots. So, do not go harsh with them with detergents.
Mix dishwash into a bowl of water and use a soft lint free cloth to take off the dirt from the ostrich boots.
Remember that no soapy residue should be left behind or it will leave behind stains on the ostrich leather. So, wipe off the soapy water with a clean wet cloth and then dry the boots using a boot dryer.
Can you oil ostrich boots?
After an intensive research, I found that ostrich leather is very sensitive to any kind of oils. So, use of any oil based conditioner for ostrich boots is strictly prohibited.
The oil can sip into the pores of the ostrich skin leather and clog them, thus making them wet from inside with several applications and will ultimately prematurely damage the boots.
How to condition ostrich boots?
So, we have learnt that oil based conditioners aren't good for ostrich leather. Yet, they definitely do need some conditioning and moisturization! Without proper conditioning ostrich leather will dry out and develop cracks in them.
I have found out some very effective water-based conditions that are just suitable for use on ostrich skin in order to condition, soften and revive them:
The first one is the Bickmore Exotic which is specially designed to be used on exotic leather and treating them. It's 100% safe and effective for ostrich skin leather.
It will help to condition, soften and revive old leather and also prevent the ostrich leather from future wear and tear. It helps in preventing cracks on the leather as well.
The second one is the Cadillac Boot and Shoe Leather Lotion which is again an exotic leather lotion. It helps in conditioning the ostrich leather and also helps in getting rid of water spots and preventing future cracking of the leather. It is also free of wax.
The other two products are scout exotic leather spray and Angelus exotic leather spray which you can search online or get from the stores.
Now we know about the conditioning products to be used on ostrich boots. But, what are the right steps to condition?
Let's learn:
1.) First of all clean your ostrich boots with a dry cloth
2.) If they are too dirty, slightly dampen the cloth and then rub the dirty areas
3.) Dry the boots
4.) Use a toothbrush to get off the dirt from the welt area of the boots
5.) Now sorry any of the oil free conditioners mentioned above generously on the entire boots
6.) Use Angelus Shoe Cleaning Brush to apply the conditioner thoroughly into the boots so that the spray sips in and evens out on the entire of the boots
7.) Dry the boots using a boot dryer
How to polish ostrich boots?
Buffing the boots with a brush before and after you apply any of the above conditioners will provide shine and lustre to your ostrich boots. Or if you find any wax based polish that's good for exotic leather, you can use it either.
Just apply the wax polish in thin layers and work out in circular motions with a clean microfiber cloth. Do not forget the key rule; the more you brush the more will be the shine.
Advantages of wax based polish is also that besides shining your ostrich boots, they will also act as water repellent for the boots!
How often should you condition ostrich boots?
Ostrich boots are very delicate and need regular care and maintenance. So, cleaning them once you come back home is very crucial or else the dirt will settle on the surface of the boots and it will get hard to clean them.
They also need conditioning more often than regular leather boots. So, make sure you condition your ostrich boots once every 2 months in order to make them long-lasting.
And it's a wrap!
Hope this article was useful to you. I assure the products mentioned are completely safe for your loved ostrich boots and are going to make them look awesome years after years.
Stay tuned for more on this site!
Till then…
Take care and have a great day ahead!