UGGs have great supporters, the main reasons why people love wearing UGGs are the extraordinary comfort and warmth they provide once you step out of your door.
However, one common issue which many of the users pointed out is the lack of arch support. The absence of arch support in UGGs is a serious issue which needs to be solved immediately, as the effect of not having arch support is great. 
In this article you'll get to know how to resolve the unavailability of arch support in UGGs by inserting insoles. 
First let's go to the basics.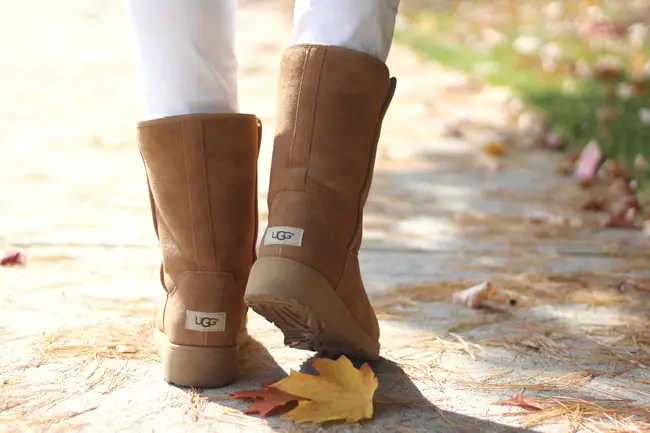 Are UGG Boots Comfortable?
UGG boots are nothing but a style of sheepskin boots and is the trademark brand of the U.S company Deckers Outdoor Corporation, this boots style is famous for its comfortability and warmth it provides for the users.
Nowadays, UGG boots are designed in unisex styles and currently rule the footwear industry with its newer trends. 
UGGs style comes out as a broad, amorphous design that cushions your feet with sheepskin. It is this sheepskin and thick outer layer that gives you the perfect warmth needed for the colder climates and the comfortability of wearing it.
However, UGGs are less known for its durability and it lacks the adequate protective properties which are required for industrial purposes. This means that UGGs boots are not meant for industrial working conditions. 
However, while they're great for wearing in the winter, they're not very comfortable to wear for lengthy periods of time.
There are numerous causes for this, the most important of which is their failure to provide arch support. You will undoubtedly experience foot pain as a result of this issue. You will learn more about why wearing UGGs is uncomfortable in this post.
Do UGG Boots Have Arch Support?
Apart from having less durability and protective measures for industrial works, one essential component that UGGs doesn't have is the arch support.
They're good for walking around your home, but they're not ideal for lengthy walks, long periods of standing or for industrial uses for the same reason. 
People with flat feet will be the ones who will suffer from this issue. Some of the common consequences you might encounter while wearing UGGs include getting pain in the heel or near the areas around the arches, swelling near your ankle and finally hip and knee problems. 
Having a proper structure and support for your UGGs is very important for a loose-fitting boot like UGGs. In the next session you'll get to know how to insert insoles in your favourite boots for arch support. 
UGGs With Removable Insoles.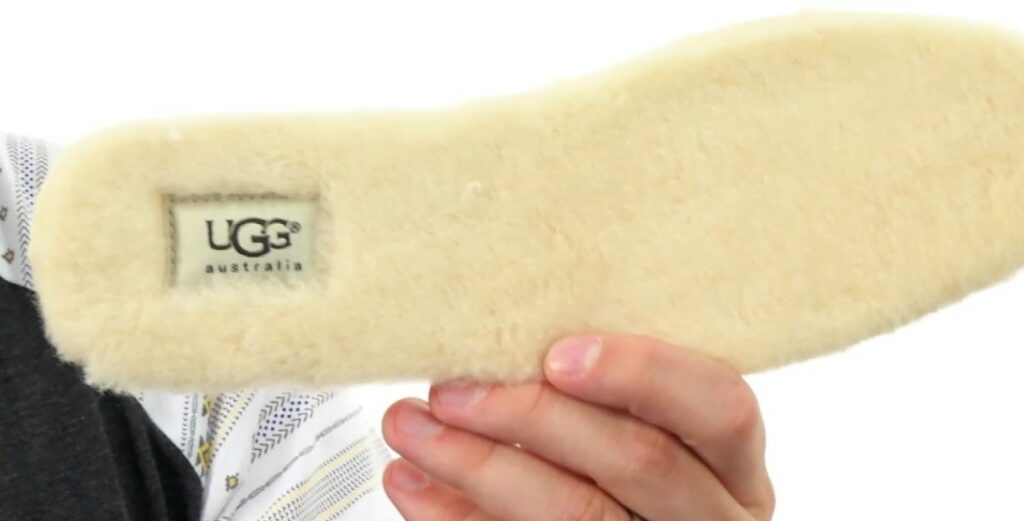 Your feet needed the deserved support while wearing the UGGs. So first you have to find the best quality insoles which will suit your boots as well as your feet. Then you can follow the below steps to insert your insoles for the UGGs which have removable insoles. 
1.) There will be already inserted insoles inside your boots, you can reach out to it by peeling the inside layer upward either with your hands or a butter knife. 
2.) Make sure you air out your boots. By doing so you'll be able to perfectly insert the insoles.
3.) Insert your insoles. You should make sure that the new insoles are of perfect quality and the one with better arch support than the already inserted one. 
4.) While inserting the insole you must make sure you have pushed the insole's toe till you reach the other end of the boot and the same towards the heel with your fingertips. 
UGGs Without Removable Insoles.
In the footwear industry you'll get UGGs having both removable and non-removable insoles. If you brought a UGGs which do not have a removable insole and you needed to add arch support, then the best effective method is to look for insoles that will not take much space at the front of your feet.
Make sure you look for this particular factor in detail as the wrong insole could affect your fitting. You can look for insoles which are short or ¾ length for the arch support you need without causing much trouble to your toes. 
Do UGGs Ruin Your Feet?
UGGs being one of your favourite winter footwear that provides you comfort and coziness for your feet can result in ruining your foot. There are mainly two reasons why UGGs can be problematic, sweating and lack of arch support. 
UGGs are super cozy with perfect warm lining. People, on the other hand, wear UGGs outside when it is chilly, but their feet sweat when they enter a well-heated building. This could then lead to foot fungi. 
UGGs are too flat, it is due to this very reason they have no arch support. Both children and adults suffer from extreme foot pain and plantar fasciitis as a result of this UGGs condition. 
Are UGGs Good For Heel Pain?
No, if you have heel pain, I strongly advise you not to wear UGGs. Even though they are recognized for their warmth, wearing UGGs while suffering from heel pain would only worsen the situation due to the absence of arch support. 
Most of your footwears have good structural support like arch and heel support, perfect breathability and also insole cushioning, however UGGs doesn't have any of these features except for the fact that they have sheep lined cushions and are flat structured. 
Their lack of structural support will not only aggravate your heel pain, but will also cause foot, ankle, knee, and hip pains as a result of leg and muscle alignment and gait change issues.
See also: Do UGG Boots Stretch When You Wear Them?
Do UGG Boots Cause Plantar Fasciitis?
The softness, flexibility, comfortability, and warmth of UGG boots are the primary reasons that many chose them as their best winter footwear. However, new studies demonstrate that UGGs due to its lack of structural support causes severe foot pain for the users. 
Because there is little or no support in the arch area, the muscles, ligaments, and tendons near the feet area get strained over time. This, according to experts, causes tired feet, also known as plantar fasciitis. So yes, UGG boots can cause plantar fasciitis.
If you find yourself stumbling in the morning after wearing UGGs for a few days, then probably that's the hint for you to stop wearing them. Following are some of the symptoms for this UGG Boot syndrome. 
Pain or stiffness will begin in the morning and become significantly worse towards the end of the day. You might feel pain in your calves, heel, toes or in ligaments after sitting, standing for long durations, or after climbing stairs or walking. 
In Conclusion
From this article you now have a clear idea that UGG boots don't have arch support even though they're well famous for their warmth and ease of use for wearing. They also have less durability and are not apt for industrial purposes, however you can use it casually.
If you want to add arch support then you can do it by inserting insoles even if the UGG boots you brought have non – removable insoles.