One of the more important aspects of good safety at a construction site is visibility, so more and more construction employers are requiring reflective details on protective gear. One important piece of gear often referred to as a reflective vest is the safety vest.
These vests are standard for policemen, traffic cops, firemen, and emergency workers, but more and more we are seeing them worn by construction workers at building sites. When involved in construction, your visibility can mean the difference between your safety and a life-changing accident. 
Good high visibility safety vests featuring pockets and more, help alert coworkers, especially those operating heavy machinery, to your presence in the area. While they are not manufactured to prevent accidents per se, reflective details can save you thanks to these alerts.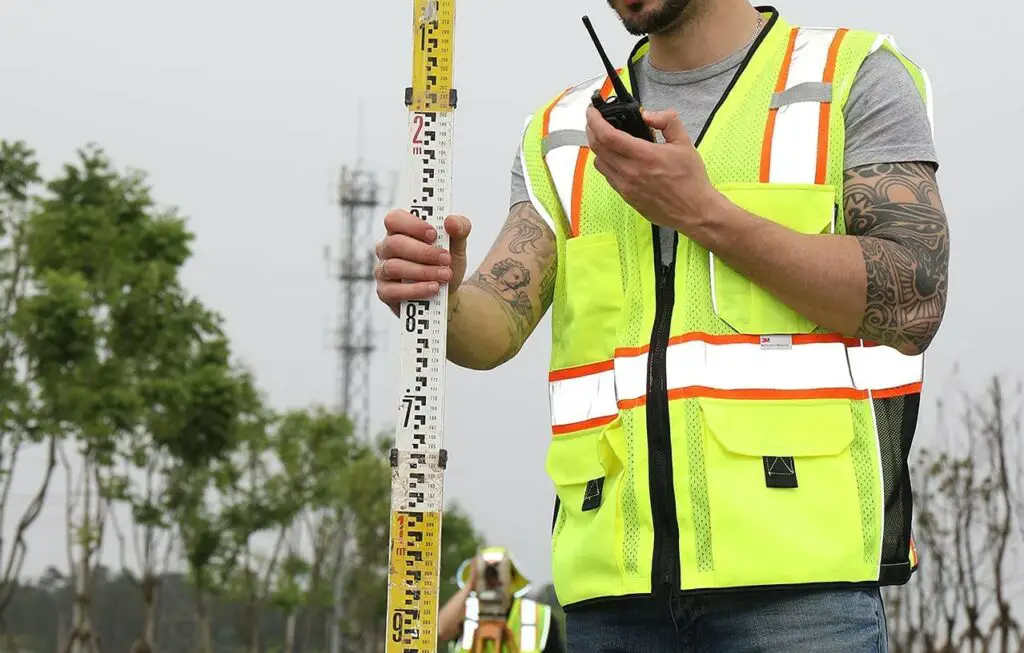 To find the best safety vest for construction workers we went right to the source, the construction site. We tested numerous safety vests, even having heavy machinery operators rate visibility for us from high up or from behind the wheel of incredibly large machinery. This is what we found.
Our favorite picks include one for each ANSI safety class rating and an overall choice of the Class 2 Dib Reflective Safety Vest for the high visibility it provides coupled with the easy-care of this 100% polyester vest.
| Safety Vest | Material | Closure | Features | ANSI Class | Sizes |
| --- | --- | --- | --- | --- | --- |
| Dib Reflective | 100% polyester | High-quality resin zipper | Pencil pockets, cargo pockets, gusseted chest pocket, inside pockets | 2 | Small to 3X-Large |
| JK Safety High Visibility |  100% Polyester | Plastic zipper with metal head | Available in 19 color combinations, 9 pockets with closures | 1 | Medium to 5XL |
| Vero 1992 Reflective Engineer | Oxford front, 100% polyester  | Heavy-duty Zipper | 2 chest pockets , 4 waist pockets, 2 mic tabs, Reflective reinforcement edge binding | 2 | Medium to 2XL |
| OccuNomix Heavy-Duty Reflective Class 3 | 100% polyester  | Zipper | 4 grommets, 8 300denier pockets | 3 | Small to 5XL |
The Reviews
Best Overall Safety Vest for Construction
1.) Dib Reflective Safety Vest
Dib Safety Vest Reflective Yellow Mesh
MADE WITH 3M REFLECTIVE TAPE - 2" wide premium 3M reflective tape, composed of wide angle retroreflective lenses bonded to durable cloth backing, suitable for both home and industrial wash.

QUALITY SEWING & REINFORCEMENT - High quality zipper reinforced with durable webbing inside, pockets all reinforced with tight sewing, quality made for rugged wear and tear; Large velcro sewed on pockets preventing items falling off when you bend over.

MULTI-FUNCTION POCKETS - Two lower outside expandable cargo pockets with adjustable flaps; left chest heavy duty gusseted utility pocket with reflective piping; right chest 2-tier, 4-division pencil pocket; Two more inside patch pockets; left and right chest mic tabs.
Prices pulled from the Amazon Product Advertising API on:
Product prices and availability are accurate as of the date/time indicated and are subject to change. Any price and availability information displayed on [relevant Amazon Site(s), as applicable] at the time of purchase will apply to the purchase of this product.
This machine-washable reflective safety vest from Dib Safety is an impressive safety vest that receives high votes for just about every factor we considered.
It is an easy maintenance vest made from 100% polyester mesh that is silky in texture and features breathable black sides for increased comfort.
The closure is a high-quality resin zipper while seams are all reinforced for daily wear and tear. It is ANSI Class 2 certified for safety.
Made with 3M reflective tape and in a bright fluorescent yellow, you will be visible at all times. This vest also features lots of multi-function pockets for your convenience.
Two lower cargo pockets are expandable with flaps that are adjustable. A gusseted pocket sits on the left chest and has reflective piping while on the right chest there is a 2-tier pencil pocket with 4 divisions.
There are also two inside pockets and tabs for chest mics. Dib offers a sizing guide to help you find the appropriate size.
Pros
Quality material and construction

Quality zipper

3M reflective tape

Class 2

Extra reflective trim on pocket. Sides and around arms

Lots of pockets

Machine washable, easy care
Cons
Check Price and Reviews on Amazon
---
Best Class 1 Safety Vest for Construction
2.) JK Safety High Visibility Safety Vest
JKSafety 9 Pockets High Visibility Zipper Front Safety Vest
MATERIALS: 100% Polyester H-Vis Reflective Material, Durable, Breathable, Lightweight and Machine Washable. Customers who prefer Slim Fit do not need to order 1 size down; for those whom want a Loose Fit should order 2-3 sizes up. Please check the size chart before checking out!

HIGH VISIBILITY AND 360° REFLECTIVITY: Black Body Safety Vest with FOUR 2 inches wide Highly Reflective Dual Tone Retro-Reflective Strips covering the Shoulders, the Chest and the Back, she will provide a 360°degree retro-reflective light waves during the daylight and low light environment

9 MULTI-FUNCTION POCKETS: This Safety Vest comes with 9 Front Pockets with Zippered or Velcro clamshell closured for easy access. Space for Transparancy ID Pockets, Pockets and Pouches for cell phone, writing markers, small flashlight and other daily light weight necessities.
Prices pulled from the Amazon Product Advertising API on:
Product prices and availability are accurate as of the date/time indicated and are subject to change. Any price and availability information displayed on [relevant Amazon Site(s), as applicable] at the time of purchase will apply to the purchase of this product.
This is a black safety vest, but it is made with dual-tone two-inch wide reflective strips on the  shoulders, chest, and back for high reflectivity.
Made in 100% polyester it is lightweight and machine washable as well as durable and breathable for comfort.
The manufacturer furnishes a fit guide to select to find the correct size. It is fully compliant with ANSI Class 1 safety requisites.
This vest comes with an impressive 9 pockets for on-the-job needs that feature both zipper and Velcro closures for facilitated access including a transparent pocket for ID a cell phone pocket, writing utensils, a flashlight, and anything else you might need. Available in 19 color combinations.
Pros
100% machine washable polyester

9 pockets with zipper or Velcro closures

19 color combinations to choose from

Class 1 ANSI rated

Ample sizing
Cons
Sizing concerns

Quality control concerns
Check Price and Reviews on Amazon
---
Best Class 2 Safety Vest for Construction
3.) Vero 1992 Reflective Engineer Safety Vest
Prices pulled from the Amazon Product Advertising API on:
Product prices and availability are accurate as of the date/time indicated and are subject to change. Any price and availability information displayed on [relevant Amazon Site(s), as applicable] at the time of purchase will apply to the purchase of this product.
Manufactured in 3000 deniers Oxford in the front with a 100% polyester 120 g. mesh back, this safety vest is designed for heavier wear and tear while outside in the elements. 
It features a heavy-duty zipper closure and 3M #8712 reflective tape that is 5 cm in width for increased visibility.
Two chest pockets, 4 waist pockets, an inside pocket, and 2 mic tabs offer you lots of convenience for bringing along all the extra accessories you need in the field. The vest even features silver reflective tape as a binding.
Pros
3000 denier Oxford front

Heavy-duty zipper

100% polyester 120 g. mesh back

3M #8712 reflective tape

4 waist pockets/2 chest pockets

Available in orange or yellow
Cons
Could offer more sizes

More expensive
Check Price and Reviews on Amazon
---
Best Class 3 Safety Vest for Construction
4.) OccuNomix Heavy-Duty Reflective Class 3 Safety Vest
OccuNomix LUX-HDS2T3-Y5X Heavy Duty Solid/Mesh Two-Tone Surveyor Vest with Zipper
ANSI/ISEA 107-2015 Type R Class 3 compliant. Polyester solid front & mesh back with 300 Denier Oxford pockets for durability. Durable webbing around neck and hem.

2" Silver reflective tape with contrasting ANSI compliant trim. Reflective armholes for added visibility. Zipper closure.

4 Grommets - Tethering & flagging tape, dirt & rain removal, tool keepers & lanyards. Comes with 2 mic tabs.
Prices pulled from the Amazon Product Advertising API on:
Product prices and availability are accurate as of the date/time indicated and are subject to change. Any price and availability information displayed on [relevant Amazon Site(s), as applicable] at the time of purchase will apply to the purchase of this product.
OccuNomix offers a Class 3 Solid and mesh two-tone safety vest in heavy-duty polyester with zipper closure. As most Class three safety vests it features short sleeves.
Two-inch reflective tape and armholes edge in reflective material increase visibility in the workplace. The front is solid polyester while the back is mesh for breathability and this vest has tough webbing at the hem and around the neck opening for durability.
It is compliant with ANSI Class 3 safety requirements. Added features include 8 pockets made with 300 dernier Oxford, and 4 grommets for tethering tape, flagging tape, lanyards, tool keepers, plus 2 mic tabs.
Pockets include spaces for maps, writing instruments, tools, etc. Available in bright fluorescent yellow with sizes through 5XL.
Pros
Heavy-duty polyester

Washable

Class 3 ANSI 

Solid front 

Mesh back

4 grommets

8 pockets

2-inch silver reflective tape
Cons
More expensive than others

No small or medium sizes
Check Price and Reviews on Amazon
---
What Is the Function of a Safety Vest and How Do They Work?
Let's face it, construction work is dangerous even for the most safety-oriented employers and professional tradesmen. Many construction sites for bridges and roads will put you smack in the middle of traffic and even high-speed traffic, so visibility is your first line of defense.
What would happen if the driver of a large truck moving materials didn't happen to notice you from above and you find yourself in the path of several tons of metal heading right for you?
And with all the environmental noise connected with construction, no one will hear you. So, you are unseen and unheard…you get the picture.
This is where a good quality safety vest can really make a difference and may even save your life. Not only do you need a bright color, but you need reflective material or detailing that may catch the eye of a machine operator even in the brightest sunlight.
Rugged, durable, waterproof material, such as polyester or nylon, that catches the eye of those around you is vital. Neon Colors like bright yellow, orange, and green are commonly used for this purpose. It is important that the color contrast with the surrounding environment, helping you to stand out.
But color is not the only factor when attempting to ensure safety, reflective details can make a lot of difference by catching the light, reflecting it, and grabbing the attention of heavy machinery operators of even normal drivers along highway construction. 
Reflective details are particularly important in a low light circumstance like evening or nighttime road repair as well as in inclement weather when visibility is reduced to a minimum. This includes rain, snow, and fog.
Safety vest colors need to be unusually bright and that will not blend in with the surrounding environment. You want to be noticed. Reflective details, and in particular, strips of highly reflective material are crucial as they need to "light up" so to speak, making you visible in dark conditions.
Safety Vest Types
Thanks to the work and commitment of the American National Standards Institute, three classes of safety vests have been identified. These classifications help employers and workers alike to select the best kind of safety vest for their professional needs.
1.) Class 1 – The Class 1 safety vest is indicated for workers facing the lowest risks but that nonetheless risk physical injury or fatal accidents.
These are normally employed in situations where there is road traffic but where the speed limit is 25 miles per hour and no higher. They are considered sufficient where there is ample distance between the road or heavy equipment and the worker.
An example is sidewalk repair. For a vest to receive ANSI Class 1 safety certification, it must be in orange or yellow and possess 155 square inches of reflective detail. 
These vests do not require any type of sleeves and reflective strips should be positioned completely around the middle of the vest and on the shoulders for increased visibility.
2.) Class 2 – With the class 2 safety vest, the work risks increase. In this class, road traffic speeds will not exceed 50 miles per hour. Class 2 vests will be larger in size because they require more visibility.
These vests need 775 square inches of a safety color (yellow or orange) as a background and 201 square inches of reflective material integrated into the vest. 
This type of vest will commonly be seen worn by construction workers working with or near heavy equipment, airport workers, or surveyors for roads.
3.) Class 3 – Class 3 safety vests are for workers facing the worst in hazardous situations where your being seen is fundamental.
You may see road repair workers operating during traffic wearing them as well as police or emergency rescue professionals wearing them as well as truckers.
They are common gear for all types of emergency professionals, particularly in bad weather conditions where visibility is reduced. 
These vests are the largest in size of safety vests because to obtain ANSI safety certification they must have 1240 square inches of orange or yellow safety material with at least 310 square inches of reflective detailing and material. These vests may feature short sleeves.
Why Should You Wear a Safety Vest?
The principal reason for wearing a safety vest, especially in construction is for the visibility they afford. Bright fluorescent colors with lots of reflective detailing offer great visibility even in low light conditions or reduced visibility due to bad weather.  Consider these factors:
1.) Identification Made Easy. A safety vest will permit others to distinguish between emergency personnel or authorized personnel at a worksite and those who are not.
This helps those responsible for safety to remove people at risk from dangerous conditions. In a situation where buildings or structures collapse, safety vests guarantee workers increased visibility for rescue operations.
And for lost hikers, hunters in distress, or lost children in sparsely inhabited locations, safety vests make rescuers easily identifiable.
2.) Safety. High visibility safety vests are often the only way that professionals can be seen when there is little light and weather conditions reduce visibility to almost nothing.
At construction sites, heavy machinery operators may have difficulty identifying coworkers on the ground from their operating position.
To prevent life-changing as well as fatal accidents, workers need to be as visible as possible, so that heavy machinery operators have those few extra seconds to avoid this.
3.) Brand Identification. Because construction enterprises are required by law to furnish safety gear for employees, companies can use reflective detailing for their brands.
This makes it easier for coworkers and security personnel to identify each other, and a little marketing never hurts business.
Factors to Consider
When selecting, here are characteristics valis for either employers or professionals.
Color – bright fluorescent colors are the best

Reflective Detail

Durability – You need to get at least 6 months to a year out of your vest.

ANSI safety compliance

Fit and Comfort – keep in mind your climate when selecting. For hot climates polyester mesh is ideal.

Features like Pockets

Machine washable or not
Conclusion
If your work takes you to hazardous environments, you need visibility. While you still need hard hats, safety glasses, safety gloves, and boots, Visibility should be among your top priorities because it is your first line of defense in avoiding life-changing injuries and fatalities on the job.