There are as many as 10 different fabrics for gloves, even more! Choosing the right fabric, thus, makes the entire difference. The most popular fabric choices are leather, wool, cotton, and nitrile. 
The best fabric for gloves depends upon a number of factors such as what the weather condition is, what's your purpose of wearing a glove, whether you're wearing it for regular use or it's industry-specific, and your choice of materials too. Besides, there's a lot of variety as well. 
Although you'll find a wide range of variety, it's the high-quality fabrics that offer comfort. So, a snug comfortable fit, non-itchy and soft fabric, and the assurity that the fabric won't shrink or expand are some of the qualities that you should look for when purchasing gloves.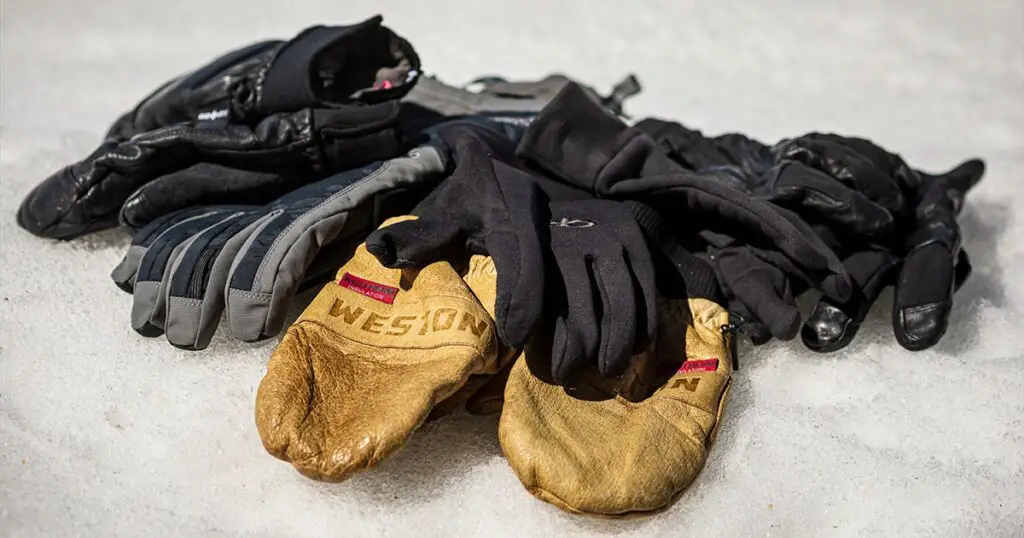 Expect to learn everything about gloves – the best fabric for every season, the best fabric for heavy-duty purposes, the different ways to pick the right pair of gloves, the dos and don'ts of buying the right pair, and much more – in this guide!
5 Best Fabrics For Gloves: Rainy Season and Winters 
The entire purpose of buying gloves – whether it's for the winter season or the rainy season – is to stay warm. Now, the material could be very warm, but if it cannot keep your hands dry, it's as good as nothing.
Keeping all such factors in mind, the best fabric for winters and rains (even autumn), are as follows
1.) Wool Gloves
Wool has been the longest-running and the most popular choice for gloves during the winter season or whenever you're feeling cold in general.
High-quality merino wool is the best fabric for gloves since it won't cause any sort of skin irritation, is soft to touch, and offers comfortable snug-fitting.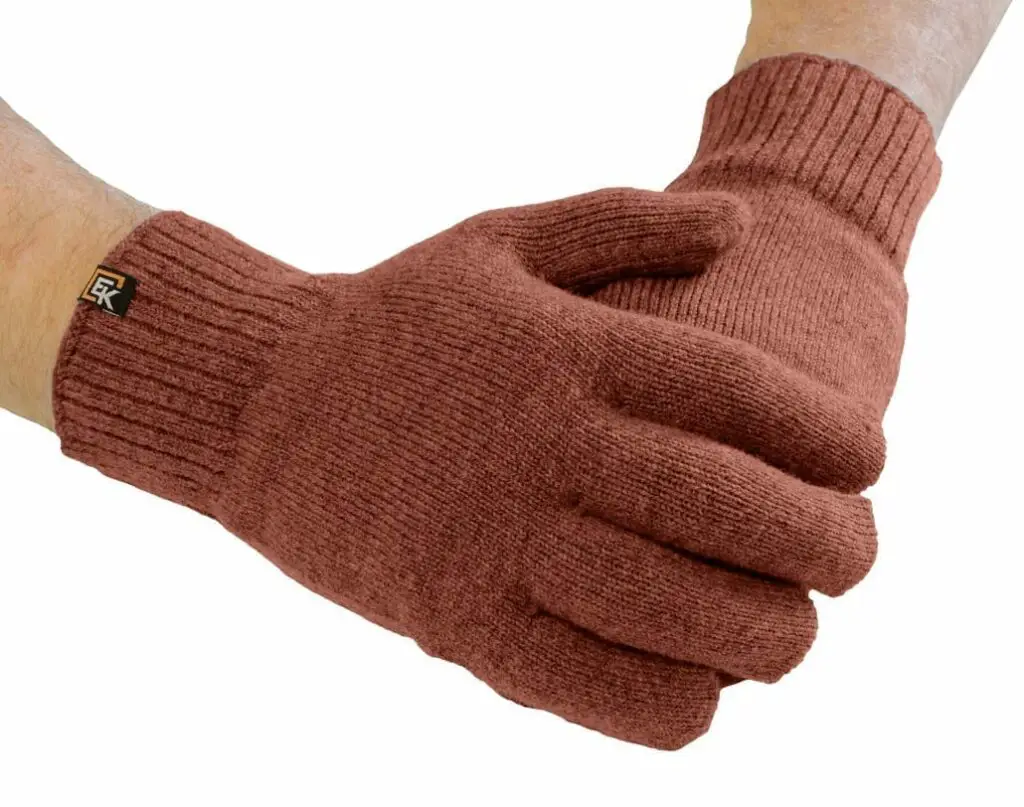 1.) Wool has moisture-wicking properties. So, your hands will not only be warm, but they will also remain dry.
2.) Wool doesn't emit any sort of odor or pungent smell.
3.) Wool gloves are thick but not heavy. That's a perfect combination. 
When blended with Lycra or spandex, the wool gloves become a lot stretchable. However, the choice of wearing an all-wool glove or wool-blend will always come down to your personal liking.
See also: Best Rechargeable Heated Work Gloves
2.) Nylon and Wool Gloves 
Nylon makes gloves waterproof, not just water-resistant. The difference being, water-resistant materials will protect you from rain to an extent but a waterproof material will not allow water to seep inside no matter how heavily it's raining.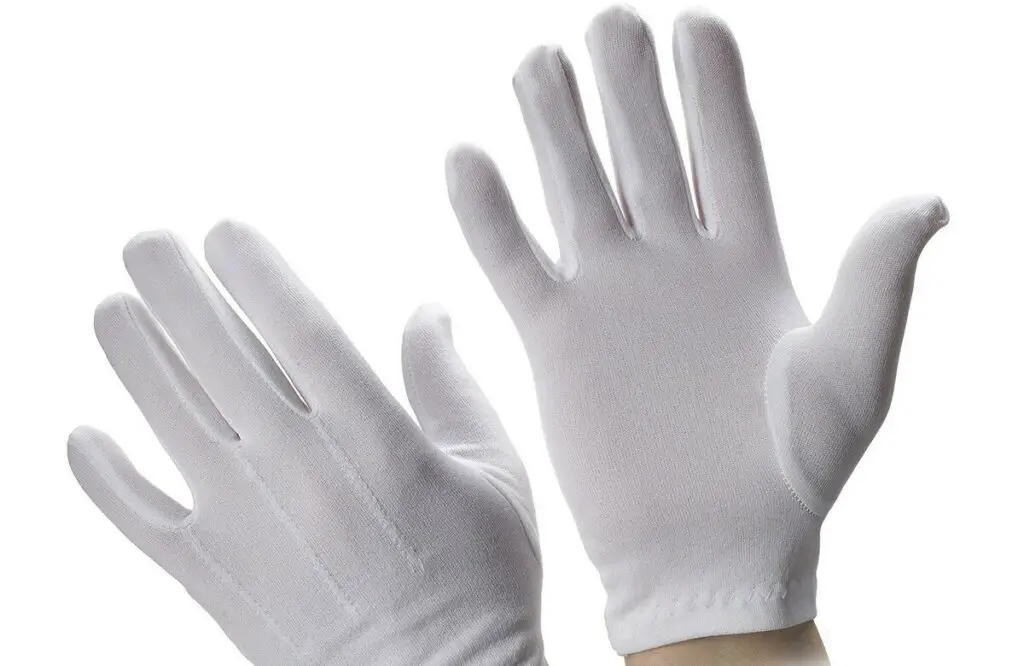 If you live in a place that sees extreme rains in the US, nylon gloves will offer the much-needed comfort. 
The best combination is wool and nylon. Not only will you get the warmth of wool, but you will also get the comfort of staying dry throughout the day with the protective nylon coating.
3.) Knitted Cotton for Autumn
It's hard to pick what gloves to wear when it's neither too cold nor too warm. That's where knitted cotton makes an entry. Pure cotton fibers, when knitted to be seamless, are the perfect autumn gloves.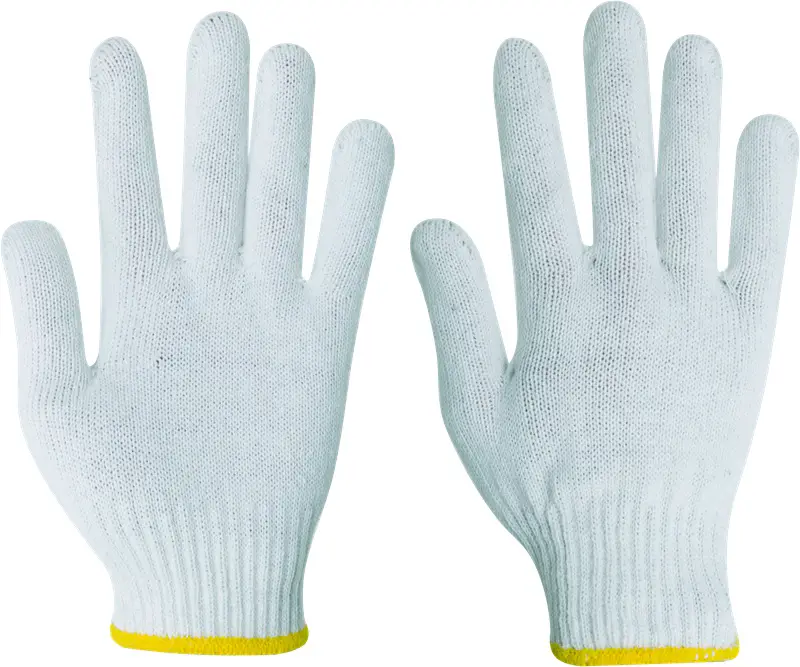 1.) High-quality cotton absorbs moisture. Hence, cotton gloves will keep your hands dry.
2.) They won't cause any sort of skin irritation or itching. Real cotton is extremely gentle on the skin. 
3.) Pure cotton gloves are very comfortable and non-bulky.
4.) They're extremely affordable too. 
People who do complain that cotton gloves didn't offer enough warmth should know that pure cotton is not made to withstand snow cold. As long as you wear them during the season they're meant for, there's nothing better than cotton. 
One problem with cotton, however, is that it is not dust-resistant. Hence, wearing cotton gloves while you're gardening is a big no-no. Again, it's the purpose that makes the difference.
Besides, since cotton is easily washable, you can keep your cotton gloves hygienic by washing them from time to time.
4.) Silver Fiber Conductive Fabric Gloves for Touchscreen Gadgets 
It's not possible to use your touchscreen gadgets while wearing gloves – says who? The Silver fiber conductive fabric is the latest innovation of technology. It allows you to easily use your phones and tabs while you're wearing the gloves.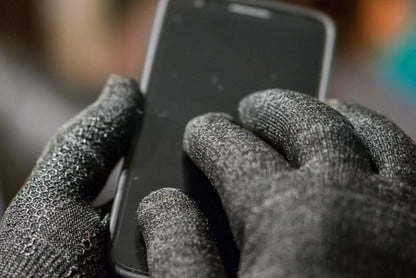 The best thing is that the entire glove doesn't necessarily have to be made out of this fabric. You can get your winter gloves in any fabric you like with the silver fiber conductive fabric on the fingertips, and Viola! 
You'll stay warm and comfy, won't have to take your hands out of the confines of your snug warm gloves, and will still be able to use your phones.
5.) Thinsulate Thermal Gloves for Extreme Cold
When the temperature is so cold that even wool isn't enough to keep your hands warm, it's for such extremities that you can buy Thinsulate thermal gloves. Thinsulate offers temperature control properties. Hence, it's one of the best fabrics for extremely harsh winters. 
1.) Thinsulate gloves are waterproof. 
2.) They're feather-light. Most of them weigh between just 40 gsm to 800 gsm. 
3.) They come in various thicknesses. You can pick the ones you prefer the most. 
4.) They're resistant to bacteria, fungus, dirt, and dust. 
Thinsulate is so good that gloves made out of it can protect you even in the Arctic snow. So, you can imagine the kind of insulation and warmth we're talking about.
Whether it's skiing or generally going outside, Thinsulate is a very good choice. In fact, even mailmen and workers who do light work with their hands during the cold season can wear Thinsulate gloves. 
The only downside is the price of these gloves. They're expensive. But, if you can afford them, one single pair will last for a long time and keep you comfortable beyond words. 
4 Best Fabrics For Gloves: Industry-Specific
1.) Nitrile Gloves for Healthcare and Food Industries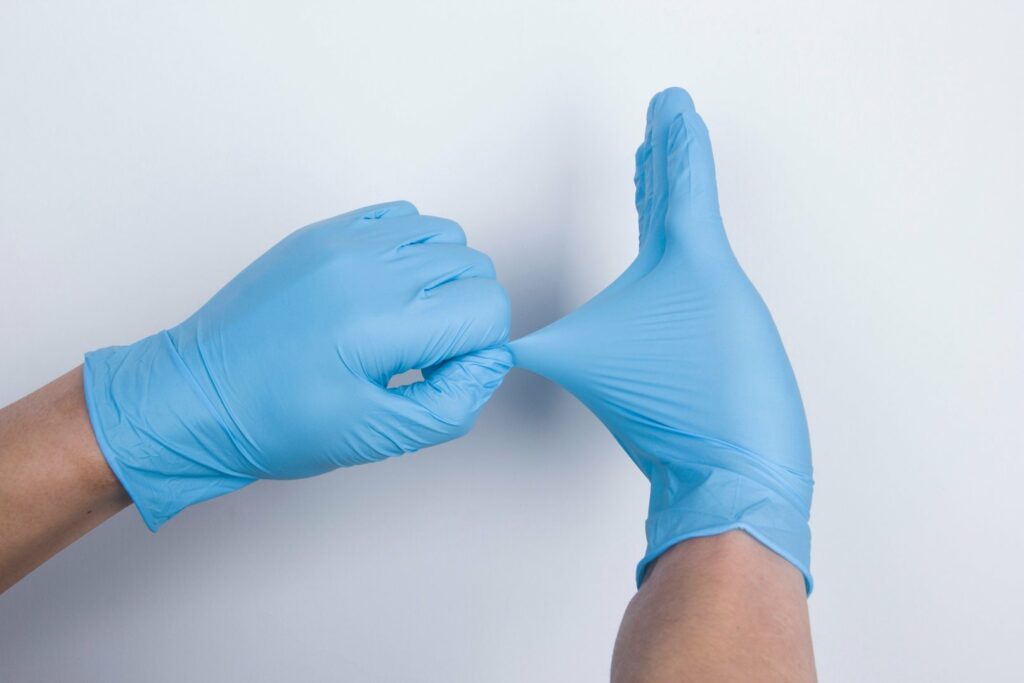 Nitrile gloves are the best option for healthcare workers and the staff in the food industry because of the reasons listed below.
1.) They do not cause skin allergies or itching that latex or rubber can.
2.) They are stretchable, true to their size, and resistant to abrasion. 
3.) They can withstand the impact of certain chemicals and oils.
4.) They are puncture-resistant. It's not easy to cut through their surface. Hence, whether you're using a knife or a sharp scalpel, your hands will be safer against cuts and wounds. 
5.) The non-powdered options are better for surgeons and chefs. 
2.) Microfiber Gloves for Recyclers, Poachers, and Waste Collectors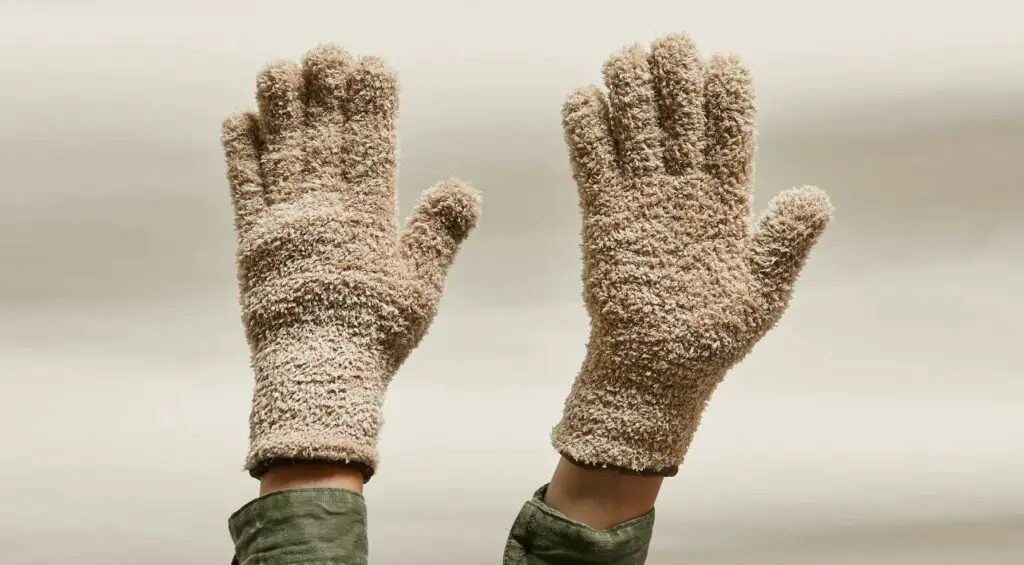 Gloves made out of Microfiber are very beneficial in a lot of ways. They're mainly made by recycling plastic. Hence, they protect the environment by preventing the pollution that plastic causes. Other than that, the many other benefits are as follows:
1.) They're very warm and can keep your hands very comfortable and cozy. 
2.) They do not let dirt, dust, grease, or oil seep inside their surface. Hence, they will keep your hands neat and Hygienic. 
3.) They are waterproof. 
4.) They are bacteria-resistant and germ-resistant.
5.) It's very easy to wash them. In fact, they are machine wash items. 
6.) They have a long life and are very durable when taken care of.
3.) Leather Gloves for Heavy-Duty Industry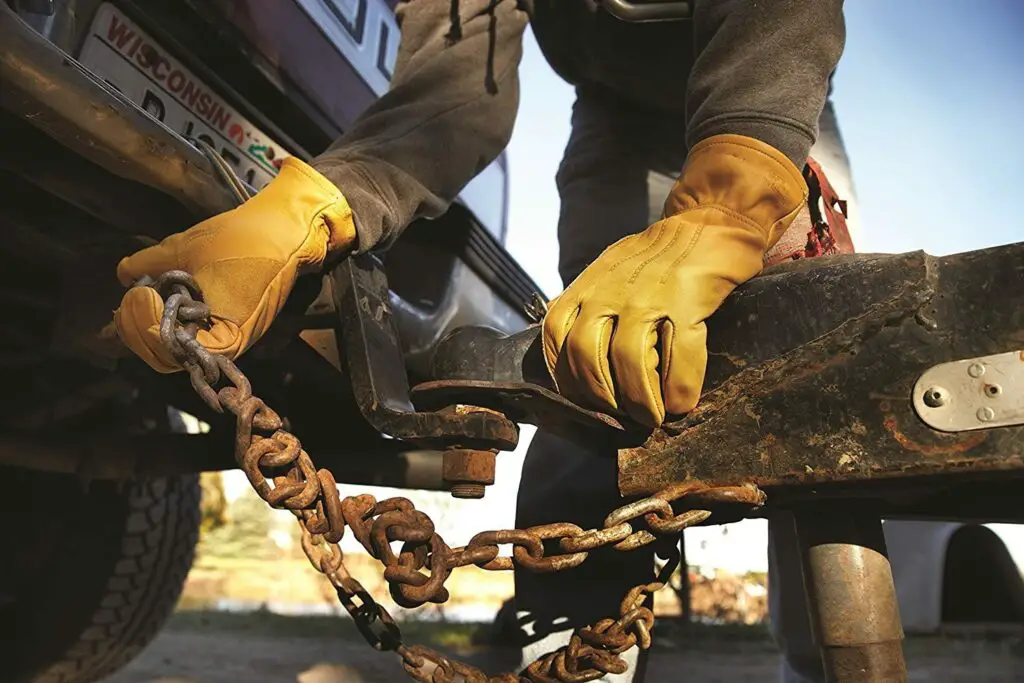 Leather gloves are invaluable protection additions for construction workers, automotive workers, and even welders. The many reasons why you can put your trust in leather gloves are as follows:
1.) Leather gloves are very warm. So, even when it's very cold, they will keep your hands comfortable. 
2.) Leather gloves are moisture-wicking. They will practically keep your hands dry.
3.) They're perfect even if you have sensitive skin. Leather doesn't cause allergies. 
4.) One of the biggest benefits is that leather gloves protect the hands from accidental injuries. They will also protect your hands from getting burnt if you accidentally touch any hot surface. 
5.) They offer excellent grip. Hence, it's easy to work in them. They're not very bulky either.
6.) Leather gloves are impermeable to dust, dirt, water, and germs. They even absorb sweat so that there's no friction between your hands and the surface inside. 
The 4 major varieties of leather gloves you can place your bet on for longevity, strength, and protection include the following:
1.) Goatskin Leather: It's tough and scratch-resistant. Besides, it's waterproof as well. 
2.) Cowskin Leather: It's one of the cheaper and more affordable real leather options. 
3.) Pigskin Leather: It's very soft and keeps the hands very dry. Hence, it's the perfect option for people with sensitive skin. 
4.) Deerskin Leather: It will protect you from both rain and snow. It's comfy, cozy, and tough as well.
The leather fabric that you choose entirely depends upon your choice of texture and, of course, your budget. 
However, bear in mind, you have to maintain real leather. Otherwise, it will start smelling and even develop cracks. Buy real leather gloves only if you can care for them.
4.) Faux Leather Gloves for Industries 
Faux leather is pseudo leather: It's not real leather. However, it has almost all the qualities of real leather. It's tough, strong, waterproof, and even scratch-resistant. Besides, faux leather gloves are better options for people who cannot afford real leather. 
In fact, faux leather has a better scratch resistance than real leather.
1.) Faux leather gloves do not develop cracks easily. 
2.) Their maintenance is easier. 
3.) They are stain-resistant too. 
See also: Synthetic Vs Genuine Leather Shoes/Boots
3 Qualities to Look for When Choosing Gloves
Now that you know which fabrics are best for gloves, it's also important that you know what qualities you should focus on when trying to buy the perfect pair. Have a look! 
1.) Buy the gloves you can afford. There's literally a wide range of variety. There's no point in overshooting your budget as long as you find the options that will respect your budget. 
2.) Do not compromise with the quality to save a few bucks. When you say buy the gloves you can afford, we mean buy them from the range of high-quality ones. Settling for cheap fabric will only result in problems. 
3.) The right fabric for gloves is something that will wick away moisture and absorb sweat. 
Dos and Don'ts When Choosing Gloves 
It will be easier for you to choose the right fabric for gloves if you follow the below-listed dos and don'ts guide! 
1.) Do make sure you buy the glove according to the purpose. There's no point in buying cotton gloves if you have to pick up garbage or your requirement is protection from contamination. So, pick the fabric according to your requirements. 
2.) Do ensure that you always let your gloves dry under natural air so that they don't catch moisture. 
3.) Do not machine wash the gloves if the instructions say hand wash only. 
4.) Clean your leather gloves regularly. That's real animal skin. It will degrade if you don't keep it clean. 
5.) Most importantly, buy the right size. What's the point of wearing gloves that are too loose or too tight? Always follow the size chart provided by a particular brand because sizes can vary from brand to brand. 
Conclusion
The best fabric for gloves depends upon the purpose you're buying the gloves for. Wool and Thinsulate are the best glove fabric for bitter cold and snow.
Nylon is excellent for the rainy season and there's nothing better than cotton during the autumn season.
Similarly, nitrile is the best glove fabric for healthcare and frontline sanitation workers. If talking about the toughest fabric for gloves, then it's leather. 
Needless to say, your choice of fabric makes the entire difference in the end. So, choose wisely.