If your workplace, or even a home improvement hobby exposes you to loud noise, you need protection. Some of you will not just want the noise blocked. You'll still want to take phone calls, listen to music, or to a sporting event or other broadcasted on the radio.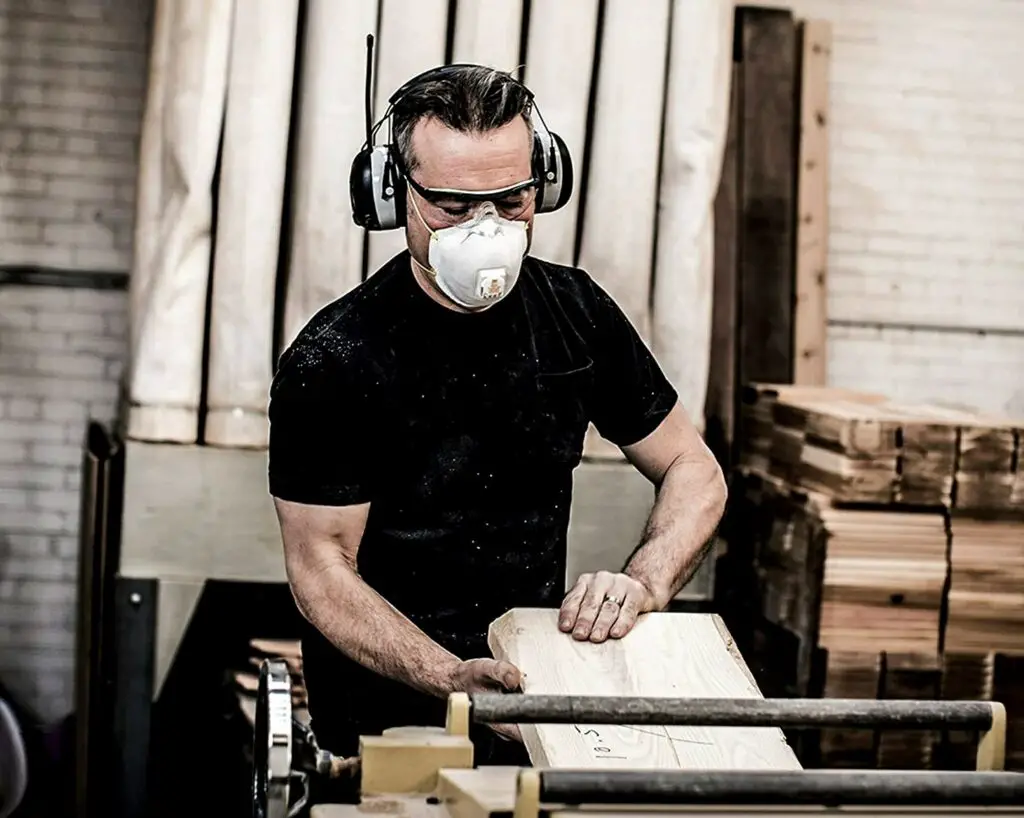 For this reason, we've researched the best ear protection radio headsets, to help you find the best protection.
We compiled a selection of radio headsets that also guarantee hearing protection and asked a group of professional tradesmen to try them out for us while at work.
In the end, the 3M Worktunes Connect is our top choice because we appreciated the comfortable design and the great sound quality together with Bluetooth connectivity and the built-in AM/FM radio and a generous 30+ hours of playing time.
We also have provided several top-notch alternative choices for you to consider. We think you'll be able to find appropriate hearing protection for your profession together with Bluetooth connectivity and your favorite radio stations.
As a professional tradesman, you may find yourself working in industrial settings, at construction sites, or with heavy machinery or power tools that make quite a bit of noise, noise that is very loud.
Hearing protection is often overlooked or taken for granted because your hearing is just basically always on call…until it isn't. While many pros will take care of their eyes because of dust, flying debris or chemical splash, hearing somehow gets lost in PPE confusion. The unfortunate aspect of this is that you may neglect to do something about it until it's too late.
Hearing loss due to hazardous noise in the workplace is an all to real medical condition that will influence how you live the rest of your life, both professional and personal. Millions of workers in the U.S. are exposed to hazardous environmental noise while at work daily and a good portion end of with hearing loss, in some cases serious.
Our Top Choice
3M Worktunes Connect
3M WorkTunes Connect + AM/FM Hearing Protector
Noise Reduction Rating (NRR) 24 dB

BLUETOOTH WIRELESS TECHNOLOGY lets you seamlessly stream entertainment from your mobile phone and any other Bluetooth enabled device

INTEGRATED MICROPHONE lets you make and take phone calls without removing the ear protection

EXCELLENT AM/FM RADIO performance with clear sound and bass boost option for great listening

AUDIO ASSIST TECHNOLOGY provides operational and set-up guidance­–without having to take off the headset
Prices pulled from the Amazon Product Advertising API on:
Product prices and availability are accurate as of the date/time indicated and are subject to change. Any price and availability information displayed on [relevant Amazon Site(s), as applicable] at the time of purchase will apply to the purchase of this product.
These ear protectors offer Bluetooth connectivity. The NRR is 24dB and these muffs are vented for warmer climates. 
The technology that allows you to connect to any device with Bluetooth connectivity. They feature an AM/FM radio that saves up to 50 stations.
They also boast a safe volume control allowing you to listen without overdoing it and you won't have to remove the muffs. The drawback may be the weight. This is a heavier set of earmuffs weighing in at 20 ounces. 
Pros
Microphone integrated

Wireless connectivity and 3.5 audio jack

Easy-to-use controls

Safe volume management

Built-in rechargeable battery
Cons
Check Price and Reviews on Amazon
Other Competitive Alternatives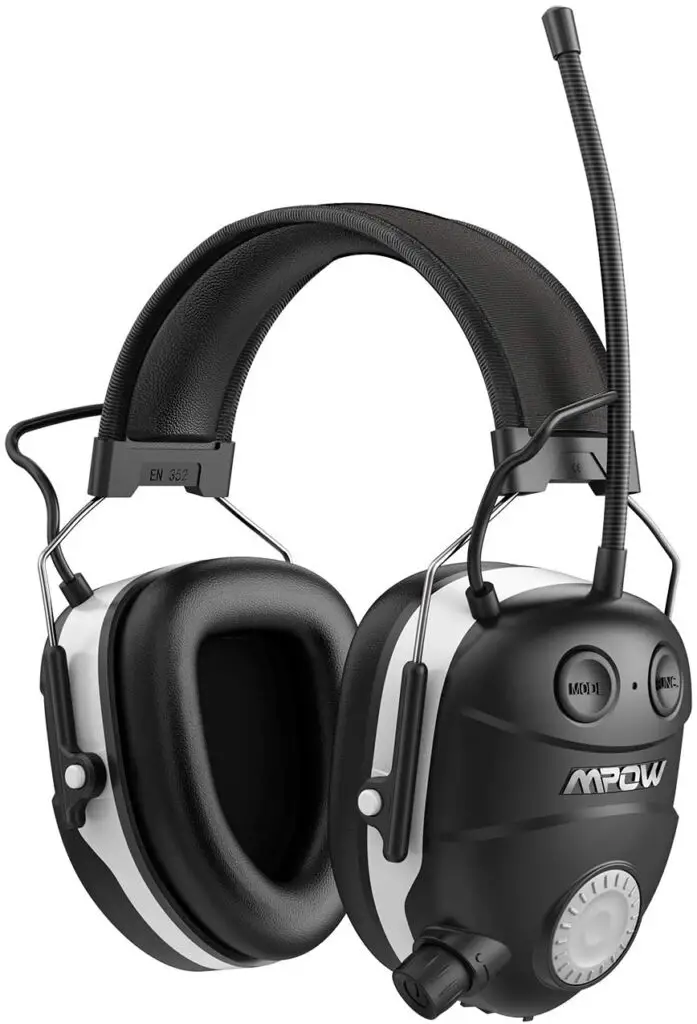 These Mpow Bluetooth earmuffs are one of a few options offered by Mpow. They offer an NRR of 29dB and are ANSI S3.19 and CE EN352-1 certified.
Thanks to Bluetooth connectivity you can listen to podcasts, sporting events, or music. It also features a built-in FM radio for your listening pleasure with high quality speakers.
The earcups are made with soft foam and the headband is adjustable as well as padded for comfort. A carrying pouch is provided.
These ear protectors can also be connected to a laptop, and other devices thanks to a 3.5mm cable. Controls are easy to use even when wearing gloves.
Pros
NRR 29 dB

Built-in antennae for FM radio

Adjustable padded headband with soft foam ear cups

Connection with Bluetooth or audio jack

Built-in microphone

3 replaceable AAA batteries
Cons
Some concerns about low volume even with maximum settings

Hearing protection is limited if not worn correctly
---
PROTEAR Bluetooth Noise reduction Safety Earmuffs with AM/FM Radio
Prices pulled from the Amazon Product Advertising API on:
Product prices and availability are accurate as of the date/time indicated and are subject to change. Any price and availability information displayed on [relevant Amazon Site(s), as applicable] at the time of purchase will apply to the purchase of this product.
Thanks to an NRR of 25dB, your hearing will be protected while you enjoy listening to an AM/FM digital radio or to music or podcasts with Bluetooth technology.
You will also be able to take phone calls thanks to a built-in microphone while leaving your hands free to work.
With all the controls at the touch of a fingertip on your headset, Bluetooth connected devices can remain safely stored in your pocket or set on a nearby shelf.
These earmuffs also boast auto search and a scanning function for frequencies. The built-in battery can be recharged and lasts approximately 8+ hours when fully charged.
Pros
NRR 25dB

8+ hours playback time

Rechargeable battery

AM/FM radio

Bluetooth connectivity

Built-in microphone

Comfortable 
Cons
Expensive

Concern regarding battery life and duration
Check Price and Reviews on Amazon
---
Honeywell Sync Digital Radio Earmuffs #RWS-53012
Honeywell Sync Digital AM/FM/MP3 Radio Earmuff
Digital AM/FM tuning with LCD display

Volume Management Technology

Patented Air Flow Control technology

Lightweight earcup design and padded headband with reinforced fork slides

AUX input jack can connect to MP3 players
Prices pulled from the Amazon Product Advertising API on:
Product prices and availability are accurate as of the date/time indicated and are subject to change. Any price and availability information displayed on [relevant Amazon Site(s), as applicable] at the time of purchase will apply to the purchase of this product.
These protective earmuffs boast an NRR of 25dB and offer AM/FM radio tuning with an LCD display. There are ten pre-set stations to start you off.
Built-in volume management means you can easily adjust volume to either indoor or outdoor settings and thanks to a patented technology known as Air Flow Control all sound frequencies are reduced.
The earcups are lightweight and the headband is padded for comfort. An AUX cable is included to permit you to connect to other listening devices such as MP players. Two AA replaceable batteries are used.
Pros
Snap in ear cushions for cleaning and replacement

AM/FM radio with LCD display

Digital stereo sound reception

Cable for connecting to other devices
Cons
No Bluetooth connectivity

Batteries not rechargeable
Check Price and Reviews on Amazon
---
Things to Consider When Buying Ear Protection Radio Headset
The first thing you will want to consider is how much protection you need for your job. A universal hearing protection device that works for everyone in every situation doesn't exist. You'll need to consider:
1.) The amount of noise that you need to reduce. You will need to find a device that reduces the necessary amount of noise in your workplace.
You'll need to know the average amount of noise you are exposed to and how to read the labels on protective devices that you are considering purchasing.
2.) Your professional work environment. The type of work you do will affect the type of device you need. Does your work require you to converse with colleagues in spite of the noise? You may need a device that permits you to talk and listen while reducing noise. 
Do your hands get dirty at work or do you wear gloves? In this case muffs might be a better choice as earplugs require you to put your fingers in your ear canal.
What kind of noise are you exposed to at work? If they are continuous, you'll need your muffs or plugs all day long. If they are intermittent, you can remove them often throughout your work shift.
3.) Your level of comfort. How comfortable your protection device is, is a huge factor when choosing. If you wear the device all day or even for several hours without interruption, you need to be comfortable.
You will also need to consider if you work outside in temperate or cold weather, as well as if you work in hot weather that provokes a lot of uncomfortable perspiration.
If you feel discomfort, you'll end up removing the protectors and exposing your hearing to risk of damage. Whatever type of protection you choose, it should not feel awkward when worn.
4.) A good fit. Ear protection will only work properly if it fits correctly. If you choose earmuffs, the headband should adjust to clamp comfortably on your head without causing pinching or headaches, and the earcups should entirely cover your ears. These cups should also form a kind of a seal around your ear to impede noise from entering.
5.) Compatibility if you wear other PPE.  If you need to wear other PPE for your profession, your ear defenders must fit properly while worn together with other PPE such as goggles, helmets, safety glasses, hardhats, or masks.
If a pair of goggles inhibits your earmuffs from sealing your ear correctly, then perhaps you should opt for earplugs. One type of PPE cannot preclude the other.
See also: Best Hearing Protection for Construction Worker
All About Noise
Noise level is measured in decibels or dB. OSHA (Occupational Safety and Health Administration) considers any level of noise that exceeds 85 dB is harmful and potentially damaging to hearing. OSHA recommends that hearing protection be used if the noise levels exceed 85 dB.
Constant exposure to noise levels above 85 dB will subject hearing to damage beyond repair. A noise dosimeter can be used to measure the environmental noise that workers sustain during a work shift.
These small devices are worn attached to a belt with the microphone attached to a lapel or collar. The noise dosimeter can be set to 85 dB to measure potential noise hazards. 
Environmental Noise. Environmental noise at work is the reason you need ear protectors. Ideal hearing protection should be selected specifically for the environmental noise sustained, especially when dealing with automation, power tools and heavy machinery or the likes.
Noise Attenuation is the process of diminishing noise energy. The amount of noise attenuation offered will be your priority. When selecting your device, the "NRR" which signifies "Noise Reduction Rating" will show the amount of noise attenuation available with a specific ear protector. 
The NRR is the most important piece of information for your selection. The higher the number, the more the environmental noise will be reduced when the ear protectors are worn.
To calculate how much acoustic pressure your ears sustain while at work, subtract the NRR from the average daily or weekly noise level measured at your workplace.
Noise measuring about 100 dB and ear protectors with an NRR of 30, mean the average acoustic pressure you experience with the protectors will be 100 – 30 = 70 decibels. The higher the NRR, the better the noise attenuation.  
Types of Headset Protection
Hearing protection is available as:
Earmuffs can protect hearing quite adequately from very loud machinery and automation, but they are heavier when worn. With prolonged use, they can contribute to headaches, or perspiration.
In a colder climate, they may offer some insulation. They can make hearing conversation among colleagues or team members difficult, resulting in continuous removal.
See also: Best Hard Hat Earmuff for Noise Protection
Earplugs are a viable option in any temperature. They are a good choice for people with hygienic concerns or who prefer not to remove their hearing protection during the work shift. They are much lighter in weight and many are adaptable to the shape of the ear canal. 
Considerations for Radio Headsets
Some additional thought should be given to characteristics that are specific to radio headsets. You will want to consider when selecting:
1.) Bluetooth connectivity. Do I want a built-in radio, or do I want something wireless that allows me to connect to various devices? Bluetooth stability is also an important factor depending on your work location.
2.) Battery life. How long does the battery last and is it rechargeable or does the head use AA or AAA replaceable batteries?
3.) AM/FM. Does the headset have a built in AM/FM radio?
4.) Sound quality. How is the quality of the music I am listening to? Does the headset support stereophonic sound and offer noise isolation capabilities?
5.) Telephone call quality. With Bluetooth connectivity you may be able to make and receive calls. How good is the quality of the sound during calls? This quality should be similar to music quality. You want a good connection with crisp sound and some noise isolation.
A Final Thought
By selecting the correct type of hearing protection, you can dramatically reduce your risk of hearing loss on the job.
It should be comfortable for long hours and the climate and should meet any regulation standards for PPE in your work environment.
Now, thanks to advancements in technology, you can actually protect your hearing and enjoy some good music or a radio program at the same time. Whoever said that work couldn't be enjoyable! Thanks for reading.