This iconic wardrobe essential should find a home in every man's wardrobe. But this is especially true for the professional tradesman. Denim is classic, it's sexy, and it's durable.
Most denim shirts boast a classic style that looks good off the clock as well for after-work or weekend activities. They can be worn on the job, in the office, on the weekend, at the football game, and just about anywhere at any time.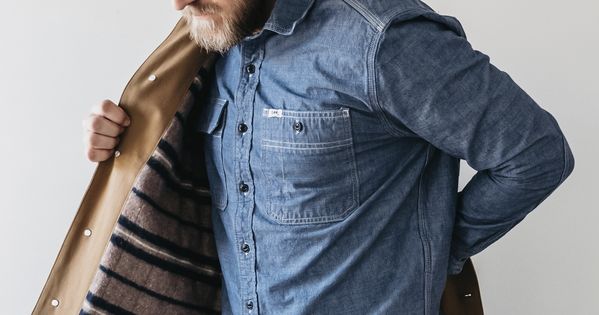 Even the new President of the United States appeared on the cover of InStyle Magazine in 2017 wearing a denim shirt! 
While the majority of shirts in denim will resemble each other, details such as pockets or buttons will differ as well as the blend of the fabric.
The shirt design may also differ running from classic to casual overshirt. Denim shirts have earned their reputation for versatility.
Most manufacturers will seriously invest in the color of their denim and these hues will start at a sky-blue color all the way to a grey-blue weave with a classic play of color between the warp and the weft.
Construction and industrial professionals will love the rugged cotton denim and the workwear roots that have accompanied this work shirt to its present-day form. 
Denim History: The Warp and the Weft!
Warp and weft are the two fundamental components utilized when weaving fabric from yarn or thread. Warp threads are described as the threads that are held lengthwise on a weaving loom. Transversal weft threads are drawn both over and under thus creating a fabric.
Thanks to the progress in spinning procedures made during the industrial revolution, somewhere between 1760 and 1840, cotton threads that were strong and resistant were introduced into weaving that was mechanized opening the door to fabric blends that were produced more quickly.
Simple, comfortable, and above all practical, the denim work shirt will last. An important aspect to consider when choosing is the fabric blend. Heritage denim shirts were manufactured in:
Chambray. This denim blend has been used for almost two hundred years. It is extremely adaptable and can be paired and layered with anything.
You can wear a Tee shirt under, a sweater over, or a blazer for a great put-together look. The collar, being a bit softer, may seem more adapted to casual attire, but it's a great alternative if you don't want to wear a dress shirt in a professional situation.
This lightweight simple weave called cambric hails from France, where weavers in Cambrai produce this lovely fabric.
Popular since the time of Henry VIII, it is a blend of linen and cotton and might be considered a more polished version of another cotton blend known as batiste. 
In the early nineteenth century, weavers began to experiment with various colored threads in their fabric creations.
Fabric with a blue warp and a white weft quickly gained popularity among laborers and agricultural workers thanks to its lighter weight and durability. 
Chambrays will probably be softer and, as we've stated, lighter in weight.  If you'll be wearing your denim shirt in an office environment, you can go with a linen and cotton blend. If you'll be onsite for physical work, 100% cotton would be a better choice. 
Wabash and HIckory. During the 1800s, J. L. Stifel & Sons patented their indigo Wabash stripe, an inexpensive material used by railroad companies. Union Pacific railroad instead opted for the hickory stripe material. Here heavy-duty denim begins its story. 
Typically used by industrial workers like miners or mechanics, these versions are more similar to a heavier flannel. Resistant and durable, these shirts are terrific for heavy-duty professions.
They also gain in attractiveness over time, like a good wine, as the natural fade seeps in after a number of washings. Look for 100% cotton with these heavier-weight work shirts.
New Takes on Historic Work Shirts
While historically, the denim shirt may have been identified on a large scale with railroad companies looking for a uniform that was budget-friendly, who hasn't identified this popular shirt with the wild, wild west?
Numerous brands now include a western version among their denim offerings with characteristic buttons and embroidery for western-style aficionados.
What Should I Consider When Choosing A Denim Work Shirt? 
1.) Fit is definitely one of the most important things to consider when buying a denim work shirt. One difference that you will note is in the cut of most denim shirts.
They will be a bit looser and roomier than a tailored shirt. You may find the neck, shoulders, and sleeves to have a more relaxed fit.
A choice between slim fit and regular fit will depend on how you want to wear your shirt and the type of work you do.
Slim-fit denim shirts are particularly adapted when layering your dress. This will avoid bulkiness and give your silhouette a bit of help.
2.) The Wash or Finish of The Denim. This is really a choice of personal taste. However, you may want to consider a wash that is not the flavor of the season but more classic, so that it will be part of your wardrobe for many seasons in the future.
You may want to look for a classic wash and avoid an acid wash that may not be in fashion next season. You can also select a dry denim shirt that will fade with age like a good bottle of wine.
However dry denim will be prone to shrinkage when you wash it and begins to break down only after approximately 120 days. If you wash it within the first 180 days, handwash or machine wash in cold water.
3.) Fabric. The so-called "western weave" is 100% cotton and more recently may have a bit of stretch added in. Chambray is a canvas-style weave that uses only two yarns, so it is softer.
Western weave shirts will look great at work or at casual get-togethers whereas a chambray shirt can be worn in the office under a jacket.
4.) Details, details, details. The details will make the difference. Often mother-of-pearl snaps are often in place of buttons.
Most denim shirts will come with at least one, if not two, chest pockets. They can have a sawtooth shape or a western shape with a single flap.
Our Best Denim Work Shirt List
Our Top Pick
1. Levi's Western "Barstow" Work Shirt
Prices pulled from the Amazon Product Advertising API on:
Product prices and availability are accurate as of the date/time indicated and are subject to change. Any price and availability information displayed on [relevant Amazon Site(s), as applicable] at the time of purchase will apply to the purchase of this product.
After more than a century and a half in the denim business, how could the Levi company not be on this list? This is a classic western-style shirt with pointed pockets and original yoke detailing.
The shirt offers two chest pockets with button closure and a traditional front closure with snaps. It features a curved shirttail.
Made in 100% cotton, the denim is non-stretch. Last but not least, Levi makes this shirt with the environment in mind using less water in its production and with 15% of recycled cotton fiber.
Pros
True to size standard fit

100% cotton

Produced with environmentally friendly techniques
Cons
Check Price and Reviews on Amazon
---
Runner Up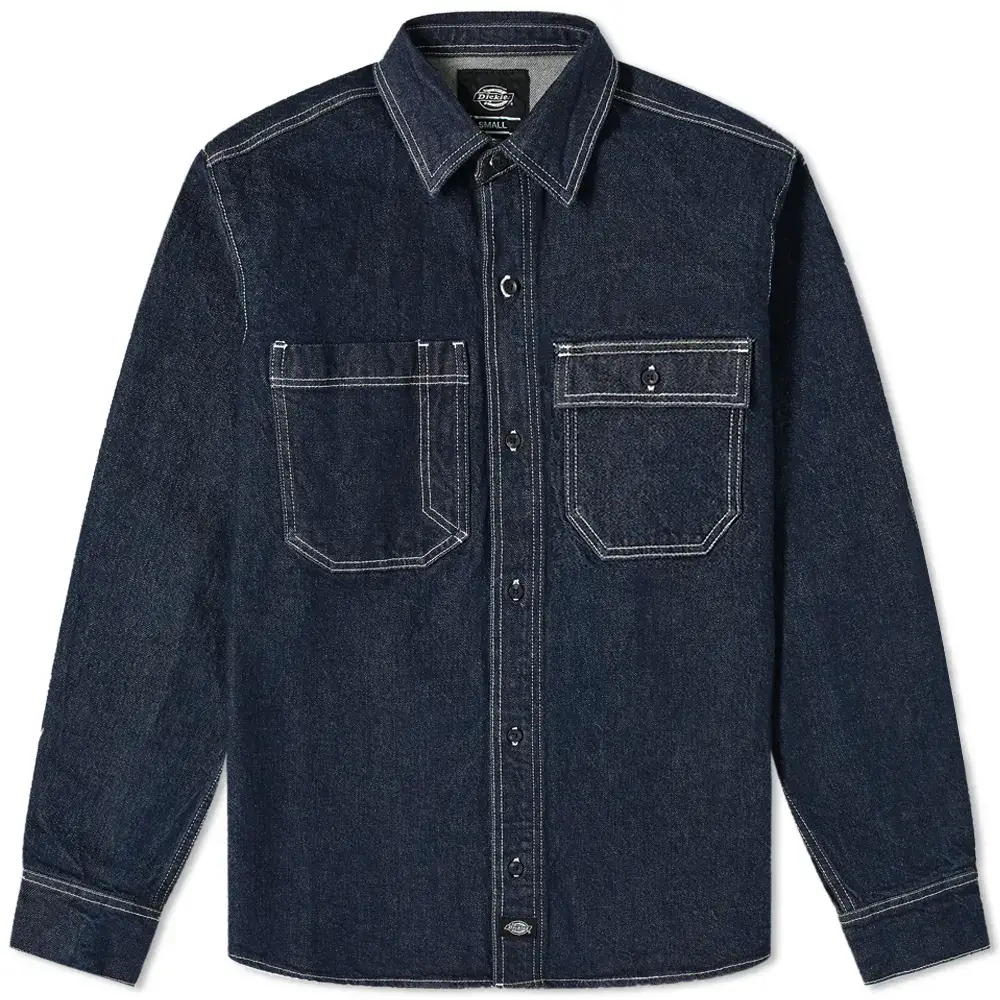 Dickies is known for producing great attire to take the wear and tear on the job. If you're in construction, Dickies is a known manufacturer for durability in the most rugged situations.
This shirt features reinforced elbows. It comes in a 100% denim twill produced in a dark rinse. The fading will be personalized through use improving its look with age.
It boasts contrasting stitching and pearly buttons. Two chest pockets with button closures finish the look. 
Pros
100% cotton

Durable

Dark blue denim
Cons
Sizes limited to S, M and L
---
Other Denim work Shirts We Like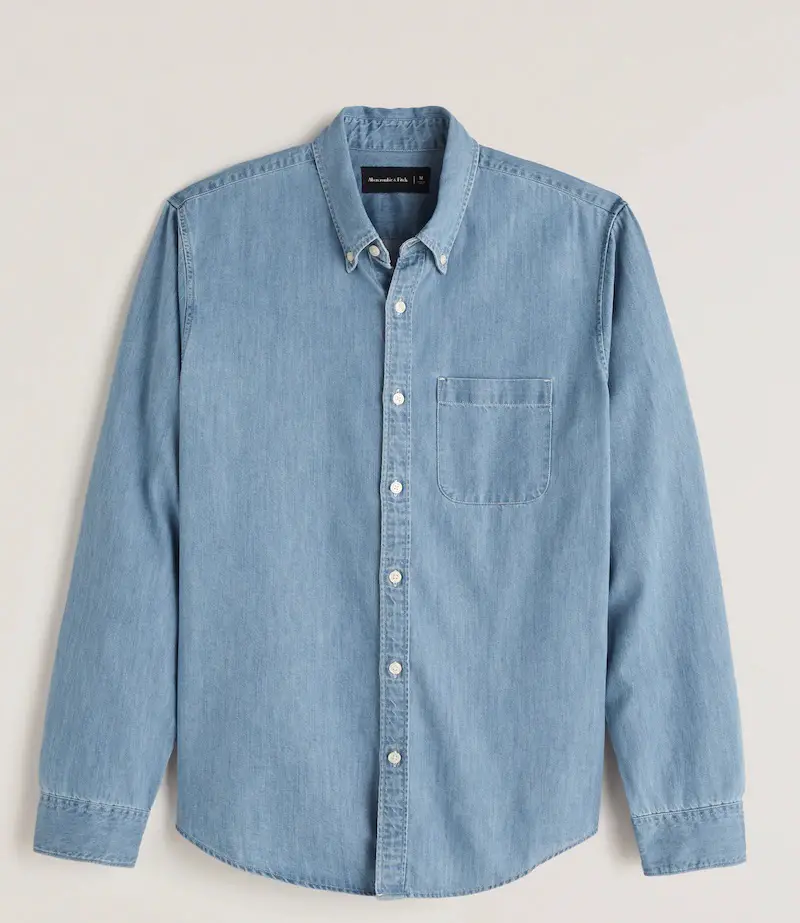 If you want a denim shirt that can do duty in the office, consider the Abercrombie & Fitch essential denim shirt.
It features a similar silhouette as the oxford shirt you might typically wear in the office with a button-down collar, but it's made in washed denim.
The arms feature a button closing before the cuff permitting easier rolling up of the sleeves. The fabric is a cotton blend of 67% cotton and 33% lyocell. Front pocket and curved shirttail.
Pros
Sizing from XS to XXL

Machine washable

Affordable
Cons
---
4. J. Crew Stretch Chambray Work Shirt
J.Crew Slim Stretch Organic Cotton Chambray Shirt
Designed with a tailored fit that is cut slim through the body and sleeves. Buttoned collar.

Long sleeves with buttoned cuffs. Patch chest pocket. Box pleat at back yoke. Shirttail hemline.

98% organic cotton, 2% elastane. Machine wash cold, tumble dry low.

Imported.
Prices pulled from the Amazon Product Advertising API on:
Product prices and availability are accurate as of the date/time indicated and are subject to change. Any price and availability information displayed on [relevant Amazon Site(s), as applicable] at the time of purchase will apply to the purchase of this product.
While not technically denim, it is a terrific option for denim lovers who live in warmer climates. Thanks to the process used in weaving, this chambray cotton shirt looks great regardless of what you wear it for.
It can be dressed up or down and is especially appropriate for layering. The chambray cotton used in producing the shirt is organically grown and environmentally friendly.
It has a bit of elastane added in for comfort. Available in sizes from X-Small through XX-Large it comes in three fits: Classic, Slim, or Slim Untucked. Details include a button-down collar, a chest pocket, and is machine washable.
Pros
Great sizing Options

Environmentally friendly manufacturing

Soft, lightweight
Cons
Check Price and Reviews on Amazon
---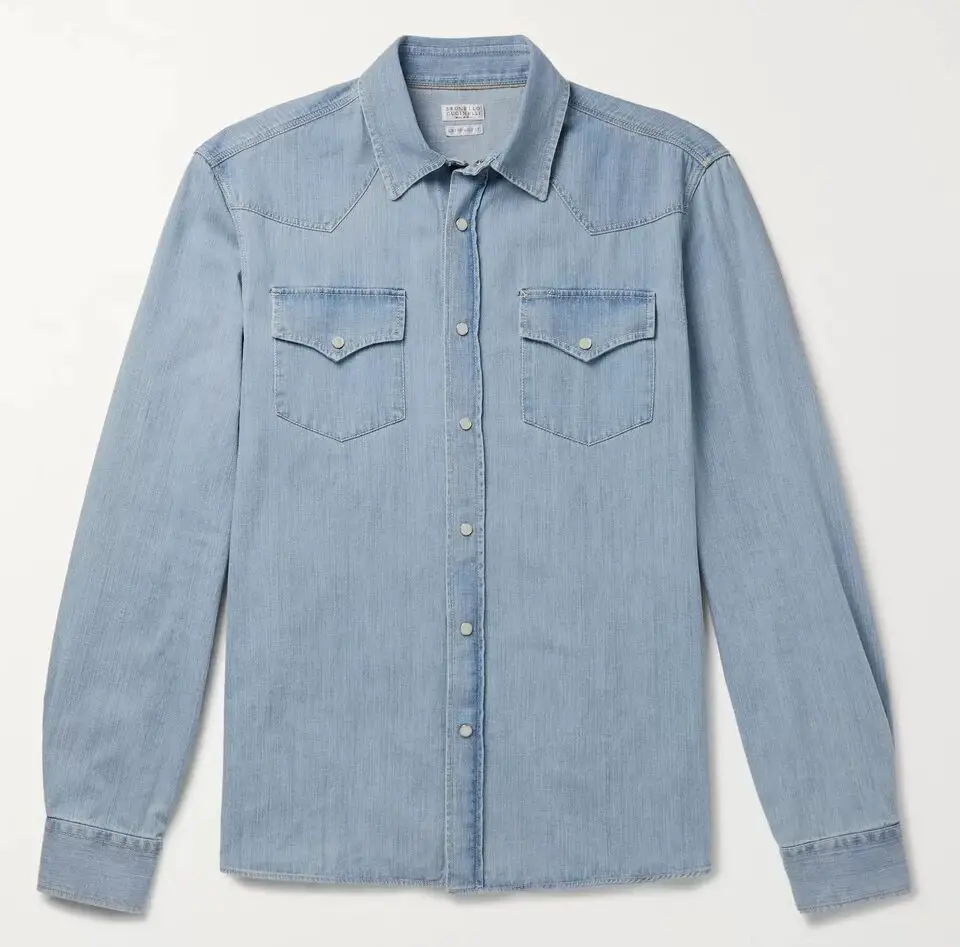 We should mention upfront that this shirt is very expensive, so, you may only want it in the CEO's office. Nonetheless, this shirt is fantastically well-made in Italy by Italian tailoring master Brunello Cucinelli and it shows.
The 100% chambray cotton is lightweight but structured enough to make you look great while guaranteeing comfort for the entire time that you wear it.
The design is trim like a dress shirt meaning it's easy to tuck in. Mother-of-pearl snap closings add to the shirt's innate elegance.
Made in faded light blue, it offers a classic collar, snap closings on the cuffs, and two chest pockets. True to fit sizing is available in Small through XXL. A true Italian work of clothing art.
Pros
100% cotton

Mother-of-pearl fastenings

Comfortable and attractive
Cons
---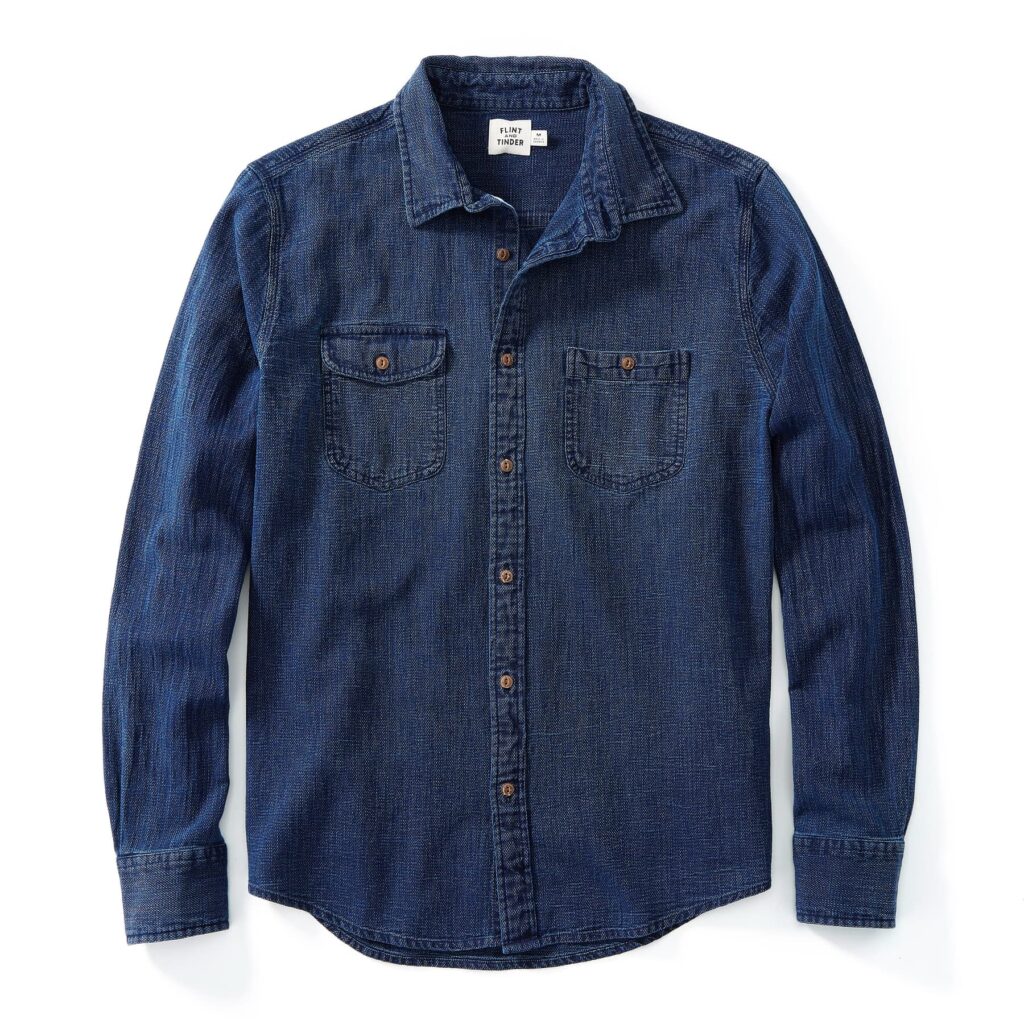 This rugged, good-looking denim work shirt is manufactured with a very unique basket-weave fabric of Japanese origin. It is a tough and rugged work shirt.
The shirt's color refers to the ancient natural dye color of indigo with a pedigree that may well go back 4000 years. This shirt is exceptionally comfortable and is button-down.
The 100% cotton fabric is midweight making it an option for year-round wear. Buttons are classic Woodshell birdseye.
The shirt has two pockets, one flapped and one not. Two buttons on the sleeves guarantee a comfortable wrist fit. The Collar is double layered for durability and a back pleat contributes to an increased range of motion.
Comes in sizes Small through XXLarge. Machine washable in cold water. Priced in the mid-range.  This popular shirt is often out of stock, so get on the waiting list for when it's restocked.
Pros
100% cotton

Machine washable

Two pockets

Back pleat

Double-layer collar
Cons
It May fit smaller than other Flint and Tinder shirts
---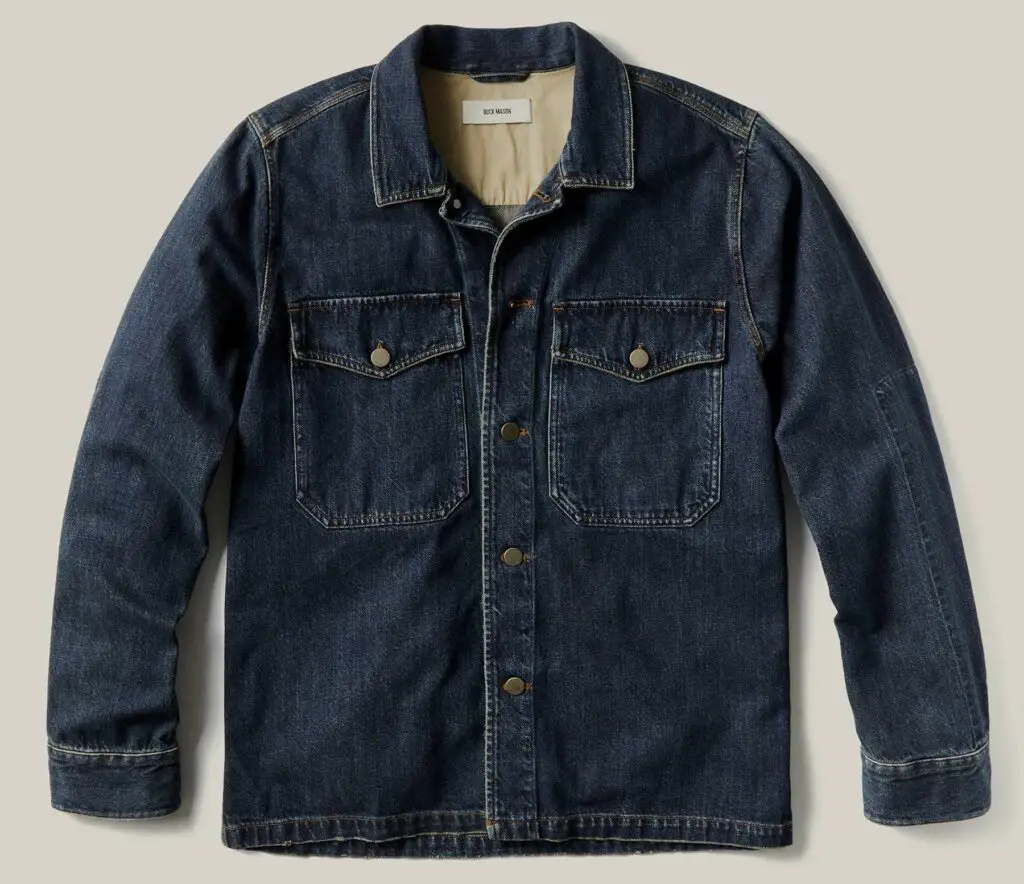 American brand Buck Mason offers a great denim shirt for every man from construction workers, to machinists to professional truckers.
This is truly a man's denim shirt. It is designed as an overshirt cut loosely in order to enable layering and facilitate mobility and range of movement.
It is prewashed for a soft lived-in fit ensuring comfort from day one. Made in a mid-weight fabric of 100% 10-ounce cotton.
The shirt can be machine washed in cold water and has two chest pockets. Sizing is from XSmall through XXLarge.
Can be used as a light jacket in warmer climates. Metal buttons and some contrast stitching in design.
Pros
100% cotton

Loose cut and fit

Machine washable

Two chest pockets
Cons
No pockets for hands when used as a jacket
---
The Bottom Line
Denim shirts are great for work, whether in the office, outdoors or in an industrial setting. They will come in handy on any day of the week and every man should have at least one in his closet.