Hey! Are you planning to buy a met guard boot? Bit confused if it will be comfortable? Okay, pause right here and just scroll down. You have got into the right site to wipe out all your confusion.
Are Met Guard Boots uncomfortable? Yes, to tell the truth! Just try dropping a small pebble on your foot. Ouch! You know how it hurts.
So, despite Met Guard Boot being uncomfortable footwear, it's a lifesaver if you are someone who works in an industry prone to occupational hazards. And, there are ways to make it a comfortable wear.
Let's check if it's the right boot for you.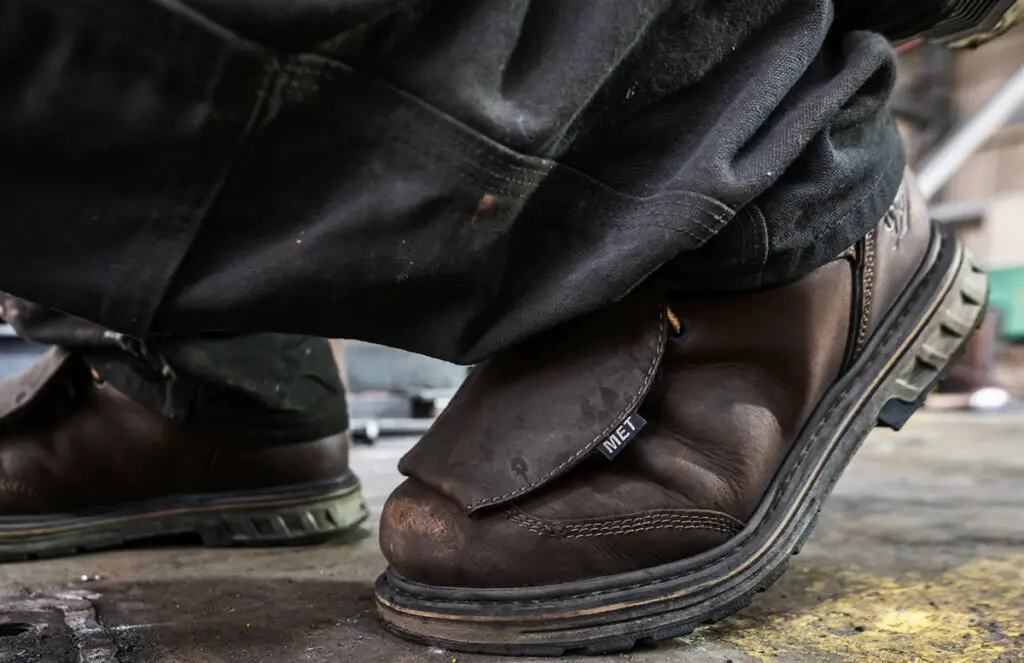 Why are Met Guard Boots Uncomfortable?
Met Guard or Metatarsal Boots are intricately designed to protect your metatarsals from any hazardous injuries. Just finger over your metatarsals, the bones above your toes; you will know that the bones are so exposed, not cushioned with enough muscles or flesh.
And, your foot is not just a foot! It's 26 bones, 33 joints, 107 ligaments, and 19 muscles, your feet! Phew! So, to protect your metatarsals which are more prone to injuries, your boot will need some extra fittings.
Met Guard boots, internal or external, come with a steel toe cap and a protective pad made of impact-resistant plastic, stainless steel, or any composite or alloy paste, backed with a dense foam padding for impact absorption.
The soles are also reinforced to protect your feet from getting pierced by any sharp objects. So obvious that it's uncomfortable to wear. The boots will be heavy and difficult to flex. It restricts the free movement of your bones and joints.
Your feet will have to bear excessive pressure and unnatural proprioception. Prolonged wearing of Met Guard boots can cause you pain and other discomforts.
New designs with better comfortable features are launched in the market these days. We will for sure have a look at some of the most comfortable brands you can go for.
Internal or External Met Guard; Which Boot is More Comfortable?
An external met guard comes with an external shell-like pad covering the instep area of the boot. In the internal met guard, this protective pad is incorporated inside the boot beneath the instep area.
It comes normally in two designs; either maneuverable and flexible scales padded in soft material or soft absorptive material.
The internal protective pad is smaller and inconspicuous unlike in the external met guard. Since the pad is smaller, internal met guards are more comfortable, lighter, and more flexible compared to external met guards.
Moreover, chances are high that the protective pad of the external met guard gets caught in machinery and you trip off. Internal met guard boots look better aesthetically.
Who Should Buy an External Met Guard?
External met guard boots unlike internal met guards cover more surface area of your foot. And, that means it offers you more protection; especially in case of slow impacts.
For instance, if a truck accidentally rolls over your foot, the external met guard is more effective in absorbing and distributing the impact with its dense foam cushioning.
It will also guard you against sharp objects, cutting tools like chainsaws, angle grinders, and so on. External met guards guarantee better protection against fire, chemicals, and molten objects.
Your feet won't even feel it. So, if your job requires welding, moving heavy objects, etc., don't think twice but go for an external metatarsal boot.
Why Should You Buy an Internal Met Guard?
Internal met guards, though they are less protective against slow compression, offer protection against sudden impacts on par with external met guards. It can slowly catch and slow down the velocity of the fallen object once it touches your boot.
If you are so sure that there are no chances you come in contact with fire, sharp machinery, or molten objects, an internal met guard is your boot.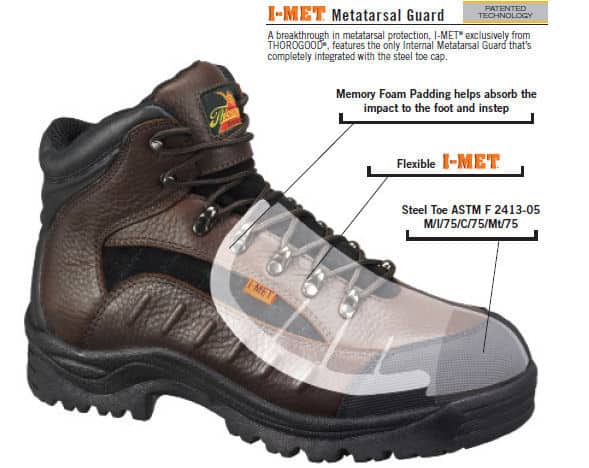 If your workplace is riskier of sudden impacts, get an internal metatarsal boot. An internal metatarsal boot is a wise choice if you're concerned about getting caught on machinery. Internal met guard boots will definitely win your heart if you are a fashion freak!
Why Not Steel Toe Boots?
Hearing all these uncomfortable stories, you might be probably thinking why not buy a Steel Toe boot. Right? But it's a big no to steel toe boots.
Why? Steel toe boots just cover about 1 to 1.5 inches of your foot leaving your metatarsals and the bones that connect your toes to the ankle bare to injuries.
Met Guard Boots extend their protection from your toes to your ankle joints. Steel toe boots won't protect your feet from solvents, electrical hazards, sharp objects or extreme heat, chemicals, or bone fractures; if yes, only the toe area.
See also: Metatarsal Vs Steel Toe Boots: Which is Most Protective?
How to Make Met Guard Boots a Comfortable Wear?
No worries! You can have a comfortable walk with your Met Guards on. Let's have a look at a few hacks. 
1.) Wear a Socks
Always wear socks with met guard boots. Wearing socks thick enough to give you heel support can reduce your discomfort.
A thick layer of socks can act as a cushion to your feet and reduce the amount of pressure on your feet. Heel socks or heel pads will act the same. 
2.) Medical Orthopedics Insoles Can Save You
Try using a medical orthopedics insole. Insoles will protect your foot from excess stress and enable free movement of your foot. It cushions your heels and makes it easier for you to stand for prolonged hours.
Such insoles are skin-friendly, durable, and easy to clean. Always better to consult a doctor to choose the right insole for you.
3.) Reduce Your Bodyweight
Reduce your body weight if you're overweight. Reducing your body weight will help you reduce the unnecessary weight on your feet and the resultant strain on your heel bone. 
4.) Exercise Regularly
Make sure that your calf muscles and foot get regularly exercised to build enough strength to endure the pressure of wearing Met Guard boots.
5.) Apply Moisturizer
Applying a good layer of any moisturizer or petroleum jelly on your feet will reduce the chances of feet getting bruised from the friction between your feet and the boot. It will also enable better movement of your foot inside the boot. 
6.) Get the Right Fit
Always remember that a met guard boot won't get loosened after two or three uses. So never buy a boot that is tight on your feet assuming it will stretch like ordinary boots.
Make sure that there is enough amount of space for your feet to fit inside the boot. Ensure that your foot is placed intact in the boot, especially the arch of your foot so that you get good arch support. A wrong sized boot can make your life harder!
Super-Met Guards, The New Boots in Town!
Super-Met Guard, the new boots in the market comes with an exclusive feature. It has triple guard protection with a two-piece external met guard and one internal met guard. These boots are more comfortable, stylish and ensure better safety.
Met Guard boots have become much more advanced over the years. New designs are more users friendly. Say, for instance, external Met Guard boots made of polyurethane soles are more lightweight, add resilience and flexibility.
How to Choose the Right Met Guard Boot for You?
1.) Before heading on to the shop to purchase a Met Guard boot, get a clear picture of the industry you will be working for and the type of Met Guard that suits your profession.
2.) Don't forget to check if your boot meets ASTM standards. Look for the ASTM icon on the boot.
3.) Check for the price, material, appearance, and features if it's feasible for you.
4.) Be sure if the boot fits you well before you pay the bill. Met Guard Boots unlike ordinary boots won't stretch over its use. So, have a good walk with your boots on inside the shop to make sure it befits you.
Three Most Comfortable Brands in the Market
Let's check out some most comfortable Met Guard boot brands you could buy.
1.) Timberland PRO Men's 40000 MetGuard 6″ Steel-Toe Boot, an ankle-high foot constructed in Ever-Guard leather with waterproof Met Guard flap, offers you high flexibility and durability.
Its closed-cell PU footbed with durable cushioning comforts your feet. The metatarsal guard and steel toe cap shield you against impacts, heat, and electrical hazards. The boot comes with an abrasion, slip, and oil-resistant rubber outsole.   
2.) Dr. Martens, Men's Ironbridge Met Guard Heavy Industry Boots, the 100% leather boot comes with a steel toe cap, slip-resistant sole, and rigid steel metatarsal guard.
It provides additional insulation to protect against electrical hazards. Dr Martens' classic PVC air-cushioned sole is oil, petrol, and alkali resistant.
3.) MICHELIN 8″ Sledge Metatarsal Work Boot Steel Toe comes with a steel toe cap, external met-guard, back pull tab, shock-absorbing footbed, dual-density outsole, and a padded collar.
So, don't wait. Go and empty your carts!