What would you do if you have a pair of wellington boots and one of them is damaged? Are you considering throwing them off? If you're having trouble with your favourite wellington boots, we're here to help.
Wellington boots are in trend. These boots are popular because of their durability and stylish design. However, it, like all other boots, may crack or damage. Fortunately, there are some nifty tricks you may use to repair your boot.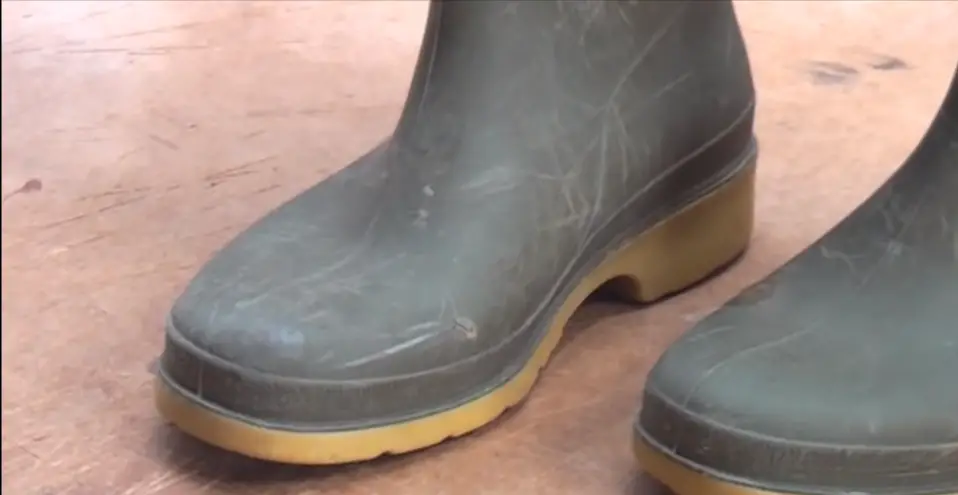 Top 3 Hacks to Repair or Fix a Hole in Your Wellington Boot
Your wellington boots may split or damage while working or travelling. You must carry a patch kit with you for such an emergency situation. It will be a great help to you while fixing your boots and keeping your feet dry.
Always keep in mind that you should repair any damage as soon as possible, otherwise the hole or crack on the boot might absorb the moisture and it will lead to further damage.
Here are some simple hacks for you to fix your wellington boots:
Method 1: If you want to fix a hole in your Boot.
For the first method, you will need:
Adhesive Patches
Rubber Cement
Glue
Applicator
First of all, you need to clean your boots. Use a soft cloth and clean all the dirt, especially from the area around the hole.
Once you clean the hole, prepare the rubber cement to apply to it. Use the applicator and apply the rubber cement.
Following this, apply glue to the adhesive patch and put it upon the rubber cement for extra durability. Now, let it dry for 10 t0 15 minutes before you wear them again!
Method 2: If you want to fix a hole along with other cracks around it.
Gear Aid Aquaseal
Shoo Goo Repair Adhesive
Applicator
Sandpaper
Cloth
Duct tape
This method is helpful for those boots that have severe damage along with a hole or split. You have to make a soap cleanser to remove all the dirt from that specific area. Dip a cloth and gently do the cleansing process and let it dry for 5 to 10 minutes.
Use sandpaper to make the area smooth. Ensure that you are rubbing it properly with utmost care. Now, put the duct tape covering a 3 to 5 inches area around the hole. Use the applicator to use the glue on the area surrounded by duct tape and let it dry overnight.
Next morning, your boots are ready to use! Congrats!
Note: You can use sandpaper to smoothen the area after you remove the duct tape. 
Method 3: If you need to fix a big hole in your Boot.
Piece of Similar Colour Rubber
Sewing Needle
Nylon Threads
Adhesive
If you need to fix a big hole in your boots, worry not we have some amazing hacks for it too. This method might need some more time as you have to fix a big portion.
Of course, you have to first clean the portion properly and dry it. Now, you have to pick up a similar colour rubber and cut it down slightly bigger than the hole.
Apply adhesive to the piece of rubber and stick it to the hole. Sew the piece of rubber over the hole using the sewing thread and needle to ensure it does not fall off in a short period of time.
How To Take Care Of Your Wellington Boots
1.) Do not forget to clean
Cleaning your boots is essential, if you want your favourite boots to survive longer then start cleaning them regularly. Make a cleansing mixture with soap and water, dip a cloth and remove all the dirt. After this let dry properly. 
2.) A proper storing space
The texture of boots needs a certain environment. Do not dry it or put it directly into the sunlight. Your boots may develop white marks if you do not store them properly, or they may grow fungus.
3.) Dry properly
Allow your wellies to air dry after a good session of puddle jumping. Stuff your wellies with newspaper to help them dry faster and keep their form. Never dry your wellies in direct sunlight as this can cause the rubber to crack and damage.
FAQs
Can I repair a hole in my boots by myself?
Yes, you can fix it with some easily available tools. To repair a hole in your shoes, use an adhesive such as Shoe Goo, Gorilla Glue, or Liquid Nails.
Can I use any glue to fix my boots?
Any shoe glues can be used on your boots, but for best results, opt for specialised leather shoe glue products or rubber glues.
How often should I clean my boots?
If you wear your boots regularly then you must clean them regularly too. If you want to do a deep cleaning, then you should do it once or twice a month. While cleaning your boots with liquid, ensure you are drying them properly.
Conclusion
Though you buy an expensive pair of wellington boots, you need to take care of them properly to serve you a long time. Especially if you live or work in wet and rainy places, make sure you are cleaning and drying them regularly.
However, you must remember that wellington boots provide the best and most complete waterproofing for your feet but they may develop holes in the process.
Therefore, learn to care for your favourite pairs and if accidentally you find a hole in your boots,  you now know what to do.