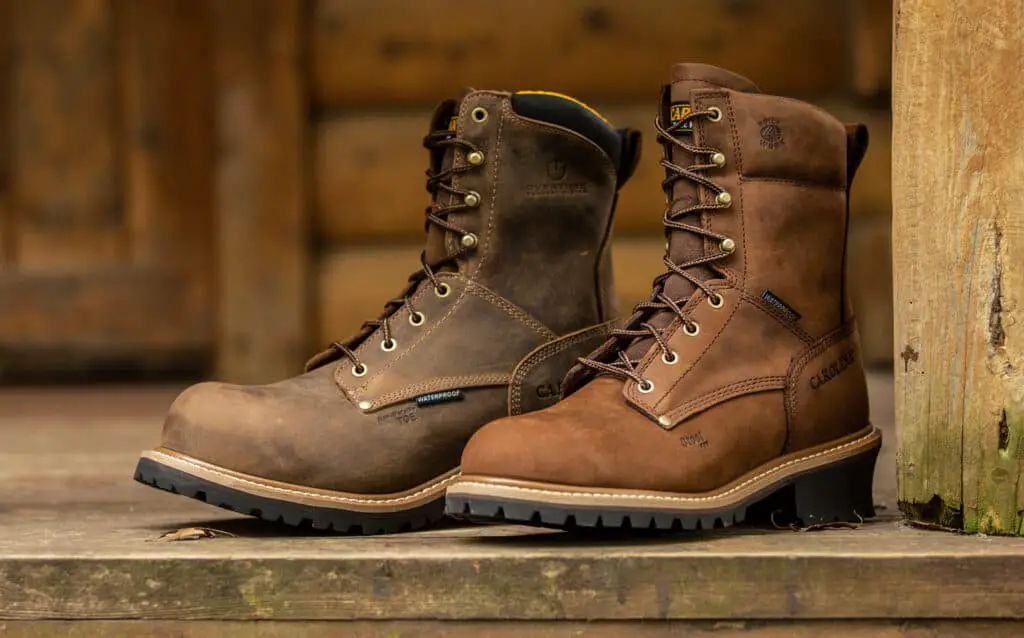 Planning of buying construction boots? I am sure while browsing through different options you might be wondering about logger boots, right? Logger boots are available in various designs even more than typical work boots and are suited for particular trades and purposes. Although these boots are often worn by people of different professions. But can you replace them with typical construction boots?
YES, you can wear logger boots as a construction boot but I think there is nothing that can beat the quintessential construction boot. Matching a boot to the specific demands of your job is important. Where logger boots are specifically constructed for outdoor activities and are rugged in nature in many cases, putting on these boots at construction sites may be a bit of an overkill.  Construction mainly works on smooth surfaces and therefore wearing a more flexible and comfortable boot can be a better option.
Although there are some construction jobs that can require a rugged logger boot. I have decided to do a little digging so that you can clearly understand which boots are the best for your specific profession. 
What are Logger Boots?
Logger boots are specialized boots for specific working conditions. They are tough and are basically constructed for people working in outdoor environments. Apart from being useful for the workers in the logging industry, these boots are useful for other professionals as well.
These boots have got rugged built and are known to offer superior traction through their oil and slip-resistant outsole. With their larger heels, the boots give a broad and stable base to walk on the wet and slippery floors.
These boots have additional technologies Vibram soles, Goodyear welt construction, EVA insoles, lugged outsoles, dual layer materials etc. The boots are breathable yet waterproof and also meet ASTM and other safety regulations to protect you against cold and electricity, impact and compression etc.
These boots are not only comfortable but have got impressive foot heels that add height to the wearer. These are both durable and safe.
What are the advantages of wearing logger boots at construction work?
If you are spending your entire day climbing up and down the ladders at a construction site then logger boots which have got raised in heel in them could be a perfect choice for you. Certain jobs like that of a carpenter also require these boots to avoid slippage.
Some rural construction sites that have uneven terrain or are built in mud and muck require aggressive lug patterns that can offer proper traction and support. For all these conditions there is no better option than logger boots.
Why are Logger Boots Bad for Construction?
Smooth surfaces like that of concrete, plywood or packed dirt can accommodate logger boots but spending your complete day on these surfaces while wearing these boots can be a bit of an overkill. It is similar to mud tires on a street vehicle.
Until and unless your construction job is not concerned with constant climbing I would suggest you to not go with logger boots. I agree that these boots provide extreme traction and support but the question is do you really need them?
If you are working primarily on smooth surfaces then I would suggest you to choose boots that have wedge outsoles and can provide more comfort to your feet. You can also consider more of a modern work boot for this type of work to maintain a healthy balance between toughness and comfort.
Difference between Logger and Work boots
While logger boots are constructed using almost the same quality material as most of your construction boots, there are few significant changes and a couple of additional features which promote safety and comfort. What are they? Let's have a look!
1.) Waterproof
One of the main differences is being waterproof. While logger boots are designed to be waterproof, while most boots are just water resistant when it comes to design. This is because you often have to deal with water much more often while logging.
2.) Electric Resistant
Electric hazard is not very common in the logger industry and that is why logger boots lack a proper electric resistance. While it is specifically present in work boots, this can turn out to be an expensive addition when it comes to logger boots.
3.) Length
As we have already discussed, logging boots are much too tall to keep things away from entering the boots that can cause frustration while you are working but this particular feature can vary depending on your job in case of regular work boots.
4.) Moisture Wicking 
Lastly, if you will have a closer look at work boots, you will find that logger boots have got better inner lining and better moisture wicking to offer. On the other hand, work boots exceed in ventilation to keep your boots breathable.
Final Verdict
Logger boots are no doubt quite a good choice but these are generally not recommended for construction. The boots might lack some of the protective features that are essential for the construction industry but if you are really in the mood to try something interchangeable then they can be used for construction as well.
Now that you have a better understanding of these boots along with the main differences, I am sure you will be able to find a better fit with much more ease. But keep in mind, every boot serves its specific purpose.