Whenever we talk about Electric Hazard rated boots (EH) and Electro Static Dissipative boots (ESD) there is often confusion between the two.
Both the footwear tend to deal with what seems to be similar things and that is why it is a very common misconception that EH rated work boots are static dissipative shoes. Is it just a misconception or the truth?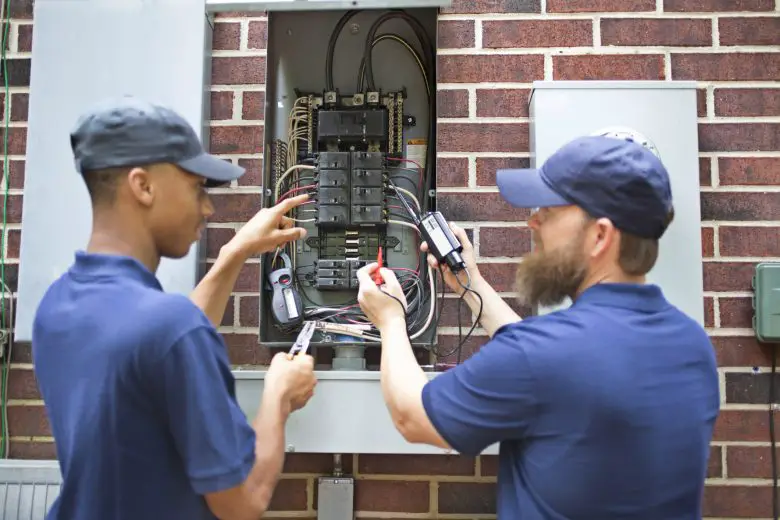 NO, Eh rated boots are not Electro Static Dissipative shoes. Infact, these two are the most distinct types of conductivity footwear which are rated and tested as per the ASTM standards. While EH safety shoes are non-conductive footwear, ESD rated footwears work for contact resistance. The main function of EH rated boots is to impede the flow of electricity between the shoe and the ground. On the other hand, ESD rated footwears are designed to reduce or dissipate the static collection build up in your body.
But what do these ratings exactly mean and how are these two different from each other? Worry not, through this article we will take a closer look at both the types of shoes and their main differences to clear all your doubts.
What are EH Rated Boots?
Easily recognisable by the clear EH symbol, Electrical Hazard rated boots are non conductive boots which obstruct the movement of electric current through the shoes to the ground.
The boots are designed in such a way that even if you touch or step on a live wire, they prevent you from electrocution by ensuring that you don't form a complete circuit.
EH rated boots are tested by American Society for Testing and Materials (ASTM) for their protection against electrical shocks. The boots meet two of the very important regulations which are:
The ASTM F2412-11, Standard Specification for Performance Requirement

The ASTM F 2413-11, Performance Requirement for Protective Toe Cap Footwear
The concept behind EH rated boots is quite interesting. While manufacturing, the complete surface of these boots is designed from non-conductive materials which makes your body fully isolated thus hindering the flow of electrical charges.
A very basic feature of these boots is the presence of heavy-duty, thick, insulated soles. The Eh boots come with added features like abrasion, water and slip resistance to save you from falls and slips while working.
One thing which needs to be kept in mind is that EH boots provide a secondary source of protection and are not meant to be the main source of protection in any electrical environment.
Electro Static Dissipative Shoes Meaning
The ESD rated boots work to handle a whole lot different type of electricity. They have an electrical resistance between 0.1 and 100 MΩ as measured according to BS EN IEC 61340-4-3:2018.
The ESD rated boots are designed to reduce the formation of electricity build up on your body. These shoes can be both safety or non-safety.
ESD shoes function by conducting static electricity through insole, linings, cement, outsole and then into the ground. Through this process, the shoes help in regulating the electrical build up on a person's body.
Basically, the main function of Static Dissipating shoes is that they save you from the dangers of static build up in the workplace.
These footwears offer no protection from live charges or electrical equipment. However, you can wear these boots in computer handling facilities, processing plants and manufacturing facilities as these areas are particularly responsible for building up static electricity and by wearing these boots, you can save yourself from getting a shock.
Static dissipative vs Electrical hazard
Static Dissipating safety shoes conduct electricity through insole, lining, cement, outsole and in the ground. These are different from EH boots in following ways:
| | | |
| --- | --- | --- |
| | Electric Hazard (EH)       Safety Boots | Static Dissipating (ESD) Boots |
| Function | Designed to reduce the flow of electricity passing through the shoes and ground. | Designed to minimize the amount of static electricity build-up on your body. |
| Safety factor | Must provide protection to your feet | Can either be safety or non-safety shoes. |
| ASTM Label | Always have "EH" on the ASTM label | Clearly mentions "SD" on the ASTM label |
| Level of protection | Not the main but secondary source of protection in an electrical hazard environment. | Primary source of protection |
| Areas of use | Mainly in Electrical Hazard environments like construction sites, electrical sites etc | Chiefly worn in computer component handling facilities, processing plants and manufacturing facilities. |
How are Electric Hazard Work boots compared to Static Dissipating Boots?
In the above paragraphs we read the precise functions of both EH and SD rated safety footwear but both have got their specific roles. If you are confused about what type of footwear to wear then let me tell you, the different risks involved here are much more specific. If you are getting wrong types of footwear then chances are that you might endanger your life.
If your job has an environment full of electrical hazards then your main aim should be to protect yourself against any form of electrical shock. EH boots are perfect to handle such situations. The boots have got zero conductive materials to make it harder to get electrocuted. The EH rated boots qualify ASTM standards and can withstand 18,000 volts at 60 Hz  for a minute without giving any passage for the current.
On the other hand, static dissipative boots are not quite as good as EH boots as they offer dismal levels electric hazard protection which is just 240 volts. But one thing that needs to be kept in mind is, this is not their primary function. The boots are built to control static energy and decrease the potential of static shocks, sparks or charges. 
Whatever category you choose to buy, it is very important to understand their ability to do their jobs which depend on certain conditions like:
1.) Electric hazard boots lose their effectiveness after they get wet. Not just this, their effectiveness tends to reduce when they are subjected to excess wear and tear or if gets damaged by the lodgement of ant metallic material in the sole.
2.) Static dissipative boots become less functional  if the boots become wet or a conductive insole is added to them. For ESD to be fully effective, it is always advised to wear them in a clean environment so that the sole remains in complete contact with the ground.
Anti Static vs ESD footwear
While both the boots are type of conductive footwears, ESD and antistatic brings a lot of confusion when it comes to safety shoes. The main differences between the two categories are:
Antistatic safety shoes have got low electrical resistance between 0.1 to 1000 MegaOhm (MΩ). Their main function as we have discussed earlier is to prevent a sudden flow of electricity between electrically charged objects caused by the contact.
ESD work boots an even lower electrical resistance between 0.1 and 100 (MΩ). The boots prevent the flow of electricity in a very safe and controlled manner and guarantee to restrict the passing of electricity by preventing a build up of static electrical charge in the human body.
| | | |
| --- | --- | --- |
| | Antistatic | ESD |
| Function | Antistatic safety footwear reduces the chance of electrostatic discharges | ESD safety footwear prevents uncontrolled electrostatic discharges. |
| Electrical Resistance | Electrical resistance between 0.1 and 1000 (MΩ) | Electrical resistance between 0.1 and 100 (MΩ) |
| Norm | Norm – EN 20344: 2011 5 10 | Norm – BS EN 61340-4-3: 2002 (IEC 61340-4-3:2001) |
| Capacity | Sufficient dissipative capacity | Guaranteed extremely low electrical resistance under any conditions |
| Functioning | 100% Tested in production | 100% Tested in production |
Final Thoughts
Both Eh rated and ESD rated boots are very different from each other and should not be confused. While the former can save you from really dangerous electrical hazards, the latter have the potential to save you from sparks.
Now, it's your call which one to choose depending upon the nature and environment of your workplace. So, it is advisable to do proper research before investing in any of the safety boots and then go for them.