Every attire is made for a specific purpose and there is no debate on which is better. But when it comes to choosing a particular outfit for a purpose, you surely need to know the difference between them.
For instance, today's picks are work pants and dress pants. While dress pants are for casual outings, work pants on the other hand are strictly for the work environment.
You will definitely not wear your work pants for an outing with family or friends. Likewise you do not wear dress pants to work.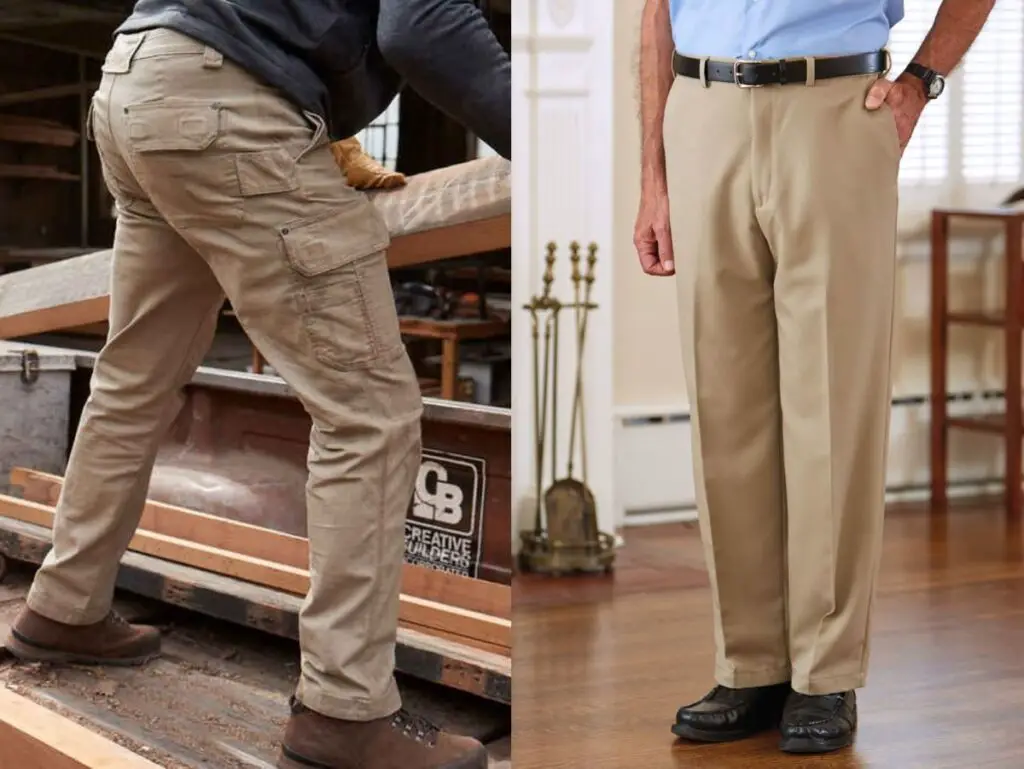 Work pants are way more durable, comfortable, and of greater utility than dress pants when it comes to wearing pants for work. Work pants are thicker, have more pockets and are mostly waterproof.
Let's delve deep in the debate…..
Comparison table: Work pants vs Dress pants
| | | |
| --- | --- | --- |
| Features  | Dress pants  | Work pants |
| Durability | Less | Way more |
| Comfort | Good | Good |
| Occasion  | Formal or semi formal | To work |
| Variety | More varied | Less varied |
| Waterproof | No | Yes |
| Pockets | Less | More |
| Stitching | Single stitched | Double or triple stitched |
What are dress pants?
Pants that can be worn in a formal situation apart from jeans and sweatpants or stockings, are considered as dress pants.
If you work in an office, you can also wear dress pants as part of formal wear and they are sure to add a sophisticated touch to your look.
What are the different types of dress pants?
Let's have a look at some of the types of dress pants that you can actually wear to your office:
1. The traditional trouser dress pants: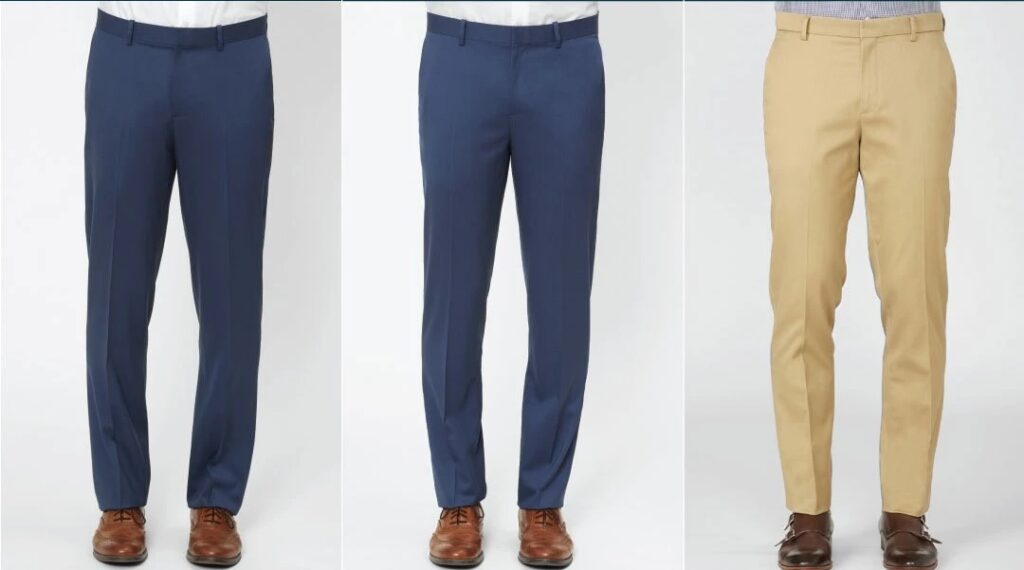 Trousers come in different styles ranging from boot cut to stretchable, pleated to straight fit. When worn with a combo of a shirt and blazer and top, they give the formal sophisticated look that is sure to earn you an eye-catching position in the office.
2. The wide legged dress pants:
If you are not comfortable with trousers, and your office allows you to have a more casual look or you have casual Fridays, you can opt for the wide legged pants that will allow ample air circulation, allow free movement of the legs and will be over the top comfortable for you the entire day at the office.
3. The paperbag waist dress pants:
Paperbag waist dress pants are the ones that have a ruffled waist style and have a belt attached to it. Remember to wear these pants with tops or shirts tucked in because that will give the utmost detailing to your waist.
4. The cropped hem dress pants:
These are more suited for the women in the office. This looks cool as well as gives you that much needed formal look. These pants have a hem that ends just above the ankle and can be worn with boots or high heels. Wear shirts or tops tucked in the pants to bring out the look of these dress pants.
5. The coloured dress pants:
These look more like jeans but are actually made of cotton and give a more comfortable feeling. They are stretchable, breathable, of varied colours and can be paired with blazers or coats.
What are work pants?
Pants that are made with thicker material and with additional features like knee pads, triple stitching, waterproof material and more number of pockets in order to offer you the safety, protection and comfort that's needed to handle the harsh work environment of the construction or any onsite job, are known as work pants.
What material should work pants be?
Work pants are mostly made of thicker materials like heavy denim, ripstop (that protects the fabric from any scratch or wear and tear), layers of cotton or thick duck canvas.
These materials are durable, can withstand any harsh situation, protects you from the harsh elements of the work environment, and lasts longer than any other pants.
What's the difference between dress pants and work pants
As I have discussed above, dress pants are something you wear to the office environment to give you a more formal (sometimes a semi casual) look.
They are comfortable or varied styles and colours and you get different options to match your taste, look and the office dress codes.
Work pants on the other hand are referred to workwear that's needed for the manual labourers of the construction or the trade industries, and the forestry.
1. Materials:
Dress pants are made of cotton, linen, polyester with a blend of elastane for stretchability, cotton blend, wool are generally the material for dress pants. On the other hand, work pants are made of layers of cotton or ripstop fabric or heavy denim.
2. Stitching and durability:
Dress pants are single stitched whereas work pants are usually double or even triple stitched for greater durability.
3. Knee protection:
Knee protection is another feature that gets added to the work pants. It's the extra layers of fabric that's added on the knee area to protect your knees while you kneel down during work.
4. Utility pockets:
Work pants have a greater number of pockets for keeping the tools and have hammer loops as well. Dress pants have the usual number of side and back pockets.
5. Waterproof:
Work pants are made of waterproof fabric or at least the ones that dry pretty quick. This is not the case with dress pants.
And it's a wrap!
So in nutshell it can be concluded that there can be actually no comparison between dress pants and work pants because both are for different purposes and suit their respective environments.
You need to decide what's the need of your work and what comforts you the best.
With that let's bid adieu from this post with a hope to meet you soon in my next one.
Till then take care and have a great year ahead!!!!!