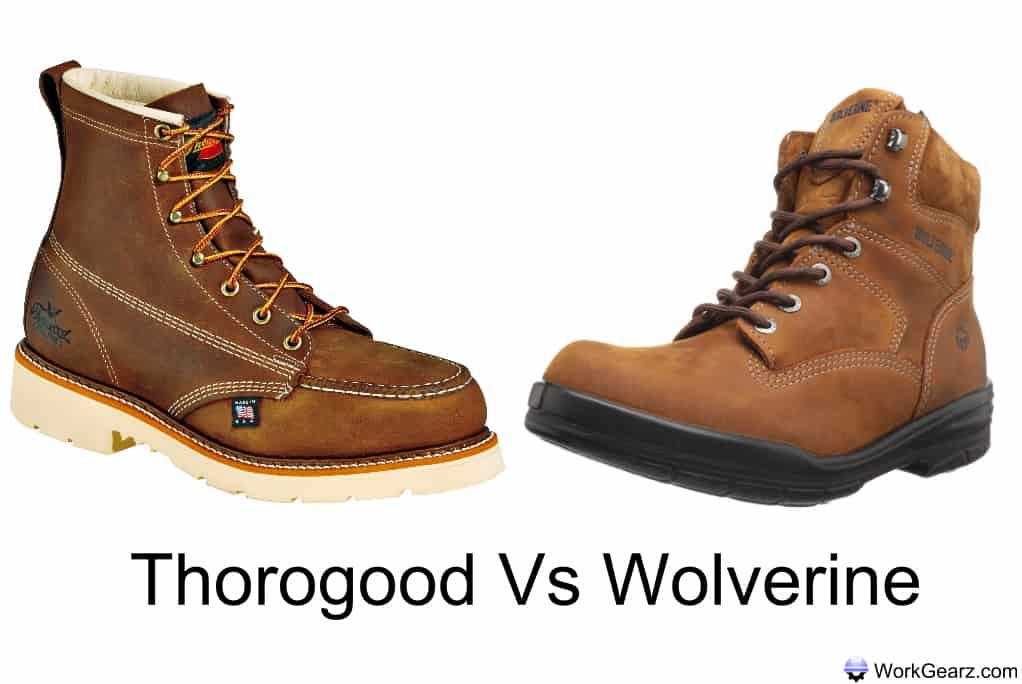 When it comes to foot protection for workers, footwear of different brands has contributed to the safety of workers through launching a variety of products into the market, two of which happens to be Thorogood and Wolverine work-boots. Both are very essential in terms of safety and protection.
The Thorogood Boots have a greater edge over Wolverine work-boots in terms of the use of better material, ease of breaking-in and durability. Though these boots are a bit pricey, they are sure to go a long way once bought. On the other hand, Wolverine work-boots have several variants that also take the term 'durability' to another level with their own Wolverine 1000 mile boots. To sum it up, if the cost is not a prime factor, Thorogood boots are a better choice.
So, if you are in a dilemma about which one to choose according to your working environment and needs, this article of mine will clear all your doubts, guiding you through all the comparable facts and key points, these two brands possess.
History of Thorogood Boots
Weinbrenner Shoe Co. is the initial maker of these boots in 1892 in Wisconsin and since then, manufacturing these to date. As their history suggests, they are defined by their honored heritage, quality craftsmanship, and unmatched comfort.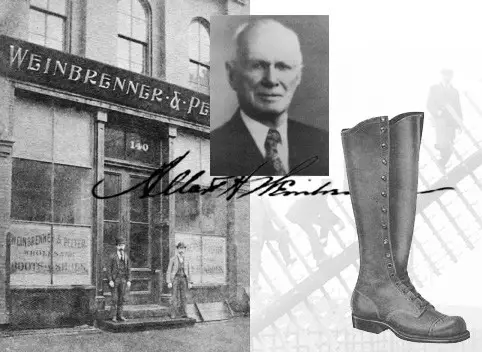 They have a variety of over 125 styles of American Heritage Footwear. Throughout, the company has manufactured footwear for every type of working American. The company came up with the idea of stepping into making safety footwear in the year 1938 to expand its reach and impact on customers of different working backgrounds.
Contribution to the military:
Weinbrenner Shoe Co. has gained its prestigious reputation by providing the U. S. Military with the necessary footwear during World War 1 and World War 2.
History of Wolverine Work-Boots
According to their story, generations have trusted them for over 135 years because of their excellence in production and ability to help workers forge ahead. One of their taglines suggests- "We are not good because we are old, we are old because we stayed good". In the year 1883, G. A. Krause founded a small leather tannery with a handful of employees.
With persistent craftsmanship their Michigan based company started producing work-boots and gloves, known for their comfort and durability. By the year 1903, Krause and his sons started manufacturing 300 boots per day in their new factory. Due to their superiority in business, they brought electricity in Rockford, Michigan.
Comparison Between Thorogood and Wolverine Boots
To deduce the better pair among these two, I will compare them point by point, stating the key factors like-
Cost/Value.

Durability.

Toughness.

Ease of breaking-in.

Outsole and Insole.

Material.

Insulation.

Waterproofing.
It will be easier and informative for you to choose your preferred pair by contrasting them on the basis of the above factors.
Category
Thorogood Boots
Wolverine Work-Boots
Cost

Price ranges from 100$-260$. Sometimes even exceeding 260$.

Comparatively costly. 

Price ranges from 40$-170$ depending on the quality and work environment. Comparatively cheap.

Durability

From a brand with longstanding, marked heritage. These boots may last for as long as 4 years.

These boots generally grants 1 year defect policy.

They don't have a reputation of getting better with age.

Particularly the Wolverine 1000 miles, as the name suggests, are built to last for 1000 miles. Taking everything in to consideration, these boots may last up to 3 years.

Toughness

The company doesn't compromise in using the best material to manufacture these bad boys.

The steel toes provided are ASTM-rated against compression.

Due to its steel toe option (a must for workers) and a 6 inch leather wedge heel style, it is also an ideal work-boot in the field-work requiring sufficient toughness.

Ease of break in

Since these boots are made up of excellent quality materials, 

An unbroken pair

of Wolverine boots may take 3-5 weeks to break-in by wearing them all day, every other day.

Outsoles Insoles

The Thorogood Polyurethane Max Wear Sole is the current best sole used for comfort, durability and resistance to slippery surfaces.

Wolverine work-boots use Wolverine WO3123 Dura-shock SR Boot with advanced slip resistance.

A Polyurethane outsole resists stains.

Material

Made with the finest USA leather materials.

The company claims that these heavy-duty boots are also made with quality leather and 'globally sourced' materials.

Insulation

These boots promise to provide proper insulation against extreme temperatures.

These provide insulation in different levels of warmth to keep you comfortable in all types of weather, all day long.

Water proof

Waterproof and breathable.

These boots are water resistant too.
Frequently Asked Queries:
Are any of these boots worth the money?
Yes, absolutely! After evaluating the customers' reviews from shopping sites such as Amazon's and adding my personal experience to it, I would highly recommend you to go for these sturdy, durable and fashionable pairs.
What do Thorogood boots specialize in?
Designed for adventures, these are an excellent choice for hiking, hunting, mountaineering and other outdoor activities. Due to their popular durability, toughness and steel toe fitting, they happen to be an apt choice for workers.
What are the different variants of Thorogood and Wolverine Work-Boots?
Some of the popular Thorogood boots include-
Thorogood Men's Safety Toe Work-Boot.

Thorogood Men's Side Zip Jump Boot.

Thorogood Men's Plain Toe Boot.

Thorogood Men's Waterproof Composite Toe Boot.

Thorogood Men's Wellington Work Loggers.
Some of the popular Wolverine work-boots include-
Steel Toe Wolverine Work-Boot.

Soft Toe Work-Boots.

Wolverine Work-Boots with different Lacing system.

Composite Toe Wolverine Work-Boots.

Wolverine Moc Toe Work-Boot.
Final Review:
As we have reached the finishing line, I have succeeded in giving you a clear opinion about which pair to select, that suits your work-place the best.
Either way, when you purchase any of these two, you are certain to buy a tough, sturdy, comfortable, stylish and durable pair of safety footwear.
I give my word to come up with more information on products related to your safety and protection, in future.
Till then! Boost up your confidence!
Work hard and take very good care of yourself and your loved ones!