Cowboy boots are a timeless and iconic fashion item known for their style and adaptability. They were initially intended to be functional footwear for cowboys, but they have now become a fashion classic.
Many people wonder if cowboy boots are okay to wear with khakis, and the answer is absolutely! 
Cowboy boots go well with a range of pants, including khakis. Cowboy boots, when worn with khakis, can add a touch of western flair to a relaxed and comfortable outfit. This outfit is ideal for doing errands, attending casual events, or simply hanging out with friends.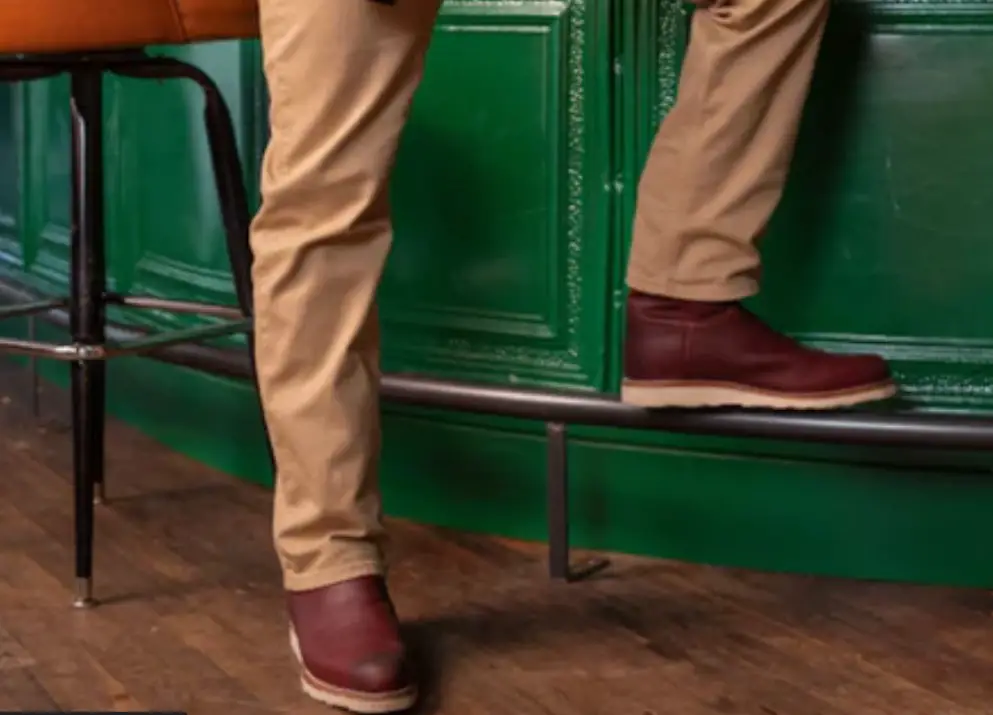 Even if the combination works well together, knowing how to dress them is essential.
Therefore, in this article, we'll talk about different ways to style your khakis with cowboy boots.
How to Style Cowboy Boots With Khaki Pants
The fact that khakis work nicely with cowboy boots is because they typically come in earthy tones like brown or olive. There are different ways in which you can style your khakis with cowboy boots.
1) Cowboy boots can be worn with khakis that have a flared bottom. The majority of people who wear cowboy boots enjoy this look. Boot-cut pants are ideal for this outfit because they are made expressly to be worn with boots.
Boot-cut khakis successfully accommodate boots by having a slight flare at the bottom, allowing the boots to sit comfortably.
The rest of the pants are regular fit, so the flared bottom doesn't look out of place.
2) Cowboy boots may not go well with khakis that are slim-fitting or tapered. The majority of people who wear cowboy boots think it's odd for men to expose the shafts of their boots, unless they're striving for a trendy, modern style.
3) It's imperative to leave your khakis untucked when sporting cowboy boots with them. Though it could be tempting, you should refrain from tucking your khakis into your cowboy boots.
4) Women will have an easier time combining skinny khakis with cowboy boots. And tucking the pants into your cowboy boots might be a terrific way to show off your legs. This look is more prevalent among women than among men.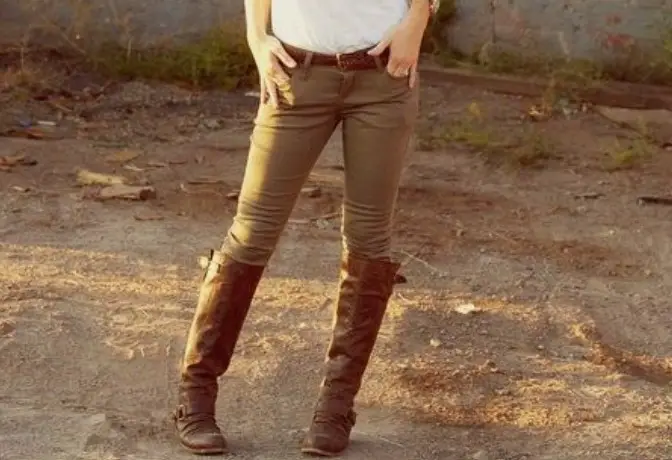 Nonetheless, if you have slim-fitting khakis and appreciate the look of tucking the pants into cowboy boots, don't let societal rules prevent you from doing so. Cowboy boots with khakis are acceptable in any case.
In fact, a lot of people pair these two things together since they go so well together.
5) To avoid appearing overly formal or flashy, select boots with fine shafts or minimal detailing.
6) Wearing a belt isn't required, but it's highly suggested. The fact that a belt keeps your khaki pants from falling down means they won't rub against the heel of your boots or the floor when you're wearing them with cowboy boots.
Make sure the two pieces of clothing coordinate if you choose to wear a belt with cowboy boots.
Consider wearing a tan leather belt along with your tan cowboy boots.
On the other hand, a black leather belt is your best bet if you decide to wear the more uncommon black cowboy boots.
When should you pair khakis with cowboy boots?
There are many situations in which you should, or at the very least, could, wear khakis and cowboy boots together. Cowboy boots with khakis are a terrific choice for a variety of occasions, from relaxed visits to the mall to business-casual work environments.
They are casual enough to keep you from seeming overdressed while also being trendy enough to keep you from looking sloppy.
Cowboy boots with khakis can be worn in a variety of settings and occasions, such as:
1.) Casual occasions: For casual occasions like outdoor barbeques, picnics, and weekend outings, cowboy boots with khakis are a terrific alternative.
2.) Country-themed events: Cowboy boots and khakis are a terrific choice for creating a western-inspired outfit if you're attending a country-themed event.
3.) Work: If the dress code at your place of employment is casual, pairing cowboy boots with khakis can be a chic and professional look.
4.) Dates: For a laid-back date, like one to the movies or for lunch, cowboy boots and khakis are a terrific option.
Finally, the appropriateness of cowboy boots with khakis is determined by the dress code and cultural norms of the specific event or occasion.
Which colour of boots looks best with khakis?
Khakis look good with neutral hues like brown, tan, olive, and navy. Darker khakis might look good with dark brown or black boots.
It's important to avoid making your cowboy boots and khakis too radically distinct from one another, given that khakis are often light-coloured pants.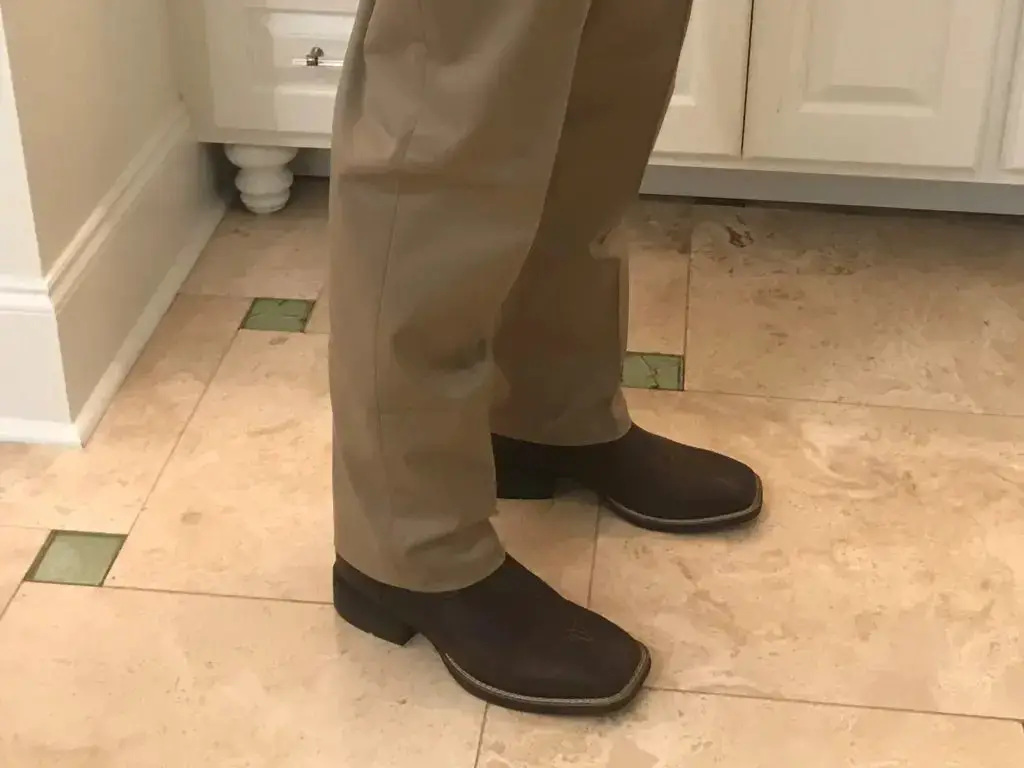 If your khakis are relatively light, go for light-coloured cowboy boots in tones of brown or olive. Shiny black boots won't go well with khakis that are incredibly light in hue. 
To avoid a clashing colour scheme, avoid wearing light brown or light olive boots with really dark khakis.
You should also take your shirt's colour into account when choosing what colour cowboy boots to pair with your khakis.
Cowboy boots look great with a burgundy shirt and khakis as long as they are in light or medium tones of tan, grey, navy, or cream.
Unless your khakis are quite dark, black boots might not be the ideal option if you're wearing a navy shirt. Black and navy together are usually seen as unsightly.
However, if you want to wear blue and black together, don't totally abandon the idea because some places consider the contrast to be elegant.
Conclusion
Cowboy boots can be worn with khakis, depending on your personal style and the specific pieces you wear. While some would think the two pieces don't go together, others might think they do and that the combination provides a fashionable and polished look.
In general, the combination of khakis with cowboy boots can be both fashionable and practical for a variety of occasions. Make sure the items you choose fit comfortably and go well with your personal style.