Can you think of a clothing item that could cover your entire body, protect it from the elements and still keep you cool and comfy? Well, we can give you two instead of one.
Jumpsuits and coveralls, with its seemingly physics defying tailoring will cover you from top to bottom. But they are indeed different in why and how they are worn.
I bet you must be curious to know what those differences are. Read on to find out.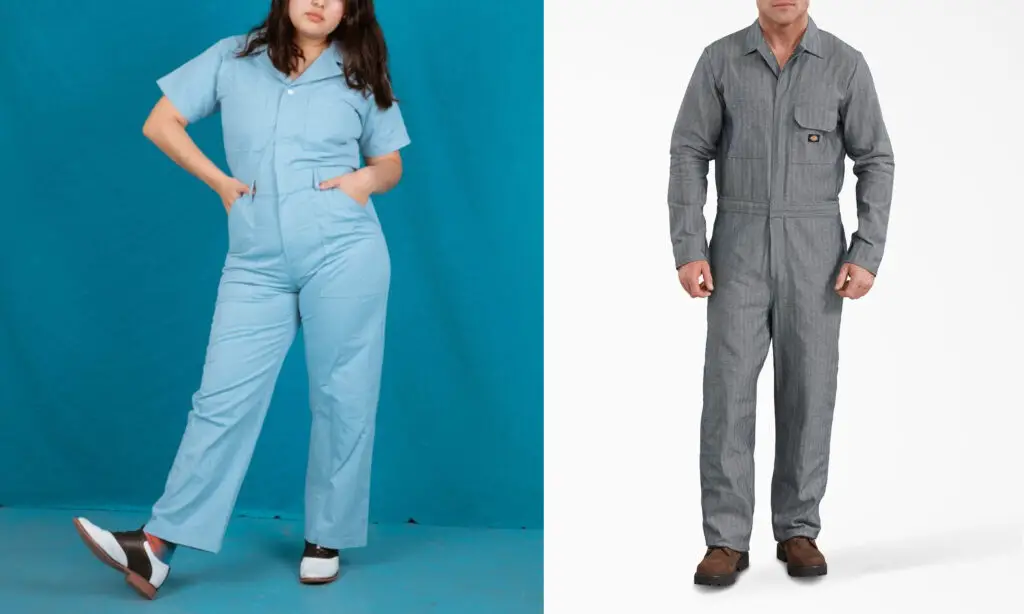 Jumpsuit Vs Coveralls 
The coveralls or overalls, as they are called in Europe, are to be worn over your clothes. They will protect your clothes from getting dirty or tattered and would protect you from burns or injuries. Coveralls are hence meant to be a type of protective garment that is used at the workplace. 
Jumpsuits on the other hand are just one-piece garments. They were as the name suggests, initially worn by parachutists but later evolved into a popular chic attire.
Jumpsuits are so versatile that they can be worn as formals or casuals or work-wear.  Jumpsuits are more of a feminine attire and are indeed more popular among women whereas coveralls shine brighter as a proper work attire. 
Pros and cons of jumpsuit 
A jumpsuit could be anything,- an elegant integration of a blouse and trousers, a stylish and hip casual outfit or a mechanic's work-wear- and this flexibility of the attire to don whichever role we require it to play is what makes jumpsuits one of a kind. 
Well if you were wondering if you should go get yourself a jumpsuit it's best to weigh in the pros and cons before making a final decision. 
Pros: Why should you buy a jumpsuit? 
Most people just fall head over heels in love with jumpsuits because of these amazing features: 
1.) Since jumpsuits are one-piece garments, you do not have to worry about which top goes with which bottom. You have to put in little to no effort to look put-together and super stylish. 
2.) Since the top and bottom are sewn together you do not have to worry about tucking in the top and keeping it the same. 
3.) You can move around in them with ease. You can run, climb or dance without any inhibitions or doubts. 
4.) They are really versatile and can be styled in casual and formal ways as well. 
5.) They cover up the whole body protecting the skin from harsh nippy winds or the scorching hot sun. 
Cons: Why should you not buy a jumpsuit? 
Even though jumpsuits might seem to be a perfect garment, the following issues might actually make you rethink your decision. 
1.) It might be a bit of a tedious task to find jumpsuits that fits you perfectly. 
2.) Using the restroom would be a real cumbersome thing. 
If you know how to find the right fit for jumpsuits for yourself and if you are not someone to visits the washroom way too many times, jumpsuits will be a perfect option for you. 
Pros and cons of coveralls 
Pros: Why should you say yes to coveralls? 
Do you know when and why you should say yes to coveralls. Read on to find out.
1.) Coveralls are your go-to option if you are bound to create some mess at work and would prefer to keep your clothes clean. 
2.) Coveralls are apt for extremely cold conditions as they will keep your entire body warm. 
3.) Coveralls will protect you from hazardous chemicals. 
4.) They will protect you from harsh sunlight, flames or fire and even electric shocks. 
5.) Coveralls usually come with quite a lot of pockets, so you can carry around those tools and stuff with ease. 
See also: What Are the Advantages of Wearing Coveralls?
Cons: Why should you say no to coveralls? 
Just like the two sides of a coin, every garment has got its own pros and cons. You have seen what makes coveralls such a desirable work-wear, but do you know what cons of coveralls would bring a frown upon your face. 
1.) Going to the restroom would be one troublesome thing. 
2.) The upper part of the coveralls ought to be roomy enough. 
3.) Coveralls are not easily adjustable and hence you should find one that fits you perfectly. 
Jobs that need jumpsuits 
Painters, construction workers, mechanics, race car drivers etc commonly use jumpsuits as work wear. You can even go for formal jumpsuits even if you do have a white collar job or a formal party you have to attend. 
Jobs the need coveralls 
Factory workers, electricians, people working at subzero temperatures or anyone dealing with hazardous chemicals or boiling or molten substances will definitely require the amount of protection provided by coveralls. 
How should jumpsuits fit? 
Since jumpsuits are one-piece garments they must not fit too tight or too loose. It shouldn't be too tight over the shoulders and around the buttocks or crotch.
You must be able to comfortably get into them and remove them and therefore the top part of the jumpsuits must fit a little loose. The length of the jumpsuit must be just above the ankle or the top of your footwear.
When buying jumpsuits make sure to try them on in person to find the right one that fits you perfectly. You should also take into consideration your body type when getting yourself a jumpsuit.
If you have broad shoulders or is a bit bottom heavy you should find a type that caters to your needs and gracefully accentuates your body. 
How should coveralls fit? 
Coveralls should always fit a bit loose as they are meant to go over your clothes. Coveralls must be baggy around the chest, the waist and the knees to facilitate ease of movement.
You should also make sure that they are not too baggy or moving around in them will be difficult and you will end up looking like a potato sack. When buying overalls you can go for a size or two bigger than your normal size for a comfortable fit. 
Conclusion
Since you have figured out the differences between and the pros and cons of jumpsuits and coveralls, I do hope that you will be able to figure out which one you should get depending on your requirements.
So I do hope you guys will go to the nearby store and get yourself a pair that fits you perfectly and would thank me for this article when you enjoy the comfort of your jumpsuit or coverall. 
Until you find another helpful article like this from me, it's adios from me dear amigos!! 
Don your jumpsuits and coveralls with comfort, confidence and style.