Too often we hear the term dri-fit clothing from our athletic friends or the ones who go to gym, who praise how great it is, especially in hot and humid temperatures.
It keeps you dry and comfortable even while you exercise, allowing your body to stay cool and fresh. Just like cotton, but with far better properties. 
But, despite the fact that we are constantly hearing about this fantastic product, do we really know what it is?
If you want to get right to the point, Dri Fit apparel is mostly constructed of polyester. Also, dry-fit clothes are designed to fit perfectly on the body and carry perspiration from the skin to the surface, keeping the body dry. It is a perk, especially if you're someone who sweats profusely.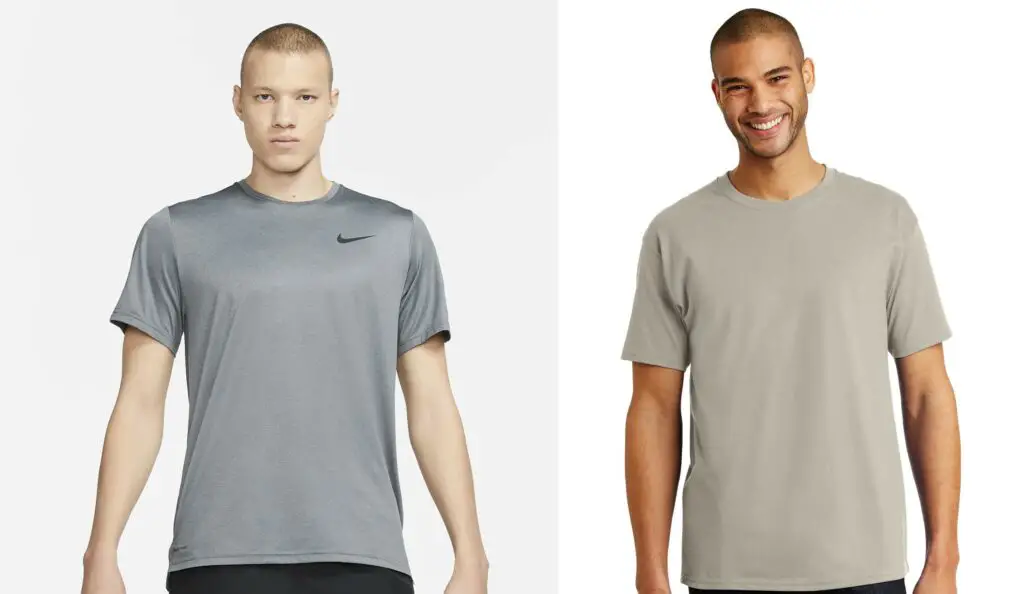 When it comes to absorbing sweat and keeping the body fresh and dry, then dry-fit fabric performs much better than cotton. It offers moisture-wicking qualities that drain moisture away from the skin and enables it to disperse on the fabric's exterior, whereas cotton does absorb sweat but it does not wick away moisture. 
Let us have a look at some of the differences between cotton and dri-fit fabric. 
Cotton 
→ Cotton is a natural fibre that is suited for all skin types. Unlike synthetic fibres such as rayon, nylon, polyester, and spandex, cotton is natural and does not irritate the skin. 
→ Cotton's texture is soft and flexible, making cotton clothes comfortable enough to wear for extended periods of time, especially during summers. 
→ Cotton fabric is quite breathable. It is excellent in absorbing and evaporating sweat, hence preventing irritation such as perspiration odors. 
→ Cotton is stain-repellent, which makes cotton t-shirts relatively easy to clean. 
Dry-fit
→ Dri-fit fabrics are breathable because of their fine fibres, regardless of the weather or the intensity of your exercise. 
→ Dry-fit fabrics are lighter than other fabrics, which is a desired attribute if you are exercising or participating in sports. 
→ Because of its moisture wicking ability, dri-fit fabrics dry rapidly. This function not only keeps you cool and dry during sweaty exercises, but it also means your clothes will dry faster after washing. 
→ Dri-fit fibre is extremely resistant to wear and tear. They are also more machine-washable, making them easier to care for. 
→ Dri-fit fabrics do not wrinkle easily, so you do not need to waste time ironing them.
So what exactly is this dri-fit technology? 
Dri-fit technology incorporates the use of polyester fabric to help transport perspiration from your body to the fabric's outer layer.
Moreover, the microfiber material helps to properly disperse your sweat across the clothes, allowing you to stay drier for longer.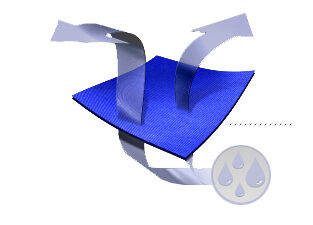 This design is intended to cooperate with the body's natural cooling system to guarantee that moisture evaporates quickly. 
Also, perspiration does not weigh down the cloth. The even distribution factor aids in the evaporation of perspiration before it is absorbed by the fabric.
This apparel may be used as a base layer on lengthy excursions or when the weather cools down. Its capacity to wick moisture away helps you to stay dry even while you sweat profusely.  
See also: Are Cotton Shirts Better Than Polyester?
How does this dri-fit technology work? 
As we have already mentioned above, dri-fit clothing absorbs the sweat produced by your body when it heats up and this moisture is then swiftly moved through its fibres to a location outside where it may be evaporated by the air. 
Because the microfiber polyester is engineered to be breathable, you should have plenty of airflow. That ventilation will keep you cooler and your body sweating less, and you stay drier even while you exercise.
Whether you're in a cold environment or live in an extremely hot and humid climate, your dri-fit clothing is suitable for both environments because of its temperature regulating property. 
It's not only for exercises or sporting events. Dri-fit may be worn in practically any casual occasion where you want to remain cool while yet looking your best.
Benefits of dri-fit fabric
1.) Extremely lightweight
Dri-fit fabric consists of polyester interwoven microfiber. With one major exception, microfiber is manufactured in much the same way as conventional polyester material.
Microfiber strands must be smaller in diameter than a single strand of silk, a measurement known as a denier. This indicates that microfiber cloth is lighter than silk.
2.) Water-resistant
Dri-fit fabric goes above and beyond normal polyester. A well-made synthetic material is hydrophobic, which means it is resistant to moisture.
Because the fibres do not retain water or perspiration, moisture passes via microscopic spaces between threads.
Moisture spreads over the surface of the substance once it reaches the exterior of the material. It then vanishes into the air. 
3.) Helps against bacterial infections
Antimicrobial treatments help prevent this material from one of polyester's major flaws, its tendency to cling to unpleasant odors.
Polyester has a tendency to stink after extended use. Special treatments, on the other hand, can prevent germs and or buildup in high-performance textiles.
4.) Durable
Dri-fit fabrics are also more durable than most natural fibres. Your clothes will endure for a long time without tearing, wrinkling, staining, pilling, or fading.
5.) Body-mapping feature
Body Mapping is one of the distinguishing features of Dri-fit clothes. To activate the sweat-wicking function, these clothing should adhere to the features of your body. They also have separate mesh panels at prime places to improve ventilation.
Here are some disadvantages of dri-fit fabrics:
1.) Since it is a synthetic fabric, dri-fit fabrics, because they're made of polyester or nylon, lack the softness of cotton. 
2.) Dri-fit microfiber has a coarser feel than cotton, making it unsuitable for sensitive skin types. Also, because the material is synthetic, some people may have skin discomfort after wearing them.
FAQs-
Is dri-fit fabric waterproof?
Since they're mostly made of polyester, dri-fit fabrics are very water resistant, though they are not completely waterproof. But they can always be made waterproof by applying a layer of waterproofing spray. 
Do dri-fit fabric shrink?
Dri-fit fabric will not shrink if proper care is taken. Some versions of this material have a combination of other fibres, such as polyester and cotton. When exposed to heat, cotton tends to shrink. 
Tips on how to clean your dri-fit apparels
Dri-FIT clothing requires easy, little maintenance to stay in great condition. Taking these precautions will keep your sports clothing from shrinking or being damaged in the wash:
1.) Make sure to turn your dri-fit clothes inside out before you put it in the washer. This prevents them from catching on zippers or snaps when they tumble through the washing machine. 
2.) Next, make sure you wash your dri-fit clothes in cold water. If your garments have cotton fibres mixed in with the polyester, hot water may cause shrinkage. 
3.) Use your standard washing detergent, but leave out any fabric softeners, since some of these treatments might block the area between the fibres of dri-fit t-shirts, compromising their wick absorption characteristic. 
4.) Once you're done washing, do not dry your dri-fit clothes in the dryer. Instead, hang your clothing to air dry. 
5.) When washing, avoid combining dri-fit fabrics with other fabrics. Washing cotton and microfiber shirts together may result in lint accumulation. 
Conclusion
Cotton and dri-fit are both amazing fabrics, however, one is made of natural material while the other is synthetic.
And because of the synthetic blend in its nature, dri-fit is more beneficial if you're someone who enjoys working out, trekking or going to the gym. 
You need clothes that are comfortable, durable, moisture wicking also something that doesn't make your body stink, and all these are provided by dri-fit fabric alone.