You must be wondering what does starching of clothes mean. It is a process that adds crispness and structure to our clothes.
We wondered how the collars of our shirts appear hard and crisp as compared to the rest of the body, all thanks to the starching process that makes it so.
So why do cowboys starch their jeans?
Cowboys don't have time to get their clothes dry cleaned when they're on the road competing or working in a ranch. So as a result, they choose to starch their jeans, which makes it appear crisper and dirt-resistant.
Dave Barker, owner of the famous drycleaning store in Texas 'Drycleaning by Dave', says that, "The reason the cowboys and cowgirls like it so much is that the starch impregnates the fibre and creates a seal, and dirt just slides off. You can actually slide through the mud, let it dry, and the dirt will slide right off when you rub it."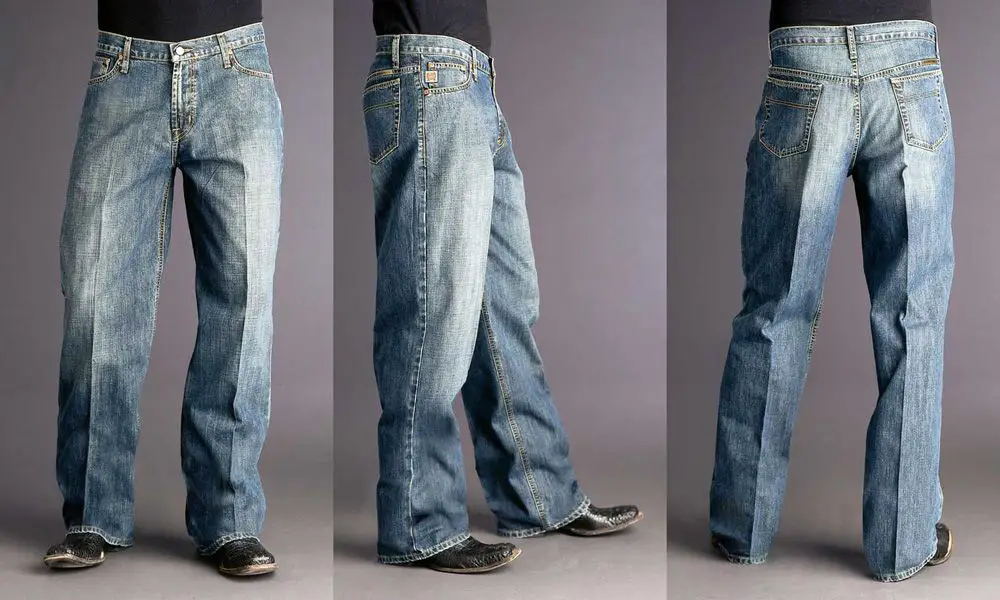 Barker also claims that after the jeans have been dry-cleaned at his store, they can literally stand up on their own. It takes two hands to open a pair of jeans after they have been dry-cleaned and pressed.
So much for jeans needing a pair of legs to stand up!
So let us understand a little history behind the starching of clothes. It's a common misconception that starching was introduced in the 16th century, when it was required for elegant ruffs and fluted collars for the nobles, but this isn't true.
Starch had long been used for luxury linens and laces, but in the 15th century, starch production in Northern Europe became more commercial.
We need to understand how the process of starching is done. First, there are some specific dry cleaners who especially deal with jeans that need starching.
But there are various ways that the cowboys follow in order to starch their jeans at home. It's easy to starch a pair of jeans by just following a few simple steps:
Wash the denim
let it dry and then lay it on a flat surface
If you have a can of sprayable starch on hand, all you have to do is evenly spray it on the denim
And at last, iron it.
Some even suggest you spray the starch once again after ironing. Well, that totally depends on how much starching you need on your jeans.
So here I present to you with reasons as to why do cowboys starch their jeans:
Starched jeans create higher resistance to wrinkling
Jeans are riding pants, they're the most comfortable work clothes. But sadly, with the growing nature of the corporate lifestyle, people have drifted towards formal clothing more.
But what can beat the comfort of a pair of jeans and a t-shirt, right?
Jeans are meant to fit tightly without wrinkles in the seat and legs for comfort, sitting long hours in the saddle so starch helps to toughen them, ensuring that it does not wrinkle all through the day. Nobody likes clothes that have wrinkles, because they are not at all appealing.
And in order to look our best, we require clothes that do not have wrinkles.
Come on, when have we ever encountered a cowboy with wrinkly, baggy clothes? Never, right?
That's because they are super particular about their clothing which means taking care of those creases too.
And what's best?
Wrangler has dedicated a whole collection of its jeans keeping the cowboy community in mind. (Wrangler Men's Cowboy Cut Original Fit Jean) (Wrangler Men's Premium Performance Advanced Comfort Cowboy Cut Reg Jean)
These comfy, long-lasting jeans have a classic neolite patch, five-pocket design, and a distinctive 'W' stitching, as well as all the authentic touches you'd expect from a cowboy classic. Their each design and style is cut to fit over those classic cowboy boots!
Apart from Wrangler, Levis (Levi's Men's Western Fit Cowboy Jeans) and Ariat (M5 Slim Gambler Stackable Straight Leg Jean) too are brands that cater to the need of cowboy jeans. Both are engineered with technology that gives durability and customizable ease over boots.
Prevents clothes from soiling easily
Imagine never having to worry about staining your favourite outfit?
This is something many people don't realize but starched clothes are easier to clean because dirt and dust rather stick to the starch in the outer layer than the fabric inside. So by sealing the individual clothing strands, starch protects the clothes from stains.
Since dirt and sweat stick to the starch as opposed to dirty clothes, it makes removing stains easier with less damage to your clothes.
It can be used to protect clothing that cannot be washed with water and also allows you to go longer between dry cleaning trips, which can be pretty time consuming.
Well this point makes me want to starch my whole wardrobe!
Typically, an item of clothing can be worn two or three times before needing to be dry cleaned again, making it ideal for cowboys who spend their entire day out in the dust.
See also: 7 Most Durable Jeans for Construction Work!
Adds crispness and gives structure to jeans
Starch is probably related to the clean, crisp appearance it tends to give to your clothes. Even for aesthetic reasons, starch is widely used to make clothes look crisp, stiff, and wrinkle-free.
We all can agree that riding, tending to horses or working in a ranch and doing the things cowboys do would be impossible in baggy jeans.
Tight jeans have more appeal and look and even fit better, and that is why we see cowboys authentically dressed in crisp fitted jeans, shirts that are buttoned down and tucked in, and the all time famous cowboy boots and hats!
But using starch on clothes comes with its disadvantages too. Now let us understand the pros and cons of using starch on your clothes.
Pros:
Gives you good fit by resisting wrinkles
Hassle free cleaning as starch makes your clothes dirt resistant
Adds crispness to your clothing by avoiding limpness
Cons:
Starch can scratch and irritate the skin if your skin is sensitive
It can shorten the life of your clothes
Over time, the starch residue can settle into the clothes, causing fibers to break and rip
And because it makes the clothes stiff, it can be uncomfortable for some
Conclusion
Starching of clothes has been going on for as long as one remembers. A youtuber by the name of Heavy Duty Country, in his video on how to starch your denims at home, mentioned that whenever he went out without wearing a starched denim, his family would not be very happy about it.
How to Starch Your Jeans Like a COWBOY
So this tells us about the intensity of the culture that people have developed right from the very beginning.
Cowboys have made it their signature style when it comes to heavy starching their denims for a crisp and structured finish.
It works in perfect alignment with their lifestyle and the kind of work they do, making them look super stylish and never losing their classic, authentic cowboy look.