Just because it rains doesn't mean that you can stay home from work. Bad weather or not, work continues, and this is the principal reason that good gear for rainy weather becomes essential.
Wet weather gear is the solution, and your most important piece of clothing will be an appropriate rain jacket.
We researched and tested some of the very best rain jackets available to save you some time looking for the best rain jacket for fieldwork. Keep reading to discover what we found out while on the job in rain and quite a bit of mud!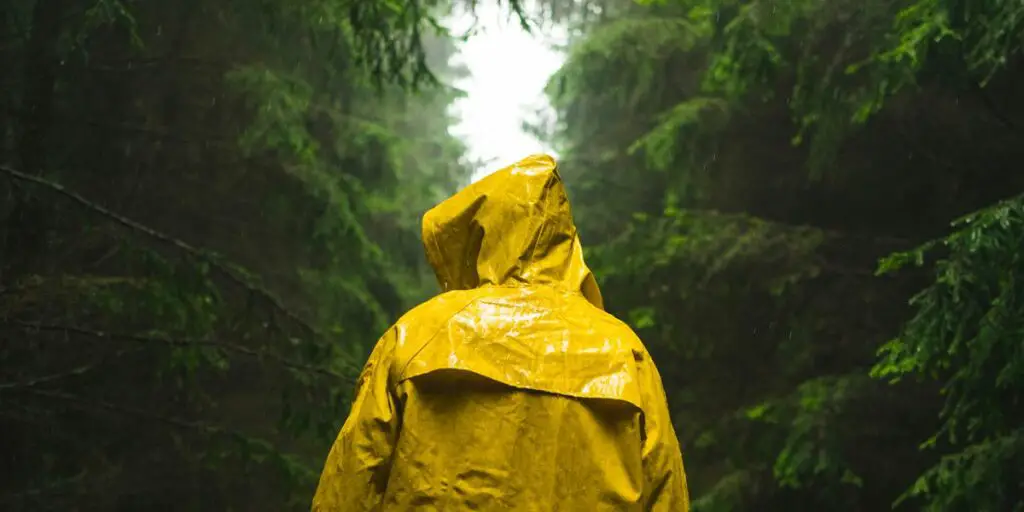 Our top choice is the Marmot Minimalist Rain Jacket because it ticks all the boxes offering the essentials in intemperate weather. Nonetheless, we found several best rain jackets for varying preferences, and all are quality products that merit attention and consideration.
The Reviews
Best Overall Rain Jacket for Field Work
1.) Marmot Minimalist Rain Jacket
Marmot Men's Minimalist Lightweight Waterproof Rain Jacket
SUPERIOR WEATHER PROTECTION | Rain jacket for men with GORE-TEX Paclite fabric thats lightweight and packable, yet durably waterproof, windproof, and breathable; 100% seam taped to prevent leaks

PFC-FREE DWR FINISH | Environmentally sustainable PFC-free DWR (Durable Water-Repellent) finish repels water from the fabrics surface

UNDERARM PITZIPS | Heat-releasing PitZips provide ventilation under arms to regulate body temperature

ARTICULATED ELBOWS | Articulated elbows increase mobility
Prices pulled from the Amazon Product Advertising API on:
Product prices and availability are accurate as of the date/time indicated and are subject to change. Any price and availability information displayed on [relevant Amazon Site(s), as applicable] at the time of purchase will apply to the purchase of this product.
If you are searching for a lightweight rain jacket that offers the essentials for fieldwork, you can't do much better than this jacket by Marmot.
Made of 100% polyester, it uses Gore-Tex and Paclite technology to ensure waterproofing and breathability in the same jacket. Seams are taped so water will not enter. The attached hood is adjustable.
This jacket not only features a zipper closure but also comes with pit zips that you can open to adjust temperature and offer you increased airflow for comfort. The hem has a drawcord for a customized fit. Hand pockets are zippered as is a chest pocket for valuables.
Produced in sizes small through XX-Large, it is available in two shades of black, blue, and grey.
Pros
Gore-tex and nylon

100% recyclable

Blocks wind

Zippered pockets 

Adjustable Velcro cuffs, drawcord hemline, and hood

Pitzippers for comfort

Weighs only 0.94 lbs.
Cons
Design can be too roomy for some
Check Price and Reviews on Amazon
---
Best Value Rain Jacket for Field Work
2.) Patagonia 3L Torrentshell Rain jacket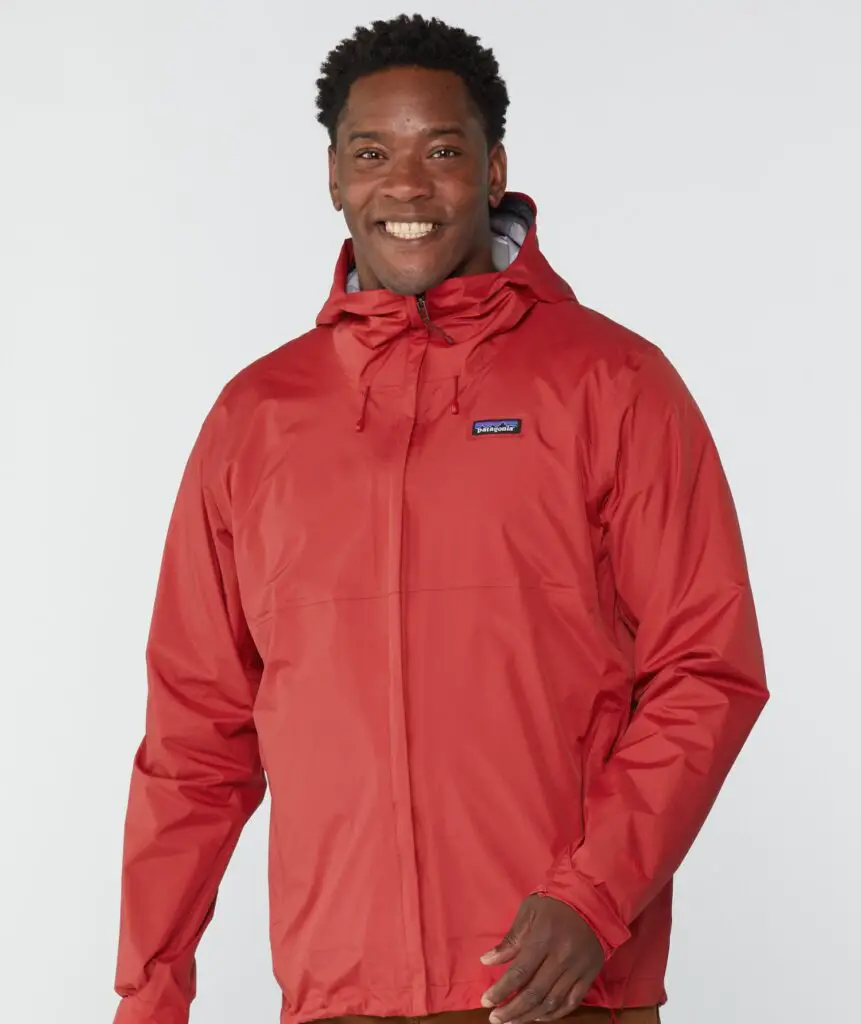 This rain jacket from Patagonia keeps you dry and shielded from the elements. This is a sustainable rain jacket that uses 100% recycled nylon, sewing that is Fair-trade, and a polyurethane membrane that has 14% of recycled materials.
Treated with DWR, this coating can be rejuvenated when it wears out. Patagonia also offers a "Worn Wear" program for repairs.
Patagonia distinguishes itself from the crowd with this jacket alternative that is resource-friendly and costs less than many competitor jackets.
This jacket guarantees breathability while protecting you from both the wind and the rain. It features an adjustable hem drawcord, pockets lined to warm hands, and a bit of fleece at the neck affording both warmth and comfort.
The jacket weighs 0.84lbs and comes in sizes from XSmall through XXLarge in five colors.
Pros
Waterproof breathable 3-layer polyester

DWR coating

Made with recycled materials

2-way hood is adjustable

Microfleece lining at the neck

Storm flaps

Jacket folds into left pocket for easy storage and portability

Bluesign

®

certified as environmentally friendly
Cons
No pockets for phone storage or accessories

Center flaps can stick in the zipper
---
Best Budget Rain Jacket for Field Work
3.) Columbia Watertight Jacket for Work
Columbia Men Watertight II Jacket
Waterproof nylon shell durable enough to withstand anything from drizzle to downpour at a moments notice.

HANDY FEATURES: This rain jacket features an abrasion resistant chin guard, two zippered side pockets, elastic cuffs, and an elastic hem.

COMFORT & WARMTH: Crafted of a waterproof 100% nylon shell, this rain jacket is lightweight while remaining protective. It also packs into your hand pocket.

SNUG FIT: Elastic details and a zippered closure provide a snug, yet comfortable fit that allows for movement.

OMNI-SHIELD - Go ahead, try and get dirty. Omni-Shield helps you stay clean and dry by resisting the absorption of liquids.
Prices pulled from the Amazon Product Advertising API on:
Product prices and availability are accurate as of the date/time indicated and are subject to change. Any price and availability information displayed on [relevant Amazon Site(s), as applicable] at the time of purchase will apply to the purchase of this product.
Compared to other rain jackets, this jacket by Columbia is exceptionally budget-friendly. Very lightweight at 0.9 pounds, it nonetheless offers two layers and a lining in mesh. Made with a waterproof 100% nylon shell, it features a 100% polyester lining for breathability.
A zipper closure together with an adjustable drawcord hem and Velcro cuffs offer a customized fit. The chin guard is abrasion resistant and the adjustable hood adds to the convenience of this jacket.
Two zippered pockets keep accessories safe. Sealed seam construction keeps you dry and warm. Sizing ranges from small to 6XBig and it comes in over 25 different color choices. For the price, it is unbeatable for yard work.
Pros
Waterproof

Sealed seams

Adjustable waist, cuffs, and hood

Zippered pockets 

Lightweight

Lots of sizes and colors

Machine washable

Affordable
Cons
No pocket for hood stowaway
Check Price and Reviews on Amazon
---
Best Thick Rain Jacket
4.) North Face Resolve Rain Jacket
The North Face Men's Resolve Waterproof Jacket
STAY DRY. Made with a 100% nylon ripstop DryVent fabric, this jacket features a Durable Water-Repellent (DWR) Finish helps keep you dry when rain strikes.

STANDARD FIT. Lightweight and designed for hiking, this standard fit jacket fits over sweaters and zip-up jackets for comfortable layering.

STOW-AWAY HOOD. This versatile rain jacket features an attached, adjustable hood that stows in the collar when the weather clears up.

CUSTOM FIT. Elastic cuffs fit over gloves and a hem cinch-cord lets you customize the fit at the waist. A storm flap with a hook and loop closure covers the center front zip.

SECURE STORAGE. Secure-zip hand pockets safety store your phone and wallet while youre on the go.
Prices pulled from the Amazon Product Advertising API on:
Product prices and availability are accurate as of the date/time indicated and are subject to change. Any price and availability information displayed on [relevant Amazon Site(s), as applicable] at the time of purchase will apply to the purchase of this product.
Most rain jackets are considered shells that are specifically made to be lightweight and easily carried. This jacket does not fold in a pocket, but it can be rolled into its hood.
It is a bit bulkier than other jackets; it is made with two layers. The outer layer is 70D nylon coated with polyurethane for waterproofing. 
The inner lining is polyester including a fleece-like fabric that is soft and warm. Seams are sealed on the inside, so there should not be any leakage. Side pockets are zippered, and the main zipper is covered with a Velcro attaching cover.
The adjustable hood fits in the collar. Sleeves feature elastic cuffs, and the collar is quite high for protection.
Pros
Waterproof

Windproof

Good fit

Seams sealed inside

Lifetime warranty
Cons
Could use better breathability

Elastic cuffs would be better with a Velcro closing
Check Price and Reviews on Amazon
---
Good quality rain gear is crucial to your staying productive and can influence your safety depending on your profession.
It's easy enough to think 'I'll just throw on a rain jacket'. But if all that layering translates into heavy and weighs you down? Discomfort and a limited range of movement may result in leaving you tired, irritable, and with less energy to get the job done.
Rain Gear for Outdoor Work in the Field
The two essential factors to consider when evaluating rain gear are waterproofing and the ability to perform the task at hand when wearing waterproof clothing.
If you are going to be working on the land, out in the fields, you are also going to encounter mud and probably a lot of it.
If you are in the agriculture industry, you are going to need rain gear that distributes its weight so you can move about easily.
Keep in mind that the word "rain" encompasses quite a wide spectrum of weather from the light brief shower to a heavy downpour. So, you'll be considering several aspects of a rain jacket in your search. 
The Essentials
A good quality rain jacket will be comfortable, help maintain the correct body temperature during movement, offer warmth but not heat, and keep you dry. Here's what to look for:
1.) Waterproofing. If a jacket isn't waterproof, what good is it? A jacket may feature a great design, with convenient pockets and whatnot, but if it doesn't keep you dry in a downpour, you will be miserable and may even get sick as a result.
2.) Weight. While rain jackets must undoubtedly repel water, if this happens at the expense of your personal comfort and mobility, you are not going to be giving a top performance at work.
Heavy jackets or jackets that tend to sag and weigh down a pro will be cumbersome when trying to work. A lightweight jacket will afford you the advantages of comfort and mobility.
3.) Durability. When considering durability, there are several aspects to remember. Is your fieldwork heavy-duty physical work that may be abrasive to your clothing? You'll need to search for material that is strong and resistant to the wear and tear experienced daily on the job.
Suppose you find the perfect jacket that is lightweight, comfortable, and flexible, but cannot stand up to the physical requirements of your job. It may tear or wear rapidly, and as a result, you've wasted money on its purchase.
4.) Functional. Whichever rain jacket you select, it must fulfill your professional needs while at work. Some pros prefer just the essentials in rain gear, while others may need pockets or adjustable features for a more custom fit.
This will depend on your personal taste when choosing. The adjustability of hems, cuffs, and hoods allows for a customized fit.
5.) Breathability. If you are wet underneath your jacket due to excessive perspiration, you might as well stand out in the rain. For you to remain dry while working, your rain jacket needs to be breathable.
A characteristic that can help with this is if the jacket has moisture-wicking capabilities to move any perspiration away from your body.
6.) Features can make a difference when selecting and wearing a rain jacket. Common features may include hoods that are adjustable, armpit zippers for increased ventilation, and zippered pockets to keep phones and other accessories dry. Two-way zippers can increase convenience. 
See also: Best Winter Safety Jacket for Workers
Materials
There are several key materials used in the manufacturing of rain gear, however, the blends available are limitless, so there is a wide array of rain jackets out there. Again, the preferred material will be dependent on personal taste. We find jackets produced with:
1.) PVC or polyvinyl chloride is a polymer that is synthetic. It is waterproof, strong, and quite versatile making it one of the most used polymers globally.
Pipes will be made from the rigid PVC, whereas the flexible form of PVC is used in waterproofing. Generally speaking, the best rain clothing will either be manufactured with PVC or contain PVC in the material blend.
2,) Neoprene. This is a rubber that is synthetic and offers exceptional flexibility in a wide array of temperatures. You may have seen neoprene in a wet suit or in a pair of waders.
Automotive fan belts are produced in neoprene. This material is a terrific choice for some specific features of a rain jacket like cuffs and collars.
3.) Cotton. Logically, cotton if it is untreated will not be waterproof. However, tightly woven cotton with a waterproofing treatment can offer rain gear that is 100% waterproof.
As cotton can be manufactured as a heavier or lighter fabric, it is exceptionally versatile for the clothing niche. It is a comfortable fabric that offers great breathability. 
4.) Polycotton. This is a blend of polyester and cotton, which offers the best of both in a single product. For a high-quality fabric look for higher cotton content. Jackets made with this fabric blend offers solid resistance to moisture and strength.
5.) Polyester or Nylon. These are fabrics that are water-resistant. With the correct treatment and seam design, they can offer waterproofing.
6.) Fleece. Fleece is a material you may encounter if you are looking for a rain jacket that keeps you warm as well as dry. Some jackets may integrate the use of fleece at entry points for the cold such as collars or cuffs. It may also be used as a jacket lining.
7.) Insulation. Insulation will be available in a selection of materials and weights if you work in a climate that requires both insulation and waterproofing.
8.) Mesh. Mesh linings can be a great choice if you'll be perspiring a lot due to physical labor.
Waterproofing Treatments
Rain gear manufacturers will often treat jacket materials with compounds or chemicals to ensure waterproofing. These treatments may include:
Waxes

Resin

Acrylic

Polyurethane

Pyridinium

Melamine
Is Water-resistant the Same as Waterproof or Water-repellent?
No, absolutely not. A garment that is water-resistant will keep you dry in a sprinkle or light rain, but they do not repel all water. In a deluge, plan on getting wet especially where seams are sewn. Waterproof jackets usually feature taped seams to block water.
Water-repellent fabrics will usually indicate a DWR coating indicating Durable Water Repellent meaning water drops will bead up on the fabric and roll off. This will increase the level of protection from water but is not synonymous with waterproof.
It will help to keep the jacket's top layer from saturating but can wear out with use. These coatings often can be renewed.
Conclusion
Your basic PPE will include good work boots, protective gloves, and perhaps even a hard hat, but when bad weather hits, this will not be sufficient.
Protective rain jackets for fieldwork or yard work are a must in inclement weather. Consider what you need the jacket for. We hope this article will help get you started on your search for the best rain jacket for fieldwork.