For years now people have invested in the right pair of work boots to help them perform better at work without having to worry about hurting themselves in any way.
But, have you ever paid attention to certain foot problems that occur due to your work boots and not because of the environment you work in?
Many times we tend to neglect this very fact about our work boots and continue spending money on buying a new pair thinking it'll serve us better.
Instead of buying a new pair of work boots, have you ever tried or even thought of getting insoles that go well with your boots?
This is what we will be discussing in this article – insoles for your work boots, with our main focus on Red Wing Insoles and Superfeet Insoles. Both of these brands have a great reputation but we wanted to give you a better idea of which one of the two will serve you better than the other.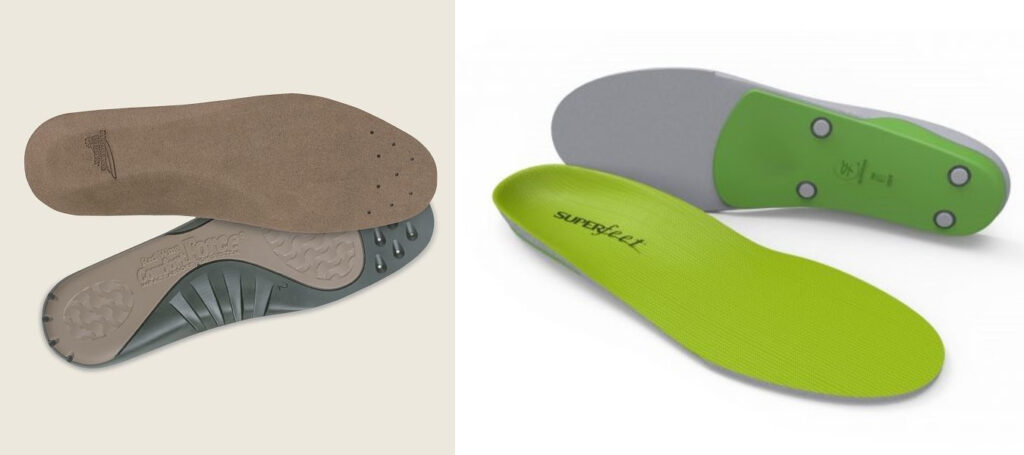 Read on further to learn more about insoles and how Red Wing and Superfeet differ from one another.
 What are the different types of insoles?
 Insoles are mainly categorized into three types. Such as comfort insoles, support insoles, and custom orthopedics.
Comfort insoles are made to be soft with foam or gel to give you additional comfort, but cannot provide you with sufficient stability while working.
Support insoles are made to give added support, stability, and comfort while working. These are constructed from hard materials and are ideal for work boots.
Custom orthopedics are mainly for people who suffer from acute foot problems like flat feet, fallen arches, etc. They are usually custom-made by a podiatrist.
What are Red Wing Insoles?
Red Wing Boots generally already come with great footbeds or insoles that provide support and comfort to your feet.
However, the brand designed separate insoles for people who require additional support and comfort. The standards have been kept high in this regard as well.
They have consulted various podiatrists and orthopedic doctors in order to create insoles from the most supreme materials. There are people who have irregular wear patterns and foot problems who can make the most out of these insoles.
Red Wing uses a device that helps them understand how a person's balance is distributed between the feet and the type of arch a person has. They help you decide on the right insole to maximize your comfort.
What are Superfeet Insoles?
Superfeet Insoles are perfectly and carefully designed to add a three-dimensional shape to your foot that is great for running, hiking, and working. Your feet deserve the best at all times because you put them through so much through the day.
Keeping this in mind Superfeet decided to create insoles that aid in stabilizing your feet. It gives your feet a remarkable amount of support and comes in various shapes to accustom all types of foot shapes.
The insoles are there to relieve you of any discomfort and fatigue that can come from your footwear of any kind. The brand has an insole for almost all kinds of footwear like work boots, dress shoes or boots, running shoes, walking shoes, etc.
These insoles also help people who suffer from back pain, who have flat feet, and also aid people with a high arch. There are different Superfeet insoles specifically engineered to alleviate different kinds of activities and needs.
Is there any difference between a Red Wing Insole and Superfeet Insole?
To be honest, there isn't much of a difference between a Red Wing Insole and a Superfeet Insole. They have been designed to serve the same purpose which is to give the wearer additional support and comfort, and both brands have been successfully delivering quality products for years now.
However, the biggest difference lies in the variety and versatility of insoles available. Red Wing Insoles are mainly built for Red Wing boots and may be compatible with few other boots made by other brands.
Whereas, Superfeet Insoles are not limited to be used by any particular boot brand, but are compatible with all types of boots and shoes.
 Now that we know the major difference between Red Wing Insole and Superfeet Insole, let's take a look at a few of their insoles.
Types of Red Wing Insoles
1. Comfort Force Footbed
The Comfort Force Footbed is made with polyurethane material from the heel all the way to the toe. This helps in absorbing shock against impact. It has a suede cover that manages the moisture that comes from sweaty feet.
To give you better support and stability it has a molded arch and a low-profile heel cup. You can even adjust the fit according to your requirement. These are not limited to only work boots so you can use them in other shoes as well.
2. Leather Footbed
As the name suggests the Leather Footbed or insole is made from leather. Red Wing has used full-grain cattle hide for the leather and to give you light cushioning, comfort, and support they have used rubber.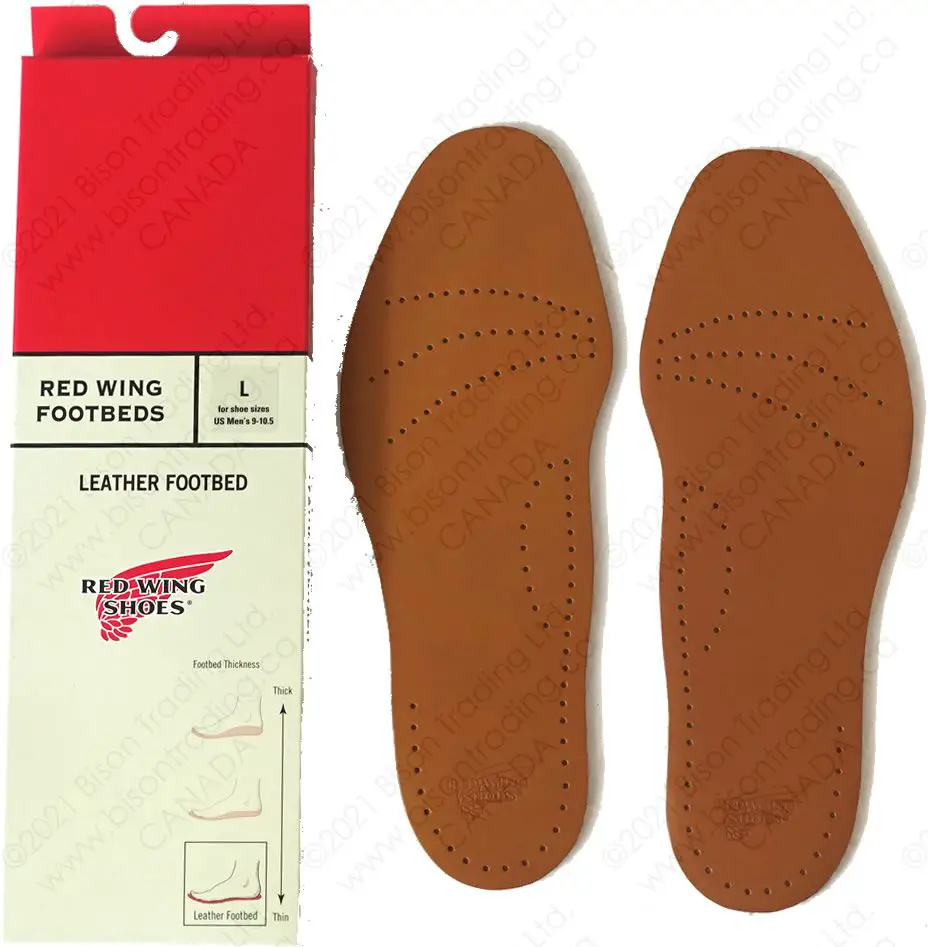 It takes up a small amount of volume in the footwear so it helps you with proper fitting. Due to the lather material, it is highly durable.
3. Shaped Comfort Footbed
The Shaped Comfort Footbed gives you a low-profile good fit and provides the comfort your feet need. It gives your feet a lightweight cushioning with PORON, which is a material that has extreme shock-absorbing power. This footbed also has a suede covering that controls the moisture caused by sweating.
4. Shaped Comfort Footbed-Wool
The Shaped Comfort Footbed-Wool as the name suggests is made of wool to help keep your feet warm and comfortable when the temperature becomes cold.
It is the perfect addition for winters as it also has the moisture-wicking ability with its wool felt on the top part. There is a light cushioning layer made from PORON that can absorb shocks for years to come.
 Pro tip: all these insoles are Unisex.
Types of Superfeet Insoles
As I mentioned earlier, Superfeet Insoles are more versatile compared to Red Wing Insoles, hence, they have more types of insoles for different levels of activities. However, here we will be discussing mainly the insoles that are ideal for your work boots.
1. Superfeet Green Premium Insoles
The Superfeet Green Premium Insoles are one of the best ones available for people with high arches. They are designed to help with common foot and joint problems.
These insoles are compatible with most types of footwear, but specifically great for work, hiking, and for people who have to stand on there for long hours in a day.
It will give additional support, comfort, and cushioning. These insoles also come in a wide version for people with wider feet.
2. Superfeet Orange Insoles
The Superfeet Orange Insoles are specific to men's footwear because there are certain foot issues that only men face from time to time. These are great for you if you have to walk or stand for long hours at work or otherwise.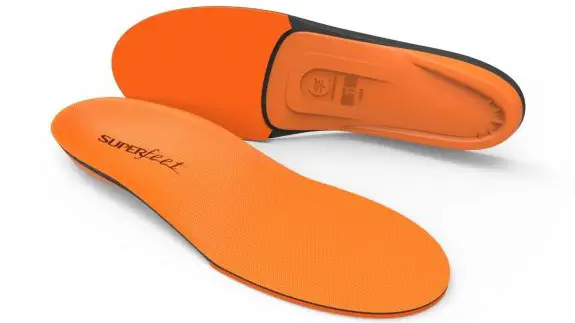 It comes with a forefoot shock pad which gives you additional cushioning when you have to perform activities with high impact. They have been designed to enhance your comfort and fit.
Similarly, there are also Superfeet Berry Insoles that are specifically designed for women's feet and footwear. The features remain the same as the Orange insoles.
3. Superfeet Copper Insoles
The Superfeet Copper Insoles are great for people with low and medium arches. It is low-profile and has a high-volume which means it can fit any type of shoe and work boot quite easily and securely.
It comes with a pressure-sensitive memory foam that conforms to the shape of your feet to give you maximum cushion and comfort. All the pain and stress from your feet, ankles, and knees will be reduced or disappear with this insole.
If you have to do high-impact activities, the insole can easily endure the shocks and provide maximum support to your feet with its deep and narrow heel cup.
It can also eradicate odour-causing bacteria which is a great feature to have especially if you have to work and be on your for long hours through the day.
There are several other insoles by Superfeet but they are more suitable for other activities and footwear which are not work related. Hence, we decided to just include the ones that are ideal for work boots in the list above.
What are the benefits of using an insole?
There are quite a few important benefits of wearing an insole instead of sticking to the stock insoles that come with the work boot.
1.) You will be able to reduce or eliminate chronic pain from your feet, ankles, knees, legs, and even back.
2.) Insoles can help people with flat feet who suffer from severe pain in the arches, and heels.
3.) If you have to stand or walk for long hours through the day at work, insoles can help reduce that foot fatigue by absorbing the shocks during impact.
4.) Insoles can help resolve the issue with sole pressure points.
5.) The pain that is caused by blisters and hot spots can be avoided with good insoles.
6.) Wearing the right insoles can get rid of the pain caused by plantar fasciitis that burns the heels and feet.
7.) Insoles can aid in minimizing the pain caused from bone spurs and bunions.
8.) You can avoid foul foot odour caused from sweaty feet with proper insoles.
9.) If your insoles wear out then you just have a new pair of insoles again instead of having to change the entire work boot, hence, saving you a ton of money.
10.) Most importantly, you will be comfortable throughout the day in the right insoles.
Wrapping up
We don't see anything wrong with wearing additional insoles or changing the stock insoles that come with the work boot. There are endless positive results when you have the right insole suitable for your feet and footwear. The problem arises only if you have the wrong ones.
Therefore, it is important to understand and know about the kind of feet you have before buying insoles blindly. The thickness of the insoles should match the stock insoles so your boots do not become too tight.
In the case of a sizing issue, you can always trim them to fit right in to your boot. It is a good practice to air the insoles when not in use because moisture can get trapped inside the boot, and also washing them frequently helps get rid of any bad smell.